2012 NFL Draft: Comparing QBs Robert Griffin III and Andrew Luck
February 19, 2012

Doug Pensinger/Getty Images
More than a decade ago, the Indianapolis Colts were in the same position: new GM and the No. 1 overall draft choice in the NFL draft. The last time it was a debate in the war room between quarterbacks Peyton Manning of Tennessee and Ryan Leaf of Washington State.
The ultimate decision of Manning decided to be a franchise saver, bringing the Colts from the bottom of the league to the top in 2007 when they won the Super Bowl. 
Now it's the year 2012, and the Colts are searching for a possible successor to Manning. He has undergone multiple neck surgeries, leading to question marks about whether he will resume his career. The big question mark is who to select between Stanford quarterback Andrew Luck and Baylor's Robert Griffin III. 
While new GM Ryan Grigson and owner Jim Irsay will have the ability to interview the two prospects and get to know everything down to their heart rate, I have only the luxury of evaluating the two prospects based off the games that I have been exposed to.
Sticking to the standard grading criteria that I've established in my previous scouting reports for the position, here's how the two quarterbacks stack up against each other based off an abundance of plays that I've evaluated of the two prospects.
Size
When it comes down to size, Stanford quarterback Andrew Luck gets the nod, coming in at 6'4" and roughly 230 pounds, while Baylor's Robert Griffin III is expected to be exactly or slightly above 6'2" and a lanky 220 pounds.
There are slight concerns with Griffin's weight, with many questioning if he will hold up at the next level when taking beatings from pass-rushers. This is not the case with Luck, who is proportionally built and is overall thicker than Griffin. 
Advantage: Andrew Luck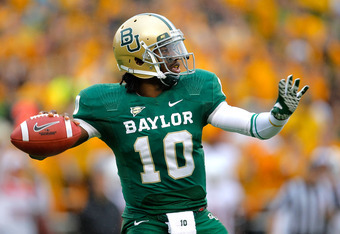 Sarah Glenn/Getty Images
Mechanics
The common draftnik is likely to give the nod to Luck in this department, and it's understandable. Luck's motion is smoother than Griffin's, but there's not a significant difference to me in this department. Both quarterbacks get rid of the ball quickly and to their intended targets, despite a difference in throwing motions. Throwing motions come in different shapes and sizes, yet are still effective because the ball gets to where it needs to be in a hurry.
Advantage: Even
Footwork
When it's all said and done, footwork is the center of quarterbacking. If a quarterback's footwork is poor, he will play poorly, and if it is of good quality, he will more than likely play with quality.
Stanford's Andrew Luck comes out of a pro-style system that was installed by current San Francisco 49ers head coach Jim Harbaugh and requires a significant number of five-step drops to be made. This is important to note because these types of dropbacks are based off timing due to the fact that they are tied together with the routes ran by the pass-catchers.
Along with the dropback, the quarterback must have several aspects of footwork down. They include opening the hips and belt buckle toward the target, planting the lead foot in the direction of the target, utilizing hitch steps (if necessary) as well as stepping through the throw, all of which Luck does effectively on a consistent basis.
On the other side of the ball, Baylor's Robert Griffin III has some experience under center and in five-step drops but not to the same extent. Griffin operates in a spread offense that sees him throw out of various types of dropbacks, most of which come in one and three steps.
Furthermore, Griffin's footwork is not as consistent as Luck's because he will sometimes throw with all arm, thus not rotating his hips because he will stand flat-footed in the pocket. Flat feet in the pocket are a no-no for quarterbacks, and it's something that Griffin must stop doing.
Advantage: Andrew Luck
Accuracy
Accuracy is something that is inherent, in my opinion. A coach is unlikely to improve a quarterback's accuracy much regardless of the level of teaching, which begs the question: Who is more naturally accurate between Luck and Griffin III?
Griffin's downfield accuracy is otherworldly, as time after time he has the correct ball placement regardless of the type of route he's throwing to. Whether it be a go (fly), dig or post route, it's often a great throw.
However, while his accuracy in the short-to-intermediate range is good, his ball placement can be a bit off. He doesn't always throw to the side where his target has the leverage advantage, and that can get him in some trouble because it puts the receiver in a bad position to catch the ball.
However, it is nearly the opposite with Stanford's Andrew Luck. Luck's short-to-intermediate accuracy is top-notch, and he shows a great understanding of leverage throws, while his deep ball placement is sometimes in question. Despite the question there, I give Luck the nod once again because it is still quality and less of a risk than in the short-to-intermediate area, where there are more defenders present.
Advantage: Andrew Luck
Pocket Presence
Sensing pressure is another inherent trait that quarterbacks have, meaning it's unlikely to improve a significant amount from one level to the next. Coaches can simulate pass-rushers every day in practice, but it's just not the same as the ones seen on Sundays.
With that said, Luck easily gets the nod in this department because he simply has "it." He senses pressure and makes slight, subtle movements up in the pocket that allow him to evade pressure and give him a chance to make a game-changing throw. This is administered by the Stanford quarterback with ball security and his eyes downfield.
In a different state, Baylor's RG3, as he's well known, has improved his pocket presence since early in his collegiate career. He previously left the pocket immediately after seeing pressure, but now he keeps his eyes downfield and stays within the confines of the pocket more often despite pass-rushers closing in.
Advantage: Andrew Luck
Touch
Cardinal quarterback Andrew Luck gets the nod here once again, topping Robert Griffin III in the "touch" characteristic of a quarterback. The main reason for this is because Luck has simply done it more than Griffin III.
Griffin III has done it, as evidenced against Texas A&M this past season, but not to the same extent as Luck, who has to deal with lesser talents and tighter windows.
Advantage: Andrew Luck
Arm Strength
Arm strength, specifically velocity, is an important characteristic of a quarterback because the more throws he's able to make, the more flexibility the offense has in attacking the defense.
RG3 has the stronger arm of the two quarterbacks, showcasing the ability to throw the ball from any platform of the field with accuracy and velocity. While Andrew Luck's arm is strong enough, it is not an elite one like Griffin's.
Advantage: Robert Griffin III
Mobility and Throwing on the Run
Robert Griffin III gets the advantage over Andrew Luck in this department because of his exceptional mobility as well as ability to throw the ball while moving.
Griffin shows the ability to outrun angles taken by defenders in a straight line while also showing the ability to make sudden movements with his quick and agile feet. He has also shown numerous times that he can throw on the run, delivering sensational passes as seen against the Oklahoma Sooners earlier this season.
While Luck does not have poor mobility, he also does not have the same agility nor pure speed that Griffin III has. However, he still does throw the ball exceptionally on the run, squaring his hips and delivering an accurate pass to his intended target. Despite this, RG3 gets the advantage here.
Advantage: Robert Griffin III
Scheme
The big fuss over every quarterback each year is the system he comes out of. Is it a spread? How many reads is he making? Is he calling his own plays? Can he read the defense before the snap? All important questions, all of which Stanford quarterback Andrew Luck gets the nod in.
Luck comes out of a previously mentioned pro-style system that utilizes several types of dropbacks at a higher rate than those done by Griffin III at Baylor, and he also has to do more reading of the defense before the snap. He has to check in and out of plays based off a look that he's given by the defense, while Griffin III looks over to the sidelines for guidance.
This is not a significant knock on Griffin III for me, but it is enough to give the advantage to Luck, who has more experience in a pro system despite playing in college.
Advantage: Andrew Luck
Overall
If I was the GM of the Indianapolis Colts and was granted the decision to make the first overall selection of the 2012 NFL draft, it would be Stanford Cardinal quarterback Andrew Luck. He has more experience as a passer and fewer risks, which is also important, while still grading high in every category that is deemed important.
Selecting Luck first overall is not an attempt to downgrade the talent of Baylor's Robert Griffin III. He is a fantastic talent with through-the-roof potential, but Luck is simply too good for me to pass up in this situation.