The WWE Roster Rundown: Smackdown 2/17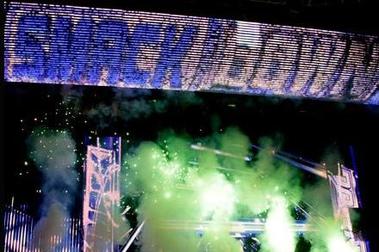 Image courtesy of WWE.com
I am here to bring you this week's installment of the SmackDown Roster Rundown. It's a different kind of recap that focuses on the individual performers and how well they performed on a show-by-show basis, rather than looking at specific events or matches.
Each wrestler will be graded in four categories. In-Ring is simply that—their in-ring ability, though more than the others it's graded slightly on a curve.
Why?
Well, the Big Show is never going to technically outwrestle someone like Daniel Bryan; that much is obvious. But he can still wrestle a good big-man match and look good in the ring without being maybe as athletically impressive or technically sound as a smaller wrestler of a different style.
There's also charisma, which describes their ability to connect with the audience and non-verbal acting such as posture and facial expressions. Mic work is both the quality of their promo delivery—and to an extent—the content, though I realize oftentimes that's scripted and not their fault. Finally, their gimmick, which are how much of a character they are and how well they live it on a weekly basis.
They'll be graded from A to F, with A being excellent, B good, C average, D poor and F terrible. I confess to being a fan first, so it's possible that sometimes my own opinions will bleed through, but I maintain an effort to be objective. And, as always, opinions vary, and you are always entitled to disagree with me and let me know why in the comments. I live for discussion.
That said, let's see this week's SmackDown Roster Rundown.
Begin Slideshow

»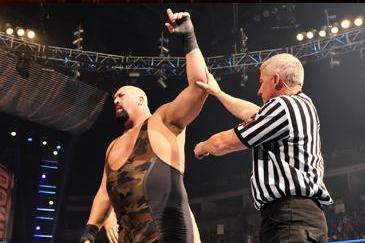 Image courtesy of WWE.com
Big Show
In-Ring: Big Show was actually barely in the ring after taking the hot tag and clearing house, but what he hit, looked good. He was fast and crisp, and he hit a hell of a chokeslam. I'd rather see that as his finisher than the WMD, personally. Of course, I also would have rather seen a lot more Show and a lot less Khali. C
Charisma: Show definitely got one of the bigger pops of the night, which isn't really a surprise at this point if you've been watching SmackDown for, oh, the last two years? He's a larger than life man with larger than life energy to match, and whether he's a face or, very soon, a heel, people have to pay attention to him. B
Mic Work: A brief but impressive showing in Teddy Long's office. Show shouting "Gimme!" like a petulant child may have made me laugh a little, but he showed good intensity, and when a man the size of the Big Show shouts like that, you're right I'll listen. C+
Gimmick: Now Big Show definitely got one of the more interesting advancements of the night. Clocking Khali in the jaw? Tearing up Teddy Long's office? It seems a heel turn is moving on quickly and we can expect him to make it official after the Chamber. Probably, possibly, with the arrival of Shaq on the scene. It's not a feud I'm looking forward to, but we'll see how they pull it off. B-
Overall: With the stirrings of a new character change beginning in a big way and a short but impressive in-ring segment, Show was once again one of the highlights of SmackDown. I'm interested to see where he goes next and also what the crowd reaction will be at the Chamber for him, with him shifting to a more heel-like persona. It may have been best to hold it off until after the Chamber to get the full force of his babyface pops, but oh well, I'm not a professional booker. B-
The Great Khali
In-Ring: A usual Khali affair. Not terrible for him, but that "for him" is a big qualifier. Some big chops, a shove and a rather worrying back bump. Am I the only one who always get scared when the Khali gets knocked off his feet? Ironically, he just looks incredibly fragile to me, for a man so huge. Regardless, he was in the ring for far too long, and I dread his Chamber performance. D
Charisma: And here is time yet again for my bi-weekly boggling at why people like the Great Khali in the crowd. Is WWE's roster depth really so poor that he is one of the top five faces on SmackDown? Eugh. C+
Gimmick: Big. Indian. Less athletic than your grandmother. Let's move on. D
Overall: The day that I stop having to write about the Great Khali will be a happy day for me. Especially if that's also the day I get to stop watching him steamroll over heels who might actually have a future in this company. Boring, limited, clumsy, useless. D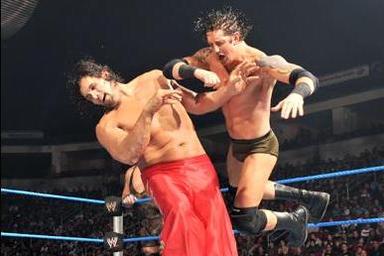 Image courtesy of WWE.com
Cody Rhodes
In-Ring: This was sadly yet another match where Cody wasn't allowed to show his stuff, instead mostly taking bumps from the Great Khali to try and make him look good. He didn't really hit anything that looked that impressive, as even the top-rope move into a choke on Khali looked clumsy. Hopefully, hopefully, we'll see more of him on Sunday. C+
Charisma: Another solid night for Cody Rhodes, as he continues to get under the skin of the crowd quite successfully and work his way slowly up the ladder. As said, though, it was also a limited night for him, taking hits from the giants and getting a brief promo segment shared with Wade Barrett. B-
Mic Work: It was a solid promo, though, and his seething anger at some random shlub getting a title shot was well-deserved, but we'll get to that later. His casual jabs at Wade Barrett were nice, too, and that sort of off-hand smugness is a nice dimension to his character. B
Gimmick: Not much to say. He's become a lot less distinguished since losing the mask, it must be said. He's still not a bad character by any stretch of the imagination, but tonight in particular he just didn't bring much to the table. C
Overall: Once again, two of the most talented young heels on SmackDown were stuck jobbing for questionably athletic faces. One would think that out of three tag matches Cody and Wade would manage at least one win, but it was not meant to be. He didn't get much to do tonight, but he put on as much of a showing in the ring as he could and didn't do bad on the mic. B
Wade Barrett
In-Ring: Wade was booked to be slightly more dominant in the ring this week against Khali, even compared to Cody, and he looked good with what offense he managed to throw out. That flying elbow in particular was very nice. Still, he too had to do a lot of selling and not a lot else, so that drags down his score, as well. C+
Charisma: Having started to watch WWE from a much more focused and analytical perspective like I have, I really am noticing how good Wade Barrett's face work is. He's a master of facial expressions, from obvious pain to subtle disapproval to condescension to bewilderment. Just looking at his hateful sneer to Cody Rhodes backstage was fantastic. B
Mic Work: A short but solid backstage promo from Wade. There really just isn't that much to say on this particular topic, it was just to-the-point and well delivered. B-
Gimmick: I'm trying not to harp on his theme yet again, but there isn't that much else to say I do like how they had Wade and Cody at odds, since heels being allies for the sake of it never makes sense, but I also think they make for a great tag team, and it would be nice to see that in the future. Wade's size and Cody's athleticism complement one another nicely. B-
Overall: It really is a shame to see Wade backsliding once again. The Barrett Barrage was getting some steam, but being beaten in three consecutive tag matches does nothing for him, and it's to the point that his loss in the Chamber seems even more inevitable than it was to begin with. He deserves better. B-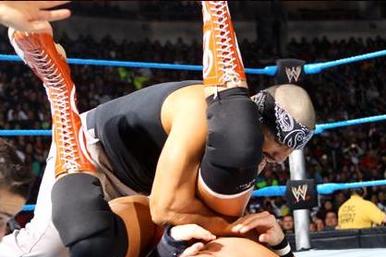 Image courtesy of WWE.com
Ted DiBiase
In-Ring: This was a nice, high-impact between the two. They looked good in the brief time they had to work, and it seems they're developing some good charisma together. With all their matches, that's not surprising. Ted is getting better at hitting some big moves and is also selling his wrist well, even seeming to wince off an attempted back suplex. Nice stuff. B-
Charisma: It's hard to judge just how much of DiBiase's pop or anyone on SmackDown's, was genuine this week, but he definitely seems like a nice enough guy to deserve one. I can't see why anyone wouldn't like him at this point, other than maybe just not caring since he's so low on the card. He's a good babyface in the making. C+
Gimmick: Change. His. Music. I mean really, how hard can it be? Guys like Dolph Ziggler have three theme songs in the course of a month, but Ted DiBiase is saddled with the same one months into a character change? It's ridiculous. And it was only a decent-as-best song when it suited him in the first place. Jim Johnston can't be that busy, can he? C-
Overall: Ted is still working his way back into prominence. This week was something of a holding pattern for him and Hunico's feud, but as long as they keep putting on exciting little matches like this one, I can't really complain about that. A few more weeks of this and I wouldn't be surprised to see him stepping up into Intercontinental Title territory, nor would I be unhappy to. C+
Hunico
In-Ring: I still quite like Hunico as a wrestler, and he didn't give me any reason not to this week. He hit some decent offense, especially working the arm once again and made Ted's look very good, too. I'd love to see more from these two guys at some point, possibly in an Intercontinental Title feud. C+
Charisma: He definitely has swagger, and he manages to even look comfortable coming to the ring on the back of someone else's bicycle. That takes some kind of talent, even if I'm not sure what kind. It's still very hard to care about such a terrible gimmick, though, and such a relentlessly silly feud. C-
Mic Work: More audible this week as he came down to the ring, and he didn't stumble over anything, so that was progress. He seems to have improved from last week, which is good. The David Caruso Sunglasses Pull was a little over the top, but this is wrestling, after all, you get what you pay for. Potential is the word of the day. C
Gimmick: I won't waste any more words on it. F
Overall: While I still hate the role that Hunico has been pushed into I like the kind of work he's doing. He seems to have quality potential as a midcard heel and even with this awful gimmick, he can probably get up there. Like Ted, I'm happy to watch them build up off each other and keep things going for now, as neither of them, at the moment, are going to do much better. C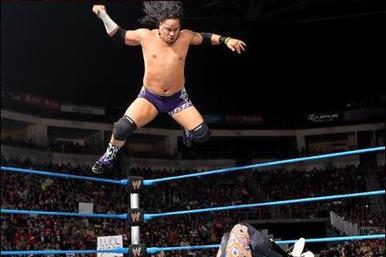 Image courtesy of WWE.com
The Usos
In-Ring: A little sloppier than the Colons, it must be said, but still a good showing. The Usos are fast and fun and have a varied offense, as well as some solid tag team moves, the double-elbow-drop being chief among them. Jey has some great kicks, while Jimmy looks a little bit more polished over all, if I'm keeping track right. And they're young, with plenty of time to work out the minimal kinks. B
Charisma: Comfortable is the word I'd use, as both Jey and Jimmy [not that I can tell them apart] look comfortable in the ring and comfortable in their role. They're easy to like, I find, and with brief little dance moves and flashy stylings to their in-ring work they manage to come across as distinctive while not getting any mic time. Given their pedigree, that's not much of a surprise. C+
Gimmick: The Usos still have one of the most phenomenal and entertaining entrances in the WWE today, especially if we scratch part-timers like Trips and Taker. The mix of hip-hop style and respect for their heritage works nicely, and they make for a very entertaining duo, if underdeveloped. C
Overall: Though they took a loss, they looked good and it was nice just to have the Usos and their entrance on TV again. They're a great tag team, that hopefully the WWE aren't planning to break up any time soon, and I look forward to seeing them get a run with the tag titles in, oh, the next month or two? They're the only real competition, after all, and they definitely deserve it. B-
Epico and Primo
In-Ring: It was easy to forget about Primo for the better part of two years when Carlito dropped out of the company, but he's come back with some great ring-work, and Epico seems ready to keep pace. Like the Usos, they're fast and flashy and young and the Backstabber is one of the more painful-looking finishers on the roster. Not a bad night at all. B
Charisma: Like a lot of bland midcard heels, a lot of the Colons' heat seems to come from their manager. Rosa does a pretty good job at riling up the crowd with her shrill Spanish, and the duo have enough of a self-righteous swagger to take it and run. They seem to have potential as a mid-card heel act, and I just wish they got more exposure to do it. C+
Gimmick: To be fair, the Colons' current gimmick can be summed up in one word—Rosa. Also to be fair, I'm not complaining about that fact. They've found a good role for one of their less-than-talented Divas as she makes a good heel manager. With some more experience and exposure, I could see her making a name for herself and for more than just her outfits. Epico and Primo work well off her, too, as coming off pretty sleazy, and it makes for a good package. B-
Overall: I wasn't crazy, initially, about seeing Primo on TV more, but I never saw him and Carlito back when they were dominating the tag division, and clearly, I was missing something.
Rosa Mendes is a big part of the appeal, too, as Booker so rightly [if slightly creepily] makes clear. Having another manager around period is great, and she gets the job done, enhancing a solid in-ring product. B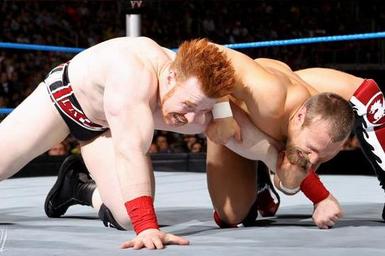 Image courtesy of WWE.com
Daniel Bryan
In-Ring: Shockingly, I thought his match with Sheamus went too long, but that's a booking decision, not in-ring. From a pure wrestling perspective, he looked as good as ever, with another one of those fantastic flying knees from the ring aprons and his traditionally impressive kicks. I just wish they had protected this matchup more going into WrestleMania, but that doesn't seem to be WWE's prerogative these days. B+
Charisma: Well, to my great surprise, the Vegan gimmick actually seems to be taking hold, even if I'm not sure why. "Isn't your belt leather?" might be one of the more clever signs I've seen lately, and there were a few more in the crowd to the same effect. It shows that Bryan is getting under people's skin, and he's come a long way since his utterly bland indie days in terms of charisma. B
Mic Work: A solid promo, and nicely free of any attempts at Vegan propaganda this week. Getting consistent mic time seems to be forcing Bryan to push his game to the next level, and it's working, as he's doing consistently solid work. He's not the second coming of the Rock, but he's good enough at oozing arrogance and sleaze. Calling Lillian Garcia "sweetheart" was just perfect. B
Gimmick: More of the same of Daniel Bryan's slimy character, but he's doing good work, so that's not a complaint. In fact, they seemed to have dialed back the "role model/Vegan" shtick, which was good, instead playing up his overbearing attitude, self-inflated sense of importance and willingness to do whatever it takes to win—all much better heel qualities. B+
Overall: A strong showing for the American Dragon this week. He's managed to transition himself into a strong heel champion coming off of his mediocre run as Mr. MITB, which is nice to see. Sealing the deal with a few Elimination Chamber eliminations and a lengthy match at WM should make him a star to remember, so let's see how WWE handles it over the next month and a half. B+
Sheamus
In-Ring: I found the brief flashes of Sheamus's mat work interesting early on in the match, as that's rarely the kind of thing you see from him. He hit a lot of his great brawling offense, and definitely took Bryan's kicks like they hurt, building for a credible match. Some of his moves were a little slower and sloppier than usual, though, and his ending disqualification came off some rather limp hits, to be honest. It cast a damp blanket over what had been a solid match. B-
Charisma: Pop of the night? Quite possibly. It was a rather brief showing for Sheamus despite being the Royal Rumble winner, not even popping on the mic at all, but people are still ready to get behind him all the way. I know I'm one of them. His nearly visible confidence, perpetual manic smile and just distinctive look makes him a top star in the company, I'm sure for years to come. B+
Gimmick: A perfect slot for the Punishment Babyface, as I like to call them. Bryan steps up, and he gets a face full of Sheamus for his bold words. It's good booking, and it starts the seed of a real feud between the two, which is where my money is still on this going. I'm not crazy about them getting an extended in-ring segment together, but I suppose it builds Sheamus's character and lets his temper flare, too. B-
Overall: More holding pattern for Sheamus, which seems to be how his entire career has gone for the past few months. It wasn't bad by any stretch of the imagination, and it's building towards what should be a stiff and brutal WrestleMania encounter [again, if that's the end game], I just hope we see considerably more from Sheamus going into the Show of Shows itself rather than what we got this night in particular. B-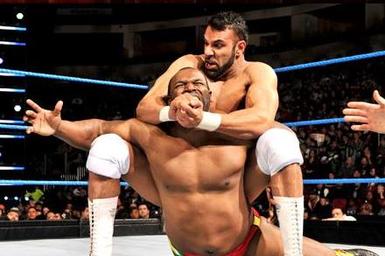 Image courtesy of WWE.com
Jinder Mahal
In-Ring: Was there really anything there? Other than one of the least impressive or painful Camel Clutches I've ever seen in my life, of course. Maybe I overestimated Jinder's potential in the ring last week. D
Charisma: Bland, bland, bland. He cuts a pretty impressive scowl, but does anyone care? Really? No? Moving on, then. D
Gimmick: See Hunico. F
Overall: I said he has some potential last week. Maybe he still does. But I wasn't seeing it this week. When you are outshined in the ring by the likes of Ezekiel Jackson, you really need to reconsider your life choices. D
Ezekiel Jackson
In-Ring: Limited but not bad. His moves have a definite impact, and he hit them with speed and ferocity, which is better than can be said for some clumsy big men. He lost, but he looked better than Jinder. Though, when he was in the Battle Royale, he hit a stunningly weak punch on Drew in the corner. That docks you points. C
Charisma: The crowd doesn't seem quite as indifferent to Ezekiel Jackson as I feel, but if Vince or the guys backstage think he's due for a push, as I've heard, I'm going to have to laugh heartily about that one. C-
Gimmick: Well, he's big. And. He smiles. And. ??? D
Overall: Unlike some, I do think Ezekiel has value. He's big and impressive—a decent babyface, and setting midcard heels after him to knock him off makes them look good in the process. Well, in theory. A brief and forgettable night before the Battle Royale, where he got a little more time to shine but still not much. C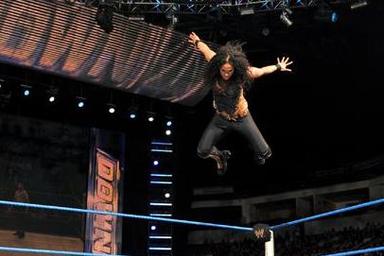 Image courtesy of WWE.com
Tamina Snuka
In-Ring: As has become the norm, Tamina hit all of three moves. They looked good, and seeing a superkick was a little more unique, but still, come on. We need some actual match work. She had better actually bring something to the PPV because I am getting a little tired of this. C-
Charisma: She looks solidly aggressive in the ring and makes for a decent "Warrior Princess." How much the fans are buying into it, it's always hard to tell, especially with the dead zone that is the Diva's division, but she carries herself well. Booked better, she could have a lot of potential. C
Gimmick: She's still head and shoulders above most of the Diva's division with her Legacy gimmick. She's also probably better suited as a silent warrior, too, since from her brief shouts on the ring apron, she reminds of Chyna, with a voice that doesn't suit her impressive appearance. C
Overall: A mediocre performance, just to build her up yet again as a credible threat to Beth with seemingly the minimum amount of effort. Minimum effort seems to be the key words of Diva's booking, doesn't it? C
Alicia Fox
In-Ring: Alicia didn't look too bad this time around. She's got some pretty athletic moves in her offense, even if she's so tiny it's hard to believe anything she can do would actually hurt someone like Beth or Natalya. Her attempt at a sort of reverse monkey flip was sloppy, but she gets points for clearly trying, especially in a slightly longer-than-usual Diva's segment. C+
Charisma: She's chipper, and she has a nice attitude and a natural likeability [unless you like Beth Phoenix not getting giant knots on her face], but that's about it. As always, the Divas are such a destroyed product that any of them getting over with the audience is an uphill battle. C-
Gimmick: Seriously, what is with the animal hat? It's one of the most ridiculous pieces of ring gear I've ever seen, and I've seen Jeff Jarrett matches from the mid-90s. She's still nice and peppy, so. There's that. D
Overall: She put on a decent amount of athleticism and sold Natalya's shots well, but it's hard to play Ricky Morton in a Diva's tag match where the crowd just doesn't care. Still, a commendable effort, I'll give her that. C

Image courtesy of WWE.com
Beth Phoenix
In-Ring: Well, she. Tried to put Alicia in a full nelson, and then ate a superkick. OK? D
Charisma: Seriously, Beth did next to nothing that entire segment. What am I supposed to grade here D
Gimmick: Come on guys. At least she seemed to view Tamina as a credible threat to her championship. Seriously, how is the Diva's booking so backwards compared to that of the men? Dominant heel champions that need to be chased? What is this madness. C
Overall: A big old pile of nothing. D
Natalya
In-Ring: Natalya actually got to go to work in the ring this week, which has become sadly all too rare, and she showed why she is one of the top Divas in the division. Her Kip-up was beautiful, she made Alicia's offense look better just for being in the ring, and she sold Tamina's big moves like a champ. We need a lot, lot more of her in the ring. B
Charisma: As the announcers rightly pointed out, Natalya seemed weirdly chipper to start off the match, but maybe she was just happy to get in the ring and show off what she can do. Her switch to raw aggression was well-timed, too, and shows she has a good grasp of character. It was a nice showing, sadly ruined by, well, best to just jump to the next topic. C+
Gimmick: I really actually have to talk about this now, don't I? I can't ignore it any longer by writing off her brief backstage segments like I did last week. OK. Natalya's gimmick is that she farts. It is one of the single worst things I have ever seen on WWE television, it is an embarrassment to her, to the Diva's division, to her legacy as part of the Hart family, to wrestling and to the craft of writing itself. F
Overall: Natalya is a flawless talent saddled with one of the worst gimmicks I have ever seen. It is absolutely disgusting they are ruining someone with such great talent. She made that match and carried practically the entire thing on her shoulders, and what does she get? Embarrassment. Ugh. C+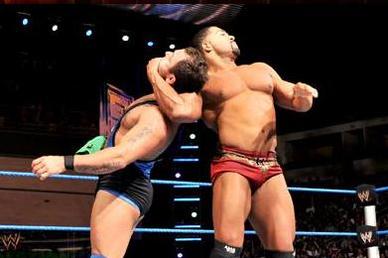 Image courtesy of WWE.com
Seeing as it was a teeming mass of humanity, I'm just going to try to hit the highlights [and the lowlights] and record my thoughts through this match, rather than give it an individual grading. It would just be impossible.
Derrick Bateman deserves a lot better than first elimination, I must say. He's one of the standouts of NXT. Not that he was ever, ever going to win. Percy Watson, too.
Drew is a lot stronger than I realized. Him flinging Tyson Kidd over the top of his head was a beautiful spot, and he definitely deserves more than they've been giving him lately. He could have really taken a spot in the Chamber and run with it, like he did last year, and it probably would have made for an interesting story twist.
Camacho is in this battle royale? He's never wrestled a single match that I can remember, but he might earn a spot at the World Heavyweight Title? What a farce.
Ted DiBiase hitting a drop-kick while hanging from the ropes was pretty fantastic. McGillicutty seemingly flinging himself over the ring ropes by himself, not so much. I think Justin Gabriel was supposed to have kicked him over or something, but that spot looked really sloppy.
Primo eliminating Epico was a pretty hilarious moment, I just hope they aren't teasing a breakup already. That's not a tag team that needs to go anywhere.
Justin Gabriel and Primo's duel on and outside the ropes was a thing of beauty. It's because of guys like these that there needs to be a Cruiserweight Division again, as can't you just imagine those two going at for ten, high-octane minutes? That spinning kick to the head, while on the apron, was phenomenal. Justin Gabriel was one of the stars in this Battle Royale.
His near instant elimination by Jackson, comparatively, is a tragedy.
It must be said, that when Ezekiel Jackson, Santino Marella, Drew McIntrye and David Otunga are all in the running for a World Heavyweight Championship shot, something has gone terribly wrong.
Drew might have the talent, but he's been booked into a ruin, and none of these guys should be anywhere near the belt. I guess that's what happens when, what, five of your top guys are out with injury now?
A monster boot from Drew.
But is that a real Santino chant I'm hearing? I guess he's definitely over, and he has underrated in-ring ability. Shoving a complete comedy character into an Elimination Chamber match is insane, but you can't say he hasn't earned it in his own way.
We just better not see that cobra puppet within the chain-link walls, or I may be ill. I still have to wonder if he WILL be eliminated before the match by the likes of Christian or Del Rio or if he'll actually make it into a pod.
Guess we'll see. But out of the utter mire of mediocrity that is the WWE midcard, I suppose Santino is as good an option as any.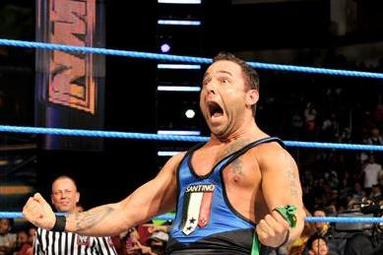 Image courtesy of WWE.com
All told, it was a fairly mediocre episode of SmackDown this week. There was some decent in-ring work from guys like Ted and Hunico, and the tag champs, and the Battle Royale had its own entertainment value. But the night just proved once again how paper thin the card has become on Smackdown, as Santino and Drew McIntyre are the only star power they can muster under short notice.
It's a really sad state, and I hope they start pushing it into over-drive after WrestleMania, to build up the midcard.
But probably not.
Cynicism aside, there was good and there was bad and there was a whole lot of mediocrity in the middle. I enjoy writing for shows like this, when there's a lot of short, easily digestible matches rather than bloated angles that make me sit staring at my word document like Raw, but it wasn't necessarily the most entertaining show, either. It was just kind of there. A hold over until the Elimination Chamber and what, we can only hope, will be the hard sell to the Show of Shows.
And now, for a new addition to my article:
Stars of the Night: Daniel Bryan, Big Show, Santino Marella
Duds of the Night: Jinder Mahal, Michael McGillicutty, Natalya's Writer
Match of the Night: The Usos vs. The Colons
Match to Forget: Jinder Mahal vs. Ezekiel Jackson
Move of the Night: Justin Gabriel's outside-the-ropes kick to Primo
Show Grade: C
Until next week, this has been the Rundown.