10 Bold Predictions for the San Antonio Spurs' Second Half of the NBA Season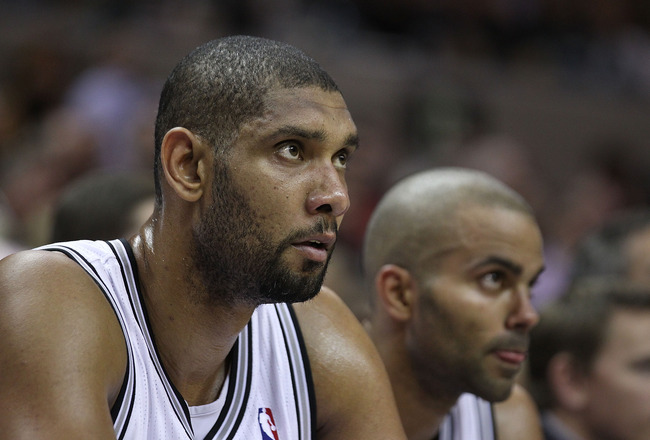 Timmy and Tony
Jed Jacobsohn/Getty Images
We are a week away from the NBA All-Star break, and the Western Conference seems to be completely up for grabs. Besides Oklahoma City, there seems to be a considerable drop off when it comes to who should be contending come playoff time.
The Mavericks have taken a step back, the Clippers are steadily improving and the Lakers are hovering around as well. Those are the teams we consistently hear about. But there is one contender that we still don't hear about as much as we should. The San Antonio Spurs are still around, and they have quietly been putting together a winning season with a mix of veterans and no-namers.
So let's talk about the Spurs. Here are 10 BOLD predictions for the second half of the San Antonio Spurs' season.
1. Prepare for an Injury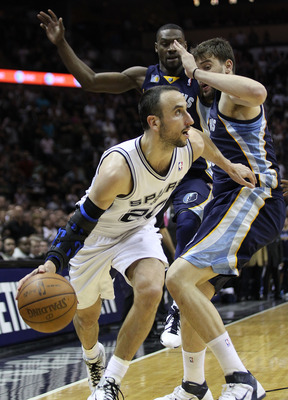 Jed Jacobsohn/Getty Images
Unfortunately, injuries come with the territory when you are one of the oldest teams in the NBA. The Spurs have already struggled with a few injuries to Manu Ginobili, and they just recently lost Tiago Splitter for some time. While it's clear that they have maintained a good record despite these losses, it's only fair to assume that they will suffer a bit more in the injury department before the playoffs roll around.
Whether it be Tim Duncan, Tony Parker or another injury to Ginobili, expect the next few months to not go entirely as the Spurs would hope. With the season being shortened and compacted, this only adds to the probability of a Spur going down for some time.
2. Tony Parker Will Maintain MVP-Like Play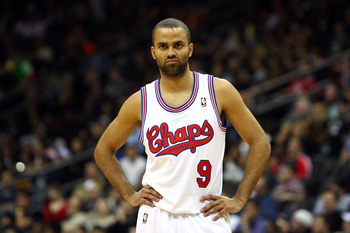 Chris Chambers/Getty Images
Tony Parker has quietly been playing lights-out basketball this season. When the Spurs lost Manu Ginobili to that hand injury, many thought the Spurs would struggle without him. Tony Parker had something to say about that. It's safe to say that he has been the reason for the Spurs' most recent 11 game winning streak. Its also clear that he is mostly responsible for their current 23-10 record, and their place at the top of the Western Conference.
This season, he has been averaging 18.9 points and a career-high 7.7 assists, along with 1.1 steals per game. Parker was awarded with an All-Star reserve spot for his outstanding play. Once the All-Star break comes and goes, don't expect Tony to get worse. As the playoffs near, his play should only improve with this veteran squad's intent on proving the doubters wrong.
3. Youth Will Get More Time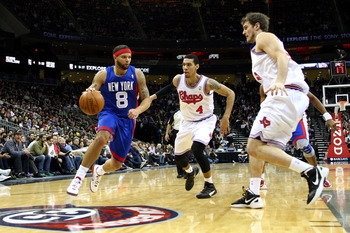 Chris Chambers/Getty Images
While it seems that the Spurs continue to get older, they still have managed to pull in very solid pieces from the draft and free agency. Besides Tony Parker, another big reason for the Spurs' success this year has been the emergence of a handful of youth on the Spurs' roster. Whether it be no-namers like Danny Green or second-year players like DeJuan Blair, Gary Neal and Tiago Splitter, the Spurs continue to get a shot-in-the-arm from their youngsters.
As the playoffs draw nearer, expect Popovich to sit Tim Duncan, Ginobili and Tony Parker more, and give more minutes to the youth on the squad. Health is vital for the Spurs to make a run in the playoffs, and this team has a more than reliable second unit that should keep them near the top of the conference.
4. Veterans Will Rest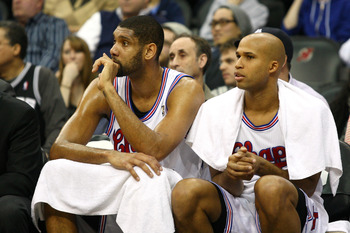 Chris Chambers/Getty Images
As stated in the previous slide, we should expect more and more time from the youth on this squad as the playoffs draw nearer. That obviously means that the veterans will not play as much and rest their tired legs. Tim Duncan continues to show gradual decline, and Ginobili can't risk any more significant injuries. It's only safe to say that Gregg Popovich will want to play it safe during this compressed season.
With that said, expect Richard Jefferson and Blair to lead the second unit on more nights than not. This isn't to say that Duncan and company won't play at all. Just expect to see more games like last night's Blazers and Spurs game.
5. Tiago Splitter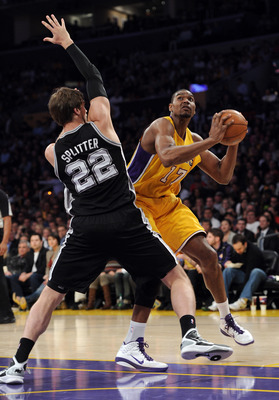 Harry How/Getty Images
Tiago Splitter has really come into his own this season. He has become the player that the Spurs hoped to see when they drafted him. He is averaging nearly identical numbers to second-year player DeJuan Blair with nearly 10 points a night and a solid five rebounds a game.
As the Spurs finish out the season, a lot will be riding on the young center's shoulders. As previously stated, Duncan will rest more, and the team will rely more and more on Splitter's presence down low. If he continues his solid play, it appears he could be in the conversation for Most Improved Player, and people will finally start talking about him as the heir to Duncan's throne.
5. People Won't Notice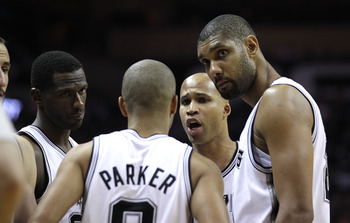 Jed Jacobsohn/Getty Images
Every year, experts and analysts predict the long-awaited demise of the Spurs. While they are nearing that day, the Spurs continue to surprise people from year-to-year. I don't understand why it's a surprise anymore. We always expect them to suck, but they continue quietly dominating.
This year isn't any different. They went on an 11-game winning streak. Did we notice? No. This is partly because of a certain guy "Linning" over in NYC, but the same thing happened last year with the Spurs putting together the best record in the West.
People will notice eventually—probably when the Spurs are dismantling their favorite team in the Western Conference playoffs.
"What?! The Spurs are still good?!? Since when?!?!"
7. San Antonio Won't Lose More Than 5 Home Games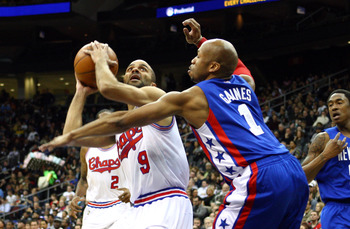 Chris Chambers/Getty Images
The Thunder and the Spurs both boast the best home records in the entire NBA. Both have only lost one game at home. While the Spurs have a 10-9 record on the road, the 13-1 at home should speak volumes to their opponents. These guys just don't lose in front of their home fans.
Don't expect this to end after the All-Star break. I don't foresee this team losing more than three to five games at home, before they gain home court advantage going into the playoffs. They have great fans that gather in the AT&T Center every night the Spurs are in town. And with three championships behind them, these fans have a lot of faith in their squad.
8. Kawhi Leonard Will Be Vital to Their Playoff Run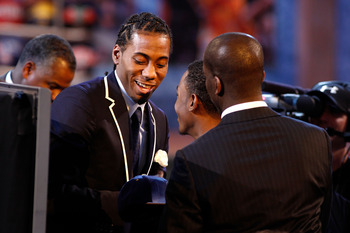 Mike Stobe/Getty Images
The Spurs pulled off a great steal in the NBA Draft when they acquired Kawhi Leonard from the Indiana Pacers in exchange for George Hill. The rookie provides a much-needed spark off the bench offensively, and defensively, he has shown that he has serious skills.
With the Spurs retiring Bruce Bowen's jersey this year, it also seems they have found the same type of defensive stud in Leonard. Part of the reason he gets so much playing time is his excellent defense on top wing players in the league like Kevin Durant. His energy and consistency on both ends of the floor will be much needed as the Spurs approach the playoffs.
9. Tim Duncan Will Come Alive in the Playoffs
Mike Ehrmann/Getty Images
There is a reason Tim Duncan is highly regarded as one of the greatest power forwards this league has ever seen. The reason is simple. When the Spurs needed to get it done, Timmy threw the team on his back. The guy is a champion, a leader and a dang good basketball player.
While he has taken a step back in recent years, he is nowhere near being done. Night in and night out, the guy has always come through for this team. The three-time NBA Finals MVP will not allow a repeat of last year's disappointing first round exit. The playoffs are vital, and Duncan wants to further add to his Hall of Fame ballot and the Spurs dynasty. He won't be done until he has to be dragged from the court. We will see that this year in the playoffs. Expect to see a revitalized and youthful Tim Duncan.
10. The Spurs Will Be in the Western Conference Finals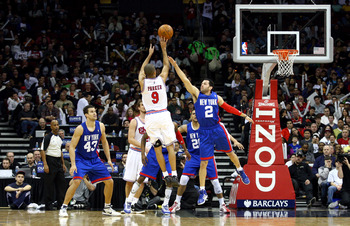 Chris Chambers/Getty Images
As of now, the Spurs have the second best record in the Western Conference. The Thunder are the only team better than them. And the Spurs have put together this record with injuries to key guys like Manu Ginobili.
The Western Conference playoff race is wide open and anybody could be there come April. With the level of experience on this roster (especially when it comes to the playoffs), expect these guys to avenge their first-round exit last year with an appearance against the Thunder in the Western Conference finals. They won't be able to counter the youth and explosiveness of Durant and Westbrook, but they still won't go down without a fight.
Keep Reading