NFL Combine 2012: Robert Griffin III and 40-Yard Speedsters to Watch For
February 20, 2012

Ronald Martinez/Getty Images
Speed doesn't kill at the NFL combine—it opens the door for big paydays and the improvement of a player's stock heading into the NFL draft.
There will be plenty of speed on display at the 40-yard dash in Indianapolis, where scores of college football stars will do their best Roadrunner impressions in front of scouts, coaches and cameras alike.
If you're determined to watch some turf burn this week, be sure to tune in when these three speedsters toe the line for the 40.
Robert Griffin III
World-class sprinters don't often turn to careers in football. Even rarer is the occasion that one opts to play quarterback instead of, say, wide receiver or cornerback.
That precious rarity is a prominent part of the marvel and the lore of Robert Griffin III, whose purported sub-4.4 speed would put him on par with the likes of Michael Vick as far as speed under center is concerned.
The difference, of course, is that RG3 is also an accurate passer and has amazing mental makeup to boot.
Watch this guy leg out the 40-yard dash. You'll be glad you did.
Kendall Wright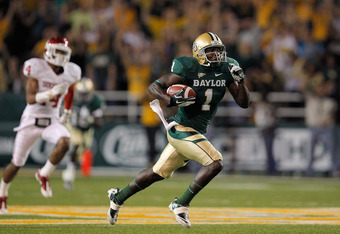 Sarah Glenn/Getty Images
It's entirely possible that the two fastest players in the 2012 draft class will be former Baylor Bears.
Not that such a development is particularly out of character for Baylor, whose track and field program turns out Olympic athletes like nobody's business.
Still, if there's anyone who might be able to beat RG3 in a foot race, it's Kendall Wright, the very receiver who helped the Heisman Trophy winner strike the pose in the first place.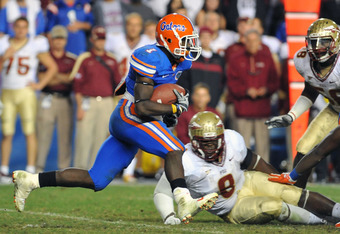 Al Messerschmidt/Getty Images
You won't hear Chris Rainey's name called on the first day of the 2012 NFL draft. You might not even hear it on the second.
However, if you switch over to the combine this week, you'll likely have Rainey's name ringing through your ears plenty, particularly during the 40-yard dash. The 5'9, 174-pounder tore up the turf during his four years at Florida, showing the speed and versatility to wreak havoc at every level of offense and as a return man for the Gators.
That speed will be on full, glorious display at Lucas Oil Stadium, where Rainey will challenge for the fastest 40 time in the current class.