UFC 144: Tim Boetsch Has a Secret Weapon and His Name Is Ryan Matter
February 20, 2012
In the world of mixed martial arts, only one thing matters—being better than the man that stands across from you at the start of a fight.
However, in order to arrive to that prestigious stage, one must endure an unexplainable amount of blood, sweat, tears and, of course, help from others.
Enter Ryan Matter.
Matter, a graduate of Lock Haven University in health and exercise science is living out his dream as he prepares UFC middleweight Tim Boetsch (14-4) for his upcoming bout against Yushin Okami (26-6) at UFC 144 in Japan.
"I've always wanted to train professional athletes," Matter told Bleacher Report. "I've also always had a passion for mixed martial arts."
Matter's passion and expertise in nutrition has allowed him to assist Boetsch to a 5-3 record inside the Octagon, despite all three defeats coming at the light heavyweight division.
After falling short to Phil Davis via second round submission at UFC 123, Boetsch approached Matter proposing the idea of dropping to 185 pounds.
"I was kind of surprised when I heard from Tim after his loss to Davis. Usually after a loss you won't hear from him for a week or so," said Matter. "He asked me what I thought about making the move to middleweight."
"I plugged some numbers in my head and knew it was something we could do. I really believe 185 pounds is where Tim really belongs," stated Matter. "This is where we're going to stay."
As a result, Boetsch went on to throttle Kendall Grove in his middleweight debut, winning by unanimous decision.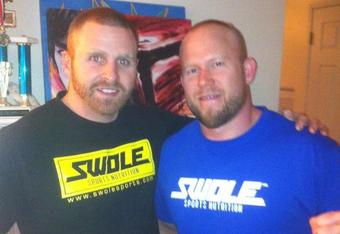 "The Barbarian" proved to be even more impressive in his very next bout as he threw fellow middleweight Nick Ring around the Octagon en route to yet another unanimous-decision victory.
Boetsch's change in appearance hasn't gone unnoticed as UFC president Dana White was one of the first to comment on the middleweight's new and improved look.
"When Dana saw Tim he couldn't believe the way he looked. He was pretty excited and asked him what the heck he's been doing," stated Matter. "Tim directed him to me and you could tell he was ecstatic."
Matter, not your ordinary nutritionist, is Mr. Pennsylvania Super Heavyweight champion 2006 and Mr. Bill Grant Open Heavyweight champion 2009.
However, despite his many accolades, Matter isn't out to promote his own name. He's out merely to help his great friend succeed.
"Tim and I have been great friends for a long time. I'm not in this to get my name out there or to self-promote myself. My goal is to continue to help Tim become one of the best middleweights in the world," said Matter. "That will come eventually."
Matter, who will also be traveling to Japan, is confident Boetsch will be able to leave Okami's home country with his third consecutive victory.
"A lot of people say Okami's strength is his wrestling. Okami is a great wrestler but that's definitely where Tim shines," stated Matter. "If he wants to wrestle, he'll be playing into our strength."
"I'm confident Tim will leave Japan with another victory."
To learn more about Ryan Matter, follow him on Twitter.
For additional information, follow Garrett Derr on Twitter.