MMA: 25 Fights We Wish We Could Have Seen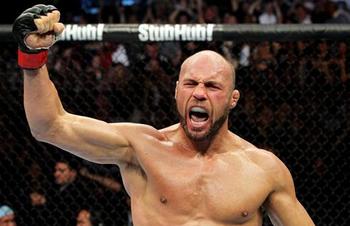 Valentine's Day 2012 is not a day that my wife wants to remember. Instead of roses and a box of chocolates on our kitchen counter, she found a Best Buy receipt for UFC Undisputed 3. Maybe I'm a terrible husband, but I simply couldn't wait any longer than necessary to rip open my fresh copy of the game and start soccer kicking all of my friends on Xbox Live.
PRIDE mode with Bas Rutten and The Fight Professor on commentary was an awesome touch that made me feel warm and nostalgic all at once. Playing multi-player mode on my couch was a blast until my buddy Jeff asked "Who is Bas Rutten?"
I understand that MMA didn't break into the mainstream until the inaugural Ultimate Fighter Finale, and by that point, guys like Bas Rutten, Frank Shamrock and Don Frye were well out of the spotlight. However, thinking about Bas Rutten's premature retirement has always made me wonder about the fights that we could have seen if the last generation of fighters stepped into the cage of current MMA elite.
With that, I decided to let the fantasy bookings run wild. Could you imagine if fighters like Bas Rutten and Ken Shamrock could have avoided the sands of time, and competing in their physical primes against the best that MMA has to offer? What about fighters like Fedor Emelianenko and Wanderlei Silva, whose physical primes have passed them, but are still active?
Here is a look at 25 fights that the world will never see, but we wish we could.
Bas Rutten vs Jon Jones
At 34 years old, Bas Rutten retired from MMA with three impressive things: the UFC Heavyweight Championship, a record of 27-4-1 and an unbeaten streak that lasted 22 fights. He is a common footnote during "Greatest of All Time" debates.
Jon Jones has yet to be exposed, but Rutten was a man to always find a way. After all, how many different submissions has Rutten used to win fights? Jones has defeated the very best of today, but could he handle the very best of the late 90's?
Put on your thinking cap and let me know in the comments how you think this fight would go down.
Fedor Emelianenko vs Junior Dos Santos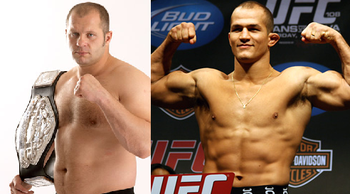 Neither man here needs any introduction. One is considered to be the greatest heavyweight of all time. The other is considered the best heavyweight alive today.
Skill decay and a lack of size has hurt Fedor in recent appearances, but could a prime Fedor Emelianenko somehow get past the heavy hands of Junior dos Santos? Does Fedor's Sambo outweigh the BJJ pedigree of dos Santos? Would Fedor get past the size disadvantage that would plague him in this encounter?
Ken Shamrock vs Brock Lesnar
Before "The World's Most Dangerous Man" became a fighter that we beg to retire, he lived up to his moniker. With terrifying submissions and an intensity level that goes up to eleven, Ken Shamrock was a top level heavyweight who was considered to be the best fighter in the world not named Gracie.
Keep in mind what this article is looking at: when stars from the past were in their prime. That means forget Ken's recent appearances where he looked like a sad old man. The Lion's Den was the last place that anybody wanted to be for a reason.
A fight with Brock Lesnar would be a blast to watch because it pulls in fans from both the UFC and WWE, where Shamrock was an Intercontinental and Tag Team champion in the late 90's. Although Brock Lesnar is an intimidating force himself, he ran into trouble with submissions before, and Shamrock has tapped some of the best.
Kevin Randleman vs Cain Velasquez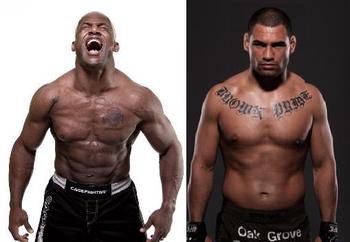 If you were asked to name a former UFC Heavyweight champion who was also a standout NCAA wrestler, you might think I'm talking about once-defeated contender Cain Velasquez. However, that description also fits Kevin Randleman, a fighter whose career includes a KO victory over Mirko Cro Cop and decisions over Pedro Rizzo and Babalu Sobral.
Randleman is another unfortunate story of a fighter who keeps going well beyond his prime. I feel that his legacy will always be irreparable based on the unfortunate fact that he ended up losing 11 of his final 14 fights. Hopefully, people can remember how good Randleman looked in his prime.
Who would win:
Cain's lack of submission prowess gives Randleman a chance here. Each man has great wrestling. Cain has better boxing and Randleman has more power. The image of Randleman throwing Fedor onto his head comes to mind. Gun to my head, I'd have to go with Cain.
Rickson Gracie vs Anderson Silva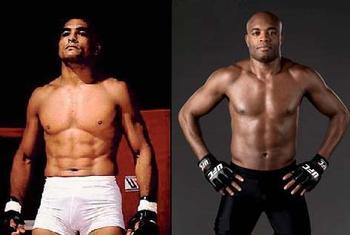 Anderson Silva is widely considered the greatest of all time. He has completely cleaned out his division, against a variety of fight styles and always comes out on top. Would Anderson be the GOAT if Rickson Gracie was in his prime today?
Rickson began fighting in 1980, and retired after a May 2000 bout with Masakatsu Funaki improved his unbeaten record to 11-0. Rickson is an 8th degree black and red belt in BJJ and rightfully one of the most feared grapplers on the planet.
Rickson, the lesser known member of MMA royalty, is undoubtedly a controversial figure. Wanderlei Silva has gone as far as to say that Rickson is "living in a fantasy world" for some of the critiques he has made regarding current top level fighters.
Jens Pulver vs Frankie Edgar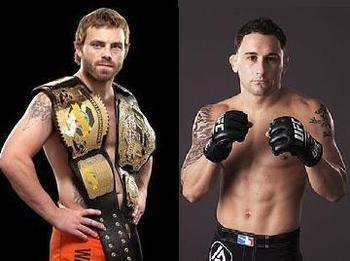 Let's make some noise for the little guys. The road to the lightweight championship was paved by Jens Pulver. With a record of 14-2-1, Pulver had already defeated BJ Penn, Dennis Hallman, Joe Stevenson and Caol Uno when he left the UFC in 2002. The game certainly passed Pulver by over the years, but when he was in his prime, he was incredibly tough to beat.
Fast forward to today and you'll find Frankie Edgar sitting atop the UFC's lightweight division. Like Pulver, he isn't always the betting favorite going into his contests, but he gets the job done. When Frankie thinks he has the advantage on the ground, he uses his wrestling to get the contest there. He has never been out-boxed and if he needs to keep the fight standing, he has been able to stuff takedowns from the best. That's why I think that the best lightweight today just may be the best lightweight of all time.
Royce Gracie vs Demian Maia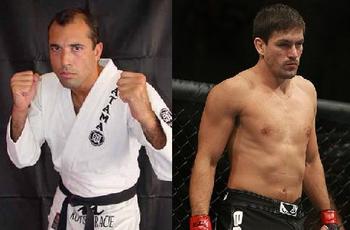 How would the man who revolutionized fighting fare against the best BJJ practitioner in MMA today? I would give the standup advantage to Maia, who has improved dramatically over the last few years, however, one can only imagine the ground battle between these two fighters.
Royce holds the record of submission victories in the UFC with 11 tapout wins. Even though he won his first five UFC bouts via submission, at 34 years old, Demian will likely be unable to surpass that record as originally projected.
With all of the tweeks that have been made to BJJ since it has been adopted by fighters all over the world, has Maia been able to surpass the king of MMA's first family?


Dan Severn vs Shane Carwin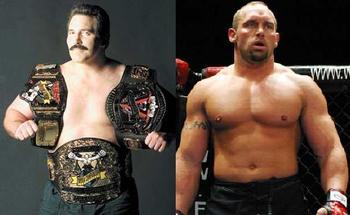 How would The Beast do against The Engineer? Severn notched his one-hundredth MMA victory last year before finally hanging up the gloves. Both of these men share a lot of similarities also. They each have impressive top games with strong wrestling to work the fight to their positions of choice.
Shane has some heavy hands, but Severn has incredible resolve. Dan has shown patience in the Octagon, much to the chagrin of fans at times. I think that if this fight were to take place with each man in his respective prime, the Hall of Famer would have another impressive name notched on his belt.
Tank Abbott vs Rampage Jackson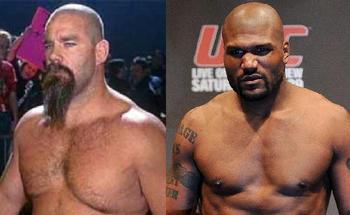 Brawling pioneers like Tank Abbott were the find face of the UFC in it's infant stages. Sure, the technical guys like Royce Gracie and Dan Severn were major stars, but Tank took the UFC to another level when he had a guest spot as himself on the TV series FRIENDS.
Submission has always been the downfall of Tank, a man whose record in 2005 was 9-4 against opponents who didn't submit him. Unfortunately, his actual record was 9-11. He thrived against fighters who would stand and bang, winning seven of his ten career bouts due to strikes.
A brawler from the early days is exactly the kind of fighter that fans would love to see across the Octagon from Rampage. Intensity would be through the roof, bombs would be thrown and bodies would certainly hit the floor.
Don Frye vs Rashad Evans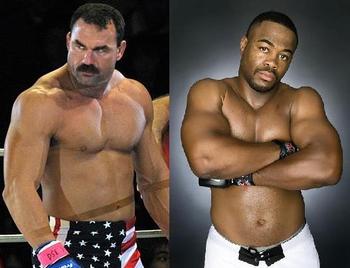 Can you dispute the awesomeness of a man with this moustache? If the folliculaphilia doesn't grab you the way that it grabs me, maybe The Don's record will be enough. In 2002, when he won Fight of the Year against Yoshihiro Takayama, Frye's record was an immaculate 15-1, which included two wins over Gary Goodridge, a submission win over Tank Abbott for the Ultimate Ultimate 96 tournament and a decision victory over Ken Shamrock.
Rashad Evans currently holds a similar record of 17-1-1, with 12 of those wins occurring inside the Octagon. Suga has recorded highlight reel knockouts against incredible opponents. Rashad would undoubtedly have the better standup, but on the ground this one is a tossup.
Oleg Taktarov vs Daniel Cormier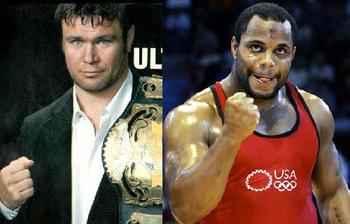 The champion of UFC 6, Oleg Taktarov is a master of Judo, Sambo and BJJ. Daniel Cormier is a master of wrestling. This matchup, although featuring two fighters that casual MMA fans are unaware of, would be an incredible grappling bout.
Taktarov owns the UFC record for fastest submission, winning his semi-final bout at UFC 6 via rear naked choke only nine seconds into the contest.
Would Cormier use his wrestling to keep the bout standing? Could the oftentimes acrobatic takedowns of Taktarov surprise Cormier? There are a lot of questions that could be answered with a bout of this kind. Who do you think takes it?
Randy Couture vs Randy Couture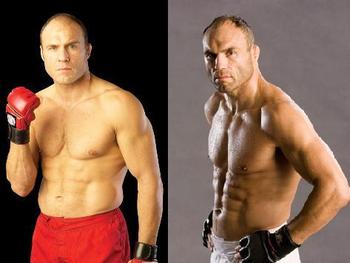 Time is never on a fighter's side. While fighting skills evolve over time, they can also decay due to deterioration on the body. Additionally, you'll find a lot of fighters who were unable to be rocked in the past wind up looking like a pillow could put them to sleep.
Randy Couture, however, somehow appeared to be the exception to the rule. Randy always appeared to get better with age throughout his nearly 14 year long MMA career. What if the Randy Couture of 2000 were to square off with the Randy Couture who showed up against Lyoto Machida?
Randy commonly described his current condition as "being in the best shape of my life". It's quite possible that Randy is made of a different cloth than most other men. He competed in the UFC until the age of 47 and successfully defended his title as late as 44.
Do you think it's true? Could the older and wiser Captain America somehow defeat the younger version of himself - a man who defeated Chuck Liddell, Tito Ortiz, Kevin Randleman, Vitor Belfort and Pedro Rizzo?
Pat Miletich vs Georges St. Pierre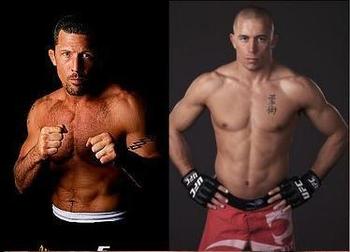 Before the days of Matt Hughes and GSP owning the welterweight division, Pat Miletich held the reigns. With four successful defenses of the belt, Miletich lost only one of his nine welterweight bouts in the UFC, and seemed destined to rule the division. Kinda sounds like GSP, doesn't it?
Despite the high level of talent, and the depth of the roster, the welterweight division has had three dominant champions with four or more defenses of the belt. Can GSP, the current kingpin, find a way to top the original champ?
Mark Coleman vs Mike Russow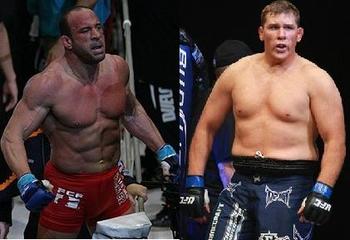 The Godfather of ground and pound is the reason that guys like Mike Russow had role models. His method of getting a fight to the ground, and breaking his opponents' will by pounding on their skull has been emulated and adapted by the best of MMA today.
With a professional record of 15-1 (1), Russow has only seen defeat once in his career and is current riding an 11 fight win-streak. Unlike Coleman, Russow uses his top position to find a submission when he can, winning eight fights via tapout.
Personally, I made this matchup because Mike Russow is riding a killer win streak in the Octagon and in his most recent bout, he used the "wet blanket" technique to keep it intact. Russow needs a lesson in delivering ground and pound. I can't think of a better man for the job than Mark Coleman.
Side note: Russow should also take notes on Coleman's ab workouts.
Matt Hughes vs Josh Koscheck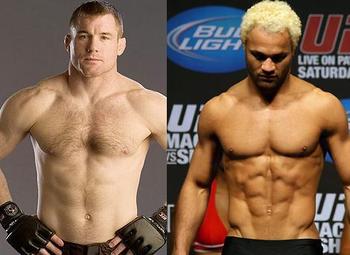 Sure, this fight already happened. However, the Matt Hughes of 2011 was not the Matt Hughes of 2006. In 2006, Matt Hughes had beaten everyone: Georges St. Pierre, BJ Penn, Frank Trigg, Royce Gracie, Sean Sherk and the list goes on. His speed was good enough to keep up with anyone and his wrestling was sure to put you down. Believe it or not, Hughes still has more successful defenses of the welterweight championship than even GSP himself.
Josh Koscheck is an elite welterweight who can beat anybody not named Georges St. Pierre. That being said, he struggled early with Hughes before scoring the knockout. It makes me wonder if Josh Koscheck could have handled strength and determination of the most dominant welterweight of all time.
Caol Uno vs Urijah Faber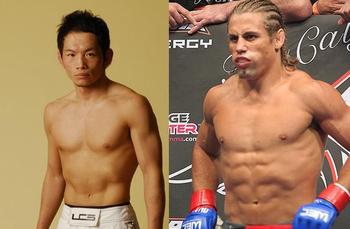 Uno may not have the greatest credentials of the lightweight fighters from the early 2000's, but he had the skills to hang with anyone. His bouts with Din Thomas, Jens Pulver, Dennis Hallman and BJ Penn had him competing with the best of the smaller fighters alive.
Urijah Faber has had no shortage of opponents. However, when put against top level fighters, he has faltered a bit. His wins over Jens Pulver Brian Bowles and were canceled out by his losses to Mike Brown, Dominick Cruz and Jose Aldo. Like Uno, he doesn't always win when he is against the best in the world, but he always keeps it competitive.
Who wins this one? I found it to be one of the most intriguing bouts on this list.


Tito Ortiz vs Chael Sonnen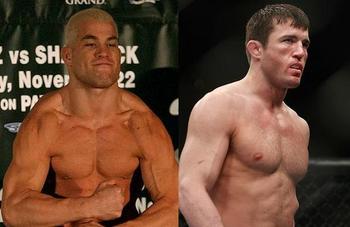 Name a fighter who made his living taking down top level fighters and punching a hole through their head while they are on the floor. Chael Sonnen very well may be the best in the world at doing that these days, however, in 2005, nobody did it better than Tito Ortiz.
The Huntington Beach Bad Boy has lost a lot of his legacy after running up an unfortunate losing streak and long periods of time on the shelf due to injuries. Tito will definitely wind up in the Hall of Fame for all of his Octagon accomplishments
Both fighters have enormous personalities, complete with hilarious trash talk and the skills to back it up. Could Chael Sonnen out-Tito Tito? I'm not sure, but it would have been one hell of an entertaining fight to watch.
Hayato Sakurai vs Jose Aldo
Beginning his career in 1996, Hayato Sakurai went through 20 professional bouts before succumbing to a loss, one that came at the hands of Anderson Silva. After the Silva bout, Sakurai was in a severe car accident. His performances became inconsistent afterwards and it left fans wondering how much the accident had affected his career.
Jose Aldo, on the other hand, is about as consistent as they come. He is a 145 pound wrecking machine who is currently enjoying a 14-fight win streak. Listed as the #5 pound-for-pound fighter in the world, it's possible that Aldo will go down as one of the best of all time.
Sakurai in his prime was only defeated by Anderson Silva and even in that bout, the fight went to the scorecards. Arguments can be made that Sakurai would have ended his career as the greatest of all time without the accident.
Who would win?
In his prime, I think Sakurai beats almost anyone. Jose Aldo is incredible, but he isn't Anderson Silva.


Dennis Hallman vs Dominick Cruz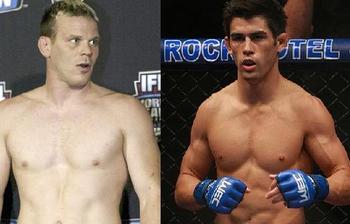 I wonder if history will be kind to Dennis Hallman after he retires. After all, he was the only man to beat Matt Hughes in his first 24 fights…and he did it twice…and it all happened in less than 40 seconds combined. He has hung in there with UFC middleweight pioneer Dave Menne, Jens Pulver and Caol Uno too. I'm not claiming that the guy deserves a spot in the Hall of Fame, but it's pretty clear that his achievements are under appreciated.
Dominick Cruz is the very best bantamweight alive. He had a strong run at featherweight before dropping to a better weight class for his frame. He soundly avenged his only loss last year and will be competing against Urijah Faber in the rubber match later this year. With evasive footwork and dominance within his division, he draws comparisons to Anderson Silva.
I think Hallman's wrestling and submission skills would pose a major challenge to Cruz. If this fight stays standing though, it would be a long one for the man who may forever be known for his Octagon speedos.


Josh Barnett vs Alistair Overeem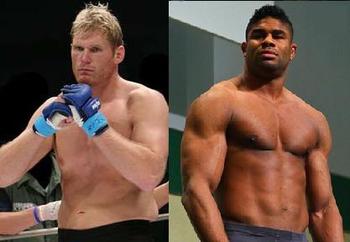 Josh Barnett brought shame onto the UFC when he failed his post-fight drug test after winning the heavyweight championship from Randy Couture. I decided that the best man to pit him against is another heavyweight powerhouse who is commonly associated with steroids. The difference is, The Reem tends to pee clean.
While Overeem began fighting in 1999, he didn't make his mark in MMA until 2005 when he submitted Vitor Belfort. Both heavyweights are incredibly well spoken and each man has a championship at stake in his next bout. Barnett has continued to grow as a fighter over the years, but he was a fixture of the early 2000's in MMA, competing 20 times before 2005.
We may not get to see this fight back in the day, if both men are successful in their next fights, we have the potential of seeing them face off by the years end.


Sean Sherk vs Jake Ellenberger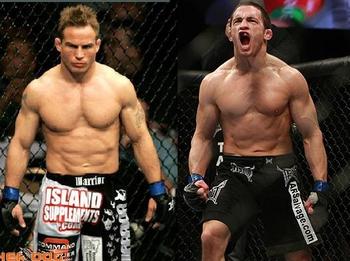 Powerhouse wrestler? Check. Crisp counter striking? Check. KO power in each hand? Check.
Before the UFC reinstituted their lightweight division, Sean Sherk hung with the best welterweights in the world. In fact, in his 41 professional fights, Sherk has only seen defeat at the hands of champions: Matt Hughes, Georges St. Pierre, BJ Penn and Frankie Edgar, who would go on to win gold after beating Sherk in a close bout.
The last person to defeat Jake Ellenberger also went on to win gold. Carlos Condit and Jake Ellenberger put on an extremely close fight in 2009. Ellenberger has established himself as a standout welterweight since that time, defeating Jake Shields and Diego Sanchez in his last two bouts.
Who wins this one?
Don't get me started. I think Ellenberger has been criminally underrated for years, but I think that this one has Sherk written all over it. Ellenberger tends to fade a little bit in later rounds, but Sherk would look fresh in Round 27.
BJ Penn vs Shinya Aoki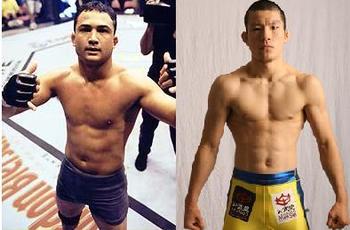 Looking for a lightweight submission specialist who can make most grown men cry with his submission prowess? You could be talking about BJ Penn, who was the first American to ever win at Abu Dhabi. You could also be talking about Japanese lightweight Shinya Aoki, who has scored a submission victory 19 times in his MMA career.
BJ definitely has the standup in this encounter, but Aoki has more aggression on the ground than most fighters in history. It could be too much for The Prodigy.
Before BJ started taking punishment from fighters like Nick Diaz and Jon Fitch, he used to eat stars like Matt Hughes for breakfast. In his prime, I think Penn not only defeats Aoki, but I think he finishes him with strikes.
Matt Lindland vs Jon Fitch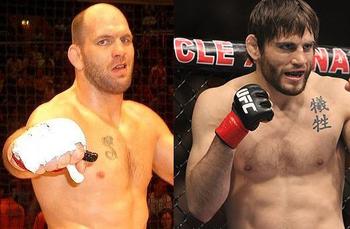 Neither guy will likely make the UFC Hall of Fame and neither guy is quite outspoken enough to be on the minds of MMA fans. However, both men have left a big mark on the sport.
Lindland has a silver medal in wrestling from the 2000 Olympic Games, which should help him counteract the wrestling skills of Fitch. Additionally, he had the submission skills to finish grapplers like Travis Lutter, and the stamina and durability to convince one of the three judges that he won a decision against Rampage Jackson in 2006.
Fitch on the other hand doesn't know how to lose. Aside from his KO loss to Johny Hendricks back in December, only GSP has beaten him since 2002.
Neither guy has great standup and the wrestling is definitely close. Whoever works harder and can work this fight to the ground would likely grind out a decision.
Carlos Newton vs Carlos Condit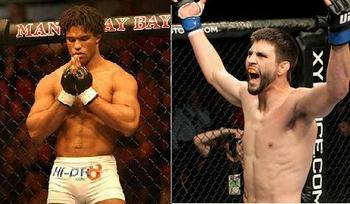 Sure, they have the same name, but does that make them close in skill? Not quite. However, people tend to forget that Carlos Newton did lock in that triangle choke on Matt Hughes before he powerbombed his way into the highlight reel. Grappling skill like that is impressive to say the least. Newton also scored victories over Pat Miletich and Renzo Gracie.
Carlos Condit lives up to the nickname Natural Born Killer. Condit lost a split decision to Martin Kampmann in his UFC debut, but 3 of his career losses have come via submission.
Condit's last submission loss came in 2006, so it appears that Condit may have worked out those kinks. Newton, while possessing admirable skills, never had the best record in this industry, and has been stopped seven times in his professional career. It's doubtful that he could overcome the onslaught of Condit.
Frank Shamrock vs Forrest Griffin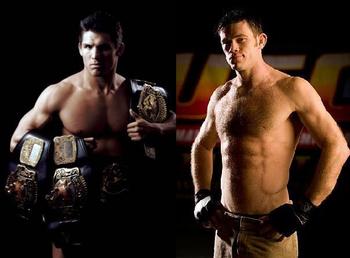 Forrest has already taken on Legends. He has spent time in the cage with Dan Severn, Jeremy Horn, Rampage Jackson, Shogun Rua and Anderson Silva. That's a who's who of MMA elite. One man who he never faced, though, was MMA pioneer Frank Shamrock.
Frank Shamrock was the original UFC light heavyweight champion; a belt that Forrest would later earn for himself. Not only did Shamrock dominate the UFC, but he retired in 1999, citing a lack of competition after defending his belt four times. He even defeated his successor, Tito Ortiz, who held onto the belt for over three years.
Forrest has pulled off the upset in the past against guys like Shogun and Rampage. Do you think he has what it takes to beat Shamrock?
Keep Reading