5 Veterans the Dallas Cowboys Should Move on from Sooner Rather Than Later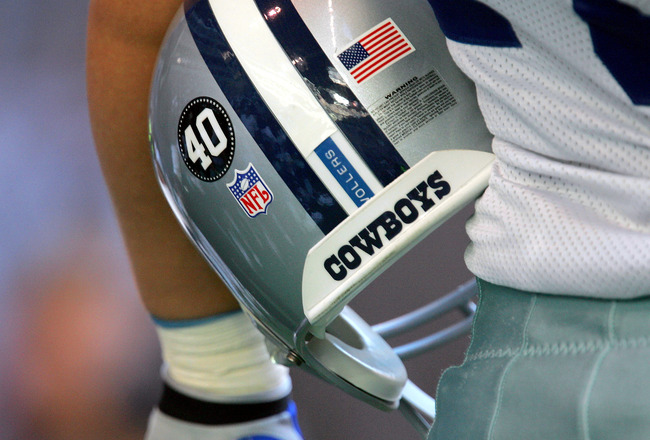 Ronald Martinez/Getty Images
It's said the NFL is a young man's game. Even though this has always been true, it's perhaps even more so in today's day and age of year in, year out turbulence in the National Football League.
There are two kinds of bad football teams: The first is a rebuilding franchise that simply doesn't have much talent, and the second is a team that has veteran talent that has simply passed the expiration date.
The 2012 Dallas Cowboys, like all other franchises, will be trying carefully to find the right blend of veterans and youth in order to contend for the post season. Coming off an 8-8 regular season in 2011, it's a given that some staple players will not be with the Cowboys from this point forward.
The following slideshow features five veteran players who should not be counted on for future success, seeing as how the window has simply closed. A few should have never been counted on to begin with.
This list does not include players such as linebacker Keith Brooking or quarterback Jon Kitna who have either stated their intention to retire or will likely do so. I also stayed away from any 2011 rookies that, despite showing no serious potential at all, might not have had enough time or opportunity to fully make their case for a starting job.
5. Martellus Bennett, TE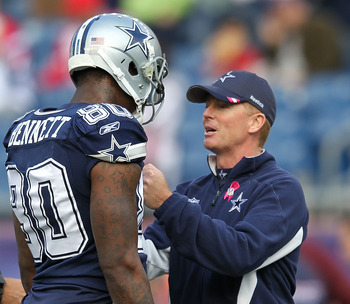 Jim Rogash/Getty Images
At a time when the Cowboys felt they were well-positioned to reach the Super Bowl following an impressive 13-3 campaign in 2007, Dallas followed up a two-pick first round in the 2008 NFL draft with a curious selection.
Already boasting the game's best tight end in Jason Witten, the Cowboys chose Texas A&M tight end Martellus Bennett with the 61st pick in Round 2. Known for his athleticism coming out of college, this idea might have looked good on paper but it really was a poor decision.
Bennett scored four touchdowns as a rookie and has never scored since then. He has never posted more than 33 receptions and in two other seasons failed to reach as many as 20 for the year.
In the third round of the same draft, Green Bay tight end Jermichael Finley was chosen some 30 picks after Bennett. Finley has a Super Bowl ring by now and boasts 15 career touchdowns and has twice caught 55 passes.
I have never been a fan of selecting backup players or redundant positions with first-day selections. Sure, depth is a good thing, but choices like Bennett really left big holes on the Dallas roster. This line of thinking goes far in understanding why the Cowboys have not come close to the level of play they did in 2007, the first full season as starting quarterback for Tony Romo.
Like Finley, Bennett is an unrestricted free agent and there's almost zero chance this lazy kid who would rather be posting garbage on YouTube will be back in Dallas.
4. Terence Newman, CB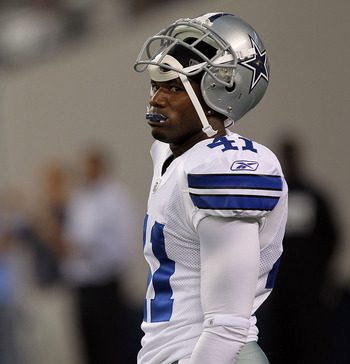 Ronald Martinez/Getty Images
Although not as urgent as some might think, the relationship between Terence Newman and the Cowboys has seen its best days for sure.
I vividly recall a game between Dallas and Oakland in 2005 in the Bay Area. As a newly acquired Raider, wide receiver Randy Moss took a pass over the middle for a long gain deep into Dallas territory in the first quarter. Certain that Moss was gone, it was Newman who chased down Moss from behind like a heat-seeking missile.
No, Newman was not assigned to Moss on that play.
Newman is not running like that anymore and therefore shouldn't be counted on as a No. 1 cornerback from this point forward.
The biggest issue here is Newman's projected 2012 salary of just over $8 million. Newman is not playing at this level anymore and the only possible way he is a part of Dallas' future plans is at a dramatically reduced salary.
Another issue is the fact Newman tends to avoid physical contact, which is not uncommon at the cornerback position, and he does so because he gets banged up a lot.
Without a significant boost in the pass-rush department there's not much point in having Newman on the roster unless he is relied upon primarily as depth. You can do much worse than Newman as third or fourth corner.
I don't see the Cowboys and Newman arriving at the same idea, although perhaps they should. Remember that the New York Giants just showed everybody how a strong pass rush can make a surprisingly undermanned secondary look pretty good.
3. Felix Jones, RB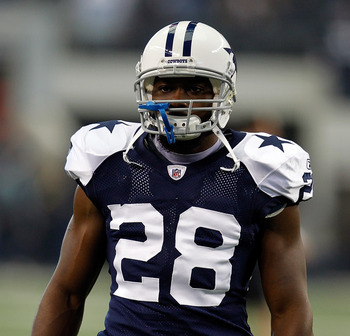 Tom Pennington/Getty Images
If there was ever an emotionally driven first-round pick on the part of owner/general manager Jerry Jones then this was it. My hands fell into my face in complete disgust the very instant I heard NFL Commissioner Roger Goodell announce it on live television.
It wasn't so much that I felt Arkansas tailback Felix Jones couldn't bring something to the Dallas offense but rather that I knew he wasn't the best running back on the board at the time.
The following two selections spoke volumes about the growing incompetence of Jones and this what that same day. Almost four years later, it's downright embarrassing.
After Jones came off the board with the 22nd selection, the Pittsburgh Steelers and Tennessee Titans followed with running backs Rashard Mendenhall and Chris Johnson, respectively.
Oops.
I'll let you compare the career production of Mendenhall and Johnson to that of Jones on your own, but just know it's not pretty.
And we're just discussing first-round running backs!
Prospects such as Matt Forte and—get this—Ray Rice were chosen in Round 2 as the Cowboys were salivating over the No. 5 player on this list. I would go so far as to argue that third-round running back Jamaal Charles would have been a better selection than Jones.
Despite adding situational back Felix Jones, another former Razorback named Jones—the billionaire—also signed a different kind of situational back named Marion Barber to a seven-year, $45 million contract.
Barber played in Chicago in 2011.
Jones will play elsewhere in 2013, if not sooner.
2. Bradie James, ILB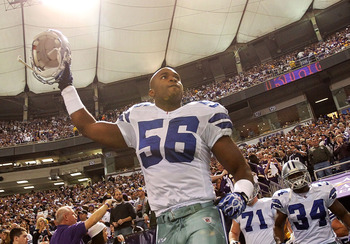 Chris McGrath/Getty Images
To begin with, Bradie James has been a very solid player for the Dallas Cowboys. His ability and willingness to tackle is not something that all linebackers possess. Remember 2006 NFL draft bust Bobby Carpenter?
With five seasons posting more than 100 tackles, James' value to the franchise has been what I describe as quality.
I cannot say that it has been outstanding, however.
James has played nine seasons in the NFL, and among his biggest concerns right now is the explosive potential of second-year linebacker Bruce Carter. True, Carter couldn't show much as a rookie, but in 2012 I predict the difference will be profound when comparing the typical production of Brady to what's possible with Carter.
If you can see the huge difference between the range and play making ability of Sean Lee over Keith Brooking then you'll see something similar at the other inside linebacker spot soon to be manned by Carter.
At 31 years old and having all of two career interceptions to go with 10 forced fumbles after nine seasons, I think it's safe to say James is not going to be back.
1. Kyle Kosier, OG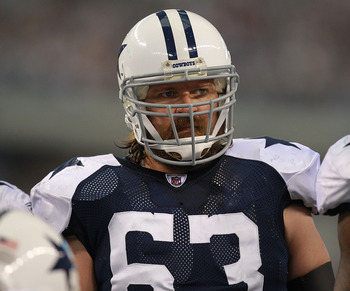 Ronald Martinez/Getty Images
Perhaps I was a bit jaded when Dallas signed Kyle Kosier to replace Larry Allen, easily among the best offensive linemen to ever play professional football and a sure first-ballot Hall of Fame inductee in the very near future. But the fact remains that going from Allen to Kosier is like going from the penthouse to the outhouse, as far as I'm concerned.
Had Kosier played football prior to the free-agency era of watered-down rosters and overpaid mediocrity, it's possible, if not likely, that Kosier would have never held a starting job.
Signing a five-year contract worth $15 million with Dallas in 2006, Kosier was a player that bad teams in San Francisco and Detroit had no use for prior.
But Jerry Jones saw something different—and still does apparently.
At the conclusion of that original five-year deal in 2010, the Cowboys extended Kosier after the 2011 NFL lockout. This time it was for three more agonizing years at $6.5 million.
Granted, Dallas has had some good offensive seasons with Kosier in the loop, but they have also been lousy in the red zone each season and obviously have tapered off in the month of December.
In recent seasons the Cowboys can't even keep Tony Romo healthy.
Kosier is not the entire problem with the Dallas offensive line, but he is also far from the solution. Kosier came out of college as a bit of a tweener as teams really couldn't decide if he was a tackle or a guard.
If you're not sure what a player is then it's possible he's not much of either. Built like a tackle that is not athletic enough to play that position, Kosier then translates to a finesse guard who's fair enough in pass protection but then gets almost no push in the running game, especially against interior defenders like Albert Haynesworth or Pat Williams.
Guards need to break holes open for the running game and I've seen Kosier knocked down by opposing linebackers that would have turned around and run away from Allen.
Having suffered a torn left MCL in the season finale against the Giants in New York, now is as good a time as any to move away from Kosier at guard—or anywhere—and continue rebuilding an offensive line that just isn't very good beyond second-year tackle Tyron Smith.
Keep Reading

Dallas Cowboys: Like this team?