NCAA Tournament Predictions 2012: 4 Pac-12 Teams Will Receive Bids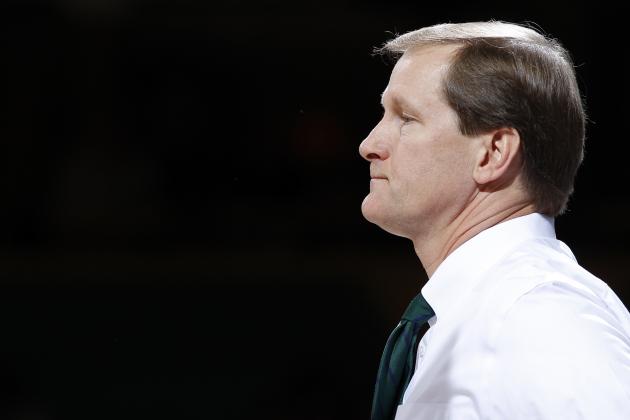 Joe Robbins/Getty Images

That headline is laughable—and probably punchable—for the Big Ten, Big East and Big 12 readers in the crowd.
The Pac-12 is experiencing a down year, currently behind such powerhouse conferences as Missouri Valley (led by No. 24 Wichita State) and Conference USA (led by Southern Miss) in the RPI.
Early NBA defections have been a killer to the conference's usual power brokers.
Derrick Williams (Timberwolves) would be in his junior season in an Arizona uniform and Brandon Jennings (Bucks), if he had qualified, would be a senior in Tucson.
DeMar DeRozan (Raptors) would be in his last year at USC.
This is supposed to be Klay Thompson's (Warriors) final season in Pullman. Same for former Washington guard Isaiah Thomas (Kings).
Jrue Holiday (76ers) and Tyler Honeycutt (Kings) would still be at UCLA, a senior and junior respectively.
But premature departures to the pros are a fact for all of the major conferences. That's not the sole reason behind the Pac-12's rugged season.
The overall coaching hierarchy seems diminished, apart from the elite class that makes up the top four (Mike Montgomery, Sean Miller, Lorenzo Romar, Ben Howland).
The number of star players is down overall.
And the numbers lay out the truth: The conference has failed to beat a ranked opponent all year.
All those factors mean the following argument is difficult to make. But I'm a glutton for outraged comments, so here it goes:
The Pac-12 will receive four berths in the NCAA Tournament, last year's expansion of the field allowing the conference to make a decent showing in bracket numbers. And the teams that make it to the tourney will fare better than expected.
Remember, the RPI is a huge liar. There is still enough talent at the top of this conference to make four bids completely legit.
Here are the four Pac-12 teams that deserve to be in the NCAA bracket:
Begin Slideshow

»
Jeff Gross/Getty Images

The Cal Golden Bears are seemingly the only lock for the field of 68 at the moment.
Led by frenetic shooting guard Jorge Gutierrez, a nightmare defender for opposing guards, fundamentally-skilled power forward Harper Kamp and a potential star small forward in Allen Crabbe, Cal is the conference's best team, a fringe Top 25 contender.
And now point guard Justin Cobbs, a Minnesota transfer, is starting to emerge, scoring 28 points in a win versus Oregon.
They're nearly unbeatable in Berkeley, their only home loss of the season coming in a thriller against Arizona.
The Bears also lost by just one to a ranked San Diego State squad in San Diego.
They also have one of the most underrated coaches in the nation leading the program, Mike Montgomery returning the Bears to a perennial slot near the top of the conference.
Finally, they're hot, winners of five of their last six with an overall record of 21-6 (11-3 in their conference).
Cal should finish around 26-7, good enough for a No. 7 seed.
Three best wins as of Feb. 19: at Washington (69-66), at Oregon (77-60), vs. Colorado (57-50)
Three worst losses as of Feb. 19: vs. Missouri (92-53), at Oregon State (92-85), at Washington State (75-72)
Stephen Dunn/Getty Images

Ranked to start the season, Arizona went through early growing pains, incorporating an all-freshman backcourt after dealing with the departure of Derrick Williams to the NBA and starting point guard MoMo Jones to transfer (Iona).
Another key contributor, Kevin Parrom, went through a litany of issues. He was shot in a scuffle in the Bronx in the fall, and his mother died shortly thereafter. He then broke his foot against Washington and is out for the year.
In spite of it all, Arizona is 19-9 overall and 10-5 in the Pac-12, owners of the conference's only win at Cal and winners of five of their last six. They also lost in overtime to a highly-rated Florida team in Gainesville and had a close loss at home to San Diego State.
Arizona has weapons with the highly-rated duo of freshman guards in Nick Johnson and Josiah Turner, a sound scorer in guard/forward Kyle Fogg and an All Pac-12-caliber forward in 6'6" Solomon Hill. Jesse Perry is a solid power forward and Brendan Lavender is a lethal three-point shooter.
As a unit, the Wildcats are one of the conference's premier defensive teams.
The other thing that works in Arizona's favor is its brand name. As a traditional power, Arizona owns a large following of both lovers and detractors, a ratings draw.
Arizona should finish around 23-10, worthy of a No. 10 seed in the tourney. Once in the tourney, Arizona's nastiness will keep it in games.
Three best wins as of Feb. 19: at Cal (78-74), vs. Clemson (63-47), vs. Colorado (71-57)
Three worst losses as of Feb. 19: vs. Mississippi State (67-57), vs. Gonzaga (71-60), at UCLA (65-58)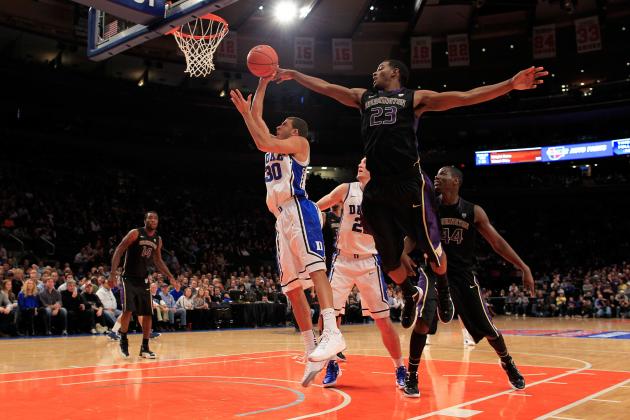 Chris Trotman/Getty Images

The starting five is stacked, and they have the best sixth man in the Pac-12.
Shooting guard Tony Wroten and forward Terrence Ross are both going to be in the NBA next year if they decide to exit Seattle early. That's the best duo in the conference, and it's not close.
Seven-footer Aziz N'Diaye is a huge presence in the post, especially on the defensive end.
Point guard Abdul Gaddy is a consistent and effective delivery man for all of them.
C.J. Wilcox, instant offense off the Huskies' bench, is a pure long-range gunner, keeping the defense spaced out.
At times that crew has disappeared. There are a few bad losses dotting their schedule, such as an anomaly of a blowout at home versus South Dakota State.
But when the Huskies are on, they are the best team in the conference.
Besides the crucial home win over Arizona to stay in the conference title race, Washington lost close games against highly-ranked Duke and Marquette in Madison Square Garden in the non-conference slate.
Once into the tourney field, the Huskies (19-8, 12-3) will be a dangerous team as a pressure-free underdog. Expect them to finish around 23-9, good for a No. 11 seed.
Three best wins as of Feb. 19: vs. Arizona (79-70), vs. Oregon (76-60), at Arizona (69-67)
Three worst losses as of Feb. 19: vs. South Dakota State (92-73), at Saint Louis (77-64), at Colorado (87-69)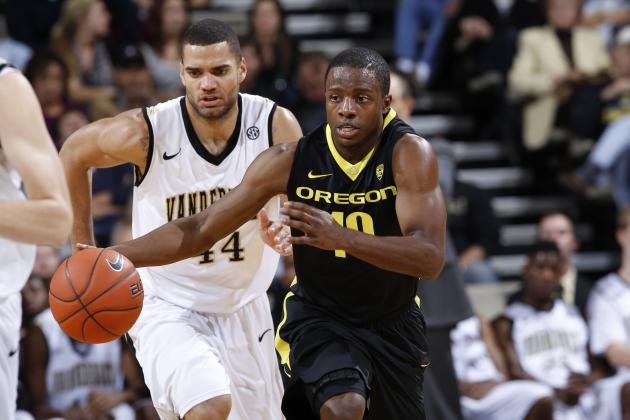 Joe Robbins/Getty Images

Oregon can thank tourney expansion for an opportunity at making this year's field.
Expect the Ducks to be one of the final four teams into the tourney.
There isn't a team in the conference that has benefited more from transfers than the Ducks, as leading-scorer Devoe Joseph (Minnesota), center Tony Woods (Wake Forest) and post-man Olu Ashaolu (Louisiana Tech) all came into Eugene via other college destinations.
However, Dana Altman also was burned by a huge transfer earlier this season when coveted-recruit Jabari Brown opted to leave Oregon after just two games. If Brown was still around, Oregon might be looking down on the rest of the conference.
As the Ducks stand right now, they're still solid.
Joseph is the team's star player, scoring a career-high 33 points in a close loss to Cal.
Woods is one of the conference's true shot-blocking presences.
E.J. Singler, the younger brother of former Duke standout Kyle Singler, is a consistent scorer (13.2 points per game) and rebounder (5.6 boards) and he leads the conference in free-throw shooting.
Point guards Garrett Sims and Jonathan Loyd are also effective in running the point and Ashaolu is a high-quality reserve big man.
While there aren't a great deal of signature wins, besides dropping a game against the Beavers, all of the Ducks' losses have been to tourney-bound teams.
Currently standing at 19-8 (10-5 against the Pac-12), expect the Ducks to finish around 22-9, which will force them into a play-in game as a No. 13 seed. Their resume will be just good enough for a bid.
Three best wins as of Feb. 19: at Arizona (59-57), vs. Washington (82-57), vs. Stanford (78-67)
Three worst losses as of Feb. 19: at BYU (79-65), vs. Oregon State (76-71), at Vanderbilt (78-64)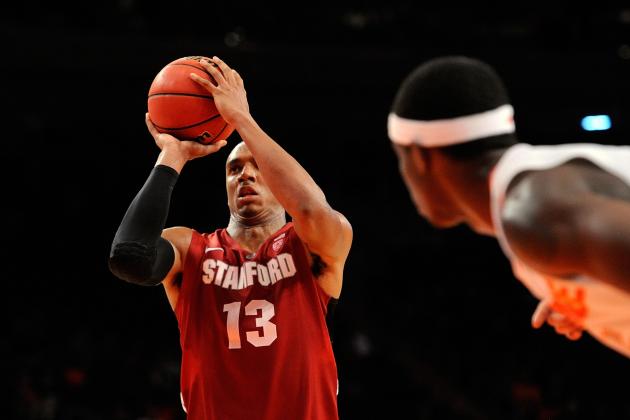 Patrick McDermott/Getty Images

Stanford (18-9, 8-7) badly needed a win over Oregon on Feb. 19 at Maples Pavilion to maintain reach of an NCAA-tourney bid.
That didn't happen, and now the Cardinal is on the extreme edge of the tourney bubble.
Barring a hot spree to end the season and a long Pac-12 tourney run, Josh Owens and Stanford are not going dancing. They'll finish right around 20-12.
But if the crew as currently assembled sticks around en masse (minus Owens), Stanford will be a tournament team in 2012-13.
Colorado, in its intro year in the Pac-12, defied all odds by staying in contact with the top slot for the bulk of the season.
But the Buffaloes struggled on the road in the conference, and their schedule to end the season spells doom for their NCAA tourney odds.
Besides playing conference-leader Cal at home, Colorado (18-8, 10-4) must make the tough Oregon road swing to end the season.
Expect the Buffaloes to also end the season around 20-12, not quite tourney fodder.
Stanford's three best wins as of Feb. 19: vs. Oklahoma State (82-67) vs. North Carolina State (76-72), vs. Colorado (84-64)
Stanford's three worst losses as of Feb. 19: at Washington State (81-69), at UCLA (72-61), vs. Butler (71-66)
Colorado's three best wins as of Feb. 19: vs. Washington (87-69), vs. Arizona (64-63), vs. Oregon (72-71)
Colorado's three worst losses as of Feb. 19: vs. Wyoming (65-54), at UCLA (77-60), at Colorado State (65-64)