Boston Red Sox: How Mike Cameron's Retirement Might Affect 2012 Team
February 19, 2012

Jared Wickerham/Getty Images
Former Red Sox outfielder Mike Cameron announced his retirement today, and in an indirect way, his hanging up the spikes could affect the make-up of the 2012 Red Sox pitching staff.
Cameron was signed by the Nationals after a woeful 2011 season with the Red Sox and Marlins, in which he hit .203.
That signing underlines the desperation with which Washington views its centerfield situation. Despite the potential of minor-league phenom Bryce Harper, the Nationals believe he needs more time to work on his recognition of off-speed pitches and the way he approaches left-handed hurlers.
Washington's options now are Roger Bernadina and Rick Ankiel.
At the same time, Washington has the luxury of too many starting pitchers.
Even before Washington signed Edwin Jackson, I argued that the Nationals were an intriguing potential trade partner for Boston, because the Nats had too many major league starters on their roster. 
Pete Kerzel of MASN wrote, "There's no way around it: The Nationals have at least one more starting pitcher than spots in the vastly improved five-man rotation that will break camp from spring training in Viera, Fla., in early April."
And Kerzel made that statement before Jackson was added to the mix. At the time, their starters included Stephen Strasburg, Gio Gonzalez, Jordan Zimmermann, Chien-Ming Wang, Ross Detwiler, John Lannan, Tom Gorzelanny and Craig Stammen, with Yunesky Maya, Matt Purke and others waiting in the wings.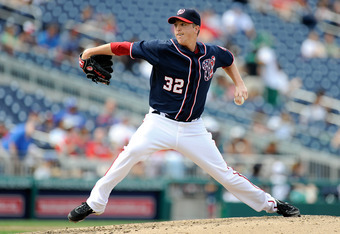 Greg Fiume/Getty Images
Push Jackson into the mix—likely as the No. 2 starter—and another pitcher has to drop off the end of the rotation.
I originally thought that if a deal gets done, it would get done late—just before the start of the season. Washington wanted to evaluate their centerfield options—their area of greatest need. So much need, in fact, that they signed Cameron as a non-roster invitee and re-signed former pitcher Rick Ankiel to compete with the immortal Roger Bernadina for the spot until Harper is deemed ready.
Cameron's decision may move up that timetable.
Washington does still want to get a good look at all their pitchers before making a decision. They do need some insurance, with Stephen Strasburg, Jordan Zimmermann and Chien-Ming Wang all coming off recent surgeries.
Strasburg is on a 160-inning limit and will be shut down once he reaches that mark. Wang hasn't pitched 100 innings since 2007, and it is unknown how many innings Zimmermann (who was limited to 160 in 2011) will be able to throw in 2012.
With all those caveats in mind, here's a look at four Washington starters the Red Sox might pursue.
Lefty Tom Gorzelanny has had a seven-year career as a dependable end-of-the-rotation guy. A second-round pick in 2003, he was one of the Pirates' top prospects in 2005, and by '07, he was the staff ace (14-10, 3.88 ERA). His performance inexplicably went south thereafter, and he was traded to the Cubs, where he spent two seasons as a long reliever and fifth starter. He ended up with the Nationals in January 2011.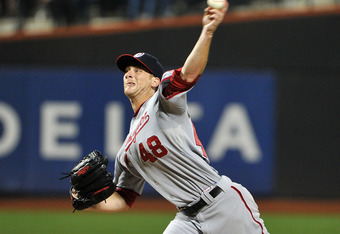 Christopher Pasatieri/Getty Images
For the past four years, he has averaged 8.3 strikeouts per nine innings and only one home run per nine innings. He also doesn't walk a lot of batters. With the acquisition of Gio Gonzalez and Edwin Jackson and return of ace Stephen Strasburg, Gorzelanny will likely be relegated to long relief if he stays in Washington.
Third-year arbitration-eligible for 2012, he earned $2.1 million last year. In January, he avoided arbitration by signing a $2.7 million deal for 2012.
While he scuffled in the team's starting rotation last season, he did have some success as a reliever. Since the Nationals are probably viewing him as bullpen fodder, they may not ask a lot for him in a trade. 
In Boston, Gorzelanny could compete for the fifth spot in the rotation. And who knows how good he might be with the Red Sox lineup behind him?
Ross Detwiler, Washington's first-round pick (sixth overall) in the '07 draft, is a 6'5'' lefty with a mid-90s fastball. He has great stuff and was the first player drafted in 2007 to appear in a major league game, but over the course of his short career, he has dealt with a number of lower body injuries, which have limited him to 29 starts in the majors since 2009. He had surgery in February 2010 to repair a torn hip flexor.
He started 10 games for the Nationals in 2011 and appeared in relief five times, earning an excellent 3.00 ERA for a relatively bad team. Lefties batted only .167 against him. Down the stretch, the 25-year-old left-hander went 2-0 in three starts in which he gave up just 10 hits and two runs in 19 innings.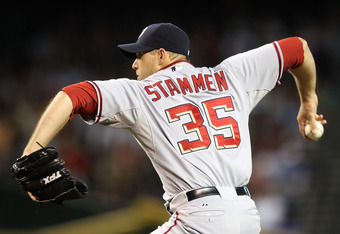 Christian Petersen/Getty Images
Detwiler isn't slated to reach free agency until after the 2015 season. He is making a relatively paltry sum (by MLB standards) on his current contract. However, he is out of options, meaning he can't be sent to Triple-A without first being put on waivers, and some other team would claim him for sure. And being a former first-round pick, it may cause the front office to overvalue him.
But does it make sense to stash him in the bullpen? Washington may be better off trading him while he has a decent value.
Right-hander Craig Stammen has had an up-and-down career, complicated by a 2009 operation to remove bone chips from his pitching elbow. He has a somewhat misleading 4.94 ERA in 244 major league innings. Control pitchers like Stammen live and die by the defense behind them, and the Nationals have not played great defense, as his other pitching metrics show.
He was drafted by Washington in 2005 and was called up to the majors on May 20, 2009 after posting a 1.80 ERA in seven Triple-A starts. He worked his way into the rotation, starting 19 games before his Sept. 6 surgery.
Stammen was supposedly ready to go for 2010, and he emerged from spring training as the No. 3 starter. However, he struggled mightily, and on June 7, he was optioned for a time to the Triple-A Syracuse Chiefs to make room for the phenom, Stephen Strasburg.
He made three Triple-A starts, allowing only five runs in 20 innings and walking only three of the 81 batters he faced. When the Nats needed another starter, they recalled him, and he made another 19 starts in the big leagues in 2010.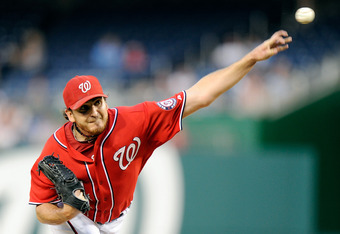 Greg Fiume/Getty Images
His low walk total, a better-than-average ground ball rate and the fact that he does not give up many home runs have helped keep him at the edge of major league success. He also throws strikes, and a lot of them are swinging strikes.
In 2011, Stammen was optioned to Triple-A for the start of the season. He made 25 starts in Syracuse around a two-week return to the Nationals in June. He was called back up in September and did reasonably well as a reliever, posting a miniscule 0.87 ERA in seven games.
Stammen is now viewed as more of a right-handed long reliever and swingman if someone gets hurt. But he is still young, he's pre-arbitration eligible and he only earned $402,000 in 2010. He will not be a free agent until 2017, which makes him interesting from a contract perspective.
LHP John Lannan: Of the three Washington lefties previewed here, the one that seems to fit the Red Sox mold the best is Lannan. At the same time, analysts believe that Lannan is the most likely of this group to be traded.
Jayson Stark of ESPN.com writes, "When we asked an exec of one team that had spoken with the Nationals if they appeared committed to dealing Lannan this spring, his answer was: '100 percent.' "
Lannan led the staff in wins, starts and innings pitched in 2011 and is under club control for two more years. Also of potential interest to GM Ben Cherington is Lannan's ground ball rate: 54.1 percent, which is right up there in Aaron Cook range.
According to Patrick Reddington of FederalBaseball.com, that ground ball rate was the sixth highest among NL pitchers. Lannan also ranked second in double-play balls induced.
Virtually every description of Lannan's career includes the words "reliable," "steady" and "back-of-the-rotation starter." He has made 30 starts in three of the past four seasons, and his 162-game average for innings pitched is 199.
Adam Kilgore of the Washington Post did some research on Lannan, who ranks in the top eight in his age group in career games started, innings pitched and quality starts. The other seven are Felix Hernandez, Tim Lincecum, Matt Cain, Chad Billingsley, John Danks, Clayton Kershaw and Yovani Gallardo.
Kilgore also reports there are only 26 pitchers in baseball who have thrown at least 710 innings with a 4.00 earned run average or better over the past four seasons. However, the arrival of Gio Gonzales and Edwin Jackson has created a logjam in the starting rotation, and at least one Washington reporter thinks trading Lannan makes sense.
Phil Wood of MASN Sports writes, "I wouldn't be surprised if veteran lefty John Lannan ends up in some other team's uniform by opening day. The ballclub likes Lannan, but I suspect they like Ross Detwiler's stuff a little more."
Lannan is 27, a bit older than Detwiler, but more importantly, Lannan is already arbitration eligible and will be a free agent after the 2013 season. He will make $5 million (after losing his arbitration case) for 2012, so he will be more expensive than either Gorzelanny or Detwiler. Lannan still became the team's highest-paid pitcher for 2012. He had asked for $5.7 million after earning $2.75 million last season. 
Detwiler is also a former first-round draftee while Lannan is an 11th round pick. It's hard to imagine that distinction being lost on the front office.
A trade, perhaps for an outfielder, seems to be the best solution for the Nationals. Because Detwiler might offer more upside and because Washington just dealt a number of its young arms to the Oakland Athletics to get Gonzales, they may prefer to keep the younger pitcher and think about moving Lannan.
On Feb. 8, Adam Kilgore of the Washington Post wrote that the Jackson deal "seemed to blanket John Lannan's future here in uncertainty." He reinforced Kerzel's point that the Nationals have seven or eight viable starters competing for five spots.
"Based on contract and service time considerations," Kilgore concluded, "Lannan became widely regarded as the Nationals' most expendable (read: tradeable) starter."
On the surface, it does not appear that the Red Sox are an ideal match, because their expendable outfielder who might appeal to Washington—Ryan Kalish—won't be ready for the start of the season.
According to Nick Cafardo of the Boston Globe, however, there is reason to believe that a trade could still happen. "It doesn't have to be a center fielder,'' one major league source told Cafardo. "They don't have to get a center fielder in that deal as long as they get a center fielder some other way. The Red Sox make a lot of sense.''
Perhaps the Nats would take Kalish and muddle along with Ankiel//Bernadina until Kalish is healthy enough to play. Washington is also looking to add bench strength, especially a left-handed bat; if they add a low-level pitching prospect to the deal, the Red Sox could throw in Lars Anderson, a left-handed hitter with potential, to sweeten the deal.
This deal would help Washington address another glaring need: on-base percentage. As the Feb. 13 issue of Sports Illustrated points out, Washington was 12th in the NL last year in runs and OBP, and they didn't add anyone to help those numbers. The leadoff and No. 2 hitters were particularly hideous, combining for a .285 OBP. (Kalish has a minor league career .365 OBP, while Anderson's is .372.)
Another reason Washington might deal with the Red Sox is because other teams would press them harder for some of the Nats' top prospects. The Red Sox would settle for one of the left-handed pitchers listed above.
One caveat: Everything I'm writing here is predicated on the initial presumption that the Nationals have too many starting pitchers.
But isn't that what folks said about the Red Sox last year? Look what happened.