2012 NFL Draft Projections: 5 Potential Late-Round Picks Who Will Become Stars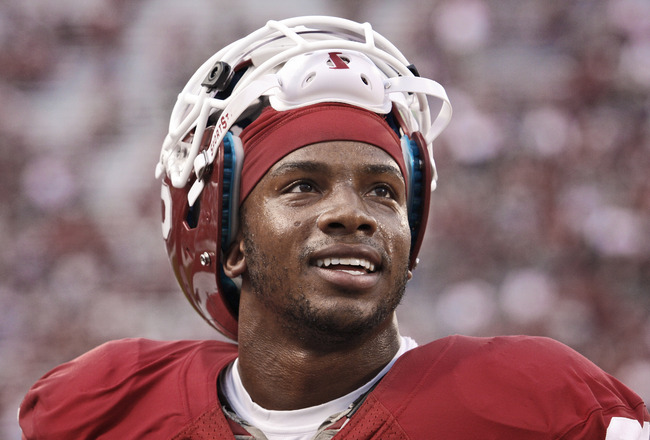 The 2012 NFL draft holds some late-round gems.
Brett Deering/Getty Images
Every year, unheralded NFL draft picks prove their doubters wrong. Just ask Tom Brady, Terrell Davis, or Marques Colston how it worked out for them.
The 2012 NFL Draft should be no different.
Future Pro Bowlers will be drafted even though they didn't get Mel Kiper Jr.'s stamp of approval.
There are many sleeper picks who are ready to help their future employers. Playing with a chip on their shoulder, the day three draft picks have something extra to prove to the skeptics.
The following NFL hopefuls have a chance to become budding superstars in the process.
Kellen Moore, Quarterback, Boise State
Moore could succeed in the NFL.
Otto Kitsinger III/Getty Images
Height: 6'0"
Weight: 191
40 Time: 4.98
Boise State's Kellen Moore had an outstanding college career.
However, the Heisman trophy finalist faces an uphill battle heading into the NFL. He doesn't have great size or a howitzer for an arm, but his football intelligence is outstanding. Moore was a highly productive four-year starter in college.
Moore's a competitor. He throws the ball with nice touch and accuracy. If he can go to a team with a quality starting quarterback, he could refine his skills and find himself in a Matt Flynn type of situation.
As of now, the Bronco is a sixth or seventh rounder at best, but some team should take a flyer on him.
Marvin McNutt, Wide Receiver, Iowa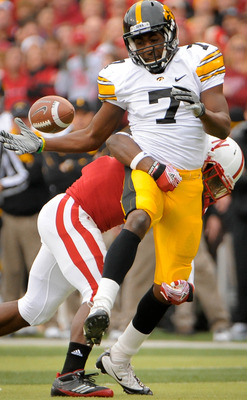 McNutt has the body of an elite receiver.
Eric Francis/Getty Images
Height: 6'3"
Weight: 216
40 Time: 4.52
The knock on Iowa's Marvin McNutt is his lack of break-away speed.
Except when your senior season produces statistics like McNutt's did, people tend to take you more seriously. This Hawkeye had 78 catches for 1,269 yards and 12 touchdowns.
His excellent size, strength, and reliable hands will make him a true threat at the next level. What's most impressive about McNutt is his innate ability to get open thanks to his polished route running skills.
McNutt projects to be a fourth or fifth round selection. He will be an absolute steal for any team fortunate enough to choose him on the final day of the draft.
Ryan Broyles, Wide Receiver, Oklahoma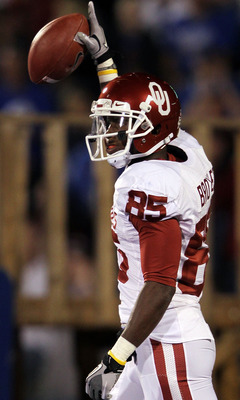 Broyles will overcome his recent injury.
Jamie Squire/Getty Images
Height: 5'10"
Weight: 188
40 Time: 4.52
In 2010, Ryan Broyles was a Biletnikoff award finalist after reeling in 131 catches for 1,622 yards.
Yet in 2011, the Oklahoma wideout tore his ACL after nine games, ending his collegiate career.
Regardless of the injury, Broyles will go down as one of the best receivers in Oklahoma history. He should bounce back from his knee injury and find a new home during round four or five of the draft.
Not blessed with dominant size, Broyles will be a slot receiver in the pros. Although, his versatility as a return-man will get him on the field in multiple facets.
Quickness after the catch will make this Sooner a household name in the NFL.
Robert Turbin, Halfback, Utah State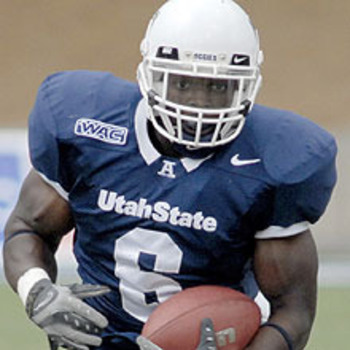 Turbin was a production machine in college.
Height: 5'9"
Weight: 216
40 Time: 4.57
Utah State's Robert Turbin ran for 1,517 yards and 19 touchdowns this season.
With such a fantastic season under his belt, there's reason to believe he can run wild in the NFL.
This Aggie put the team on his back and carried Utah State to their first bowl appearance since 1997.
As a strong runner and a handy receiver out of the backfield, Turbin projects to be a fourth or fifth round pick. His momentum should continue in the pros. He has the ability to be a workhorse for any franchise.
Cliff Harris, Cornerback, Oregon

Like it or not, Harris' tape doesn't lie.

Height: 5'11
Weight: 168
40 Time: 4.49
Character issues could make this defensive back Pacman Jones, Jr.
Cliff Harris is known more for his off the field problems than he is for his on the field performances.
Nevertheless, the recently dismissed Oregon cornerback can play. As a dangerous punt returner and fearsome defensive back, Harris could be a surprise in the NFL.
He once lead Div. 1-A in punt returns for touchdowns with four, and his six interceptions in 2010 ranked sixth in the country. The skills are there, even if his head is not.
As long as this ex-Duck stays out of trouble, he will find a place in this league. He'd be a surefire first round pick if he didn't make bone-headed mistakes (like drive nearly twice the speed limit on a suspended license).
Currently, Harris' projected stock has dropped all the way down to the fourth round at best. There's a chance that this defensive back won't even be drafted at all.
However, some team should take a chance on the troubled athlete.
Keep Reading