NHL Trade Rumors: Jaroslav Halak and Top Goalies Who Could Be Dealt
February 19, 2012

Dave Sandford/Getty Images
Is your team having trouble keeping the puck out of its own net? Does your favorite goaltender moonlight as a block of Swiss cheese? Well, it just so happens that your team is in luck!
The 2012 NHL trade deadline is shaping up to be one heavily laden with movable netminders, some good, some bad, but all willing to stick their necks out to stop those pesky slap shots.
These three goalies figure to be among the most prominent ones shipped out by next Monday.
Jaroslav Halak
The St. Louis Blues are about as stocked in goal as any team in hockey. Head coach Ken Hitchcock currently has the luxury of trotting out two netminders—Brian Elliot and Jaroslav Halak—who let in fewer than two goals per game, including Elliot's NHL best 1.55 goals against average.
And that makes no mention of Ben Bishop, who has emerged as the top goalie in the American Hockey League with the Blues' minor league affiliate in Peoria.
With several contenders looking for help in net (Philadelphia Flyers?), Blues GM Doug Armstrong could easily flip one of his three quality goalies for some offensive help, considering the team notches a middling 2.53 goals per game. If Armstrong goes down that road, expect the 26-year-old Halak to be the odd man out.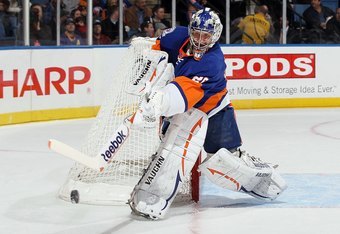 Jim McIsaac/Getty Images
Evgeni Nabokov
As far as losing teams with assets to burn are concerned, the New York Islanders, mired in 12th place in the Eastern Conference, may well look to shed some of their more valuable trade chips in exchange for quality prospects ahead of the deadline.
The most attractive? Evgeni Nabokov, who ranks in the top 10 in the NHL in goals against average and save percentage. Nabokov's past postseason success with the San Jose Sharks, along with his tiny salary and impending free agency make him an ideal fit for any Stanley Cup contender in dire need of goaltending help right now.
Jonathan Bernier
If Jonathan Bernier gets dealt before the deadline, it won't be to a playoff-bound club.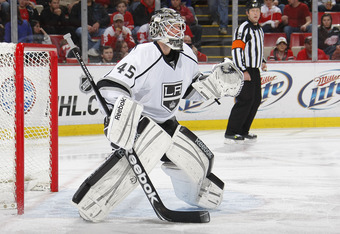 Dave Sandford/Getty Images
Rather, the Los Angeles Kings will continue to dangle their backup goaltender in pursuit of a big-time goalscorer to boost their dead last offense.
The Columbus Blue Jackets, a terrible team in dire need of goaltending going forward, appear to be the most likely destination for the 23-year-old Bernier. Like so many other teams in the NHL, the Kings covet Jackets winger Rick Nash and would have to give up Bernie to get him.
And, even if someone else snags Nash, LA could always settle for the misfit Jeff Carter.