Family Tree: The History of the Windham Family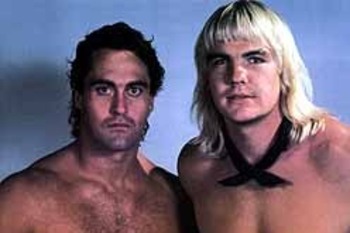 Quite often in the world of professional sports, an athlete's son will gain the desire to follow in his father's footsteps and embrace the career that brought prestige to his family's name.
An equal occasion of joy occurs when the other siblings follow suit.
Finally, the children of those children join the ranks, and now, you have three generations of professional athletes.
Today, we will look at a family stable that were early pioneers of the wrestling business, the Windham wrestling family.
Blackjack Mulligan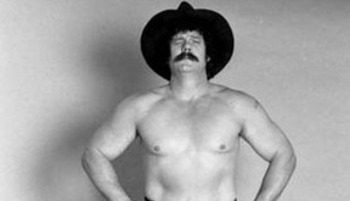 Robert Windham, a.k.a. Blackjack Mulligan, is the patriarch of the Windham family.
After training in his native state of Texas, Mulligan made waves in National Wrestling Alliance, winning multiple singles championships in its territories, including the NWA United States Championship on three separate occasions.
He also won several tag team championships with his partner, Blackjack Lanza.
As a peformer, Blackjack was known for his submission move, the Clawhold. He also liked to finish off his opponents with the Lariat, a move that would later be adopted by his sons, Barry and Kendall, and by fellow Texan John Bradshaw Layfield, formerly of the New Blackjacks.
Blackjack Mulligan and Blackjack Lanza were inducted into the WWE Hall Of Fame in 2006.
Barry Windham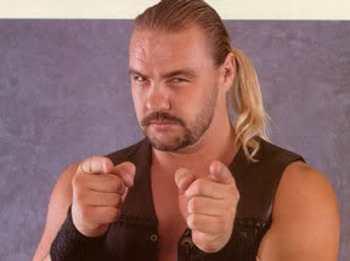 Barry Windham is the son of Blackjack Mulligan and perhaps the most famous member of the clan.
Barry got his start in wrestling during the late 1970s at the age of 19.
In the early 80s, he formed a tag team called the U.S. Express with his brother-in-law, Mike Rotunda. This paring went on to become two-time WWF World Tag Team Champions
Barry was a member of the legendary Four Horsemen in 1988. During this period, he won the NWA United States Championship.
He would later win the WCW Tag Team Championship multiple times, with partners such as Curt Hennig, Dustin Rhodes, Lex Luger and his brother, Kendall Windham.
Barry happens to be the only Windham with a world title on his resume. Barry won the NWA World Heavyweight Championship in 1993 by defeating the Great Muta.
He had a small reputation for bouncing from WWF to WCW and back again, including stints as a member of the New Blackjacks and also as a crazy Army veteran known as "The Stalker."
Recently, Barry has not been in the best health after suffering a heart attack in 2011. But, he will still be inducted into the Hall of Fame this year as a member of the Horsemen.
Kendall Windham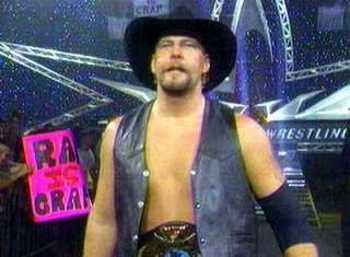 Kendall Windham is also a son of Blackjack Mulligan and Barry's younger brother.
Kendall is known for being in the stable known as the Yamazaki Corporation, a spin-off group from the Four Horsemen.
From there, he would perform for Championship Wrestling from Florida, like his father and brother before him. Kendall won the NWA Florida Heavyweight Title and the Florida Tag Team Title during this period.
In addition, Kendall also wrestled in Puerto Rico, where he won the WWC Tag Team Championship with Barry.
But he is perhaps best known for being in the West Texas Rednecks, who were both a wrestling stable and a country music group that recorded the single "Rap is Crap (I Hate Rap)." The Rednecks won the WCW Tag Team Championship twice, with Barry and Curt Hennig and with Barry and Kendall.
I.R.S.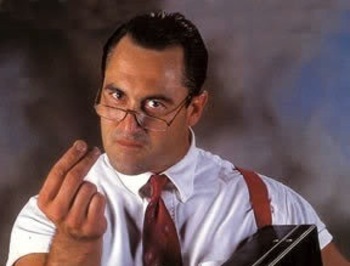 Mike Rotunda is the son-in-law of Blackjack Mulligan.
He began his career in the early 80s, where he won multiple tag team championships with his brother-in-law, Barry.
Like Kendall, Mike is a former NWA Florida Heavyweight Champion, and he is also a three-time World Television Champion.
But most fans will instantly recognize him as the tax collector Irwin R. Schyster, otherwise known as I.R.S.
In 1992, I.R.S. formed a tag team with the "Million Dollar Man," Ted DiBiase, called Money, Inc. They would win the WWF World Tag Team Championship three times.
Later, he changed his name to Mr. Wallstreet and worked in Japan for a few years before retiring from the ring in 2004.
Rotunda makes sporadic appearances today in WWE under the persona of I.R.S.
Husky Harris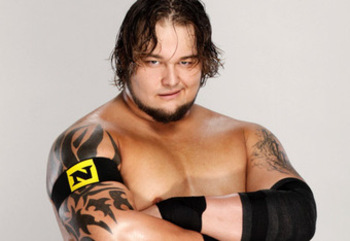 Windham Rotunda (yes, that's his real name) is the son of Mike Rotunda and the grandson of Blackjack Mulligan.
Rotunda got his start in the WWE developmental league called Florida Championship Wrestling (not to be confused with the NWA Florida territory).
In 2009, he won the FCW Tag Team Championship with his brother, Bo Rotundo.
Rotunda made his WWE debut on the second season of NXT as Husky Harris under the mentorship of "Dashing" Cody Rhodes. He finished in fourth place during the competition.
That same year, he appeared at the Hell In A Cell pay-per-view event with Michael McGillicutty, and they cost John Cena his match with Wade Barrett. Shortly after this, they both became members of The Nexus.
However, Husky's Nexus membership wouldn't last long, as he was soon punted in the head by Randy Orton, and he disappeared from WWE television.
Today, Husky Harris is back in FCW, and he and his brother are the current reigning Tag Team Champions.
Bo Rotundo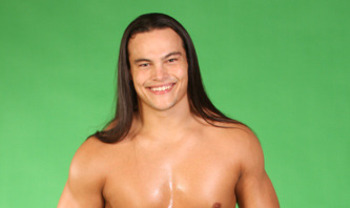 Taylor Rotunda, also known as Bo Rotundo, is a grandson of Blackjack Mulligan and the younger brother of Husky Harris.
Bo has been working for FCW since 2008, where has performed both as a singles wrestler and in a tag team with his brother.
As a singles performer, he is a two-time holder of the FCW Heavyweight Championship.
In 2011, Bo made his first WWE appearance by defeating Primo in dark match before a taping of Raw.
As a tag team performer, Bo is a two-time FCW Tag Team Champion with Husky, and they are the current champions today.
Thanks for Reading!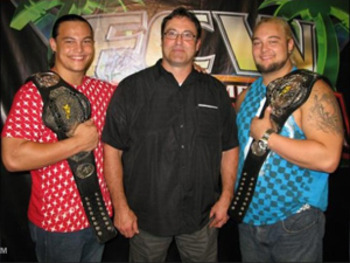 Within time, the Rotunda brothers need to be brought to the Smackdown roster to send a much-needed jolt into the WWE's tag team division. And perhaps they will match the title reigns of their father, Mike, and their uncle, Barry. Anything is possible in the WWE.
Thanks for reading, and have a pleasant day!
Keep Reading