What the Wisconsin Badgers Defense Will Look Like in 2012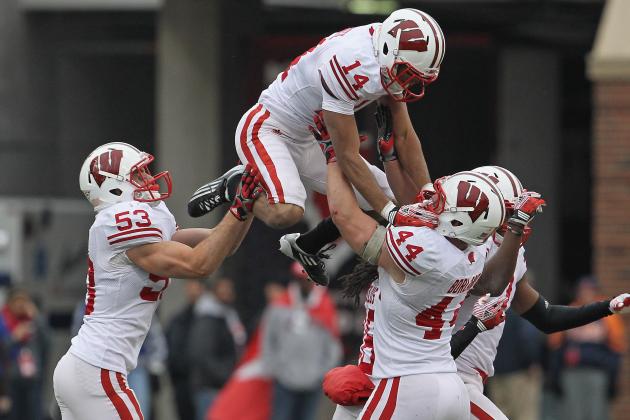 Jonathan Daniel/Getty Images

The Wisconsin Badgers defense was subject to harsh criticism during the 2011 season. Despite having one of the best duos in Mike Taylor and Chris Borland at linebacker, there was one single perception of the defense: "Slow."
Does the characteristic of "slow" hold true for this defense?
The country quickly found out when Wisconsin faced Oregon in the Rose Bowl. The game blessed fans with one of the most exciting games of bowl season. Oregon, however, exposed Wisconsin's defense, using their speed to go untouched for multiple touchdowns.
Coming into the 2012 season, the Badgers defense should be an experienced unit that will look to change the nation's perception.
Here is what we think the defense will look like in 2012.
Begin Slideshow

»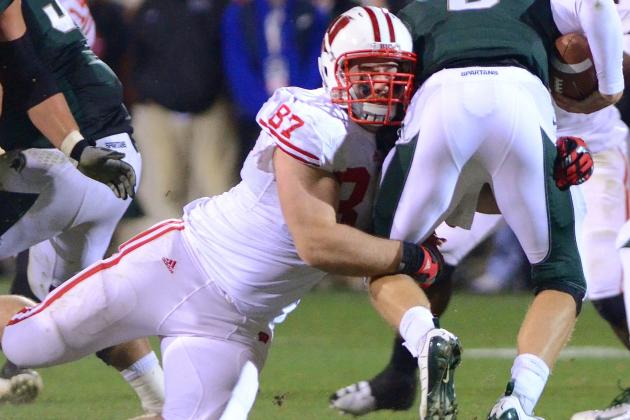 Mark Cunningham/Getty Images

The defensive line received some criticism in 2011 for not getting much penetration into the backfield. They struggled getting to the quarterback at times and showed some inconsistency disrupting running lanes against the run.
Bret Bielema and Chris Ash will be more than delighted to get David Gilbert back at defensive end in 2012. Gilbert started off his junior season tremendously until a season-ending injury sidelined him. The 6'4" 255 pound Gilbert has the speed to get around the tackle and the height to disrupt passing lanes.
Gilbert's replacement in 2011, Brendan Kelly, who will look to play another big role in 2012. Kelly, who has had somewhat of a frustrating career at Wisconsin, but started eight games following the injury to Gilbert.
The defensive tackle position will be anchored by Ethan Hemer, a walk-on up until this January.
As a Freshman (RS) in 2010, Hemer made six starts and was a full-time starter in 2011 next to Patrick Butrym. The massive Hemer stands at 6'6" 300 pounds and his continued development and size should play a vital role for Wisconsin as they improve their run defense.
Two other candidates for the other defensive tackle position includes Bryce Gilbert (Brookfield, Wis.) and Jordan Kohout (Waupun, Wis.)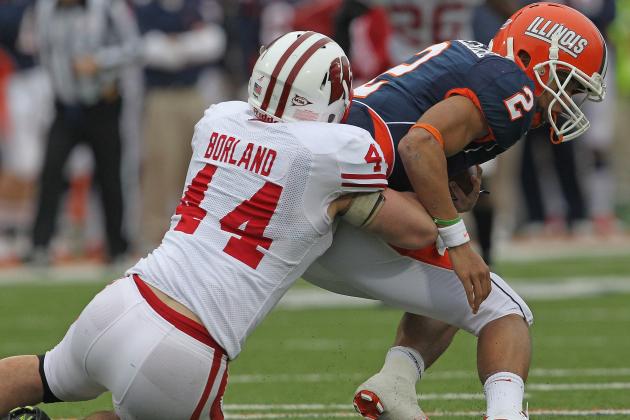 Jonathan Daniel/Getty Images

The linebacker position be the strongest unit of the defense.
Two of these linebackers, Mike Taylor and Chris Borland, are thought of as two of the better players in the country at their respected positions. In 2011, the two Badger stars averaged 10.4 tackles per game and totaled 293 tackles (124 solo).
Both of these players bring experience and leadership. Taylor has started since his Freshman (RS) season in 2009 and has been named an all-conference players each of the past two seasons.
His teammate, Chris Borland, makes plays both from the defensive end and linebacker position. As a freshman in 2009, Chris Borland won Big Ten Freshman of the Year as he did a little bit of everything. He recorded 54 tackles, 10.5 TFL, five sacks, five forced fumbles and 3 fumble recoveries.
Even more impressive for a linebacker, Borland even kicked three extra points and returned six kickoffs for 106 yards.
After missing 2010 with injury, Borland returned in 2011 to earn consensus first-team All-Big Ten honors.
The most likely candidate to replace Kevin Claxton at the other linebacker position is Ethan Armstrong, who many believe is slated to earn a scholarship.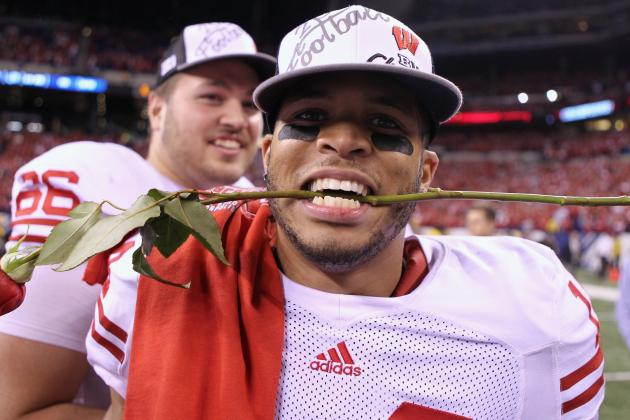 Andy Lyons/Getty Images

The two cornerbacks on the outside will be Marcus Cromartie and Devin Smith, which will prove to be a very formidable duo.
Marcus Cromartie, whose cousin is Antonio Cromartie (New York Jets), will begin his second season a starter. In 2011, Cromartie started 12 games following a season-ending injury to Devin Smith.
Like many first-year products, Cromartie showed signs of brilliance and signs of inconsistency. He struggled in the Rose Bowl, but one can only expect that he will learn from those setbacks.
The other cornerback position will be Devin Smith. During Wisconsin's win over Oregon State in the second game of the season, Smith suffered a season-ending leg injury. He, however, expects to play a big role in 2012. Bret Bielema has even gone so far as saying that Devin Smith was the likely missing piece between Wisconsin playing in a national championship.
As a sophomore in 2009, Smith started all 13 games for the Badgers.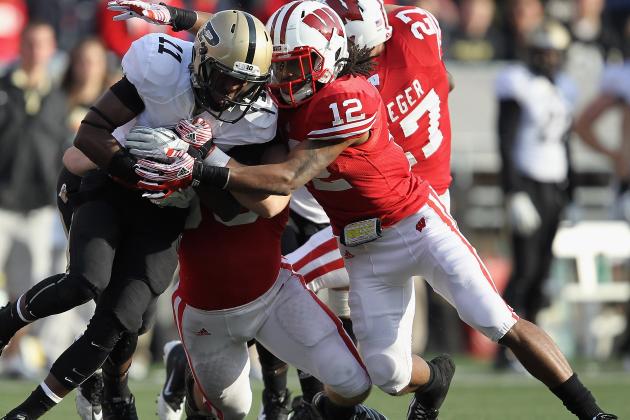 Jonathan Daniel/Getty Images

The two safeties that figure to start in 2012 will be Dez Southward and Shelton Johnson, two physically-gifted players.
Dez Southward will be replacing Aaron Henry. While Southward may not be able to provide the leadership that Henry possessed, he can certainly make some big plays with his physical skills at 6'2" 200 pounds.
There is no shortage of experience with Southward, either. As a Freshman (RS) in 2010, he played in 13 games. In 2011, Southward made two starts in place of Shelton Johnson.
Southward's first start came against Nebraska in a highly anticipated matchup. He responded beautifully with seven tackles, a pass break-up and a forced fumble.
The other safety will be Shelton Johnson, a very fast and cerebral player, evidenced by his selection to the Academic All-Big Ten team twice.
As a sophomore in 2010, Johnson played in all 13 games and made one start against Minnesota. He also made a game-saving tackle on special teams in a win over Arizona State.
Johnson had his first full year of starting in the defensive backfield in 2011. His best game came in the Big Ten Championship game against Michigan State when he recorded eight tackles, a pass break-up and an interception.