Liverpool vs. Brighton: 5 Things We Learned from Reds FA Cup Win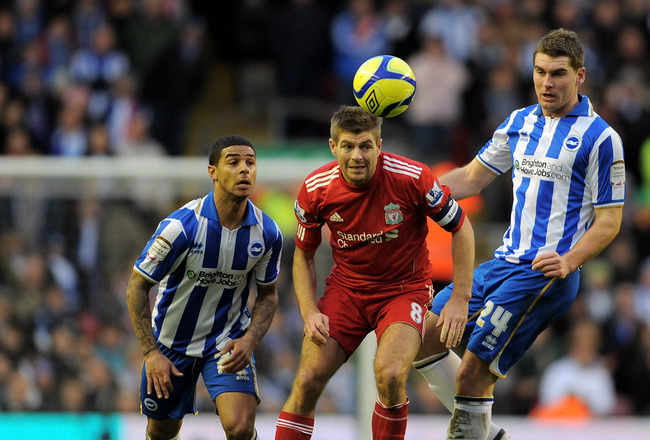 Michael Regan/Getty Images
Liverpool FC ran out easy winners, 6-1, in their fifth-round FA Cup tie against Championship side Brighton and Hove Albion on Sunday. A hat trick of own goals and strikes from Skrtel, Carroll and Suarez saw the Anfield side cruise to a comfortable home win.
The Reds will now face fellow Premiership side Stoke City in the quarterfinals at Anfield for the right to play in the semifinals at Wembley. Liverpool, if they continue in this rich vein of form, will be hard to beat.
While the final score line certainly reflects well upon Liverpool's second-half dominance over the 'Gulls, it does paint a rather unfair picture of Brighton's overall display. While the Seagulls lacked ideas upfront and only really trouble Jose Reina in the Liverpool goal once, when Lualua scored from a thunderous free-kick, Brighton can considered themselves unlucky to end up on the wrong end of a 6-1 drubbing. They may have never looked like winning the match, but Brighton can take comfort from having troubled the Merseysiders for a period in the first half.
Liverpool continue to move in the right direction and now have a real chance of winning two cups this season. That was much for both teams to take away from this cup tie game, and here are five things we learned from Liverpool's fine victory.
Everything Goes Through Steven Gerrard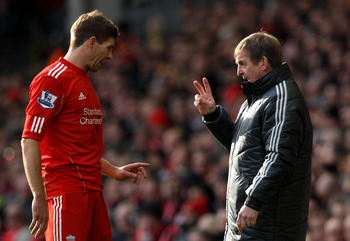 Alex Livesey/Getty Images
With Steven Gerrard fit and healthy again, Liverpool look like a different team. From corner kicks to passes across the middle, everything goes through Gerrard.
Brighton were unable to cope with Gerrard's movement, and the Liverpool captain found space at will. His running and crossing were superb, even if his final pass was sometimes slightly over hit. Gerrard was unlucky not to claim a goal, his shot ricocheting in for an own-goal, but it was from his perfectly weighted corner that led to the Merseyside club scoring in their first in the fifth minute.
If Liverpool can continue to utilize Gerrard like this and the England international can stay fit, then the Anfield side have a real chance of making this season a success.
Gerrard also now has to be considered the No.1 choice to captain England in the 2012 European Champions. With his vision, passing, team spirit and determination, there is no one better to lead England.
Brighton Are Ready for the Premiership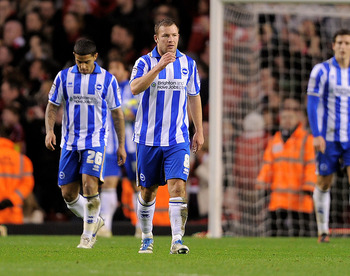 Michael Regan/Getty Images
They may have to defend better at set-pieces and cut out the own goals, but Brighton and Hove Albion would not look totally out of place in the Premiership.
In the first half, the East Sussex club played attractive passing soccer and were a well-drilled unit. Only 2-1 down at the break, things quickly fell apart in the second, but Brighton were far from disgraced, even if they were totally outplayed by their more illustrious opponents.
The Seagulls can take much heart from a solid first-half performance. This defeat was after all their first loss of 2012, and if they could have found some better quality balls into the final third of the field, the result could have been a lot closer than the 6-1 thrashing suggests. Liverpool were also in great form in the second half, and better teams than Brighton would have had trouble staying with them.
Brighton might not be top of premier league material or good enough to challenge for a European place, but they certainly could expect to hold their own against the likes of Everton, Fulham and Newcastle (who they beat in the previous round of the FA Cup).
Currently ninth in the Championship but only two points adrift of the playoffs places, Brighton should now be spurned onto make an appearance at Wembley via the playoff final. If they can keep Kazenga LuaLua and Ashley Barnes firing, come May, they will fancy their chances against anyone.
Wrestling at Corners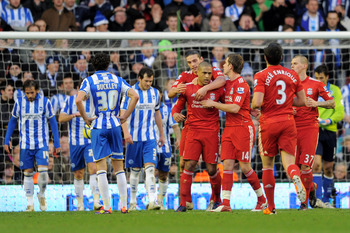 Michael Regan/Getty Images
All the pushing and shoving that comes with corner kicks has now started to resemble something like a Royal Rumble match from the WWE rather than a soccer game. While players jockeying for position is nothing new, the total lack of intervention from referees has allowed the melee in the six-yard box to become the new struggle outside the chip shop after closing time.
If the referee had done something more at the first corner, rather than give a brief ticking off to Carroll and the Brighton defender when they were all over each other with their busy hands, we could have had a completely different game. Carroll seemed to cause such a distraction in the penalty-box that when Martin Skrtel made a run to the near post, the big Slovakian defender was left unchallenged and had an easy header to put the Reds one up.
If goalkeepers are given protection from the ref every time they jump with an attacker, shouldn't defenders be given some help to stand their ground at set-pieces?
Gus Poyet Will Be a Wanted Man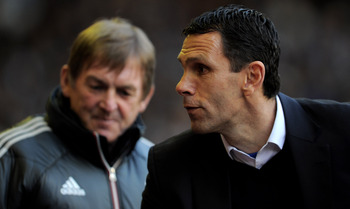 Michael Regan/Getty Images
Even though his game plan pretty much went out the window within the first five minutes, Gus Poyet's team didn't let him down. The Seagulls pulled themselves back into the game, and when Brighton scored to make it 1-1, Liverpool were out of step and scrambling around. Poyet can take a lot of positives from this game, if not the final scoreline.
Brighton and Hove Albion is Poyet's first full managerial job, and he has performed wonders at the club. Poyet has taken the Albion from League One to just outside the playoff places in the Championship, in a little over two years. The former Chelsea and Tottenham star will not have hurt his reputation with today's result, and if he can guide Brighton into the playoffs, then it's possible his name will be linked with bigger sides come summertime.
While Brighton fans would love to see Poyet lead their side to the Premiership, it may be the case that Poyet will get there on his own first. If either one of Wigan, Wolves or Blackburn can stay up, Poyet can expect to see his name mentioned if discussions turn towards seeking out a new manager.
Liverpool FC Can Start to Dream About Wembley Again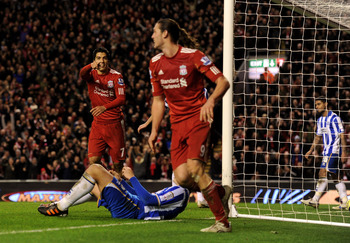 Michael Regan/Getty Images
There was much to enjoy about Liverpool's dismantling of Brighton at Anfield.
Six goals with Andy Carroll getting his name on the scoresheet again, a beautifully drilled shot from just inside the box. Stewart Downing finally getting an assist and Steven Gerrard back to his unstoppable best.
Jamie Carragher also had a big day, equalling Ian Callaghan's club record of 210 cup games for Liverpool, and played well enough to earn himself a chance of beating that record in the next round against Stoke City.
There was even a bald-headed streaker on the field at the end of the match. The Kop had plenty to cheer and will except more of the same in the next round against the team from the Potteries.
While Stoke will present a completely different proposition than Brighton did, Liverpool will start as firm favorites when the two teams meet at Anfield in March for their quarterfinal tie.
Liverpool know they are now only two more wins away from another Wembley Cup final appearance. While the final eight teams left in the competition include such strong sides as; Chelsea, Tottenham, Everton and Sunderland, all four of whom will be dreaming of their own FA Cup glory, on today's showing, Liverpool will have to be considered one of the favorite to lift the cup in May.
If Liverpool can keep remain in this kind of blistering cup form, they should be too much for any of the side in the last eight. A second cup final appearance of the season for Kenny Dalglish's men seems a like a great way to reward their loyal fans and their legendary manager.
Keep Reading

Liverpool: Like this team?