Syracuse Orange vs. Rutgers Scarlet Knights Live Blog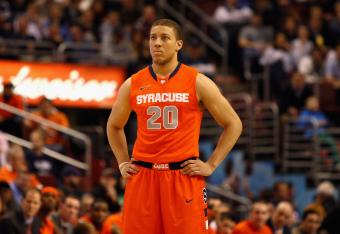 Chris Chambers/Getty Images
The second-ranked Syracuse Orange (26-1, 13-1 Big East) faceoff against the unranked Rutgers Scarlet Knights (12-14, 4-9 Big East) with a chance to secure the Big East regular season title.
The Orange come into the day with a two-game lead over both Marquette and Notre Dame in the standings, while Rutgers needs to find a way to hang on long enough to sneak into the Big East Tournament.
Syracuse may be favored heavily in this game, but every day in the Big East is a dogfight. Already this season, the Scarlet Knights have knocked off powerhouse conference foes in Connecticut, Notre Dame and Cincinnati. Could Rutgers do it again?
Tune in at 1 p.m. to see the action. I'll be here throughout the game providing updates and in-game analysis, so tweet me your questions @dioselev or leave a comment below.
Final Thoughts:
There's no such thing as an easy game in the Big East, and the Scarlet Knights made the Orange fight for every point. That said, it's surprising that this game was as close as it was. Despite a huge size advantage, Syracuse got outrebounded 31-26 and surrendered 10 offensive rebounds. They shot the ball well enough (50.0 percent) to make up for all those extra possessions, but they won't have as much luck against superior opponents.
It seems Boeheim would rather give up offensive rebounds than give up open shots, and the 2-3 zone is set up to do just that. But a defensive zone is not an excuse for poor rebounding. How else could you explain how Melo got outrebounded by Biruta, who he dwarfs by four inches? Back-up center Baye Keita isn't any better on the glass, and Rakeem Christmas is still raw. That doesn't bode well for potential showdowns against the big bodies of Kentucky, Kansas or North Carolina.
Rutgers has had a tough season, but they have the makings of a good team. Eli Carter, Myles Mack and Jerome Seagears are three of the best freshmen in the conference and they could be the start of something special for the Scarlet Knights. Combined with sophomores Mike Poole and Biruta that's a very strong foundation.
Rutgers will never be able to compete with teams like Syracuse on a pure talent or recruiting level, but with a year or two of seasoning this squad could be ready for the NCAA Tournament.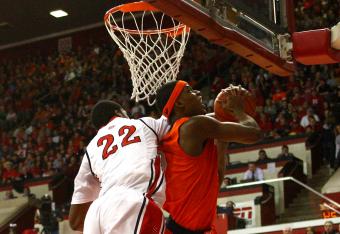 Players of the Game:
C.J. Fair, F, Syracuse - Fair was the most consistent player on the court and finished with a game-high 21 points on 6-8 shooting with 8 rebounds and 2 steals. He was also perfect from the line and played strong defense.
Gilyvdas Biruta, F, Rutgers - The low-profile Biruta had a breakout game for a career-high 21 points as he dominated the paint against the Orange. He pulled down a team-high 7 rebounds and helped get Syracuse players into foul trouble.
Scoop Jardine, G, Syracuse - Jardine had his down moments, but for the most part he played an outstanding game. He repeatedly found Fair for the alley-oop and finished with a game-high 7 assists to go with 17 points and 3 steals. Some of Jardine's shots should never have been taken, but to this credit they did go down.
Syracuse wins 74-64 in a game that was much, much closer. Post-game reactions and analysis in a few.
Melo finishes with 10 points and six rebounds. One of the most underrated facets of his game is his free-throw shooting, which is surprisingly good for a center. He was 6-of-8 today and he looks truly comfortable up there.
Melo's eyes get wide every time a shot goes up and he swatted that Eli Carter attempt away with authority for his second block of the game. His rebounding needs to improve, but Melo is a serious force down in the paint.
Fair hits both to give him 21 points on the day and the Orange are going to win this one. I have to give props to Jardine for hitting those shots, but he'd be one big donkey if they didn't go in. Jardine is typically the third or fourth option on offense and there's a reason for that -- he's not a very good shooter!
Jardine has some awfully big cahones to take that shot. Hits his second three to bring his point total to 17 and the Orange have this game just about won. 69-62 with Fair going to the line.
Joseph just picked up his fourth foul. The Orange better hope this game doesn't go to overtime like last time these two teams met. 66-62 Syracuse ball.
Jardine is anything but a "high-percentage shooter". C'mon, Doris Burke! He's under 35 percent from deep.
Waiters (2-7) and Triche (2-4) both having rough games, as Jardine continues to take stupid shots. Luckily for him, the frontcourt continues to bail him out with offensive rebounds. 64-62 Orange with 3 minutes left.
And now both teams are in the bonus. Not sure which team this favors because both squads are solid from the line, but it is going to change the dynamic of the next five minutes. 60-58.
Great ball movement by the Orange to get Joseph an easy lay-up. 60-56 Syracuse with six minutes to go.
Melo grabs his third rebound of the game (what?!) and gets fouled to put Syracuse into the bonus. The Orange are 15-for-20 from the line this afternoon.
Rutgers leads Syracuse in almost every offensive and defensive category, including rebounding (24-18), assists (13-10) and shooting (47.9%-47.5%). That definitely wasn't part of Boeheim's gameplan.
Both defenses playing tighter, but Rutgers still able to find the holes. Jardine, meanwhile, launches an ill-fated three. He's the ultimate hit-or-miss player in every facet of the game, and the Orange need him to hit. 56-54 with under 8 minutes to play.
Ruh-roh. Eli Carter hits his first three after 5 bricks. But Kris Joseph answers on the other end and keeps the lead at six. 56-50 with 10 minutes to go.
The Orange offense is now known as the Jardine-Fair alley-oop. Fair with a career-high 19 and Jardine ups his assist total to 6. Fair may be a little undersized but he's got serious ups and it's about time somebody figured out how to take advantage of it. Now it's up to Jardine to remember that there are 3 other players on the floor that can score too. 53-47 Orange.
Fair with a three! The sophomore showing his range and now has 17 points to go with 8 rebounds. Best game of the year for Fair and it couldn't have come at a better time. The rest of the team is just 12-for-28. 51-46 Syracuse.
Jardine is getting cocky with those lob passes. The last one led to a bad turnover, his third of the game. With the way Rutgers is shooting the Orange can't afford to give up any possessions.
Mack hits his second three and the score is 46-44.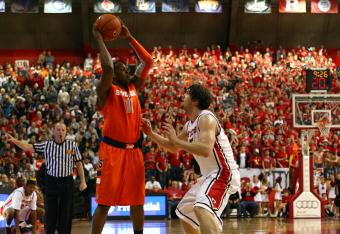 Biruta is playing out of his mind. He's got 19 points for the Scarlet Knights and is dominating the glass with 7 rebounds. Boeheim would rather have Biruta take shots than Carter or Mack, but the rebounding numbers are worrisome. Fab Melo has less rebounds (2) than the 5'9" Mack (3). There's something terribly wrong with that picture.
Syracuse getting outrebounded badly, 17-12. But six Rutgers turnovers has helped the Orange maintain a lead.
The last thing Boeheim wants is to see Eli Carter heat up. Rutgers' leading scorer just dropped in his second bucket of the game off a steal to bring his team within 3. 42-39 is the score.
Syracuse goes into the half leading 40-34. First-half analysis and reaction in a few.
The Fair-Jardine connection strikes again. Game-high 14 points for Fair and a game-high 5 assists for Jardine. This is the best Jardine has played in a long time.
This article is
What is the duplicate article?
Why is this article offensive?
Where is this article plagiarized from?
Why is this article poorly edited?

Syracuse Basketball: Like this team?