New England Patriots: 10 Worst Draft Busts of the Last Decade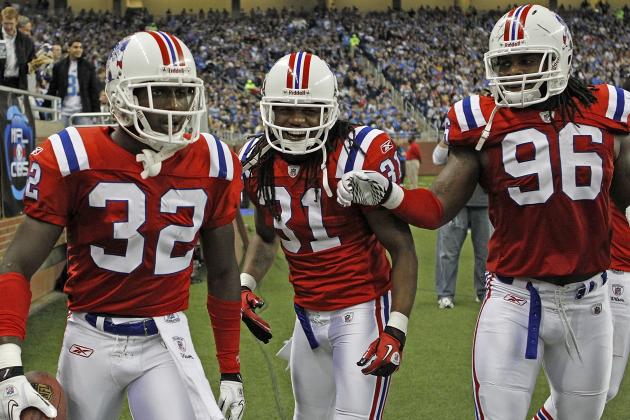 Leon Halip/Getty Images
Which high draft picks have flopped in New England?
The New England Patriots have drafted some excellent players over the last decade.
Since 2002, guys like Deion Branch, Dan Koppen, Vince Wilfork and Logan Mankins have developed into dependable pros.
With that said, the Patriots have also made some terrible draft choices in recent memory. Sometimes, top college prospects just don't pan out in the NFL.
Unfortunately, New England has learned that lesson the hard way.
Case in point: Not a single player from the Pats' 2007 draft class is still with the team.
With the 2012 NFL draft around the corner, it's time to debate the Patriots' worst draft busts of the last 10 years.
Brace yourselves; remembering these disappointments may cause a little heartache.
Begin Slideshow

»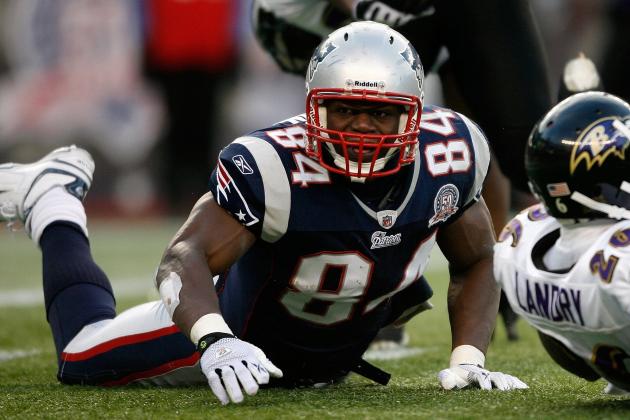 Elsa/Getty Images
Ben Watson was decent in New England, but inconsistent.
In 2004, the Patriots took Georgia tight end Ben Watson with the last pick of the first round.
Watson hung around New England for six seasons, but missed 25 games due to injury.
Patriots fans have to admire this former first-rounder for one inspirational play he made on Denver Broncos cornerback Champ Bailey in the 2005 divisional playoffs. Bailey intercepted a Tom Brady pass for 100 yards. However, No. 84 caught up to the future Hall of Famer and knocked him out inside the one-yard line, forcing a fumble out of bounds.
Even though New England lost that game, Watson's play is remembered in Patriots folklore.
Overall, his best season with the Pats was 2006. That year, the former Bulldog caught 49 passes for 649 yards and three touchdowns.
Big Ben had all the physical tools, but struggled to stay healthy. Ultimately, he was fazed out of the offensive game plan.
Watson had less than 30 catches in four different seasons for the Pats. That's just not going to cut it.
After the 2009 season, Watson left town for the Cleveland Browns and had his best year as a pro with 68 catches for 763 yards.
Watson wasn't a terrible player for the Patriots, but he certainly didn't produce like Rob Gronkowski or Aaron Hernandez have.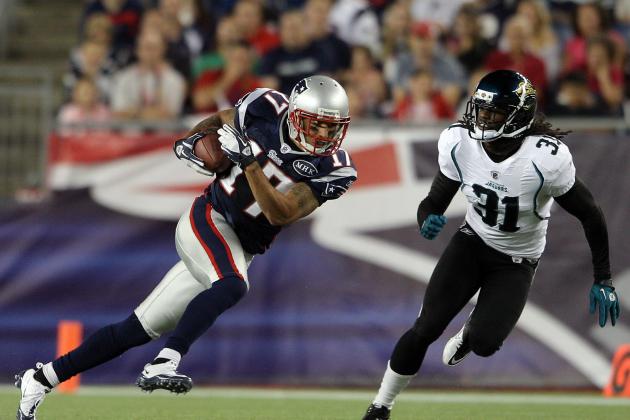 Elsa/Getty Images
Taylor Price hardly left the sidelines in New England.
Taylor Price was New England's third-round selection back in 2010 out of Ohio University.
Many saw Price as a project player. Because of this, the wideout essentially "red-shirted" his rookie year. That season, his only action came in Week 17.
Scouts spoke of Price's great speed and physical intangibles coming out of college, except his raw skills never came to fruition in a Pats uniform.
The Patriots waived Price in 2011, and the receiver was picked up by the Jacksonville Jaguars.
In only six NFL games during his two-year career, Price has caught five balls for 80 yards.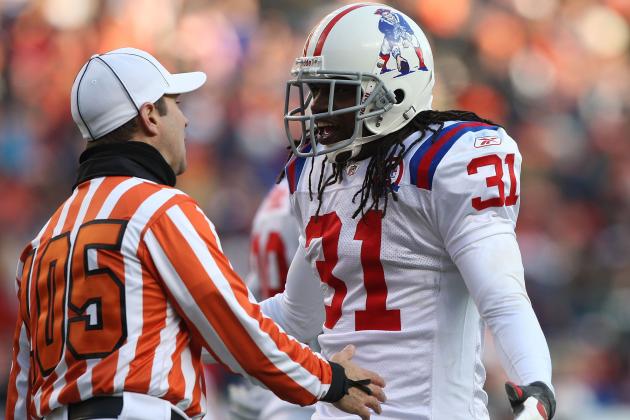 Jed Jacobsohn/Getty Images
Meriweather's decision-making is what wore out his welcome in New England.
Ever since he was drafted out of Miami, Brandon Meriweather has been known for bad decision-making.
Whether it be a late hit or taking a bad route to the football, No. 31 has continued to make some questionable choices throughout his career.
In college, Meriweather was involved in a helmet-swinging brawl against Florida International.
His notorious actions continued in the NFL.
Against the Baltimore Ravens in 2010, Meriweather delivered a painful cheap shot on tight end Todd Heap.
It was plays like this that left head coach Bill Belichick shaking his head.
In hindsight, the Patriots should have looked elsewhere to fill their void at safety. Even though Meriweather is a two-time Pro Bowler, his immaturity has always been an issue.
In 2011, the Pats finally cut ties with the free-lancing safety.
Instead, New England opted to go with Josh Barrett, Sergio Brown and James Ihedigbo.
Enough said.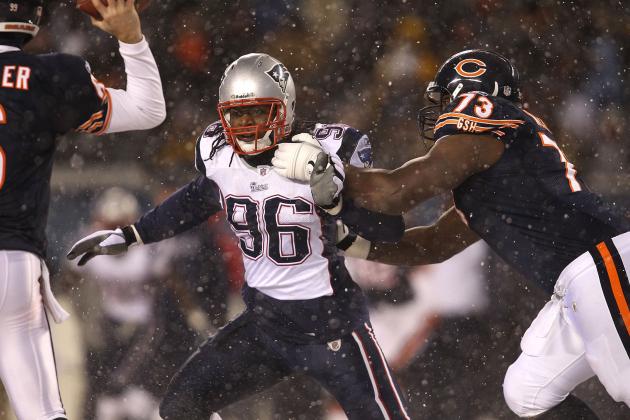 Jonathan Daniel/Getty Images
Cunningham hasn't produced in his first two seasons as a pro.
It's safe to say Jermaine Cunningham has been a disappointment for the Patriots.
In two NFL seasons, the ex-Florida Gator has played in 24 games and made 35 tackles. Besides recording one sack and two forced fumbles in his short career, Cunningham's impact hasn't been felt.
Second-round picks are supposed to play more than just special teams, but this linebacker has failed to crack the defensive rotation.
2012 could re-write the script for this former second rounder, or it could solidify his reputation as a draft bust.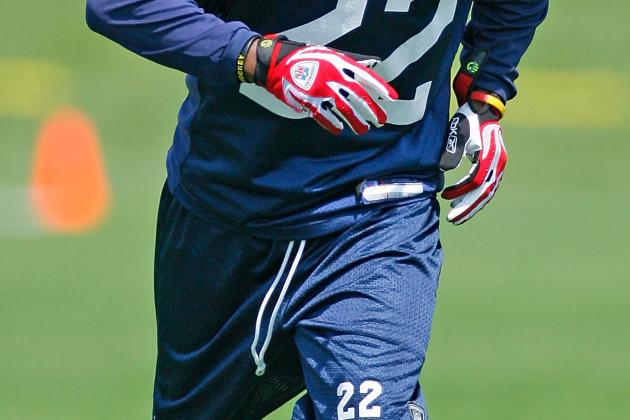 Jim Rogash/Getty Images
Wheatley was an afterthought in New England.
Terrence Wheatley was an impressive cornerback coming out of Colorado. Sadly, this former second-round pick has done practically nothing in the NFL to this point.
In four seasons, Wheatley has played in 12 games, totaling an underwhelming four tackles.
After being waived by the Pats in 2010, Wheatley has bounced around a bit.
This DB has had stints with the Jacksonville Jaguars, Buffalo Bills and currently, the Tennessee Titans.
In September of 2011, Wheatley landed on the Bills practice squad; not exactly an ideal situation for the No. 62 player in the 2008 draft.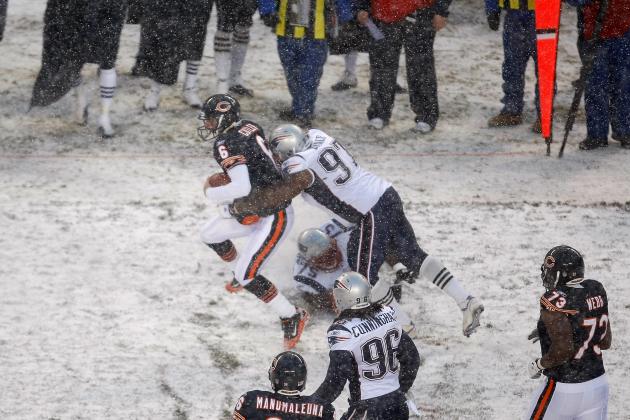 Scott Boehm/Getty Images
Brace has been quiet in the pros.
Ron Brace was a top defensive tackle coming out of Boston College.
As a native of Springfield, Mass., New England seemed like the perfect place for Brace.
It's too bad that his pro career hasn't been as highly touted as his collegiate career. In Brace's first three seasons, he has missed 19 games and registered merely 35 combined tackles.
If Brace can stay healthy, he still has a chance to help the Patriots. Although at this rate, he might not even be in New England's future plans.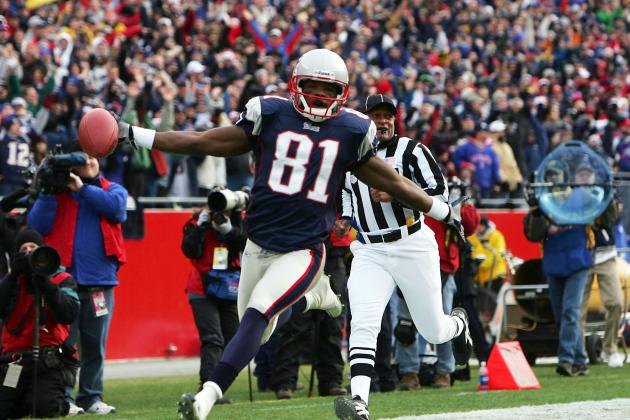 Al Bello/Getty Images
Bethel Johnson's blazing speed wasn't enough to keep him in the NFL.
Bethel Johnson showcased his speed on many occasions for the Patriots.
Yet, he also showcased an inability to run clean routes and catch more than just the occasional deep ball.
The former second-rounder out of Texas A&M was a better kick returner than he was a receiver.
Johnson scored two kick-return touchdowns when he was with New England. But in his entire career, the speedster only hauled in 39 catches for 606 yards and four receiving touchdowns.
When he left the Pats in 2005, he went on to play sparingly for the New Orleans Saints, Minnesota Vikings, Philadelphia Eagles, Houston Texans and even the Toronto Argonauts.
In the end, Johnson was an exciting player to watch. However, his game-changing plays were few and far between.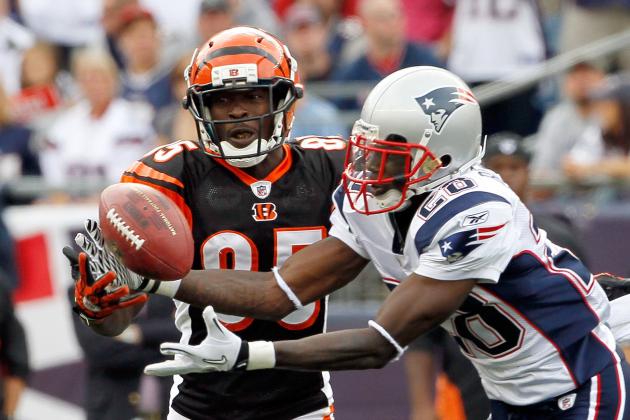 Jim Rogash/Getty Images
Butler showed glimpses, but he wasn't the corner New England thought he was.
Darius Butler was chosen by the Patriots with their second-round pick in 2009.
During his rookie year, the former UConn standout picked off three passes and scored a touchdown. To this day, Butler hasn't intercepted another pass.
Always seeming to be a day late and a dollar short, this Husky fell out of favor in New England.
Cut by the Pats in 2011, Butler signed on with the Carolina Panthers as a reserve defensive back.
After the promise of his rookie campaign, Butler could never preserve a role with the Pats.
Consequently, he is labeled a bust.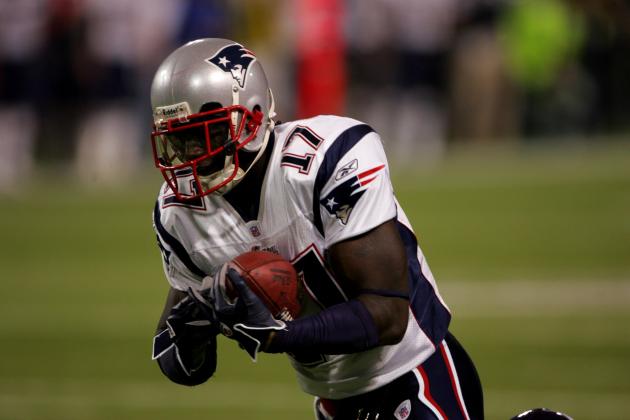 Stephen Dunn/Getty Images
Jackson never lived up to the hype.
Wide receivers out of the University of Florida are hit or miss.
Something about the spread offense the Gators run doesn't translate well to the NFL.
Six years ago, Chad Jackson seemed like a steal at pick 36 of the draft.
In 12 games his rookie year for the Pats, he caught 13 passes for 152 yards and three scores.
However, this route-runner missed all but two games in 2007 with a torn ACL and did not record a catch.
In 2008, Jackson was cut by New England and joined the Denver Broncos. Playing in four games for Denver, Jackson caught one pass for 19 yards.
Since then, this ex-Patriot has spent time with the Buffalo Bills, the Omaha Nighthawks of the United Football League and the Oakland Raiders.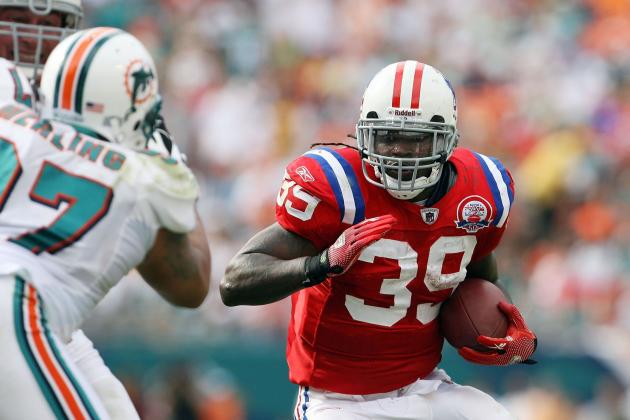 Doug Benc/Getty Images
Maroney couldn't bolster New England's rushing attack.
New England chose Minnesota's Laurence Maroney in the first round of the 2006 draft. People thought that this halfback would re-establish a running game for the Patriots.
That wasn't the case.
The back looked like a budding star, rushing for 745 yards and six TD's as a rookie.
Then, his sophomore year came and went. Maroney improved just slightly, rushing for 835 yards and six more touchdowns.
When No. 39 was placed on injured reserve with a shoulder injury in 2008, Pats fans became concerned.
2009 was more of the same for Maroney. He rushed for 757 yards and nine touchdowns. However, he mastered the ability to lose the football at the goal line.
And in a flash, that was the end of the Maroney experiment in New England. The only guarantees with this halfback were fumbles and indecisive running.
After Maroney was traded to the Denver Broncos, he rushed for just 2.1 yards per carry. The former first-rounder hasn't played in the NFL since.