UFC on FOX 3: Pat Barry vs. Lavar Johnson Breakdown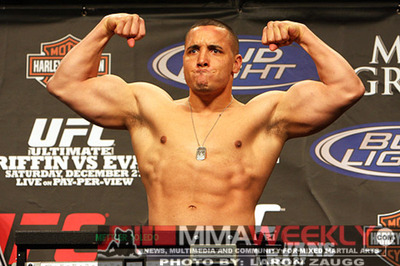 Pat Barry/ Laron Zaugg for MMAWeekly.com
UFC on FOX 3 will be headlined by a lightweight collision between contenders Nate Diaz and Jim Miller. However, a heavyweight clash farther down may be primed and ready to steal the show.
Pat Barry will look to derail Strikeforce transplant Lavar Johnson in a battle of two of the division's most dangerous strikers. More often than not, both can produce dynamic knockouts and captivate the interest of fans and media alike.
Pat Barry/ Laron Zaugg for MMAWeekly.com
Begin Slideshow

»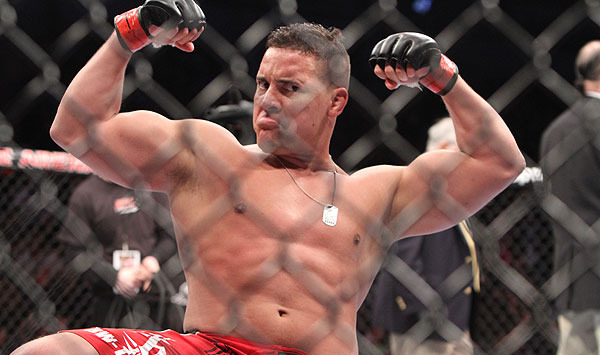 Barry/ Jeff Cain for MMAWeekly.com
Johnson has always been regarded as one of the more heavy-handed fighters in the sport, and his thorough dismantling of Joey "The Mexecutioner" Beltran only helped solidify that reputation.
Among Beltran's seven trips to the UFC, only one man has been able to stop the aggressive and durable fighter: Lavar Johnson.
Johnson, who trains with American Kickboxing Academy, used a heavy right hand to stun Beltran time and time again, first downing him with a hook to the body before successive uppercuts sealed the Knockout of the Night-winning finish.
But Barry could be equal to Beltran. A K-1 veteran, Barry uses leg-crippling kicks to wilt his opponents, to which Dan Evensen can attest, as "The Viking" was whittled down to size with the thudding and mounting attacks, eventually yielding the TKO finish in less than three minutes.
Johnson will become all too familiar with the daunting blows come this May.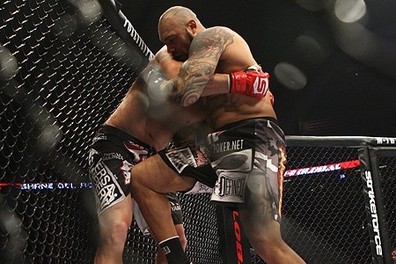 Johnson (right)/ Dave Mandel for Sherdog.com
Johnson can use his larger frame to stifle Barry against the fence, wearing him down before moving in for the kill.
On the other side, Barry can shoot double-leg takedowns while hunting for the submission.
The only problem with either scenario is that they are not likely to happen.
Both Johnson and Barry have shown a disdain for the grappling realm, as both men have utilized the sprawl-and-brawl tactic to keep the fight upright while gunning for the knockout finish.
The element of surprise is always a tease, but Barry and Johnson are not quite made up for ground attacks.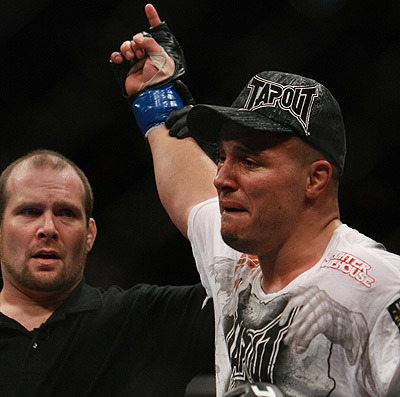 Barry (right)/ Dave Mandel for Sherdog.com
If this was "scariest looking dude" contest, Lavar Johnson wins every time. No questions asked.
However, in the world of MMA, "Big" Johnson stands at a decided disadvantage against a faster, more wily and more versatile striker in Barry.
Expect Johnson to charge forward early, though "HD" will evade his blows, dipping and countering with quick punches and ending his combinations with his leg kicks.
Eventually, the kicks will begin to mount as Johnson will look to wade in with a wild hook, where a Barry right hand will greet him, dropping him to the mat where the kickboxing savant will earn the stoppage thanks to some well-placed ground-and-pound.