UFC 146: Junior Dos Santos vs. Alistair Overeem Breakdown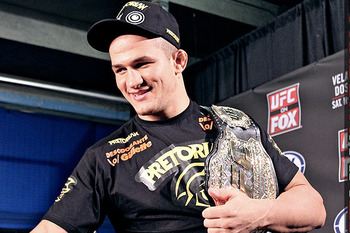 Junior dos Santos/ Erik Fontanez for MMAWeekly.com
One of the most highly anticipated heavyweight clashes of all time will come to a head this summer as UFC champion Junior dos Santos defends his title against the touted Alistair Overeem.
Recently, the Dutchman stormed through former UFC titleholder Brock Lesnar, sending the behemoth into retirement with a first round TKO.
With the victory, Overeem became the immediate No. 1 contender to Dos Santos' belt, as the Brazilian looks to defend his mantle against arguably his toughest test to date.
Junior dos Santos/ Erik Fontanez for MMAWeekly.com
Overeem Has More Varied Striking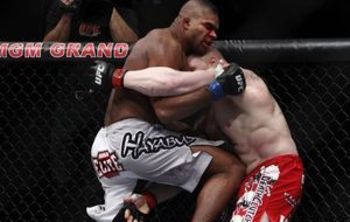 Overeem (left)/ Esther Lin for MMAFighting.com
Dos Santos is often regarded as a one-trick pony, but man, is he good at it.
The heavyweight great has risen through the ranks quickly, thanks to his impressive boxing acumen. Coupled with his speed, power and combinations, Dos Santos has cemented his spot as the best in his class, while dispatching of such formidable opponents such as Mirko Cro Cop, Fabricio Werdum and Cain Velasquez along the way.
Despite all of his accolades, Dos Santos' skills as a boxer can not equate to that of a man who is equally skilled in both his hands, knees and kicks. Such is the case with Overeem, who is a former K-1 World Grand Prix champion.
The former professional kickboxer boasts impressive knockout victories over some of the best fighters to ever grace the ring, including multiple-time world champion Peter Aerts and the great Badr Hari.
His impressive blend of strikes makes him arguably the best and most versatile striker in the heavyweight class.
This is not to say that Dos Santos cannot catch Overeem with a big shot, but it only illustrates that the Dutchman has more ways to win, at least on the feet.
Both Overeem and Dos Santos Are Underrated Grapplers
Overeem (left) after submitting James Thompson/ Daniel Herbertson for Sherdog.com
It's easy to forget that these heavy-hitters in Overeem and Dos Santos are actually well-versed on the mat.
Under the tutelage of the Nogueira brothers, Antonio Rodrigo and Antonio Rogerio, Dos Santos has earned the rank of brown belt—no easy feat for anyone to accomplish, especially under the touted grappling savants whom have submitted some of the best fighters in their respective classes.
Coupled with his stellar takedown defense, "Cigano" has been able to illustrate his striking prowess, which in a way mirrors the similar style of Alistair, who avoids being taken down in order to finish the fight on it's feet.
Though, should he venture to the mat, Overeem has proven that his grappling has improved by leaps and bounds over the years.
In 2005, he became the European Trials winner for the ADCC Submission Wrestling World Championships, submitting all three of his opponents with his head-severing guillotine choke.
In the mixed martial arts realm, Overeem has been able to apply his submission skills seamlessly, submitting the likes of James Thompson, Igor Vovchanchyn and former UFC champ Vitor Belfort—all with his patented guillotine.
Both Dos Santos and Overeem can hold themselves on the ground, though most pundits would believe that this fight will be negated almost entirely on the feet.
Dos Santos' Heavy Hands Will Find Overeems Suspect Chin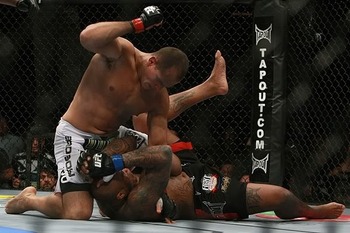 Dos Santos (top)/ Dave Mandel for Sherdog.com
Though he's among the most feared men in the world, let alone the heavyweight class, Alistair Overeem has shown some natural frailties in the past.
In both the K-1 and MMA circuit, "The Demolition Man" has been victimized by fellow heavy-hitters such as Mauricio Rua, Antonio Rogerio Nogueira, Chuck Liddell and kickboxing great Badr Hari—all of whom have stopped the former Strikeforce champ with strikes.
Dos Santos, meanwhile, has shown that his long reach and timing has effectively kept him out of harms way, at least for the most part.
In his battle against the powerful Shane Carwin last June, Dos Santos also showed that he can take them as well as he can given, eating a few big shots from the juggernaut that is Carwin.
The action will be tentative early, though once Dos Santos finds his range against the 6'5" Overeem, expect the Bahia fighter to level the big man with a right hand early, following Overeem to the canvas where a brutal barrage of ground-and-pound will seal the knockout finish.
Keep Reading