Barcelona Midfield: Which Players Make the Cut?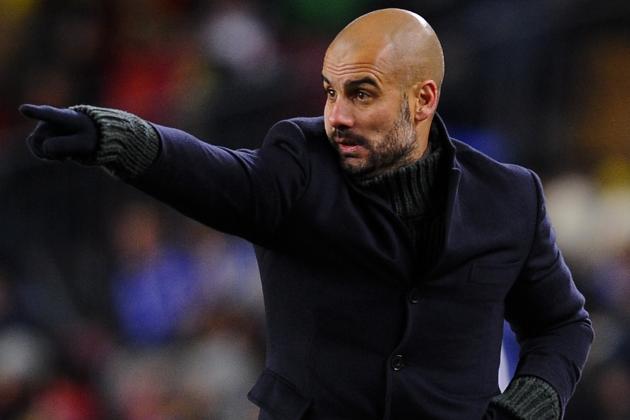 David Ramos/Getty Images
Guardiola, who should he pick?
The depth in the Barcelona squad is just unbelievable; when you look at the star quality they have on their bench you can't help but feel jealous they aren't sitting on the bench of your team.
But it raises the question which players are good enough to make that starting XI midfield?
That midfield only has 4 or 5 places, and if you aren't making those places, is it time for you to move on? The list will be compiled predicting that Lionel Messi will occupy the solo striker role. It also assumes that Barcelona will be playing a 4-3-3, counting the two wingers in this discussion.
I will talk about all the midfielders in the following slides.
Begin Slideshow

»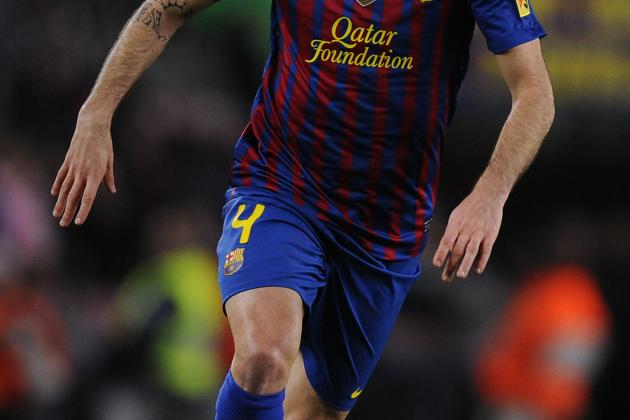 David Ramos/Getty Images

After joining from Arsenal over the summer, the young Spaniard has played in many different roles under Guardiola and has played fantastically well.
He has really found his scoring feet back in his hometown, finding the back of the net 15 times in all competitions this season. I think if Andres Iniesta were around then, he wouldn't have left for Arsenal in the first place, but now with them both in the same team this can only be a good thing for Barca.
Does he make the cut?
Yes. He has been in red-hot form, scoring and creating goals for Barcelona and will show in the upcoming seasons that he is indispensable to the team.
Thiago Alcantara
A promising player who was linked with a move away from the Nou Camp in the summer, after the signing of Cesc Fabregas, he felt his chances would be limited but opted to stay at the Spanish giants and try to establish himself as a first-team player. He hasn't quite got there yet but he is showing a lot of promise.
Does he make the cut?
No. Give him a couple of years and I think he may be in there.
Pedro Rodriguez
Pedro spent a lot of last season in the starting lineup and was in great form, finding the back of the net nearly every other game. When Alexis Sanchez was brought in, Rodriguez saw his playing time diminish.
Does he make the cut?
No. He has lost his form this year and along with form, his place in the team.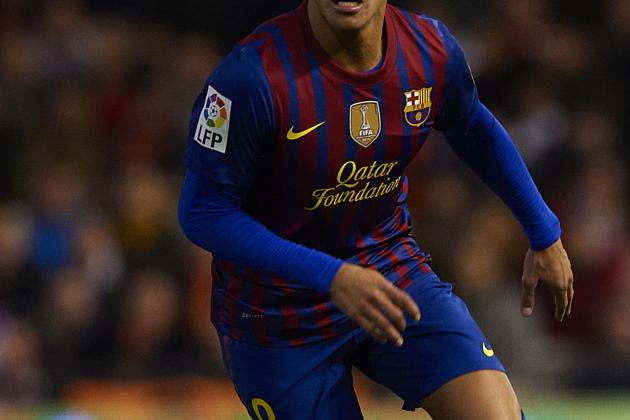 Manuel Queimadelos Alonso/Getty Images

Alexis Sanchez
Sanchez has proven his quality with his move to Barcelona and is showing everyone that he could be up there with the world's best.
He can play across all three of the attacking positions and is known to find the net from time to time whilst providing assists for teammates as well.
Does he make the cut?
Yes. He would take a role on the wing with Villa holding onto the other role.
Isaac Cuenca
The young Spanish winger has been showing his promise this season with some amazing displays for Barca. He has a lot of pace about him and is constantly causing defenders trouble when he is running full pelt at them.
Does He make the cut?
No. But give him a couple of seasons and I can see him in that elusive starting lineup.
Ibrahim Afellay
Afellay had shown so much potential at PSV and finally got his dream move to Barca, the team he had wanted to play for growing up. The team was already stacked full of fantastic players and Afellay found it difficult to make it into the starting XI.
He suffered an injury this year and I can only see this affecting his chances even further when he gets back to full fitness.
Does he make the cut?
No. Even when he is 100 percent fit he won't be good enough to find his way into the Barcelona midfield. He is a very talented player and I can see him being a success at most other big European clubs.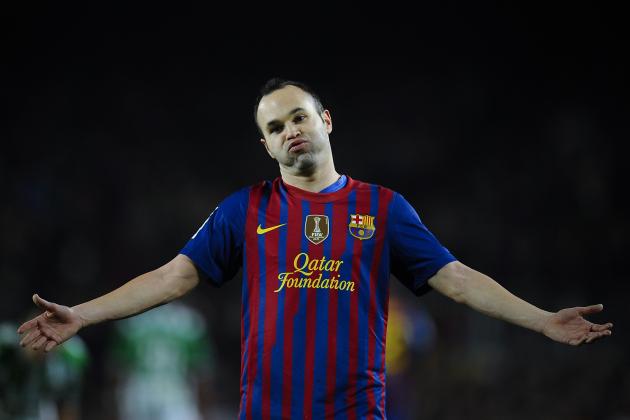 David Ramos/Getty Images

Andres Iniesta
There is no doubt that Andres Iniesta would get a starting berth in just about any team in the world; with his fantastic passing skills, great vision and ball control, he is ranked among the world's best.
He is scored the winning goal in Spain's triumphant World Cup campaign in 2010 and was named man of the match, followed by being named to the tournament's All-Star team.
Does he make the cut?
Yes. His fantastic link-up with Xavi makes him even more likely for that starting spot.
Javier Mascherano
After leaving Liverpool with a somewhat heavy heart in 2010, there were big things expected of Mascherano. He has somewhat failed to stamp his mark at the Nou Camp and has found himself filling in at right back and centre back.
Does he make the cut?
No. With Sergio Busquets and Seydou Keita playing in the same position as the former Argentinean captain, I think he should be looking for a new club.
Sergio Busquets
He came on the scene in 2008 and by the 2010/11 season was a well-established member of the first team.
He played in every match at the 2010 World Cup for Spain, putting in some fantastic displays in the defensive midfield role previously held by Marcos Senna.
Busquets is a versatile player and can play further up the pitch and also play in the centre back role, something he has done many times when either Carles Puyol or Gerard Pique has been injured.
Does he make the cut?
Toughest one yet but my choice is a no. I've decided to put Xavi in the position where Busquets would play, but if I really wanted a defensive midfielder I would choose him over Mascherano and Keita.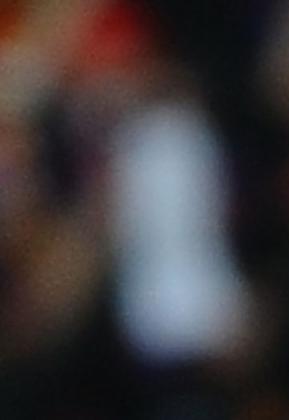 Laurence Griffiths/Getty Images

Xavi, who is arguably one of the best centre midfielders ever, is now coming into his twilight years as he will turn 33 next year. This hasn't stopped him from wowing fans all over the world, and his pinpoint passing is as good as ever.
He seems to find space when there doesn't seem to be any, and since he is getting on a bit in footballing terms I feel he could play a bit further back in the Barca midfield.
Does he make the cut?
Yes. But I would play him just behind Cesc Fabregas and Iniesta in a deep-lying centre mid position.
Jonathon Dos Santos
Dos Santos is showing some real promise and I can see him being a main player for Mexico in the upcoming years. He has only recently made the move up from Barcelona B but he has impressed in the few appearances he has made. The Mexican international has recently been handed a contract extension to 2015 showing that he must be doing something right.
Does he make the cut?
No. Well not at the moment; with a lot of players in his position ahead of him, a loan move to a fellow top league side would do wonders.
Seydou Keita
Seydou Keita has done his job for Barcelona over the years, but with limited playing time due to the signing of Mascherano and Sergio Busquets becoming a firm choice of Guardiola.
There has been talk of him moving away from the Nou Camp in the near future, with lots of clubs thought to be interested.
Does he make the cut?
No. In his prime he might just have made the cut.
David Villa
I know what you are thinking: David Villa is a striker.
He does play in that position from time to time but for Barca is often deployed as a winger, so that is why he is being counted in this discussion.
He has a great instinct for where the goal is and seems to be able to score from anywhere. This, put together with great pace, is often lethal for the opposition. Villa broke his leg earlier in the season and hasn't been playing as a result of the injury.
Does he make the cut?
Yes. If he weren't injured he would occupy one of the winger positions in my book.