2012 NFL Draft: Ranking the 50 Best Prospects
Kevin C. Cox/Getty Images

Forget Mel Kiper and Todd McShay. Forget about what you have heard from Jason La Canfora. Heck, forget what someone like a Bill Polian may have said years ago.
I'm sure, like you fans and fellow writers, you have favorites, have a feeling what your favorite teams are going to do, and like me, want the best player chosen at each spot in the draft. But, like in years past, there will be surprises, a lot of hollering from the crowds in Radio City Music Hall and of course a lot of people booing the commissioner each time he comes to the podium.
The NFL draft is alive and well, and only a little over a two months away. Time sure flies when you are breaking down records, tape and 40 times.
Here is a look at the 50 best players in the this upcoming draft.
Begin Slideshow

»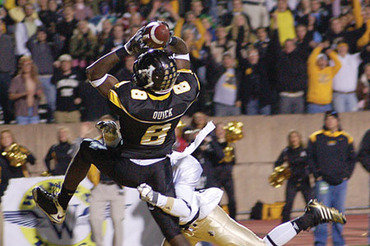 He may wind up being the fastest rising receiver on the draft board come April 26.
Quick is in that second tier of receivers who will be second-round picks that could sneak into the bottom of the first round (New England, San Francisco).
I like his size (6'2"). He was impressive in the Senior Bowl workouts and scrimmages. Teams like Jacksonville, San Diego and Chicago could all have him on their radar as a second-round selection. But he also has that look of a player whom the Patriots would take a risk on in the end of the first round or trade down into the second round to make him a solid selection in Tom Brady's offense.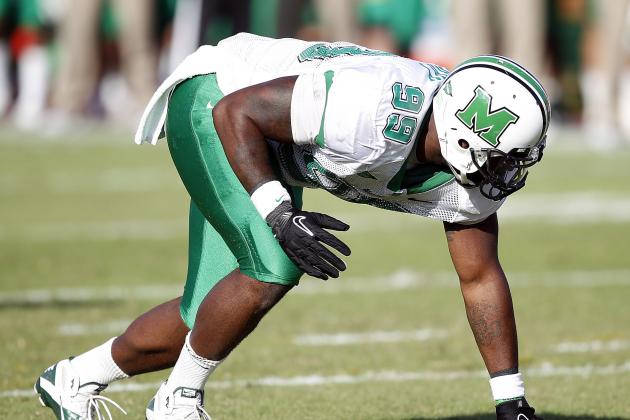 Bob Levey/Getty Images

Some really good players have come from Marshall like Randy Moss and Chad Pennington.
Add Curry to this list.
At 6'3" and 265, he looks like he could be another Terrell Suggs or an edge rusher in a 4-3 defense.
Curry looked good at the Senior Bowl and turned some heads with his workouts. He would be ideal for a team looking to improve its pass rush (New England, Buffalo).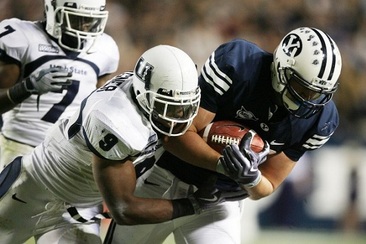 I like Wagner as a second-round pick. He is a solid, if not spectacular outside backer who can cover a tight end across the middle or stop the run.
Although he was not in a conference that played against superior talent week after week, Wagner still was able to shine.
He has great instincts and speed. But his height, 6'0'', maybe a concern.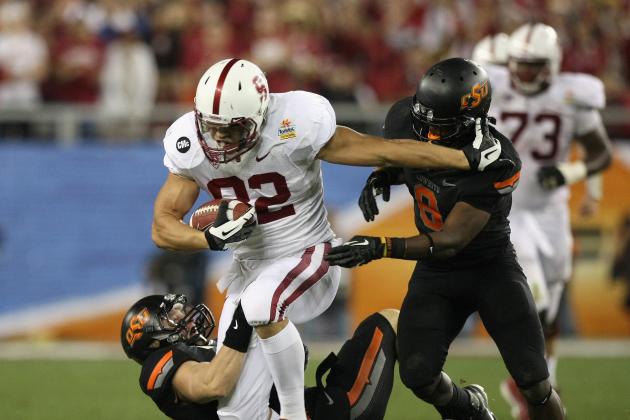 Donald Miralle/Getty Images

OK, here is the dilemma.
Stanford has some really good talent in this draft, with three or maybe four of them being taken in the first round of the draft.
While there is no doubt that someone like Andrew Luck, Jonathan Martin and David DeCastro should be top 15 choices, there is some question about Fleener.
He is a solid tight end with size at 6'6" and speed (4.77 in the 40). Is he a halfback or is he more of a tight end in the mold of a Greg Olsen?
The Giants may want to find out what kind of skills he has at the end of the first round, or he has Washington Redskins written all over him.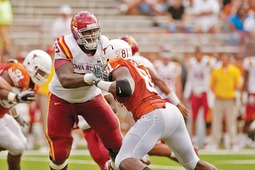 This guy is a wall!
Oseleme may not have the same production as someone like Cordy Glenn, but he is a great lineman with a lot of upside.
At 6'5" and 333 pounds, he can hold his own against defensive tackles who will try to get through the line and challenge passers and stop running backs.
Oseleme is one player who could move up the draft board with a good combine.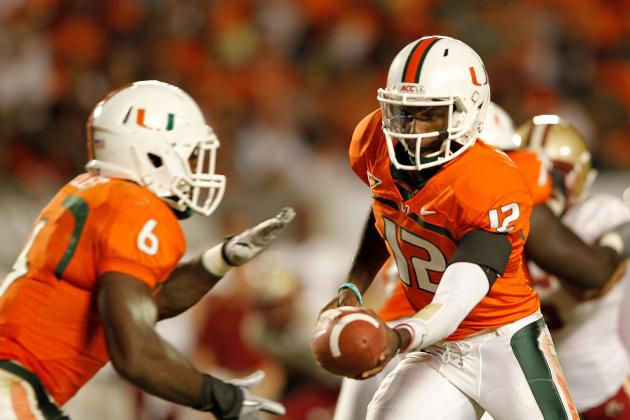 Mike Ehrmann/Getty Images

There is a lot of potential in this kid.
A sophomore-eligible player in this draft, Miller could be the best running back in this draft class.
But he is young and he needs more seasoning. With his 4.42 speed, he can get to the hole and get to second or third gear once he gets to the middle of the defense.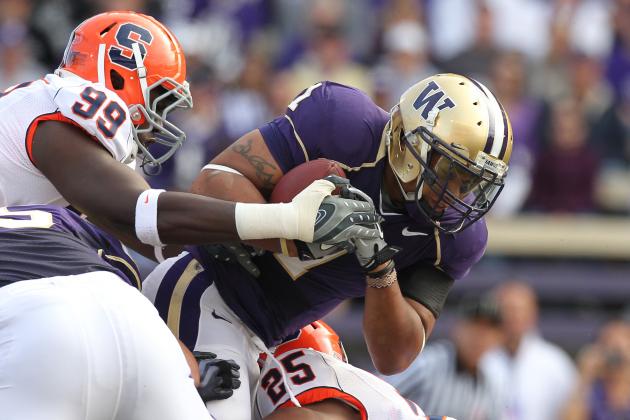 Otto Greule Jr/Getty Images

Another one of those running backs who used the Senior Bowl to help his cause and may find his way into the first round.
Teams like Cincinnati, New York Jets and Arizona could all use him in their offense.
At 225 pounds, he may be carrying a little extra weight, but Polk can bowl through the line and carry defenders for extra yards.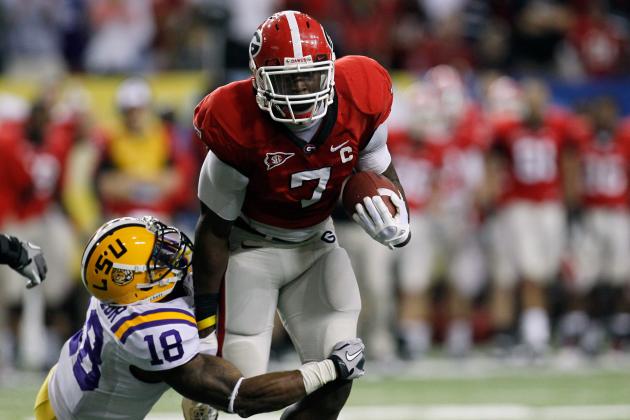 Kevin C. Cox/Getty Images

A guy I have liked before the beginning of the season to be a surprise first-round selection (Houston Texans).
Charles was a key component in Mark Richt's offense at Georgia and faced top defensive talent each week. But he was also a main target and safety option on third down and short yardage situations.
I think he can also be a very good blocking tight end.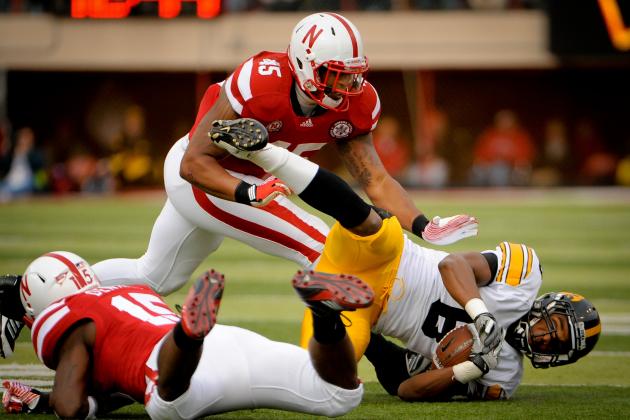 Eric Francis/Getty Images

Did any defensive player's stock drop as far as Dennard's did during the week at the Senior Bowl?
Dennard, who I thought was once a late first- or early second-round pick, did not look sharp in practices and was injured with a hip flexor. He did not play in the actually game.
Now, the Cornhusker may fall to the second or third round because of the injury.
Hopefully teams will draft him based on his talents before the injury.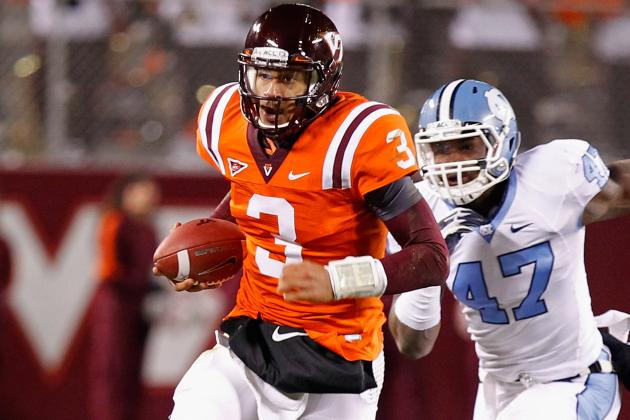 Geoff Burke/Getty Images

Before the season, Brown was a top-15 talent. After the season, he was still a great talent, but something happened right after the college football season ended. Players from Alabama and LSU and other powerhouse teams made themselves eligible for the draft.
Linebacker is not the strongest of positions either, which could hurt or help Brown's stock.
He has nice speed, but it remains to be seen where he would play in a 4-3 or 3-4 and does he have the skill to keep up with a running back out of the backfield or chase down a tight end over the middle.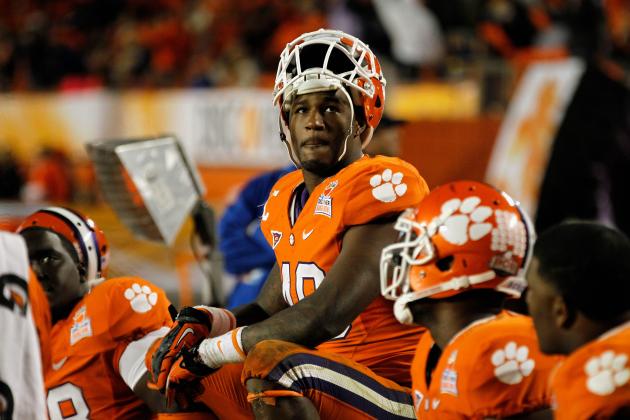 Streeter Lecka/Getty Images

He is continuing the lineage of defensive linemen headed to the NFL from South Carolina.
Branch may prove to be better than fellow Tigers player DaQuan Bowers.
Branch is agile at 6'4" and 260 pounds and looks the part as an edge rusher and I wonder if he could play standing up like a Terrell Suggs- or James Harrison-type player.
Branch could sneak into the end of the first round where a team like the Giants or Patriots could use his services.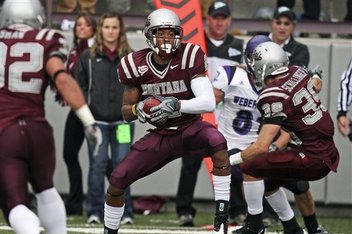 He may be the surprise of the draft.
Every year, there is a player who excites scouts and makes a move up the draft leader board. Johnson could be the player this season.
Although Montana is not the "hotbed" of talent like other teams, Johnson has proven he can play with intensity and hopefully that translates on the next level.
He has nice measurables, 6'2" and 204 pounds, and had 44 tackles, one sack, one interception and 11 pass break-ups and a dozen pass deflections this past season.
He will be a nice find in the second round.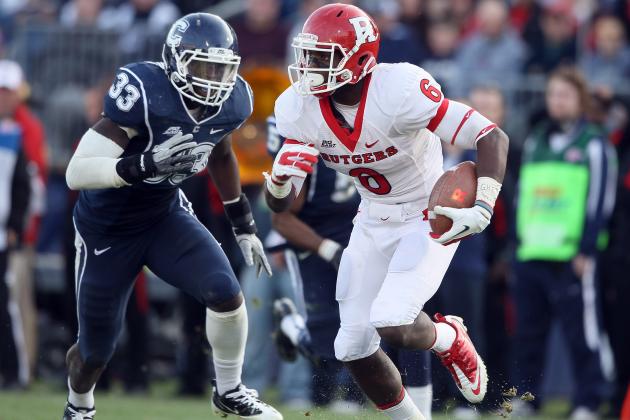 Elsa/Getty Images

Sanu is a stud who will be better than former Rutgers star Kenny Britt.
He may not be as fast as some teams would like (4.57 in 40) but at 6'2" and 217 pounds with room to add weight, he could be a great possession receiver and end-zone target for a team like Cleveland, Cincinnati, Chicago and maybe even New England.
Watch him be a star this season in the return game as well.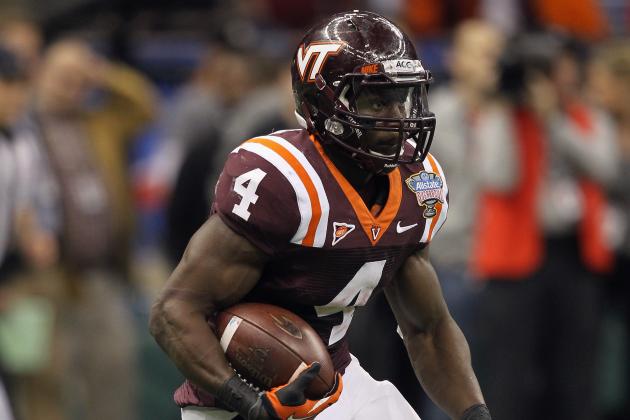 Matthew Stockman/Getty Images

Wilson could be the second running back taken off the board.
While Trent Richardson is clearly the best of the lot, there is some debate as to who is second. I think scouts will soon see Wilson is more of a complete back than Lamar Miller of Miami.
While Miller is younger and may have more upside in the future, a team needing a good, dependable runner right now could take Wilson and plug him in and get results.
I am not sure why, but for some reason he looks like a great fit for the Detroit Lions or Green Bay Packers who need to balance their high-powered offenses with stronger running games.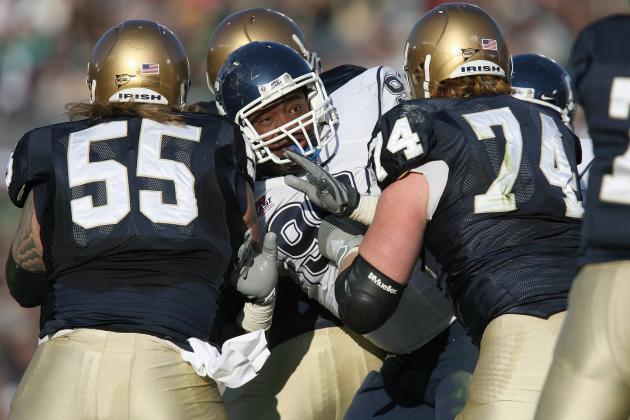 Jonathan Daniel/Getty Images

Here is another good talent from Connecticut.
Does the overabundance of tackles in this draft hurt Reyes and his chances of being a first-round selection? I'm not sure he is a first-round pick, but a team will take him in the second 32 selections and work him into their defensive rotation.
Reyes was a stud at the Senior Bowl and helped his cause with great practice sessions against elite talent. This should help him make the transition to the pro game.
In a couple of years, he could be a Pro Bowl-type of player.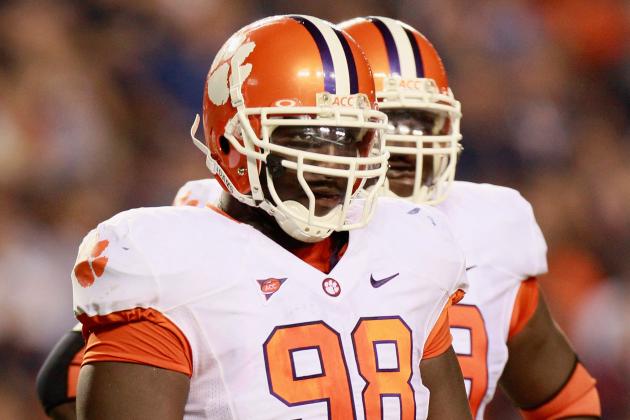 Kevin C. Cox/Getty Images

Do numbers, ability or play hurt him most?
Thompson was a mid-first-round selection a few months ago. Early entrants into the draft affected him and his position is deep this year.
Still, there is a lot of talent in that body. Thompson could be a late first-round pick, but a team like the Colts could scoop him up and have him be part of their new defensive rotation next season.
Quarterback play was not the only problem with Indianapolis last year. The defense was porous as well.
Jamie Sabau/Getty Images

Brandon Washington could be the steal selection of the second round.
The Hurricanes guard played all along the Miami offensive line and it takes a road map to get around him.
That's a good thing with some teams who need interior line improvements. The flexibility he brings makes him that much more attractive to teams. He could be a good fit in Miami or Dallas or any other team who needs depth and strength to move defensive linemen around.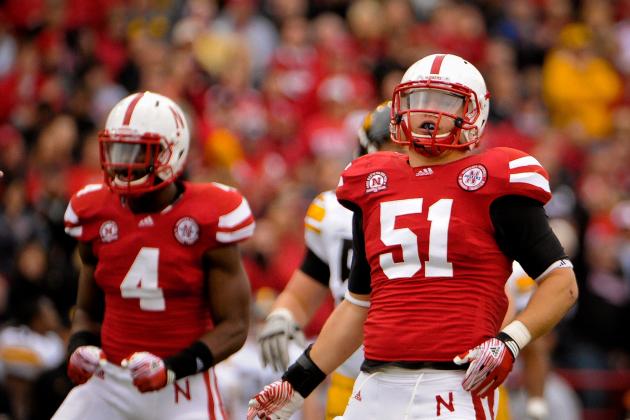 Eric Francis/Getty Images

Honestly, I was not fully aware of David until the end of the season. But when I saw a few games, I realized he is one of the better linebackers in this draft.
And remember, depending on where some of these "linebackers" play, this could be a very weak position.
David is a bit on the small side at 6'1" and 225 pounds, and looks like a linebacker from a decade ago.
There are defensive backs who are bigger in the NFL than he is. He is an "intangible" guy who fights through blocks and pursues runners and receivers.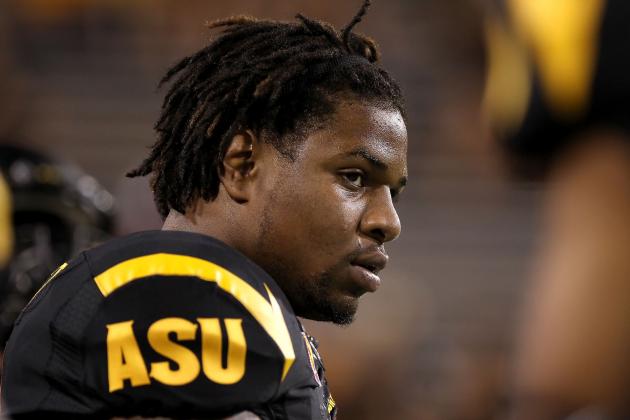 Christian Petersen/Getty Images

If this was a selection based purely on ability, then Burfict could be a top-10 selection.
But I have questions, like other scouts and media types, about his attitude, his demeanor, his rage and his ability to remain focused.
He has all the ability in the world to be a very dominant inside linebacker in the mold of a Ray Lewis or Mike Singletary. But he has to prove he can play every down like it is the most important thing in the world.
He needs to be drafted by a team (Baltimore, New York Giants, Houston) that can take their time with him and make him the centerpiece of the defense while not bringing him along too quickly.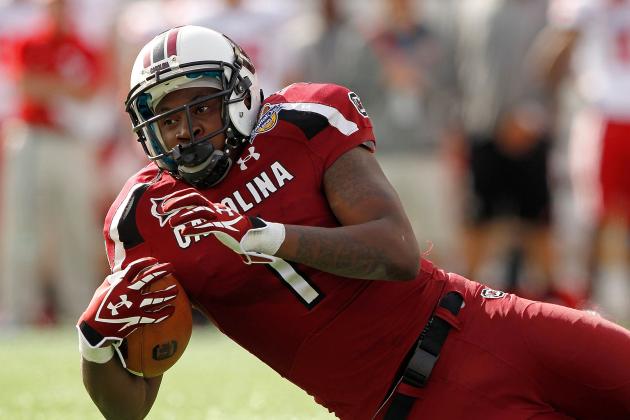 Mike Ehrmann/Getty Images

The receiver with the most to prove at the combine this week.
Jeffery is tall at 6'4" but his weight is a concern. The ability is there, but does extra weight make him a tad slower and a risk?
I am not one to think it is. He is a proven commodity that has shown he can make the leap against great competition and should be a steal when someone like the Jets, Chargers or Bengals draft in the middle of the first round. If he slips to the back end of the round, look for someone like New England to scoop him up.
Now that is scary!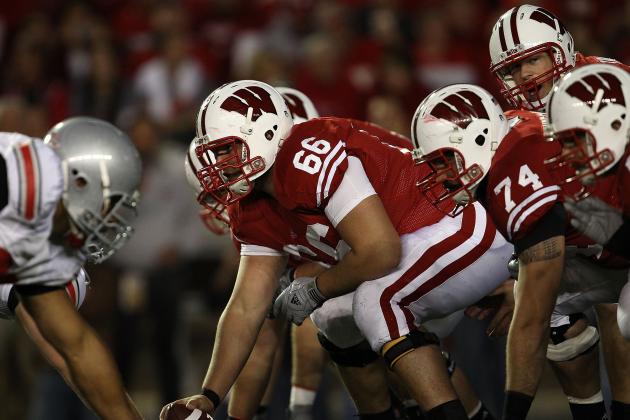 Jonathan Daniel/Getty Images

Can play both guard and center. He was a mountain of a man for the Badgers offensive line and has proven to be a solid man in the middle throughout his career in the Big Ten.
Now, he takes his rugged skills and moves on to the NFL where he could be an anchor for an offensive line for the next decade. Could he be a Pouncey-type player that fits right into a system and makes a difference?
The Steelers still have an aging line and putting him in at guard makes plenty of sense. He could help a Cleveland Browns line that needs to open holes for the running game as well.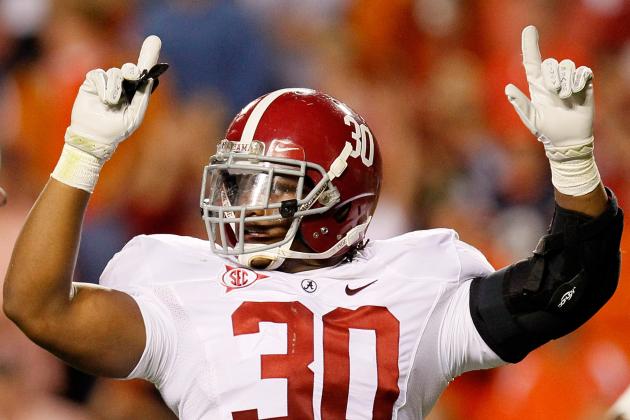 Kevin C. Cox/Getty Images

Where do you play him?
At 6'4" and 260 pounds, he is listed as an inside linebacker. That is a lot man in the middle.
Hightower may be the fifth best in terms of ability and as a prospect in the first round of this draft from Alabama. But he can still make things happen.
Hightower could be a run-stuffing linebacker in a 3-4 defense or could learn to be an edge rusher in a 4-3.
Whatever the position, he will still make a difference and make consistent plays as a rookie.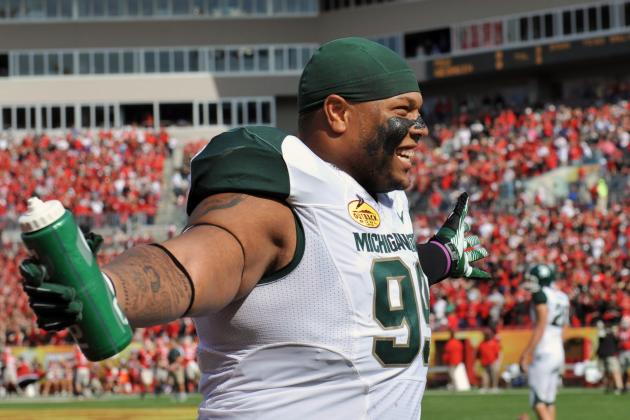 Al Messerschmidt/Getty Images

He is a defensive tackle in the mold of those tackles who are just now learning how to use all his skills.
Think of what happens when he puts it all together.
Worthy can be a great defender, maybe in a John Henderson mold and be an enforcer on the line. He is young and pretty fast for his size (5.04 in the 40) and looks like he could knock you over with one shove.
He is a great project to have on your team and let him develop into something special.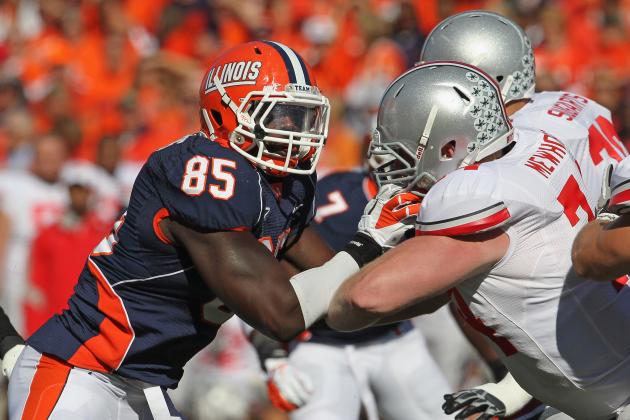 Jonathan Daniel/Getty Images

The nation's leading sack artist declared for the draft.
Can Mercilus translate his talents last season into a breakout season in his rookie year in the NFL? He had 16 sacks and nine forced fumbles.
The things about pass-rushers like Mercilus is they can either be a dominating force for a number of years, or be the one-year wonder. Teams are always leery of those types of players, which may cause his stock to drop some.
He isn't Mike Mamula, but he certainly is not Simeon Rice either.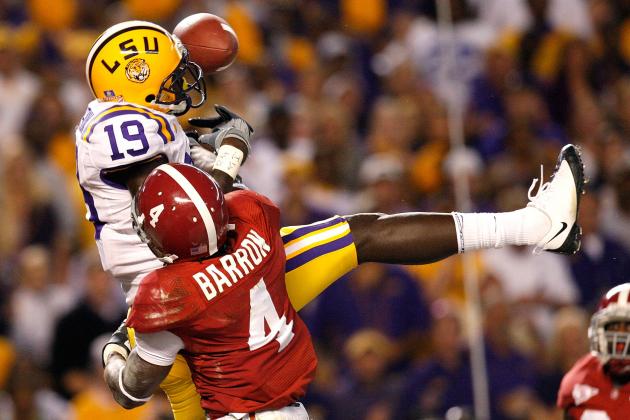 Kevin C. Cox/Getty Images

Barron is the top-rated safety in this draft, but he is overshadowed by the other great defensive backs in this draft. Unfortunately, Barron does not get the press coverage that players like Dre Kirkpatrick and Morris Claiborne receive.
Look for Barron to be taken in the first 25 selections and possibly to a team like Tennessee or Houston who still could use some help in their secondary, especially if free agency hits them hard.
Barron was benefited from playing in the SEC, which allowed him to play against top receivers on a weekly basis.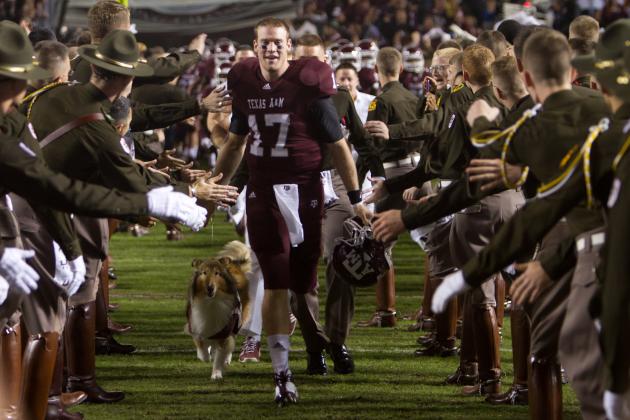 Darren Carroll/Getty Images

He will be the enigma of this entire draft.
He was not at the Senior Bowl because of a broken foot and will not be at the combine. Everything rides on his pro day and he could still be a first-round choice because of the demand for quarterbacks.
At 6'4" and 222 pounds, he is agile to move out of the pocket but he needs more consistency. Is he another Andy Dalton or is he a Jason Campbell coming out in this draft?
Someone will still take a chance on him in the first round. Maybe Seattle, the New York Jets or even someone like a Cleveland Browns will hope he can be their franchise passer.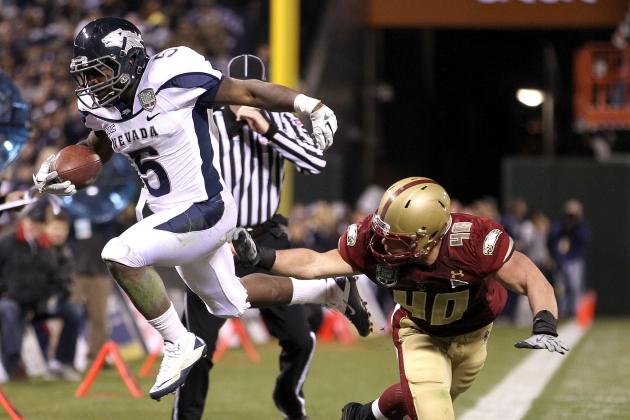 Ezra Shaw/Getty Images

The Butkus Award winner continues a great tradition of Boston College linebackers.
The Eagles may not have had the best season, but Kuechly continued his strong play all season and should be a solid middle-of-the-first-round pick.
Teams like Philadelphia, Dallas, Chicago, and possibly as early as Buffalo at the 10th spot could all look for him to help solidify the middle of their defense.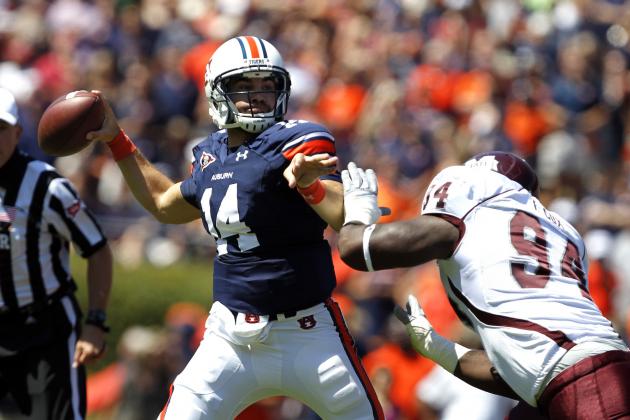 Butch Dill/Getty Images

Cox has been listed all over draft boards. He is basically a mid-to-late first-round selection out of Mississippi State.
Cox has great speed at 4.95 in the 40-yard dash but is also only 295 pounds which makes him a little light, and you wonder if bigger offensive linemen will be able to push him around.
I think he has a good upside and will be welcomed into a defensive scheme like Cleveland, New England or New Orleans where he can help continue to make strides in run defense.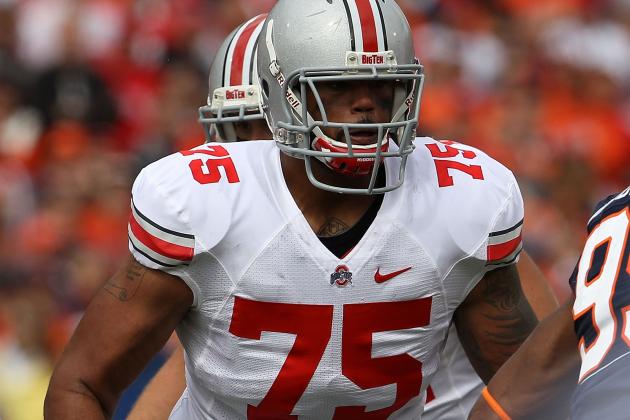 Jonathan Daniel/Getty Images

I don't think anyone at the Senior Bowl helped themselves more than Mike Adams.
He looked the part of a left tackle waiting to hear his name called in the first round.
Adams is solid and sturdy. And at 6'7" and 323 pounds, he will be tough to move around.
Green Bay would be an ideal location for him, but if he slips past them, look for the Giants to scoop him up.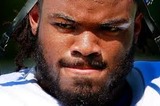 Poe is mammoth at 350 pounds and could fill a two-gap system very easily.
He is not quick but he is solid. I wonder how he will work against faster offensive linemen, especially like a Carl Nicks or Ben Grubbs?
Poe will be a great addition to a team looking to fill pieces in their run to the playoffs. He would not have to start immediately and could learn the pro game in time, not in a rush.
Pittsburgh, Baltimore or the Packers would be ideal for him.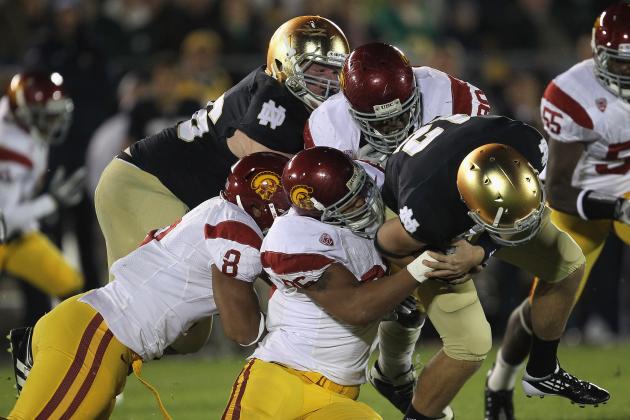 Jonathan Daniel/Getty Images

He is an early entry into this draft that has stud written all over him. But his youth may mean he needs a year or two of seasoning before the team that drafts him reaps the benefits of the selection.
Perry is only 250 pounds and could stand to gain some strength. He could easily be moved around by offensive linemen in rush situations.
What I do like about him is that he is quick with good speed (4.64) which makes him that much more attractive.
Could the Jets find a way to take him off the board at the 16th selection? It would sure help Rex Ryan's defense.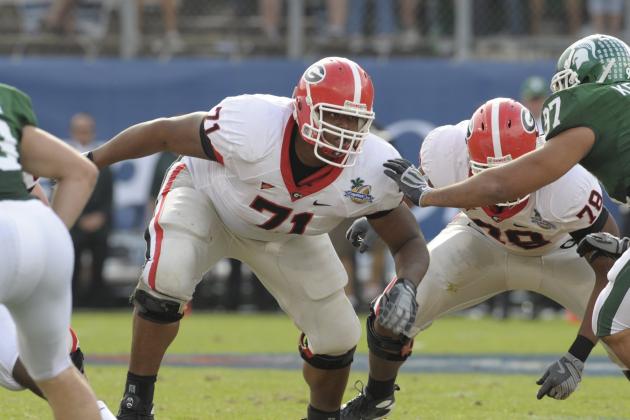 Al Messerschmidt/Getty Images

Glenn is going to be the best linemen that comes out of this draft. You can mark my words on that one. He is strong, thick and a road grader. And he can play both guard and tackle.
If he is placed in the proper system, like Kansas City, he can play at a very high rate for a good many years.
Glenn's ability to run block is ideal for that kind of offense or maybe as part of the Pittsburgh Steelers line, one that replies on the run after they establish the pass.
Glenn will be an All-Pro in less than five seasons.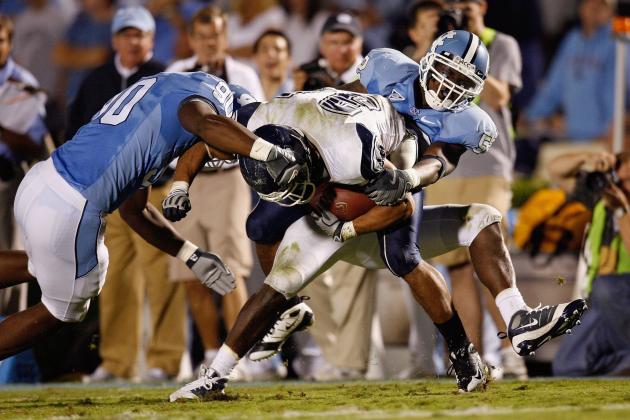 Kevin C. Cox/Getty Images

This guys motor switches on and off like a light switch.
Which Coples will a team drafting him get?
He was the consensus top defensive end in this draft at the start of the season and tailed off. Then he looked good at the Senior Bowl.
Now, there are a pack of ends who can play linebacker as well. If he can be a Kevin Hardy type player, someone is going to be very happy.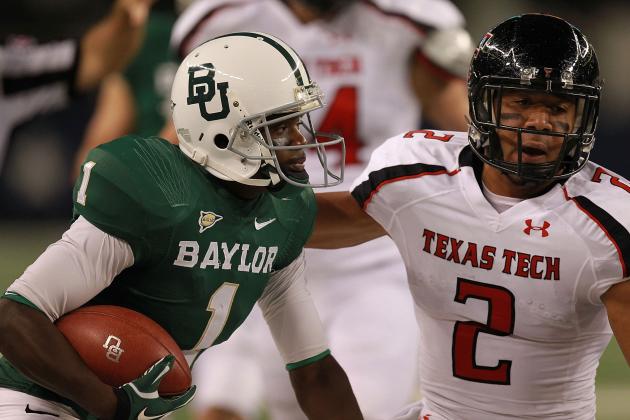 Ronald Martinez/Getty Images

He has the most upside of any receiver in this draft and being someone with speed who caught balls from Robet Griffin III should give him some credibility.
Wright is actually moving up the charts and is ranked in the top three of receivers in this draft.
I am not sold on either talent yet so I have hum behind Michael Floyd. But he is an intriguing prospect.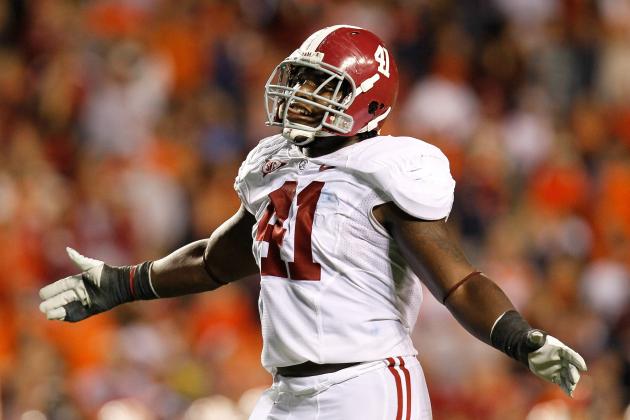 Kevin C. Cox/Getty Images

Upshaw is the new breed of defensive end/linebacker. He and Melvin Ingram are going to help reshape the NFL.
Fast and strong, place him on either end or on the outside of the middle of the defense and watch him go. Think of Jack Ham with better speed and more agility. He is that damn good.
Someone may reach for him around the 10th or 12th pick and have a steal.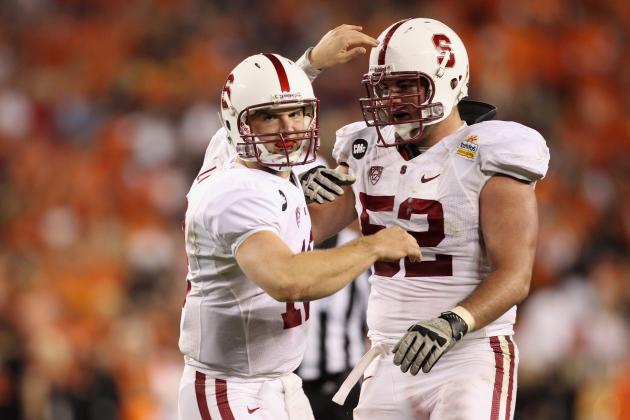 Christian Petersen/Getty Images

DeCastro is the best guard on this board right now. But when I judge how good a guard is, I ask is he a Jack Hannah or a Chris Naeole? Somewhere in between would be a nice change of pace.
DeCastro and Jonathan Martin solidified a line to keep Andrew Luck healthy. He is solid and can run block with many current pros.
Earlier in the year, he was ranked as high as fifth on some websites. I think he is a middle of the pack talent based on the need for receivers and defensive tackles.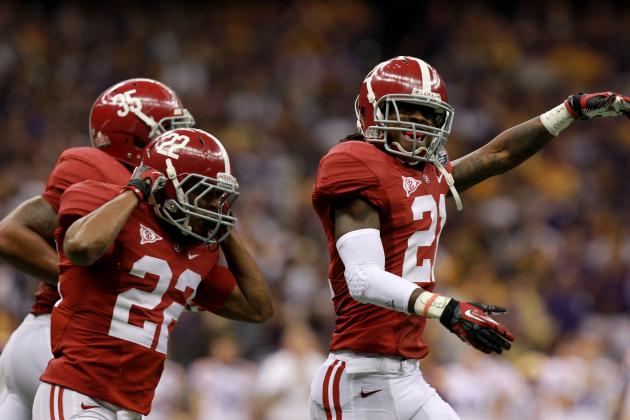 Ronald Martinez/Getty Images

He was the leader of the Bama secondary. And he is the third best cornerback in this draft.
But being third is not as bad as it seems when you see who is ahead of him.
I like his intensity and his coverage skills. He has great instincts and can play the ball and the receiver.
Look for him to also help in the return game.
Kevin C. Cox/Getty Images

Ingram could be the next great pass rusher in the NFL. Not a Lawrence Taylor-type, but someone who could really be a disruptive force.
Ingram can play on the line as a pass rusher or as a linebacker in a 4-3 defense. With his size at 276 pounds, he can also cover a tight end in coverage or help stuff the run.
There are many ways to use this type of player, which makes me think there are a lot of teams out there who will want to take a good look at him in the coming weeks.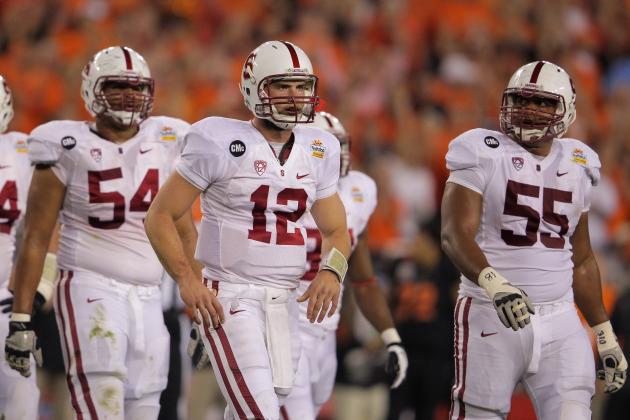 Doug Pensinger/Getty Images

Martin is a great prospect who gets credit for protecting Andrew Luck at Stanford.
While Matt Kalil is the top-rated tackle in the draft, and Riley Reiff is on par with this Cardinal grad, Martin has good footwork and should easily move into a starting lineup and stay there for the next decade.
I would not be surprised if Martin is drafted and becomes an All Pro player within the next five seasons.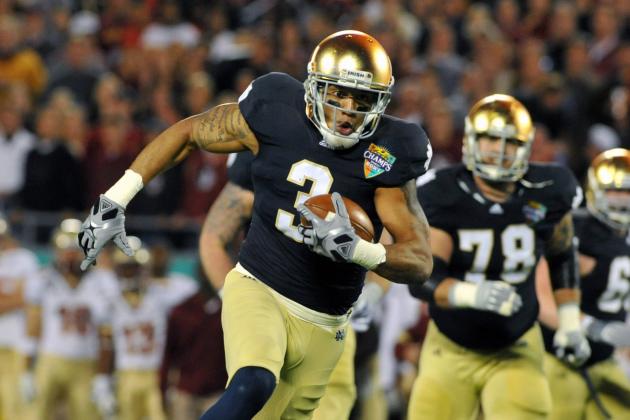 Al Messerschmidt/Getty Images

Floyd is actually my favorite receiver in this draft. And if he is to be the best in this draft, he needs to continue to grow as a playmaker.
So much is made about size and speed. Floyd is 6'3" and a great target across the middle, in the seam or in the red zone. He is a beast and matches up well with opposing defenders.
San Diego, Chicago, Cincinnati, Seattle and Denver could all find a place for him on its roster.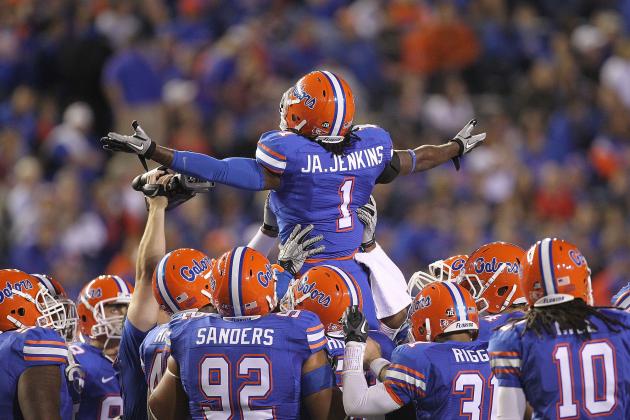 Mike Ehrmann/Getty Images

The wild card in this entire first round. Like Burfict, his past may catch up with him.
Based solely on ability, Jenkins may be better than Claiborne of Kirkpatrick of Alabama. But his off-field issues at Florida were troublesome.
He went to North Alabama where he stayed out of trouble and focused on growing up and playing ball. If he can prove he is a better man than he was, then a team in the middle or late first round will have uncovered a gem.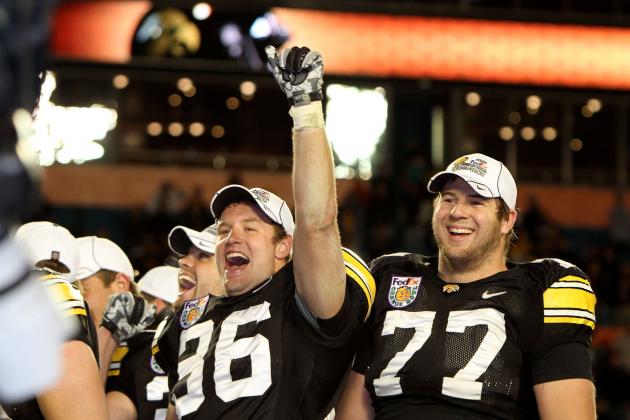 Doug Benc/Getty Images

Somehow, I think Reiff gets shuffled back out of the first 10 selections.
Defensive-minded teams will make moves, there will be a surprise or two in the first half of this draft and Reiff will fall.
Reiff played against some heavy competition last season and because of his education in the Big Ten, he made himself available for the draft. Look for him to make some team (Miami, San Diego, Cincinnati) very happy.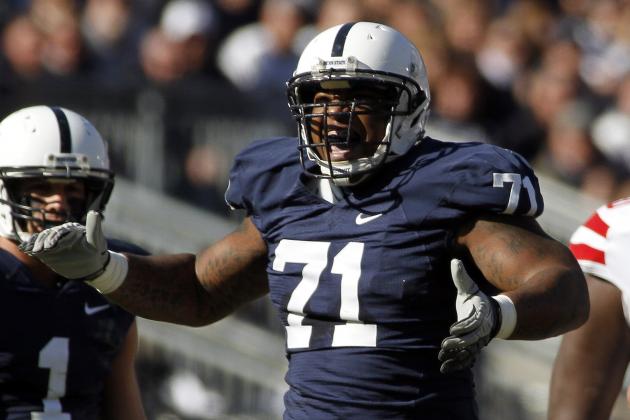 Justin K. Aller/Getty Images

Still is the best senior defensive linemen in the draft.
Big, strong and powerful, he will be compared to former first overall pick Courtney Brown, but the man in the middle is more agile and can take on two blockers in a two-gap system.
He could be selected as high as fifth (Tampa Bay) or he could slide to 10th where the Panthers would love to scoop him up and make him part of their defense for head coach Ron Rivera.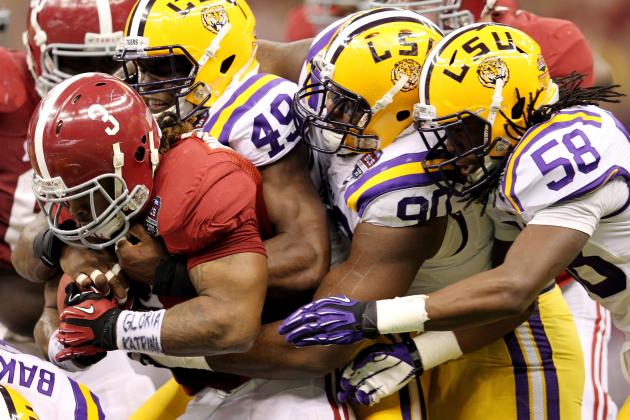 Andy Lyons/Getty Images

If you are looking for a player who is being drafted on "potential," then Brockers is the man to look at.
He is a sophomore-eligible player coming out of LSU. He needs another year of playing in college in my estimation.
Brockers is the kind of player teams dream of in the Junior Bryant-, Marcus Stroud-type of player.
Teams will need to be patient with him and let him grow up a bit.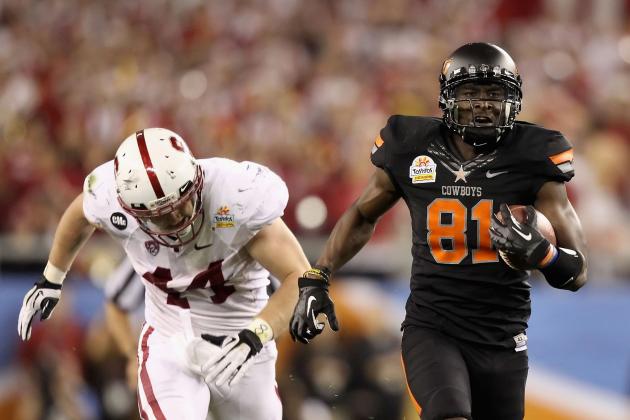 Christian Petersen/Getty Images

St. Louis has been the team slated to choose Blackmon since the end of the college season, but does that mean it happens?
He could still be selected by the Rams, who will have a healthy Sam Bradford to pass the ball to the All-American from Oklahoma State.
But if the Rams trade out of the second slot (I am predicting they will), then Blackmon could fall to sixth (Washington) or seventh (Jacksonville).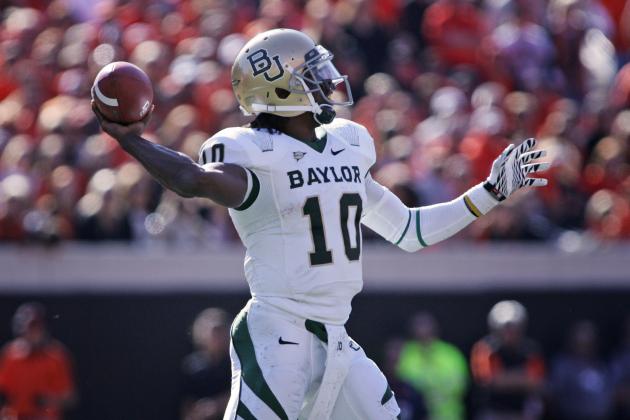 Brett Deering/Getty Images

I personally think the fifth position is a good one for him.
We don't know all his "true" particulars of height, weight, speed just yet until the combine or the pro day.
Griffin burst on the scene and took college football hostage with his ability to make plays, like a Cam Newton. Is he as good as Newton? We don't know that yet.
If he is truly as good as advertised, someone like Cleveland, Miami and Washington will all have a shot to make him their franchise passer.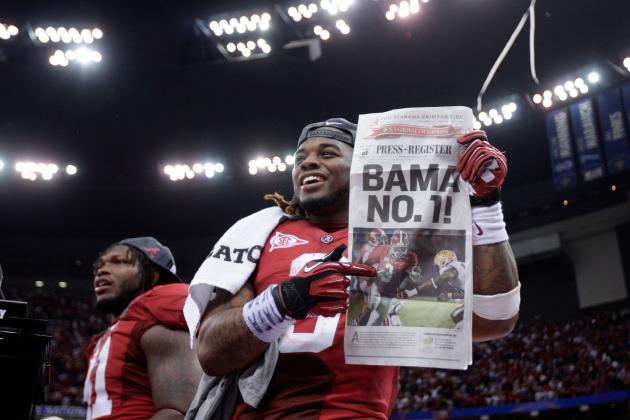 Andy Lyons/Getty Images

Maybe the best playmaker in this draft.
It's hard to slot where he could go because teams up front besides Tampa Bay may not have a need for him. Cleveland could surely use his skills but they have three backs they would need to shuffle.
Richardson could be of value to Kansas City, Denver, Cincinnati, New York Jets and even San Diego. But they are all middle-of-the-pack teams in this draft.
Cincinnati could try and trade up for his skills. Richardson may be more of a complete back than his teammate at Alabama, Mark Ingram.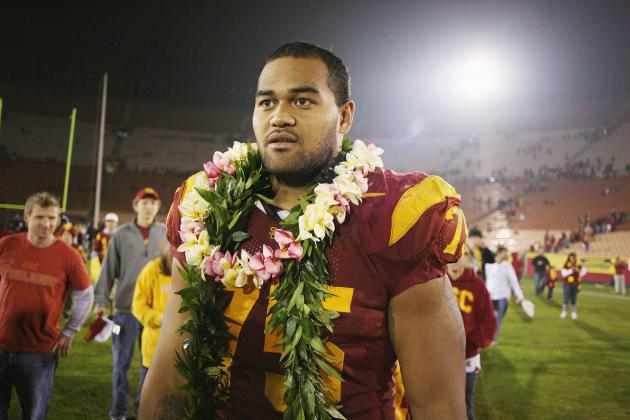 Jeff Golden/Getty Images

He is clearly the best tackle in this draft with four or five tackles being selected in the first round.
Kalil will be a top-five selection. He is slotted to fall into place at the third spot with Minnesota but the position of Robert Griffin III and Justin Blackmon make him a wild card of sorts.
If teams move up in the draft to select other players or the Vikings change their mind about taking him, then whoever lands him will have a player that can play on the left side for the next decade.
Now the question is "Does he become Tony Boselli, Anthony Munoz or Roy Foster?"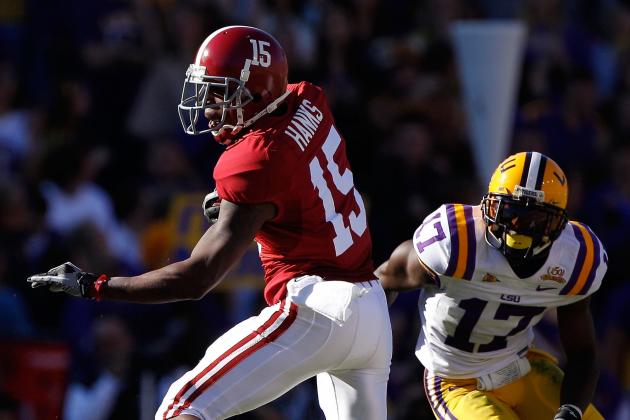 Chris Graythen/Getty Images

Claiborne is a rare talent. In a different draft without two high-profile quarterbacks, he may have gotten some serious consideration as the top pick.
But let's be serious about this. Quarterback is the "sexy" position in the NFL and the one that drives up attendance and scrutiny among media.
Claiborne had the advantage of playing against his own little NFL called the SEC and should benefit from being "pro" ready before he gets to his pro day.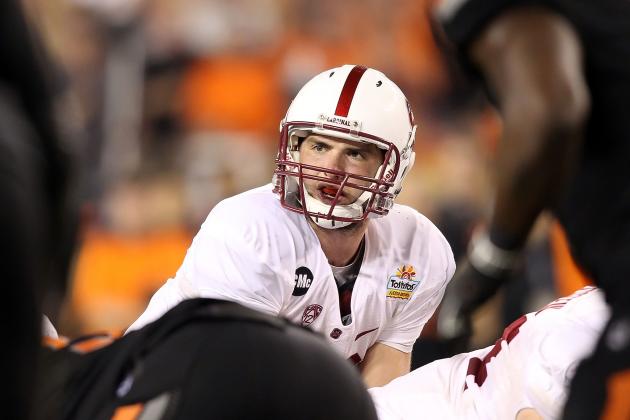 Christian Petersen/Getty Images

Was there ever any doubt abut this pick? Luck was the top pick coming out last season.
Think what would have happened had he come out in 2010 and Cam Newton was not the top overall selection? Things would have blown up.
Luck is the best prospect to come out since Peyton Manning and the best passer to land on pro soil since some guy named Elway. He can make all the throws and can read defenses like few can.
He goes into a situation where the Colts have to release Peyton Manning and move forward. Luck will inherit a team that is rebuilding, much like Manning did. Can the rookie handle the pressures in the same way the former leader of this team did?