Los Angeles Clippers: Why They Should Play Eric Bledsoe over Mo Williams More
February 19, 2012

With Chauncey Billups out for the season, the Clippers' previously strong guard depth has taken a big hit. However, they still have one of the best point guards in the league in Chris Paul, as well as two proven veterans in Randy Foye and Mo Williams. Now, with promising sophomore Eric Bledsoe returning to action, coach Vinny Del Negro must determine the optimal playing time for all four players.
Naturally, Paul should get the bulk of the minutes. Furthermore, because Foye has a size advantage over the other two guards, for defensive purposes, Del Negro has placed the guard alongside Paul, leaving Williams and Bledsoe on the bench.
Prior to Bledsoe's return, Williams had played fantastic for the Clippers. So well, in fact, that, together with Lou Williams of the Philadelphia 76ers, he was touted as an early favorite for Sixth Man of the Year. 
Then he got greedy.
Williams wanted a contract extension for the strong performance he displayed early in the season. When he failed to get what he wanted, combined with the fact that Foye was chosen as a starter over him following Billups' injury, his shooting percentage dropped. His defensive issues were also magnified in subsequent games.
The Clippers were in a good place with Williams performing. Now, they have to look beyond him and towards the other guard on the bench instead. 
While Bledsoe has been ineffective so far this season, he is recovering from knee surgery, and the statistics from last season showed that he is capable of performing far better.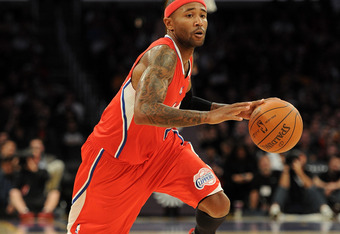 Harry How/Getty Images
What gives Bledsoe an advantage over Williams is his ability to play defense. Going up against speedy point guards is not an issue for the second-year guard out of Kentucky, as shown in the recent loss against Tony Parker and the Spurs, where he nearly sparked the Clippers into a memorable comeback win. 
From his rookie season, it is clear that Bledsoe is almost the exact opposite of Williams: a defensive point guard who lacks a jumper and someone who would prefer to facilitate over shooting. Given the number of offensive weapons on the Clippers roster this year, the lack of points from one player should not be an issue. 
With Blake Griffin, Caron Butler, Paul, Foye, Williams and Kenyon Martin all capable finishers, Del Negro should allocate all the minutes vacated by Paul to Bledsoe in order to keep the offense flowing, as well as to keep Williams' minutes to an amount where he is playing efficiently. 
At the start of the season, the Clippers had arguably the worst bench out of all playoff contenders. Now, with the addition of Martin and the returns of Reggie Evans and Bledsoe, it is safe to say that is no longer the case.