Missouri's 71-62 win over Texas A&M, their first in College Station since 2001, extended the Tigers' winning streak to seven games. This week, Mizzou faces two teams (Kansas State and Kansas) that will likely present the greatest challenge to the Tigers in their remaining four regular season games.
With the Big 12 regular season title and an NCAA tournament No. 1 seed potentially at stake, much is riding on Mizzou's performance this week.
Currently, the No. 3 Tigers (25-2, 12-2 Big 12) are tied for first in the Big 12 with No. 4 Kansas (22-5, 12-2 Big 12). After playing Mizzou at home, Kansas will head on the road to play Oklahoma State (13-14, 6-8, seventh Big 12), which they beat 81-66 on February 11.
The Tigers' final two games will be against Iowa State (19-8, 9-5, third Big 12) at home, which they beat 76-69 on January 11, and then on the road against Texas Tech (8-18, 1-13, 10th Big 12). The Cyclones handed Kansas its first of two conference losses (72-64) last month.
If Missouri can pull off wins over Kansas State (18-8, 7-7, 5th Big 12) and Kansas, the Tigers claim the lead over Kansas and make a strong case for a No. 1 seed in the NCAA tournament.
No. 1 Kentucky (26-1, No. 3 RPI) and No. 2 Syracuse (27-1, No. 1 RPI) look to be the most likely to be given No. 1 seeds in the tournament.
Along with Mizzou (No. 9 RPI) and Kansas (No. 6 RPI), No. 5 Duke (23-4, No. 2 RPI), No. 7 North Carolina (23-4, No. 5 RPI) and No. 6 Michigan State (22-5, No. 4 RPI) are in the running for the other two No. 1 seeds.
In last year's NCAA tournament, No. 11 seed Mizzou lost in their first game to No. 6 seed Cincinnati. The Tigers' much-improved performance this year comes to the credit of head coach Frank Haith.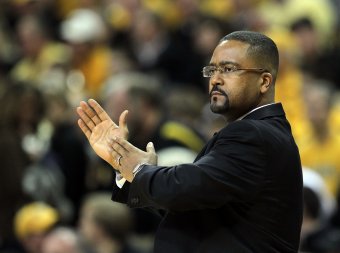 Jamie Squire/Getty Images
In his first year in the position at Mizzou, Haith is arguably one of the best coaches in the NCAA this year.
First up this week, Mizzou will take on Kansas State at home. The two teams last met on Jan. 7, in Manhattan, Ks., when the then-No. 23 Kansas State Wildcats gave the Tigers their most embarrassing loss (75-59) of the season.
On an interesting note, when the Wildcats came to Missouri last season, the exact opposite end result occurred with the Tigers beating Kansas State 75-59.
For most of the Jan. 7 game, the Wildcats were able to shut down Mizzou's offense, including an eight-minute stretch in the first half where the Tigers went without a field goal. With that, Kansas State took its lead from 16-10 to 38-19. Mizzou did not start moving the ball and scoring until mid-way through the second half.
If the Tigers want to avoid a repeat performance, they're going to have to find a way to get around Kansas State's defense in order to play the type of passing game they like to play.
Foul trouble also hurt the Tigers in the game at Kansas State. Mizzou's No. 3 scorer, senior Ricardo Ratliffe (13.7 points per game), was called for a technical foul early in the second half, leading to him only playing only 14 minutes in the game.
The Tigers have great senior leadership that will help them in the NCAA tournament. Current scoring leaders for Mizzou, in addition to Ratliffe, include senior Marcus Denmon, with 17.8 points per game, senior Kim English, with 14.2 points per game, and junior Michael Dixon, with 12.6 points per game.
This season, Mizzou has averaged 79.9 points per game, while keeping its opponents to 64 points per game. In home conference games, the Tigers average 76.1 points per game, while keeping their opponents to 59.4 points per game.
With Mizzou's two losses this year (Kansas State and Oklahoma State) being away games, the Tigers average 72.1 points per game in away conference games, while their opponents score an average of 72.4 points per game.
The home-court advantage should help the Tigers against Kansas State, which beat then-No. 9 Baylor 57-56 down in Waco, Texas, on Saturday.
After facing Kansas State on Tuesday, Mizzou will go on the road to take on the Kansas Jayhawks on Saturday, which they beat (74-71) in a one-possession home game on Feb. 4. The win was the Tigers' second against Kansas in their last 12 meetings.
With Missouri leaving the Big 12 for the SEC, it may end up being one of the last meetings between the two teams for a while.
The Kansas game was one of senior guard Marcus Denmon's best performances. Denmon scored 29 points, including making three three-pointers in the final 2:05 minutes of the game.
The Jayhawks' last home conference loss occurred last season to then-No. 10 Texas. Prior to that game, Kansas had not lost a conference game at home since a 2007 loss to then-No. 10 Texas A&M. Kansas will have a big home-court advantage in what promises be one of this year's best regular season Big 12 games.