NHL Trade Rumors: Could the Maple Leafs and Kings Have a Trade on the Way?
February 20, 2012

Claus Andersen/Getty Images
There has been speculation that the Toronto Maple Leafs and the Los Angeles Kings could be trade partners prior to this year's NHL trade deadline ever since Darren Dreger reported that the Kings were interested in Leafs wingers Clarke MacArthur and Nikolai Kulemin.
The two members of Toronto's MacRussian line have had rather down first halves to the season, compared to the numbers they put up last year.
Last year, MacArthur put up a respectable 21 goals and 41 assists, while Kulemin contributed 30 goals and 27 assists. This season, the two have 32 and 24 points, respectively.
However, MacArthur has come around lately with 11 points and a plus-three rating in his last 11 games, while Kulemin has shown that his value on the defensive end is ever present, regardless of his point production.
Kulemin is quietly being hailed as one of the better two-way forwards in the league, and while the comparisons he has generated to Pavel Datsyuk are very generous, they soon might not be as far-fetched as some believe, as the 25 year old will only continue to get better as he grows in age and experience.
It is understandable why the Kings would be interested in these two players; their wingers have largely underperformed this season, and the offense as a whole needs an change.
With Simon Gagne out since December 26th, the Kings have spent the last 2 months with players like Andrei Loktionov, Kyle Clifford and Brad Richardson rotating into top-six roles.
While LA still has the likes of Dustin Brown, Justin Williams and Dustin Penner manning the wings, it can be argued that Williams is the only one playing up to his level.
While Brown, like Kulemin, holds value much beyond that of his scoring, he does not have the safety net of the Kessel/Lupul line to fall back on when his shots aren't hitting the back of the net. He is expected to be the top winger on LA, and quite simply, he isn't producing as such.
Penner is a different story; he has been a monumental letdown since joining the Kings, and based on the package LA had to part with to add the 6'4", 245-pound winger, you would expect that the Kings have conceded that they lost the deal with Edmonton.
However, given that fact that Penner is a free agent at the end of this season, you can bet that GM Dean Lombardi is taking calls for the underachieving winger, and I doubt it would surprise anyone if Toronto's Brian Burke was the GM on the other side of the phone.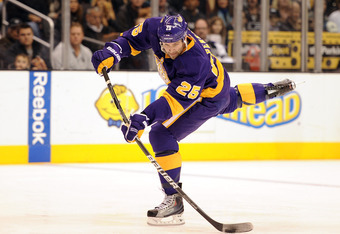 Harry How/Getty Images
With both the Kings and the Leafs looking for roster shakeups and the deadline only a week away, I expect Burke and Lombardi to exchange quite a few offers in the next few days.
Burke has been looking to add a big forward with a scoring touch, a category that Penner found himself in prior to joining Los Angeles. Add in the history that the two of them have—Burke was the GM of Anaheim when Penner played for the Ducks, prior to his infamous RFA signing by the Edmonton Oilers—and this seems to be a perfect match. One would expect that a player like Penner would not cost the Leafs much.
Due to his down year, and therefore, decreased value, I do not expect Burke to move Kulemin. His defensive awareness and contributions to the Leaf's resurgent penalty kill are too great to give up for what he would likely bring back in a trade, and I expect him to still be a Maple Leaf come March.
MacArthur, however, is a different story. While he has been an effective player for the Leafs over the past two seasons, I believe this year is an indication that last year was simply an anomaly. He is a third-line player on a contending team, but his value may be inflated due to the King's winger issues.
Although it would break up the infamous "MacRussian Line," I feel he does not fit into the team's long term future, and the Leafs would be best served getting value for him at his highest. My proposed deal is as follows: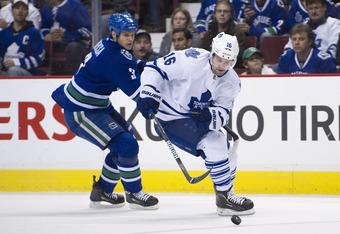 Rich Lam/Getty Images
To The Los Angeles Kings:
Clarke MacArthur
To The Toronto Maple Leafs:
Dustin Penner
2013 First Round Pick
2012 Conditional Third Round Pick(Conditional on Penner Resigning)
This may seem like a steep price for MacArthur, but considering that he is not just a rental player, Burke may be able to swing this deal.
To put this proposal in context, consider Toronto's deal last year with Philadelphia for Kris Versteeg. They received a first- and third-round pick for a player who was to become a free agent—albeit restricted—at the end of the year.
MacArthur's value currently is superior to that of Versteeg at last year's deadline. He would be given the chance to thrive on LA's top line with Kopitar, and could be the spark LA is looking for.
Meanwhile, Penner would be given a chance to thrive in a new city, and would fill Burke's need for a big body in the top 6. He would be given every chance on a line with Grabovski and Kulemin, and would provide a large body to go to the front of the net on the power play.
Should Penner continue to underachieve in Toronto, they could opt to use any of Matthew Lombardi, Tim Connolly or even Nazem Kadri on the second line.
The Penner experiment would be rather inexpensive, and if it doesn't work out, Toronto can walk away with an additional pick in their pocket.
In addition, should they walk away, they would free up $3.25 million that could go towards re-signing Grabovski (UFA) and Kulemin (RFA) this offseason.
The Toronto Maple Leafs Forwards would look like this headed into March, and hopefully, into the Playoffs:
Lupul-Bozak-Kessel
Penner-Grabovski-Kulemin
Lombardi-Connolly-Armstrong
Boyce-Steckel-Brown
Scratched: Crabb
Potential Call-ups: Kadri, Colbourne