PGA Tour: Potential Accenture First-Round Upsets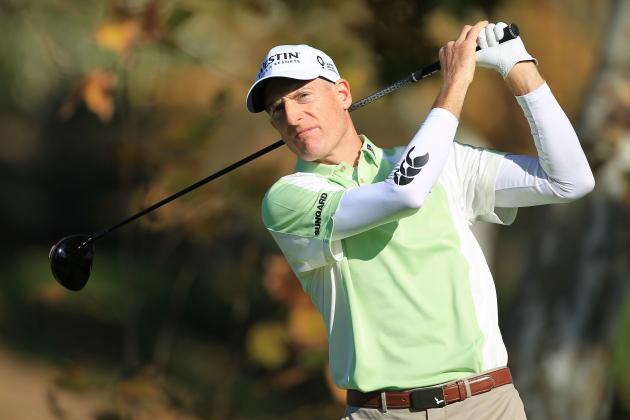 Scott Halleran/Getty Images

It's February Madness in Arizona!
OK, maybe the PGA Tour's version of the NCAA basketball tournament isn't quite the same spectacle and maybe "February Madness" isn't quite as catchy as its March counterpart. But this week is still a special event.
Fans will get to see the world's top players competing mano-a-mano in the only match-play event of the PGA Tour season.
Relative unknowns will test their mettle against the stars of the sport as names such as George Coetzee, Gonzalo Fernandez-Castano and Nicolas Colsaerts attempt to take down the likes of Rory McIlroy, Tiger Woods and Lee Westwood.
There will be 32 matches Wednesday and a whole number of possibilities.
Questions abound. Can any of the big underdogs pull off a monumental upset? Does any underdog have a chance Wednesday? Will any of the No. 1 seeds fall?
We'll have to wait for now, but it's likely there will be at least one upset Wednesday. Talent doesn't always triumph, especially in a game as fickle as golf.
Predicting these upsets is tricky, but here is my crack at it. From seeds 9 to 16, here is the player at each seed with the best chance to stay alive Wednesday.
Let the Madness begin.
Begin Slideshow

»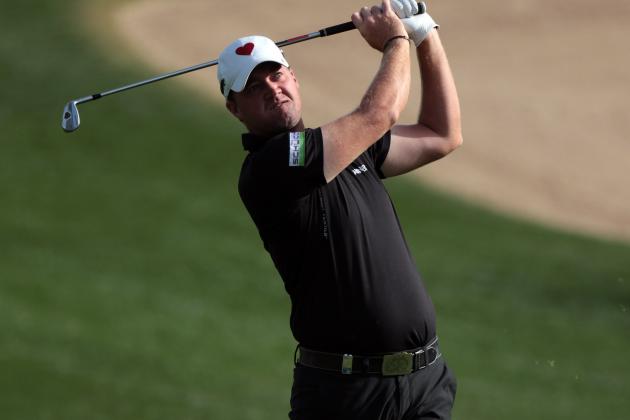 Ross Kinnaird/Getty Images

The difference may be microscopic, but a No. 9 over a No. 8 is an upset nonetheless.
Of the four No. 9-vs.-No. 8 matchups, this one has the greatest potential for an upset. Peter Hanson has played some impressive golf recently, finishing in the Top 10 (including a runner-up finish) in six of his last 10 events.
Jason Dufner hasn't been too shabby either, recording four Top-10 finishes in his last eight starts.
However, Hanson has the upper hand. He has been playing better than Dufner recently and has experience at this event that Dufner (who is a first-time participant) is lacking.
Look for Hanson to be the most likely No. 9 seed to win Wednesday and get a second-round date with world No. 1 Luke Donald.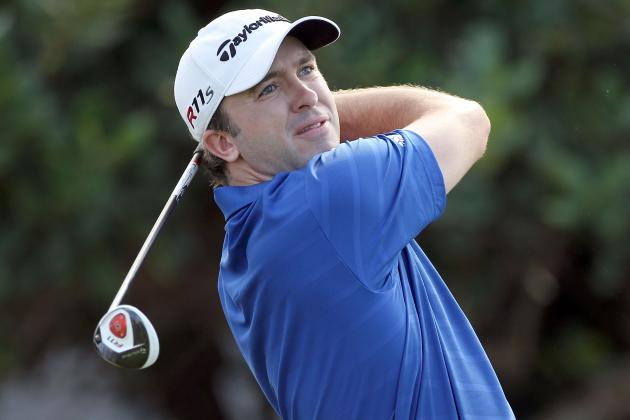 Sam Greenwood/Getty Images

Since his opening runner-up finish at the Hyundai Tournament of Champions, Martin Laird has struggled, recording just one top-60 finish in his last four events.
Alvaro Quiros has had similar results. After emphatically burying a 40-foot eagle putt to close out a victory at the Dubai World Championship, Quiros hasn't sniffed contention. The Spaniard has finished inside the top 40 just once in his last three events.
With both of their games faltering coming into this event, it doesn't seem easy to pick a winner between the two.
However, Laird easily could pull off the upset Wednesday. The Dove Mountain course —where the Accenture Match Play is contested—may be one of the tour's longest, but it is not especially conducive to long hitters.
Quiros, one of the game's longest hitters, has found no success here, losing in three first-round matches in three appearances.
Laird is a tough customer and won't give in easily. Combine that with Quiros' lack of comfort at Dove Mountain and Laird has a great chance to move on to Thursday.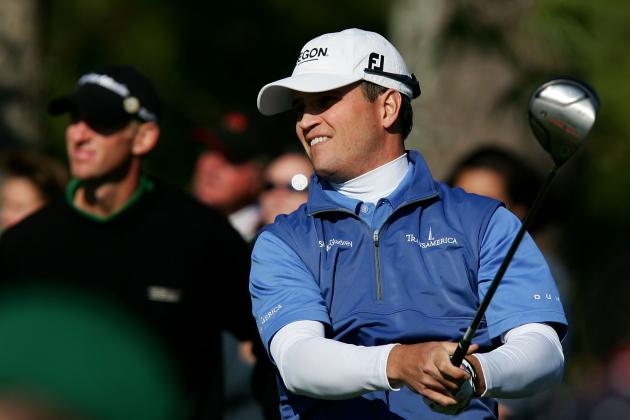 Harry How/Getty Images

Zach Johnson has found limited success at the beginning of the 2012 season. With just one top-10 finish in four starts, it is clear that Johnson's game is not yet in mid-season form.
Hunter Mahan has experienced similar growing pains, finishing tied for sixth in his season debut at the Farmers Insurance Open before regressing to a tied for 15th and tied for 24th in his last two events.
Both golfers sport a .500 record at the Accenture Match Play, with Johnson 7-7 and Mahan 4-4.
But Johnson has a good chance against Mahan. The golfer from Cedar Rapids, Iowa, has proven to have nerves of steel, a key in the match-play format. Whether it be his strong finish to win the 2007 Masters or his clutch birdie putt to win the 2009 Valero Texas Open, Johnson has shown that he can hit the shots he needs to hit under the gun.
Johnson is also a great putter, a key at the Dove Mountain course whose heavily contoured greens test even the best of putters.
Johnson is a far better two-putter than Mahan, an important distinction at a course that demoralizes overly aggressive putters rather quickly.
If Mahan struggles with three-putts Wednesday (not unlikely), expect Johnson to take this match.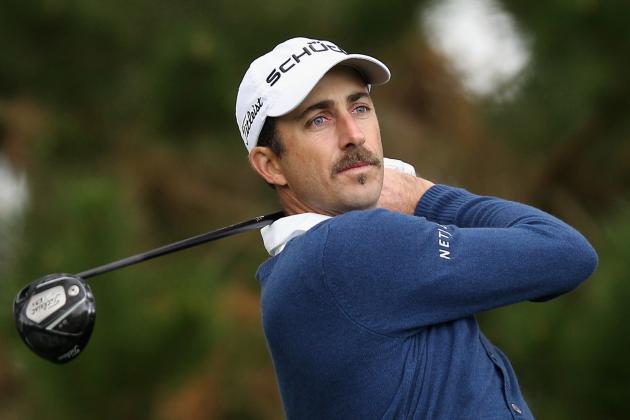 Ezra Shaw/Getty Images

This may be one of the first round's most interesting matchups.
On one end is the No. 12 seed Geoff Ogilvy, a two-time Accenture Match Play champion and U.S. Open champion who has fallen on hard times in recent years. Ogilvy hasn't won an official tournament since 2010 and has failed to crack the top 20 in any of his three PGA Tour events this season.
Keegan Bradley, on the other end, is just reaching his stardom. Bradley won two PGA Tour events last year, including the PGA Championship, and has continued his fine play this year. He has finished in the top 25 in all five of his events, including a tied-for-second finish last week at the Northern Trust Open.
So why pick this matchup as a potential upset?
Ogilvy may not be his former self, but he's still an excellent putter, a tough match-play opponent and a fierce competitor. He won't go down easily.
Bradley has all the attributes to be great at match play and has so much talent that it would be far from surprising if he made a deep run in this tournament in his first try.
Still, Bradley is young and is playing the Dove Mountain course for the first time. Inexperience may hamper him this week.
Bradley could go far in this event, but he still has to get past the first round. And with Ogilvy waiting there for him, that might be a very tough task.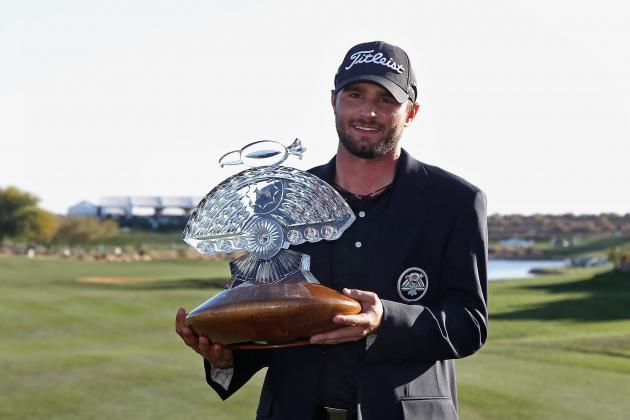 Christian Petersen/Getty Images

This is far from a controversial pick.
Kyle Stanley has had a breakout start to the season, losing in a playoff at the Farmers Insurance Open before winning at the Waste Management Phoenix Open a week later. He has jumped from 148th in the world to 51st in fewer than than two months.
K.J. Choi has had a decent, if uninspiring start to the season. After a 2011 campaign that saw him win a PGA Tour event and finish in the top 3 three other times, he has fallen off a bit with just one top-10 finish in three events this season.
Stanley has a terrific chance to beat Choi Wednesday. He isn't a terrific putter —which will hurt him on these greens— but he has momentum going into this tournament. He also possesses the ability to string a bunch of low scores together, a huge advantage in match play.
Choi is a seasoned veteran and can handle the pressure of match play, but he may be in a world of trouble against Kyle Stanley.
Stanley has been playing like a top seed lately, and if that continues at Accenture, he might pull the first-round upset and possibly play deep into the tournament.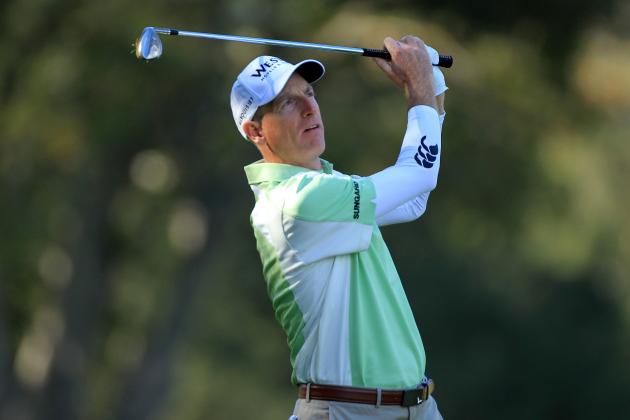 Scott Halleran/Getty Images

Jim Furyk must be disappointed. After winning the 2010 FedEx Cup, his game has fallen off. He didn't even manage a top-5 finish in 26 PGA Tour starts last season and has no top-10 finishes in two starts this season.
Dustin Johnson hasn't been so unfortunate. Johnson won a tour event (along with three other top-3 finishes) in 2011, and after three less-than-stellar starts at the beginning of the 2012 season, he has come into form, nabbing top-5 finishes in his last two starts.
Although Furyk doesn't have a great chance at the upset here, he is the most likely of the No. 14 seeds to do so. Furyk is a battle-tested veteran who knows how to play like one of the best in the game.
In addition to this, Johnson has been abysmal at Accenture, losing in the first round in all three of his appearances.
This may not be an expected upset, but if Johnson continues his match-play struggles and Furyk shows some of his old form, the No.14 seed may move on.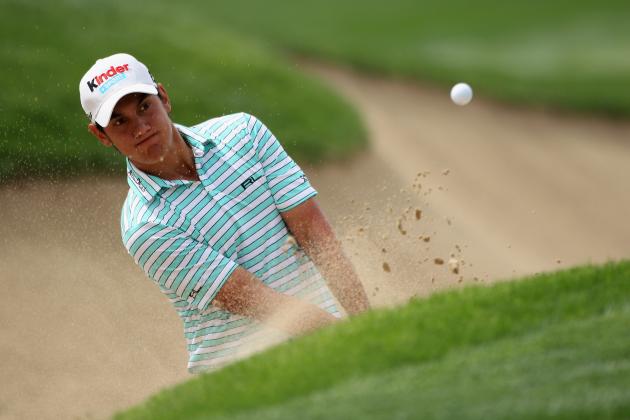 Andrew Redington/Getty Images

Webb Simpson can't be happy with his first-round opponent.
Matteo Manassero is much more than your average No. 15 seed. He is just 18 years old and has already recorded two European Tour victories. Manassero hasn't been in form lately, recording just one top-10 finish in four starts, but he is still a young man with a very bright future in this game.
Simpson, after a breakout year in 2011 that included two PGA Tour wins and three runner-up finishes, has started his 2012 campaign well with two top-10 finishes in three starts. He is hoping to continue his great play at his first Accenture Match Play appearance.
But he might find it tough going Wednesday. Manassero proved to be a difficult match-play opponent in last year's event when he took down Steve Stricker and Charl Schwartzel before losing in the round of 16.
Manassero also simply has too much talent to ignore. When his game is on, he is tough to beat.
Still, Simpson knows how to play his best game as well. He can fend off opponents, a key in being successful in match play.
Simpson should take this match, but it could be very close. If Simpson doesn't bring his best game, he just might be finished by Wednesday afternoon.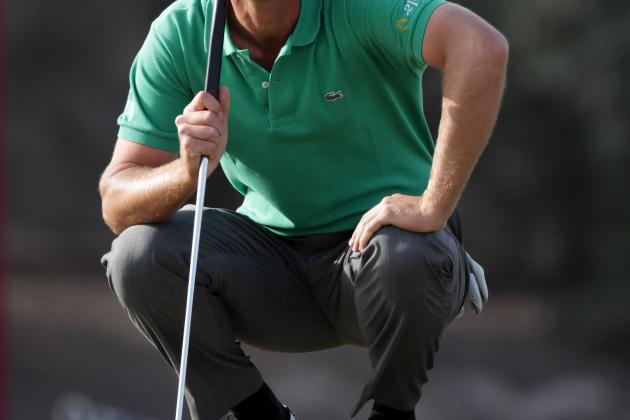 Ross Kinnaird/Getty Images

Nicolas Colsaerts is a name few golf fans recognize, but he has some serious game.
The Belgian won a European Tour event in 2011 and has started his 2012 campaign strong, recording three top-10 finishes in four starts.
Lee Westwood hasn't done so bad himself, winning a European Tour event in 2011 and recording a runner-up finish in his last outing two weeks ago.
This pick is not saying that Colsaerts will beat Westwood. However, Colsaerts might give him trouble.
The long hitter is in form and facing an opponent who has failed to get past the second round in any of his 11 Accenture Match Play appearances.
Colsaerts might be the best No. 16 seed and Westwood the worst No. 1 seed in match play.
Still, Westwood easily could win this match going away, after all, it is a No. 1 vs. No. 16 matchup.
But considering Westwood's match-play history and his opponent, if things go awry, he could lose this match.
If you see a No. 1 seed packing his bags Wednesday night, don't be surprised if it's Westwood. He might be the victim of the biggest first-day upset.