NFL Combine 2012: Melvin Ingram & Projected 1st Rounders Whose Stock Will Rise
February 19, 2012

Andy Lyons/Getty Images
A handful of projected first-round selections are looking to boost their stock for the coming 2012 NFL Draft in late April, but not every one can or will.
The week-long NFL Scouting Combine will emphasize some players' strengths while exposing the weaknesses of others. One player in particular, South Carolina's dominant defensive end Melvin Ingram, is rising on most draft boards and will soar even higher during his time at the annual event.
When prospects get the opportunity to showcase themselves without pads and purely as athletes on a field, scouts and coaches get a rare glimpse of their future players as individuals in their most vulnerable state.
So which projected first rounders will make the best of their chances at the nerve-wracking event? Check it out.
Michael Brockers, LSU, DT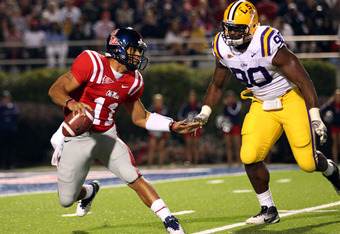 Joe Murphy/Getty Images
Massive LSU defensive tackle Michael Brockers has been moving up boards at a considerable pace this winter and is a lock to go early given his size and strength on the defensive line. At 6'6", 306 pounds, Brockers leaves little to be desired from scouts and coaches and was a huge reason why the Tigers went undefeated during the regular season in 2011.
Brockers' versatility on the defensive line for an athlete so big has made him a coveted prospect to this point in the draft process, but a strong showing in Indy this month could have him cracking the top five in April.
Melvin Ingram, South Carolina, DE
Oddly enough, Ingram's 23rd birthday also happens to be the day of the 2012 NFL Draft's first round, which means that his special day has the potential to be one of the best of his young life. 
Ingram racked up 10 sacks last season with the Gamecocks and made two interceptions. At 6'2", 276 pounds, Ingram has both the size and athleticism to play on the defensive line and come off the edge as a pass-rushing linebacker from time to time.
Ingram is also one of the older players entering the draft this spring, which means he should be above-average in the maturity department and should also do well during the interview process.
Kendall Wright, Baylor, WR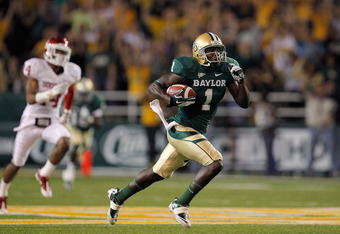 Sarah Glenn/Getty Images
It wasn't all Robert Griffin III for Baylor in 2011. A lot of the Bears' unexpected success was in part due to the spectacular play of senior wide receiver Kendall Wright, who caught 108 balls for 1,663 yards and 14 touchdowns.
The 5'10", 190-pound wideout has explosive speed that will be on display later this month at the scouting combine. Wright will also be able to show off his hands, which are above-average compared to many of the wide receivers in the draft.
As one of the few true athletes in Indy, Wright is a lock to wow. His performance in front of NFL decision-makers will undoubtedly have his stock on the rise heading into the spring.