NHL Trade Rumors: Why Rick Nash to Philadelphia Flyers Would Be a Mistake
February 18, 2012

Jonathan Daniel/Getty Images
The NHL is a whirlwind of Rick Nash rumors as the Trade Deadline approaches. 
Almost every NHL team has been mentioned as flirting with Columbus for Rick Nash, who is a dynamic and physical scorer. Up until this recent let down of a season, it was assumed that Columbus would be Nash's future for quite some time.
Now it looks like his career with the Blue Jackets may be ending.
Among suitors, the Philadelphia Flyers have been cited as talking with Columbus for a possible deal.
Now, while the Flyers aren't the favorites to win the cup this season with powerhouses Detroit and New York molding into playoff form in February, they're still a near-lock to make the playoffs.
During the summer, in case anyone forgot, Philadelphia traded two long-time centers Mike Richards and Jeff Carter to the LA Kings and Columbus Blue Jackets, respectively. 
They received a slew of young talent in return: Brayden Schenn, Wayne Simmonds, Jakub Voracek and Sean Couturier (through a draft pick) all have made their way into the lineup for the Flyers this season. 
In retrospect, this ended up being a fantastic move.
The Flyers dumped two huge salaries.
And while Jeff Carter only has 21 points this season with Columbus and Mike Richards only has 28 points in 50 games for the Kings, Voracek, Simmonds, Schenn and Couturier have a combined 101 points for Phildelphia.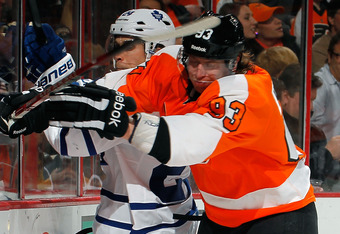 Paul Bereswill/Getty Images
It was a steal from multiple angles. The Flyers got younger, arguably more talented, and they freed up some cap space in the process.
Still, some fans want to see a big and talented winger to mix into the lineup.
But why?
Philadelphia has plenty—and I mean plenty—of scoring wingers: Jaromir Jagr, Jakub Voracek, James van Riemsdyk, and Wayne Simmonds have carried this team so far. 
The Flyers are young (for the most part), dangerous and deep in the forward position.
That's one reason why they shouldn't trade for Nash. 
The other (and most important) reason, is what they would have to give up. Philadelphia has plenty of talent waiting in the wings that they could give up, but shouldn't. 
The organization traded Richards and Carter in order to get younger up front. They did their job beautifully.
Why should they revert back by giving up Couturier, Schenn, or any of the other younger and highly-skilled forwards for an older and extremely expensive winger? 
If the Flyers even think to entertain the trade by adding in defensive stars or their backup goaltender Sergei Bobrovsky, it will be a gigantic mistake for the organization. 
The Flyers score more than any team in the league, with 193 goals on the year.
The Flyers need replacements for their older defensemen Kimmo Timonen and oft-injured Chris Pronger before their numbers are called.
Trading for Nash at this juncture would be a huge mistake.