UConn Huskies: 5 Reasons Why UConn Is Sinking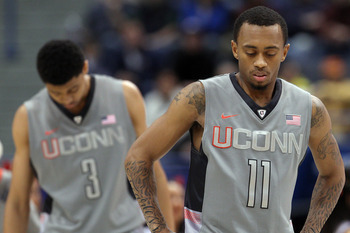 The Huskies are in tenth place in the Big East Conference and are obviously sinking. Their chances of defending their 2011 National Championship title are dipping with every loss. They have the talent. Jeremy Lamb is still one of the best players in the conference, Ryan Boatwright is terrific when he's on the court, and Andre Drummond has established himself as a force to be reckoned with in the paint.
However, Connecticut cannot win games. The school is "that close" from being sanctioned from the NCAA, Coach Calhoun is yet again fighting health issues, and the leadership has been absent.
What has caused the Huskies to slide from No.1 to No.10 in the Big East? Here are five reasons why the defending national champions are sliding:
5. Free Throw Shooting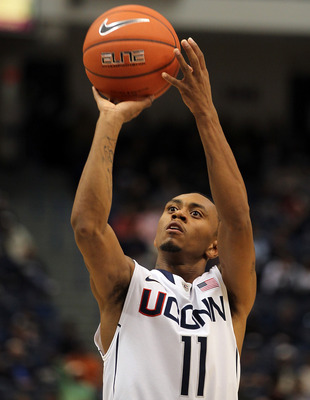 Jim Rogash/Getty Images
This is a usual Achilles heel for teams who are struggling, but it's a serious problem for the Connecticut Huskies. A 68 percent season free-throw percentage isn't terrible, but their recent struggles are noticeable.
Jeremy Lamb shoots 83 percent, and Napier + Boatwright both shoot around 73 percent. However, once you get past them it gets ugly. Forwards and centers aren't supposed to be the best free-throw shooters on the team, but Andre Drummond shooting 33 percent from the charity stripe?
Are you kidding me?
Alex Oriahki shoots 55 percent which is not that embarrassing.
In Connecticut's 79-64 loss to Marquette on Saturday, the Huskies shot 57 percent from the line. The Golden Eagles shot 80 percent. In the loss to Syracuse, the Huskies were 62 percent.
You can ramble off percentage after percentage, but you get the point. This is rare struggle for a Calhoun coached team.
Free-throws are free and UConn is simply not cashing in at the stripe.
4. Coaching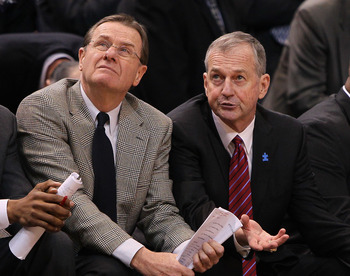 Jim Rogash/Getty Images
618 wins. Seven Big East championships. Four National championships.
This is only a few of Jim Calhoun's accomplishments.
First things first, I'm not disrespecting Coach Blaney, or blaming Calhoun's health problems on him or his team. However, this is a huge reason why the Huskies are reeling. When you don't have your Hall of Fame head coach on the sideline, things are different. Practices are different, meetings are different, the locker room is different, and most importantly, the locker room is different.
Coach Calhoun has had numerous health problems, from injuries, to surgeries, to his battles with prostate cancer. Without doubt, he is one of the best coaches in college basketball history. Naming all of his accomplishments and accolades only helps the argument that the UConn Huskies are worse without Coach Calhoun on the sideline.
We're not sure when Coach Calhoun will return, but it's likely he will miss the rest of the regular season.
The Connecticut Huskies need him in the Big East Tournament.
3. Attitude
Jim Rogash/Getty Images
Before you go to the next slide, let me prove to you that this is a major factor why the Connecticut Huskies are losing.
As I was watching the Connecticut vs. Marquette game on Saturday, I noticed Shabazz Napier coming off the floor. The guard had only scored a point, and had more turnovers than points. Sure, the guard was frustrated. However, Napier threw a fit, ignoring teammates' handshakes, and sulking on the bench.
This is not what the Connecticut Huskies need. Their coach is ailing, their school is in trouble, and the team is getting embarrassed on a national stage. You're the player. Napier has the power to control what happens on the floor. Sulking on the bench and throwing hissy-fits is not what wins you ballgames. What wins you games, is playing poised, defending, and scoring the basketball.
Of course, every person related to the Huskies' basketball program is frustrated. They have the right to be. However, you simply cannot let that determine if you win a basketball game. An attitude readjustment is needed, and they need to improve their mental game.
2. Turnovers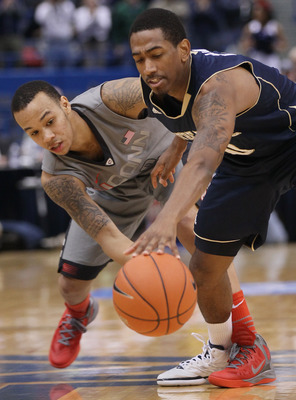 Elsa/Getty Images
Initially, I didn't put this on my list. However, when I realized that the Huskies had turned the ball over 335 compared to their opponents' 284. That's ugly.
Connecticut plays in the Big East. Their conference is all about scrappy play, alley-oops, toughness, fouls, and aggressiveness. But 14 turnovers a game is just too much. It goes along the same lines as foul shooting. They are beating themselves.
They're probably alright with Jae Crowder or Darius Johnson-Odom knocking down three after three if UConn has their hands in the shooters' faces, but turning the ball over is a no-no.
It's not just getting pick-pocketed or having the ball stolen from them. It's errant passes. Very errant passes. At times, I'm not sure who the Huskie is trying to pass to. Numerous times did the basketball land in the stands, or hit the scorer's table against Marquette. It simply cannot happen if the Huskies want to make it to the NCAA Tournament.
1. Lack of Leadership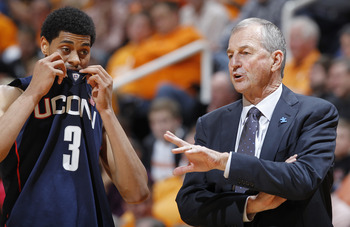 Joe Robbins/Getty Images
This reason is No.1 because it sums up everything that I have said. Let's be honest, there isn't a defined leader for the Connecticut basketball program. Calhoun isn't on the sideline. Jeremy Lamb is way too quiet. Shabazz Napier gets frustrated too much, and Drummond + Boatwright are Freshman. Rarely have I seen a freshman become a team leader.
Kemba Walker was their leader. He was the one who sprinted to the bench after the opposing team called a timeout. He was the one who shared his emotions win or lose. Jeff Adrien, a member of the 2009 Final Four team, was another member who became a leader at UConn. Hasheem Thabeet, A.J Price, Jerome Dyson, you name it.
Connecticut lacks those men. Half of their starting lineup is freshman, and no one can fill the role of the team leader.
All five of these reasons are why Connecticut is tenth in the Big East and "on the bubble" for the 2011-2012 NCAA Tournament. All we can do is wish and hope the Huskies fix these issues.
Keep Reading

UConn Basketball: Like this team?