Winnipeg Jets Win Back-to-Back Games for First Time This Season
February 18, 2012

Marianne Helm/Getty Images
There's no better time for the Winnipeg Jets to perform as if every game from here on out were a playoff game.
Last night, the Jets did just that and more.
After a dismal 0-9 record in the second half of back-to-back games, the Jets finally came off the schnide against the Boston Bruins.
As significant as it was, it was even more remarkable being that they accomplished it over a powerhouse Eastern conference team.
The Jets have fared well against the Bruins this season, splitting the series with two wins and two losses, looking mighty competitive in each game.
It's that fierce competitiveness that brings out the best of the Jets.
It was a home game, but the Jets shouldn't fear any team while playing in that first-class hockey environment.
Blake Wheeler was a man possessed. He took over the game and finished with three points on the night, bumping his team-leading points total to 42 on the season.
Bryan Little found the back of the net twice, giving him 16 goals on the season.
Alex Burmistrov started the scoring with his 12th of the season.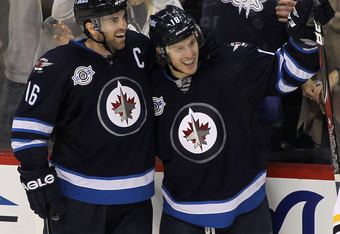 Marianne Helm/Getty Images
Bottom line: Remember earlier this week when Andrew Ladd said, "It's time to step up"?
Well, the captain's words traveled through the dressing room because that is exactly what the Jets have done since Ladd's comments after the loss to the New York Islanders.
The Jets have won two straight and look better than ever.
Confidence is building, the Jets are scoring, players are stepping up and playing with passion and this new-found hope could come at no better time.  
Last night's much-needed win was the first game of an eight-game homestand. If the Jets are going to make noise, it starts here, and it starts now.
Judging how the Jets function in the four games before the trade deadline could very well change the mindset of GM Kevin Cheveldayoff.
Although it is unlikely the Jets do anything major at the deadline to support a potential playoff run, there is a possibility the Jets pull off something minor.
One thing that's certain, the Jets are two points out of a playoff spot and three points from being the division's leader.
With 22 games remaining, you cannot count out the Jets until they are mathematically eliminated—no matter how cold they go at times.