Michigan Basketball: Keys to Victory over Ohio State
February 18, 2012

Andy Lyons/Getty Images
Tonight at 9:00 p.m. ET, the Michigan Wolverines will attempt to gain revenge from their Jan. 29 loss to the Ohio State Buckeyes, and surely it will not be easy.
The Wolverines are coming off their second straight win since early January, in which they defeated a 16-8 Illinois team 70-61. Zack Novak, Tim Hardaway Jr. and Trey Burke all led with double-digit scoring nights, and Evan Smotrycz added 13 points off the bench.
The Buckeyes are coming off a 10-point victory over the Minnesota Golden Gophers, in which Jared Sullinger scored 23 points and William Buford scored 24 points.
What has Buckeye fans concerned is their anemic outing against Michigan State a week ago. Ohio State shot a dismal 26 percent from the field in that contest, and their big man, Sullinger, hit just 5-of-15 field goals.
If Michigan can play even half as good defensively as Michigan State did against the Buckeyes, they have a good chance of winning tonight's game.
Even more importantly though, if Michigan hits on all its keys to victory, then they should notch another victory in the Big Ten against their hated rival.
Pressure Sullinger in the Low Post
To nobody's surprise, Michigan's first priority tonight will be to contain Jared Sullinger in the paint. Obviously, Sullinger is Ohio State's premier threat, so if he is slowed as he was in the Michigan State game, then Michigan's chances of winning increase that much more.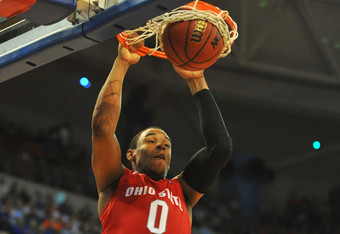 Jordan Morgan is no Draymond Green, but he can use his 6'8" frame to defend you; he will need help, though. The best prospect here is for Michigan to primarily stay in their 1-3-1 defense, allowing them to gain leverage on the large beast that Jared Sullinger is down low.
Whenever the Buckeyes feed the ball to Sullinger in the post, the middle zone can collapse on him, forcing him into a rough shot.
Use "Bread and Butter" With Trey Burke
With no doubt, Ohio State point guard Aaron Craft is among the elite defensive players in the Big Ten. That being said, Michigan has to utilize an offensive strategy to free up point guard Trey Burke.
The best thing to do with a defender like Craft is to use the pick-and-roll at the top of the key, and create potential mismatches on the floor.
Burke is going to be heavily challenged in this game, so utilizing a smooth flowing offense is a big key for Michigan if they want to win this game.
Key on William Buford
William Buford is Ohio State's streakiest shooter; he averages 15.3 points per game and knocks down a little over 43 percent of his shots. Where Buford is most deadly is the charity stripe, where he is knocking down over 89 percent of his free throws this season.
Buford is almost as critical to stop as Sullinger. While the Wolverines may key on Sullinger and shut him down in the low post, it will provide opportunities for Buford to knock down mid- to long-range jumpers, and he is deadly with that stroke of his.
Throughout watching Michigan this season, their biggest defensive woes at times is moving with the ball, leaving premier shooters wide open for jump shots. If Michigan struggles defensively in this game, Buford is going to take advantage of that, no doubt about it.
Get Tim Hardaway Jr. Going
If you have been watching Michigan consistently, it goes without saying that their leading scorer, Tim Hardaway Jr., has been struggling mightily.
Finally, in Michigan's last game vs. Illinois, he settled a bit and shot 5-9 from the field, and hit two of three 3-point shots.
If the Wolverines want to win tonight, Tim Hardaway Jr. must make his presence known and show up to play. He has showcased his athletic and shooting abilities, and needs to just calm himself. A hot Hardaway Jr. is hard to stop, so the Maize and Blue must get him going.
Prediction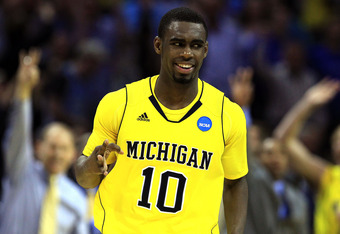 Streeter Lecka/Getty Images
A win over Ohio State would do wonders for Michigan.
The Wolverines would keep themselves in the Big Ten title chase, and it would spark a lot of confidence to defeat one of the best teams in the nation.
If Michigan follows those keys to victory, it isn't a guaranteed victory; it never is. It would just give them a much better chance to win.
I'm going to say that the Wolverines pull the upset tonight on their home floor, 68-64.
Tim Hardaway Jr. is going to score at will tonight, knowing he needs a breakout game. I believe Michigan will run a smooth offense and find Jordan Morgan in the low post, at the same time disrupting Aaron Craft's defense with high screens at the top of the key.
Jared Sullinger will struggle yet again because of the pressure defense in the paint. William Buford, though, will have an excellent game because of Michigan's inability to get a man out on him. Buford will score 21 points.
A win here will propel Michigan to a 20-7 overall record and an astounding 10-4 record in the Big Ten.