NBA Trade Rumors: Best Destinations for Bucks' Stephen Jackson
February 18, 2012

Stephen Jackson has admitted that his role for the Milwaukee Bucks is one that he doesn't appreciate. Head coach Scott Skiles and Jackson have had their problems this season, and the former NBA champion doesn't appreciate his role diminishing. 
Now that a move may be on the horizon, according to Alex Kennedy of HOOPSWORLD, here are a few destinations that would make the most sense. 
This Lakers team won't win a NBA championship if they don't address their shooting needs from the perimeter. Los Angeles is shooting 30 percent from beyond the arc while making five per game.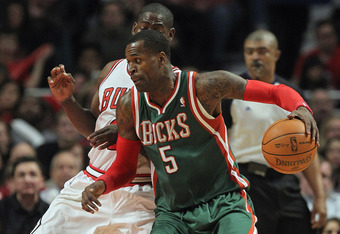 Steve Blake is shooting 31.9, Kobe Bryant is shooting 29.5, Derek Fisher is shooting 26.7, Matt Barnes is shooting 26.2 and Metta World Peace is shooting 20.6 percent
Their inability to score the ball from the perimeter, and in general (22nd in points per game), will severely hurt them in the long run.
Aside from Bryant, the Lakers' next leading scorer that isn't a true forward is Barnes, and he averages just 7.3 points per game.
Bryant's numbers are indicative of him trying to do too much on the offensive end. The Lakers are at their best when he is playing team basketball. Shooting 24 times per game won't equal success this season.
Jackson has proved to be a legitimate scoring threat on the floor, and he possesses the ability to get hot from the perimeter. He shot 34 percent from three-point range last season and averaged 18.5 points.
He has averaged 16.6 or more points since 2006-07 with the Indiana Pacers; he's more than capable of filling it up on a nightly basis.
Jackson would be a perfect fit in a Lakers uniform.
Chicago is not on the same level as the Miami Heat, even with a healthy Derrick Rose. They are in the neighborhood, but are still in search of the Heat's block.
Signing Jackson would give them another scoring option that could come off the bench. We know that the Bulls play some of the best defense in the NBA, but they have to be able to score in a plethora of ways to stay afloat against the Heat.
The Bulls are eighth in scoring and third in points allowed. If they add Jackson to their bench, maybe it would get them over the hump if, and only if, Rose is completely healthy for the stretch run.
There was a ton of noise concerning the Clippers and former Denver Nugget J.R. Smith. I didn't really think that the deal was going to happen given their backcourt depth even without Chauncey Billups, but if they were in the race for Smith, why wouldn't they be in the race for Jackson?
The Clippers will be a tough out in the Western Conference this year, and Jackson would bring them more experience.
He's a NBA champion with 58 games of playoff experience; he understands what the postseason is all about.
Jackson is a proven scorer in the league, which is an area that is always on top of the "wanted" list.
Could Jackson give up some playing time in order to win another ring? That's going to be a major question going forward. But if he can, playing for the Clippers would be a great idea.