Peyton Manning Rumors: Philadelphia Eagles Would Be Smart to Pursue Legend
February 18, 2012

Andy Lyons/Getty Images
The Philadelphia Eagles just signed starting quarterback Michael Vick to a huge $100 million dollar contract, but they would be smart to go after veteran QB Peyton Manning if they have the chance.
As good as Vick is and as well as he fits in Andy Reid's schemes, if a team that has the kind of weapons that the Eagles have and doesn't make an attempt to get a sure first-ballot Hall of Famer, they don't really want to win a championship.
No one can honestly argue that Vick is anywhere near as good as Peyton Manning ever was. I would take Manning at 80 percent over Vick at 100 percent any and every day of the week.
Eagles columnist for GCobb.com John Stratis is reporting about the possible upgrade Manning would be if Philadelphia were to pursue him:
Manning is without a doubt a huge upgrade over Michael Vick at the quarterback position. The talent is already in place around Manning on the offensive side of the ball to put up his usual league leading stats. Manning also is familiar with Howard Mudd and his offensive line schemes so he'd come in already having a high comfort level with the offensive line.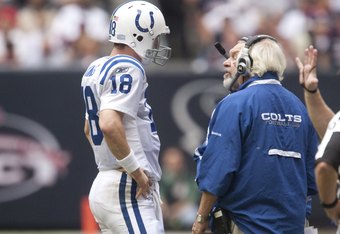 Bob Levey/Getty Images
The fit seems perfect from the outside, but the fact that the star had four surgeries is a serious concern. That doesn't mean the team should not even attempt to test the waters, though.
We can't forget that if Manning does become a free agent, which looks more and more likely with every public jab from the organization, he won't be just any free agent. The NFL's only four-time MVP would become the greatest free agent of all-time.
As much as looking to Manning may seem like a no-brainer, CSNPhilly's Eagles insider Ray Didinger was not so sure about the team's openness to this move.
"Would I pursue Peyton Manning if I was convinced he could still play?" he wrote. "You bet I would. Do I think the Eagles will do it? Not a chance. "
Even if it's for no other reason than to kick the tires, the Eagles need to be in on the Manning sweepstakes.
There is a chance that Manning could come back as good as ever, and with an offense like the one they have in Philadelphia, that elusive Super Bowl may be easier to obtain.
As for Vick, I'm sure Cleveland would love him.
Check back for more on the National Football League as it comes, and check out Bleacher Report's NFL Page to get your fill of all things football.