NFL Draft 2012: Vontaze Burfict and Potential First-Round Steals
February 18, 2012

Christian Petersen/Getty Images
NFL rookies excel in certain situations with specific teams not just because they're talented. These three players may not be the best in the class, but they will be steals when we look back to the 2012 NFL Draft five years from now.

Vontaze Burfict
Vontaze Burfict and the Baltimore Ravens is the perfect fit. Adding a talented defensive player to a stacked defense that is full of swagger should give the Ravens exactly the type of prospect they were expecting.
Adding any talent to an already talented team in any sport will generally see success; it's a much smoother transition.
He would get to learn from Ray Lewis, one of the best line backers to ever play in the NFL. I can't see this not working out actually.
Burfict has the perfect mindset and ability to excel in the middle of the Ravens defense—he is an aggressive player who is very physical.
Sounds exactly like what the Ravens have portrayed in the past decade. 
Stanford's 6'6", 305 lbs offensive lineman will have a very successful career in the NFL.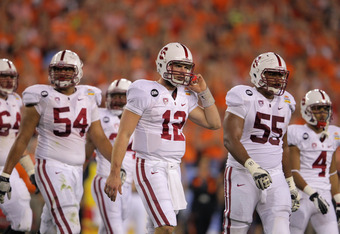 Doug Pensinger/Getty Images
Who protected Andrew Luck's blindside in the past few years?
Martin did.
Luck is a coveted tool at the quarterback position, and Martin was given the responsibility to protect his back from the rush. I'd say that Martin is more than capable of having success in the NFL after having such a large role for Stanford.

Dontari Poe
Dontari Poe is one of the best nose tackles in the class. He is 6'5" and 350 lbs. Depending on what team he lands with, Poe is destined to play a successful and important role in the NFL given his position.
Defensive tackles don't get the notoriety they deserve, but they play a position that can determine the outcome of the game. They eat up blockers and space which open up lanes for the linebackers.
He would fit well with the Pittsburgh Steelers if they decided to draft him with their first-round selection. Playing in front of their linebacking cast screams future success for Poe.