Fedor Emelianenko: 8 Possible Opponents for His Next Fight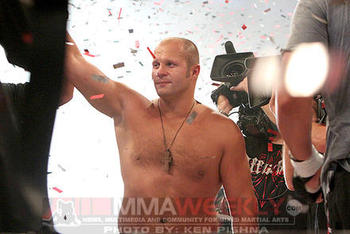 Fedor Emelianenko/ Ken Pishna for MMAWeekly.com
For a long time, Fedor Emelianenko was coveted as the sport's premier heavyweight, and rightfully so.
The stoic Russian had an air of invincibility surrounding him, after having gone undefeated for nearly a decade—an unprecedented run in his or any other era.
After the former Pride champion had succumbed to a career-worst three fight-skid, Emelianenko came storming back with consecutive victories over former UFC title challenger Jeff Monson and Olympian Satoshi Ishii—knocking out the judoka inside of the first round.
Emelianenko has made every intention to get back into his "Last Emperor" form, and in doing so, the former heavyweight kingpin will look to regain what was once his. Here are some fighters who can help usher him back to prominence.
Bobby Lashley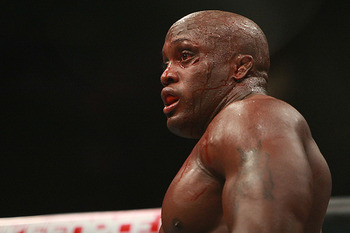 Lashley/ Sherdog.com
Strikeforce veteran Bobby Lashley looked to be a man who could next challenge Emelianenko.
Negotiations fell through, but nonetheless, Lashley remains on the fringes and could seemingly float on into any promotion that would have him.
Ater an upset loss to Chad Griggs, the ex-WWE star has since gone 2-0. In his last outing, the hulking Lashley submitted Karl Knothe—a near 30-fight veteran who was riding a 13-fight win streak prior to the setback from "The Dominator."
Andrei Arlovski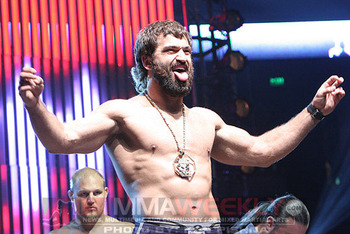 Arlovski/ Ken Pishna for MMAWeekly.com
Is it a fight that anyone is really interested in seeing?
Definitely not.
However, so long as Fedor remains outside the Zuffa banner, picking up fights with notable opposition is his only way to remain relevant in the mixed martial arts world.
So long as his chin is not tested, Arlovski, a former UFC champion, still proves to be a formidable opponent. The knockout artist recently dispatched of "The Ironman" Travis Fulton with a third round head kick.
Tim Sylvia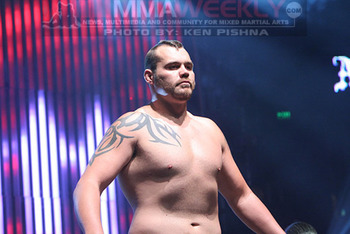 Sylvia/ Ken Pishna for MMAWeekly.com
A former two-time world champion, Tim Sylvia is very familiar with Emelianenko.
In their 2009 tussle, Fedor rocked and dropped "The Maine-iac" with a bevy of strikes, following him to the ground where he stopped the big man less than one minute into their Affliction bout.
Sylvia has won six of his last seven and is currently trying to make a bid to re-enter the UFC, though a bout with Fedor, and win over the Pride vet, would go a long way.
Mirko "Cro Cop"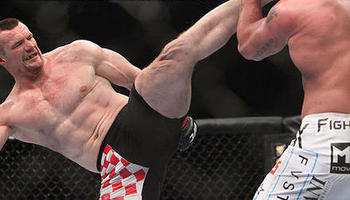 Cro Cop (left)/ Ken Pishna for MMAWeekly.com
The famed Croatian recently made his intentions known that, despite retiring from mixed martial arts, he will remain competitive as he will now be taking on Ray Sefo in a K-1 bout in what will likely be his last fight ever.
Should he win, Cro Cop could be reinvigorated to return to the MMA world, where a bout with Emelianenko could await him, creating a rematch that is years in the making.
Randy Couture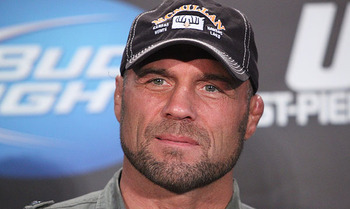 Couture/ Ken Pishna for MMAWeekly.com
Should Emelianenko ever make his way to the UFC, his first fight should rightfully be against UFC Hall of Famer Randy Couture.
After Coouture's contract dispute with Zuffa, Couture and Emelianenko looked as if they were on a collision course, but "The Natural" mended bridges with the UFC brass and eventually made his way back.
In a highly-anticipated bout that would pit two legends of the sport against one another, it's a bout that can still come to fruition.
If there's any one person that would make Couture return from retirement, it would be Emelianenko.
Antonio Rodrigo Nogueira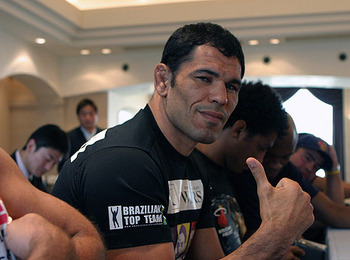 Nogueira/ Scott Petersen for MMAWeekly.com
Though it's a bout that's already happened on three occasions, it remains a rarity in this sport that two true legends ever meet one another.
Both men find themselves in the crux of their respective careers, and a victory over the other will go a long way in solidifying their standings in the heavyweight class.
A victory for Antonio Rodrigo Nogueira would help avenge two previous career defeats, while a dominant win by Emelianenko would mean that the 34-year-old still has the gusto to remain a heavyweight threat.
Josh Barnett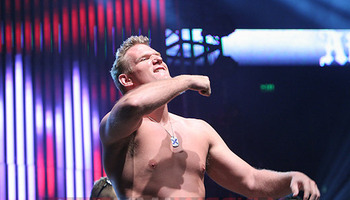 Barnett/ Ken Pishna for MMAWeekly.com
Both Barnett and Emelianenko are friends, as the two have cultivated a relationship since their days in Japan under the Pride banner.
However, the two were willing to put friendship aside in 2009, when the two were originally slated to face off against one another under the Affliction banner.
After Barnett had tested positive for anabolic steroids in a pre-fight drug screening, the fight was eventually scrapped, and the promotion folded shortly thereafter.
Since then, "The Babyface Assassin" has made a home in Strikeforce and will meet Daniel Cormier in the Strikeforce Heavyweight Grand Prix finale.
Should Barnett come out victorious, a bout with Emelianenko could be in the works, as per Strikeforce CEO Scott Coker, who says the winner will likely fight once more before making their way to the UFC.
Daniel Cormier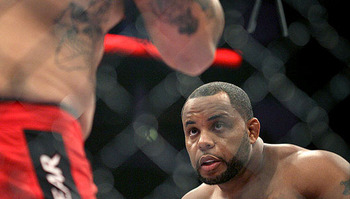 Cormier/ Fighterportraits.com for MMAWeekly.com
The undefeated Daniel Cormier has been doing a very good job at solidifying himself as a legitimate top-10 fighter.
Cormier achieved a first round knockout victory over the top-ranked Antonio Silva last September, as the AKA star stepped up on short notice, filling in for an injured Alistair Overeem.
With the emphatic win over the Brazilian, Cormier has put himself on the map and is in the height of his career, as the former Olympian will now square off against the aforementioned Barnett for the GP title.
Should he win, a bout with Emelianenko could await him. A win for Cormier would help to build upon his legacy in the sport, while a victory for the Russian would mean that Emelianenko still has the luster left to be competitive in the ever-evolving sport.
Keep Reading