Jeremy Lin: How Carmelo Anthony's Absence Explains New York's Linsanity
February 18, 2012
Chris Chambers/Getty Images
Let me preface this article by saying that Jeremy Lin is playing very good basketball, and beyond that, Lin is inspiring a team and a city with his energy and enthusiasm.
Nothing in this article is meant to take away from Lin's accomplishments over the past two weeks. But Carmelo Anthony's absence from the New York Knicks lineup should not be overlooked as the reason for the Knicks' recent success.
Anthony is a supremely talented basketball player; I would venture to say that he's one of the five best individual talents in the world (Kobe Bryant, LeBron James, Dwyane Wade and Kevin Durant being the other four in my mind).
Anthony, though, does not help NBA basketball teams win games. He hogs the ball, he takes difficult shots that he shouldn't take and he refuses to pass when it's clear to the world that he should. Anthony's 39.9 percent field goal percentage this year indicates just how poor his shooting, and his decision-making, has been.
Anthony won a National Championship with Syracuse and no one can take that away from him, but the NBA is a different game than college basketball; one player does not make a winning team. Michael Jordan learned to balance the need to share the basketball with his teammates with the need to be selfish at the end of games. Kobe Bryant did the same.
The results were six titles for Jordan and five for Bryant. Anthony hasn't found that balance, and shows no signs of looking for it. He doesn't seem to acknowledge that his game needs to change if his team is going to compete for NBA titles.
The best place to look for Carmelo's impact on his team is the respective records of the Knicks and Denver Nuggets with and without Anthony. Over the past two seasons, the Knicks are 33-27 without Carmelo in the lineup and 24-29 with Anthony.
The Nuggets, in the same vain, were 32-25 with Carmelo and 35-21 without him. Those numbers are not coincidental.
Amar'e Stoudemire, who was a legitimate MVP candidate before Carmelo arrived last year, has since been stifled by Carmelo's play. His points per game average as a Knick has gone from 26.1 before Carmelo's trade to New York to 20.8 since.
Like Stoudemire, the Knicks as a whole struggled after Carmelo's arrival last year and continued to struggle this year until Anthony was forced out of the Knicks' lineup on February 8. Enter Lin.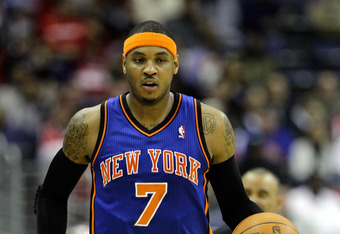 Rob Carr/Getty Images
Lin, like Steve Nash before him, is thriving in the point guard role on a team coached by Mike D'Antoni. D'Antoni has given his point guard something close to free reign. He lets Lin handle the ball for nearly the whole of the 24-second shot clock, take pull-up jump shots whenever he gets an inch of separation from a defender and throw wrap-around and behind-the-back passes with regularity.
These habits are all encouraged in the D'Antoni system. The result has been impressive numbers over the last eight games (24.6 points per game and 8.6 assists per game), but also far more turnovers than any player should commit (5.8 per game).
The simple fact is that despite Lin's shortcomings, the Knicks are better off with him handling the ball than with Carmelo. When Lin runs the Knicks offense, the ball moves and players get open looks. Even Lin's turnovers are the results of high risk passes that often lead to easy baskets for his teammates.
When Carmelo plays, he swallows up the ball and isolates his teammates.
I'm not suggesting that the Knicks would be 7-1 in their last eight games if Lin weren't playing as well as he is. The Knicks needed someone to step up and Lin has done just that. Given the same opportunity, few players would have been able to play as well as Lin has.
But the opportunity that's been presented to Lin wouldn't be possible if Carmelo were in the lineup. Anthony did play in the first game in which Lin emerged (the February 4 game against the New Jersey Nets) and also played six minutes in the February 6 game against the Utah Jazz, but for the past six Knick games, Carmelo has been out of the lineup..
Like most fans, I'm eager to see what comes of Carmelo's return to the Knicks lineup. There's a chance that Carmelo, Lin and Stoudemire can all co-exist and the Knicks can become an elite team, but nothing in Carmelo's NBA pro career indicates that he's likely to change his game to accommodate his teammates.
What seems more likely is that the Knicks' success, and Lin's personal success along with it, hasn't come in spite of Carmelo's absence, but because of it.