5 Backups Who Could See Serious Time for the San Francisco 49ers in 2012
February 18, 2012

Donald Miralle/Getty Images
(Disclaimer: The very theme of this article warrants itself to some morbid tones regarding the likelihood of injury in an NFL season.  It's a cruel law that is never fun or righteous to ever bring up, but for the sake of this discussion it is a must in some cases.)
As the 2012 season begins to spawn, the San Francisco 49ers will likely embark on a hefty offseason of regimental training that would soup up their already divisional championship roster.
This, however, will be no cure for the inevitable flurry of injuries that effortlessly seems to take hold of every team in the league at some point or another during the course of a season.
Thankfully, the 49ers' 2011 injury flurries were minuscule and relatively harmless, minus the fatal blow to Ted Ginn Jr. at the end of the season that resulted in the "you know what."
The 49ers are young and bold at just about every position, and backup starters are pretty much in place for 2012 and even beyond.
Meanwhile, it's hard to gauge what types of formations this team will implement in 2012.  Most likely there will be a unique plethora of them as was seen in 2011.  In turn, it's really hard to gauge who is and isn't a starter week to week.
That being said, there will be a some serious opportunities for players who happen to be officially slotted as backups heading into the 2012 season: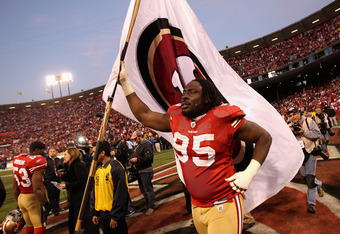 Ezra Shaw/Getty Images
Ricky Jean-Francois
The one with the cool name and cool hair to match will most likely see more playing time in 2012, as it stands to reason that the stud front-three of San Francisco's D-line might be Kobe-tized at some point in 2012.
(Kobe-tized is in reference to Kobe Bryant of the Los Angeles Lakers who, along with his staff of Lakers teammates last year were too worn out from back-to-back championship runs to get into second gear for the playoffs.)
Justin Smith's motor is something for the ages, and Ray McDonald's conditioning seems to be right up there.  Isaac Sopoaga's iron-man play displays his significant athleticism but, at some point, something's got to give and RJF will find his way into a starting role on Sunday—much in the same manner he did a few times in 2011.  
There's a reason the front office has given this guy a chance and kept him on the roster.  He is a very solid backup, complete with size, strength and the ability to play the nose and the end in a 3-4.  He's also motivated, which is a rare and good thing for a defensive lineman whose number one job is to be relentless.
Colin Kaepernick
"Significant time" might be a tad bit of a reach in this case, but maybe not.  Last year was one of the first years that Alex Smith didn't break down physically at some point in a long time.
Although he had one heck of a showing in 2011—by far his best as a pro—he still took way too many unnecessary sacks on the season.
If that trend continues, there very well may be a time when he reaches the "one sack too many" mark and is forced to sit for a week or two, giving Colin Kaepernick a chance to strut his stuff with a full week of first reps in practice.
Kaepernick is a rare, physical marvel with a dazzling competitive spirit who has yet to be tested in the NFL.
San Francisco is a weird, cruel town when it comes to quarterbacks.  
A flashy showing by Colin could spark the next chapter in the San Francisco addiction that is the "Quarterback Controversy."
Kendall Hunter
Frank Gore is chugging along like an old shoe—reliable, strong and full of war-torn glory.  He's also wearing down.  It's obvious in fact.
Insert Kendall Hunter and whomever the third-string backup will be.
Hunter's versatility and slashing quickness was a nice lighting combo to Gore's thunder in 2011.  His role as a blocker was not as strong, but that shouldn't be anything a few OTAs wouldn't cure.
Hunter is probably too small to be a full-time, No. 1 running back in the NFL.  Then again, that's been said before about others, the most notable being Maurice Jones-Drew.
Come 2012, Hunter should get plenty of reps to prove whether he's the guy after the Gore days of glory are officially over.
The New Rookie Wide Receiver
The 49ers will probably draft a wide receiver in the 2012 draft.
Whether this is in the first round or not remains to be seen.  It could really go either way, but make note that the scouts are scouting and scouting for wideouts, as it is probably the weakest position on the team.
This receiver, or receivers, will see playing time in 2012—probably not right away, but eventually, as the offense and timing becomes more comfortable to them.
Ted Ginn will be relegated to kick-return duties, and Kyle Williams may or may not make the roster next year.  
If the 49ers grab a flashy free-agent wideout such as Stevie Johnson from Buffalo, then maybe this rookie will not see reps until the final quarter of the season.
Regardless of who starts and when, this position will be shaken and stirred come the start of the 2012 season.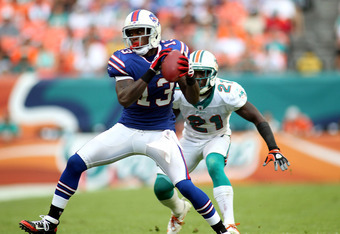 Marc Serota/Getty Images
Adam Snyder
He's the backup interior lineman—always has been, always will be.  If he was deemed a player of starting caliber, he would've won the job over Chilo Rachal and not obtained it by default.  
That's not to take away from Snyder, who's very consistent and solidly average.  Nothing wrong with that.
He's the kind of player who is needed on all offensive lines; a guy who can play left and right guard and center.  It's invaluable.
The 49ers would hopefully find a starter at right guard in the offseason.
In the meantime, they have a guy in Snyder who they can and will count on in 2012.