Colorado Rockies 2012: 7 Things to Watch for in Spring Training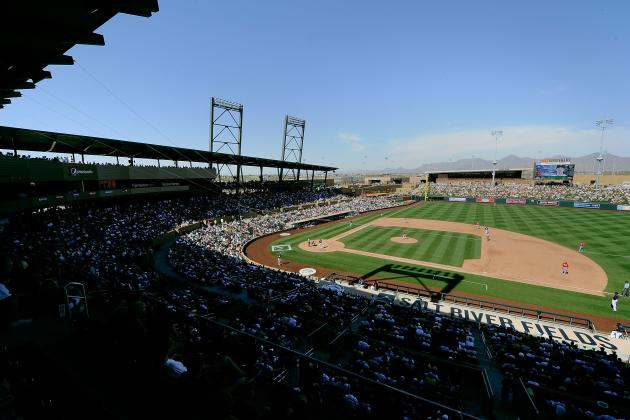 Kevork Djansezian/Getty Images
Salt River Fields at Talking Stick
The winter of 2011-2012 was a busy one for Dan O'Dowd and the Colorado Rockies, marking a change in direction for a team that has been trying to build a contender from within since the mid-2000s.
Gone are several familiar faces (familiar to Rockies fans at least) which have been replaced with familiar names, if nothing else.
Last year's season was nothing short of disappointing, and it remains to be seen just what direction O'Dowd and the Monfort brothers are taking to keep expectations high for Rockies fans, many of whom are becoming more skeptical of the team's front office with each passing season.
With Spring Training getting into full swing in the next few weeks, it's worth highlighting some things to keep track of during the two months leading up to Opening Day.
Begin Slideshow

»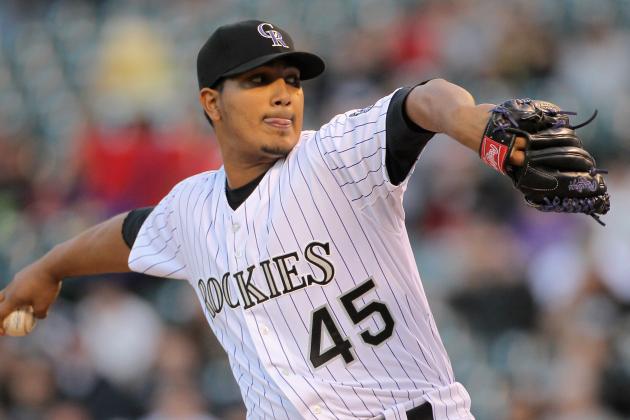 Doug Pensinger/Getty Images
Jhoulys Chacin
Jhoulys Chacin, the Rockies No. 1 starter (but definitely not an "ace"), did his best Ubaldo Jimenez impersonation last season going 3-9 from July until the end of the season after starting the season with an 8-5 mark.
He's the odds on favorite for the Opening Day start, but after that it's a bunch of question marks.
As has been the case in the past, the 2-5 spots in the Rockies rotation are all up for grabs in Spring Training.
The combatants are young (Drew Pomeranz, Alex White), questionable (Jorge De La Rosa, Jeremy Guthrie, Esmil Rogers) and unknown. Of the Rockies' 162 starts last year, only 78 of them are accounted for by players on their current MLB roster (as of 2/18/12).
That's scary.
The good news for the youngsters and the new guys is that there are jobs and hearts to be won. A little spring competition could go a long way.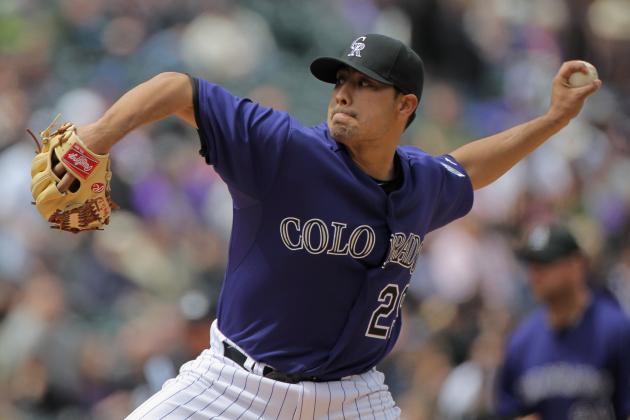 Doug Pensinger/Getty Images
Jorge de la Rosa
How Jorge De La Rosa and Juan Nicasio perform in the spring may well be the key to the Rockies entire season.
As previously stated, the Rockies starting rotation needs some stability, and on top of that, both De La Rosa and Nicasio have potentially electric stuff.
De la Rosa is coming back from yet another injury to his throwing arm, but when healthy, he is an effective, and at times dominant—top of the rotation starter.
Nicasio, miraculously, is coming back from perhaps the most frightening injury from the 2011 season after being hit by a line drive in the neck in August (video). At 25, he will probably never be to the level of a healthy De La Rosa, and certainly won't compete for the top of the rotation, but would be a nice replacement for Aaron Cook or Jason Hammel at the bottom.
Charlie Blackmon, looking to step in to the coveted "fourth outfielder" spot in the Rockies lineup, set female hearts aflutter at Coors Field before he "a-fluttered" awkwardly into third base and broke his foot in July. While no where near challenging for a starting role in the outfield, he showed some sparks last season that could lend a hand to Jim Tracy in late-inning situations.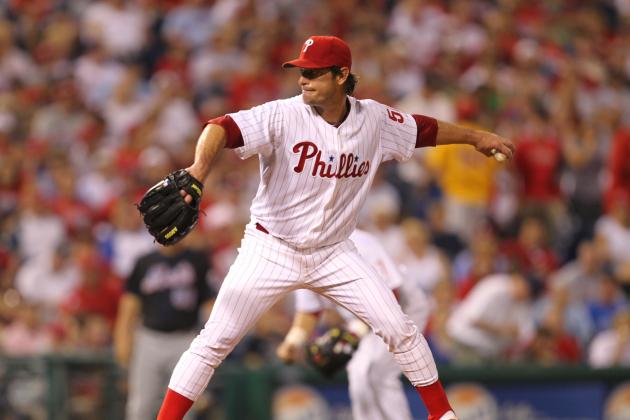 Hunter Martin/Getty Images
Jamie Moyer
Sadly, the 49-year-old Moyer might be the number one subject Rockies fans will be talking about in Spring Training.
Is this for real? Is it some sort of sideshow?
Because if it is, the Rockies probably should have gone out and signed Pedro Martinez. Whatever the case, Moyer will be at Spring Training competing for what has to be a bullpen job.
Meanwhile, Denver sports radio personalities will be readying their most hilarious age related jokes.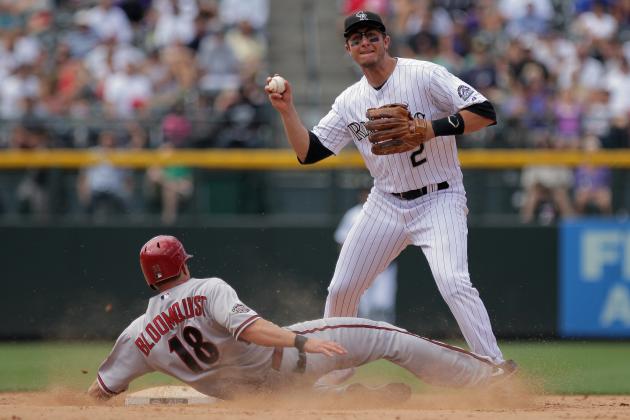 Doug Pensinger/Getty Images
Troy Tulowitzki
Using a football analogy, if Troy Tulowitzki is the quarterback of the Rockies, Dan O'Dowd's most important job as GM is to surround him with weapons.
While it might not be a long-term solution, signing Marco Scutaro to play second base was a great move for 2012. The Rockies had seven different starters at second base last year, none of whom had the ability to hit at the top of the lineup like Scutaro has done in his career.
Oh, and the last time Scutaro played a full season at two-bag?
It was in 2004 when he led all American League second basemen in fielding percentage. At the very least, O'Dowd has made life easier defensively for Tulo, a two-time defending Gold Glove winner at shortstop.
Watching these guys get to know each other in Arizona should be the start of plenty of highlight-worthy plays in 2012.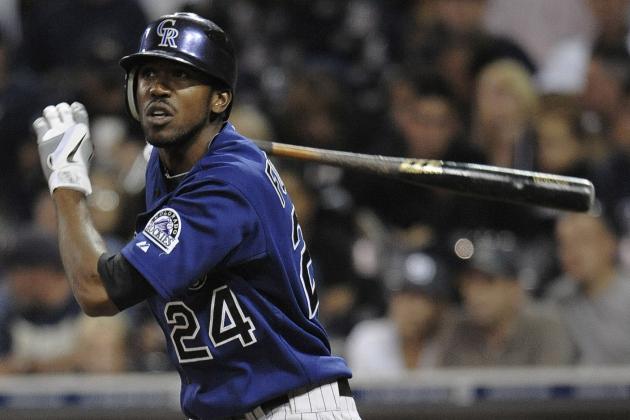 Denis Poroy/Getty Images
Dexter Fowler
Most Rockies fans could probably fire off a quick eight for an Opening Day batting order, but here's some food for thought...
Fowler's natural abilities, while possibly not fully realized, point to him being a prototypical lead-off hitter (the Devon White reference is used liberally with Fowler), but Scutaro can also hit lead-off, and an inconsistent Fowler would see more hittable pitches hitting in front of Carlos Gonzalez and Tulowitzki.
... but Todd Helton might be the Rockies best choice in the two-spot.
He's a lefty, he gets on base all the time, he sees a lot of pitches, and while he might not be in the top class of NL first basemen, even with Pujols and Price Fielder out of the equation, he could possibly be the best two-spot hitter in the league given the opportunity.
After that it's up to the big guns.
Jim Tracy will have fun tinkering with his lineup in the spring, especially at the top of the order. With CarGo, Tulo and Cuddyer behind it, the two-spot might just be the most coveted batting slot in the National League.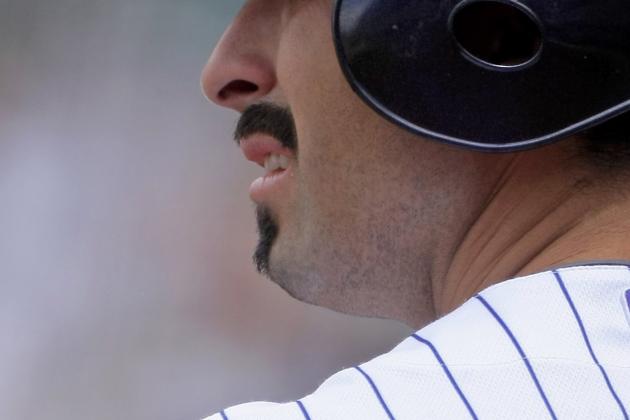 Doug Pensinger/Getty Images
Who will carry the torch?
On top of taking away the most questionable facial the team has ever seen, utility outfielder Ryan Spilborghs also took with him a large chunk of personality from a team that is severely lacking it.
The stoic personalities of Helton and Tulowitzki will only go so far in the hearts and minds of Rockies fans, especially if the team begins to struggle.
It's sad but true, the Rockies just don't look like they're having any fun at times.
Spilborghs' biggest role on the team was as the "every man." The player that most fans to could relate to because he seemed like he was thrilled just to be playing in the big leagues. That kind of energy is important on the field and in the clubhouse, and the connection to the fans will have to come from somewhere else in 2012.
With all the new faces in Rockies camp in 2012, it should be easy for someone to step up and embrace that role, it's just a matter of someone doing it.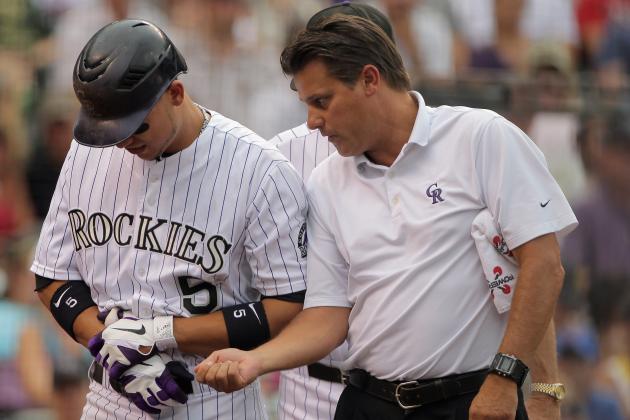 Doug Pensinger/Getty Images
Carlos Gonzalez
Every year some big name goes down in Spring Training, ruining seasons for baseball teams both real and fantasy.
It's crucial that the Rockies stay healthy and avoid any of those types of injuries in the Cactus League. They were able to fill a lot of holes in the off-season, but still have very little depth if any of the new players get hurt.
Carlos Gonzalez and Troy Tulowitzki, are obvious keys to the team on offense and defense. Gonzalez in particular is a concern to Rockies fans. Like a Faberge egg, he is potentially the most valuable player the franchise has ever had, but there is a constant worry about how fragile he might be.
The Rockies will need at least 145 games out of Gonzalez if they want to seriously compete for a playoff spot, and that all hinges on him staying 100% healthy in the spring.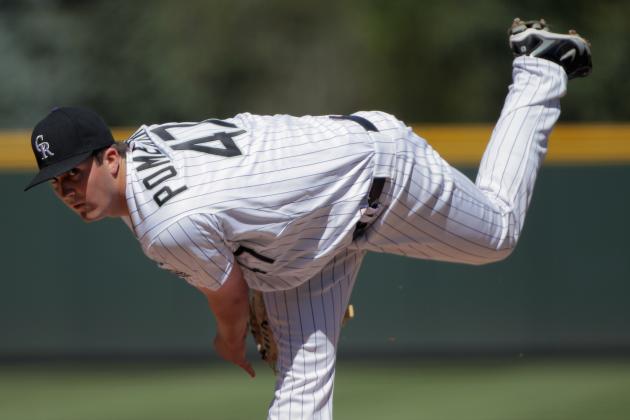 Doug Pensinger/Getty Images
Drew Pomeranz
The Rockies lost several familiar faces in 2011, starting with Ubaldo Jimenez.
After the departures of Seth Smith, Chris Iannetta, Ian Stewart and Ryan Spilborghs, only Todd Helton and Troy Tulowitzki remain from the "Rocktober" team that went to the World Series in 2007.
While still leaning hard on young players like Jhoulys Chacin (24), Drew Pomeranz (22) and Dexter Fowler (25), the Rockies are hoping that the consistency and experience of the veterans they brought in will be enough to get them into the playoff hunt.
The biggest addition in the off-season was Michael Cuddyer (32), who looks like he will fit in nicely in the middle of the Rockies lineup. Third baseman Casey Blake comes over from the Dodgers, with the starting job his to lose. At 38, Blake will be asked mainly to stay healthy and play solid defense, while occupying the six, seven or eight spot in the Rockies lineup.
Behind the plate, veteran Ramon Hernandez (35) should provide much needed experience and better-than average offensive numbers while grooming one of the Rockies top prospects—22-year-old Wilin Rosario, who will compete for the job in 2013 and beyond.
If everything clicks in the spring, the Rockies could be off and running in a wide open 2012 NL West when the season starts.
But if they sputter in the Cactus League, it could be another disappointing year for the Coors Field faithful.