NBA All Star Weekend: Four Days That Could Had Been Put to Better Use
February 17, 2012

Patrick McDermott/Getty Images
In about a week, fans will have the opportunity to celebrate basketball. The NBA All Star Break is four days to appreciate what makes the league great.
Considering the league survived a lockout and salvaged a condensed 66-game season, that's all the more reason to sit back and enjoy the Rising Stars game, the 3-point, the slam dunk contests, and the All Star Game – the highlight of the weekend.
What a waste.
Commissioner David Stern and the owners lack perspective for conducting All Star Weekend this season. It's a nice honor for the players to be voted by the fans and selected by the coaches as one of the best players in the league. But this is not the year to take four days off for a series of exhibition events.
When the players agreed to this new CBA, did they know an All Star Break was included? As intense this season is, a break after two months of play and more than 30 games played per team is certainly welcomed. That's the equivalent of a game every other night, an exhausting pace for any athlete.
Instead of an extended weekend, these four days should had been spread out over the course of the season. This would have eliminated the back-to-back-to-back games all teams play once this season. The number of back-to-backs would go down as well if the days off were utilized sensibly.
More days off in season means the players aren't pushing their bodies as hard, so they would avoid many nagging injuries that come from over-exertion. A lot of sore knees, bum shoulders, tight hamstrings, or muscle strains would be avoided with a well timed extra day of rest. Sometimes one more day off is all it takes. With four days to spread out, the players would be a little fresher through the season.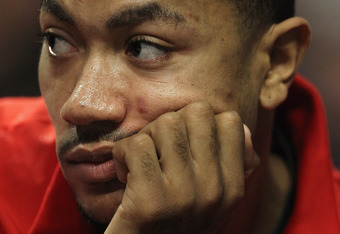 Jonathan Daniel/Getty Images
An extra day here or there would be the difference between a simple tweak becoming more serious. Adequate rest and proper treatment from team trainers and doctors would keep players in the game instead of sidelined from trying to keep up with this punishing season.
If the league didn't want the players to benefit from the extra time off, then give it to the coaches. The four day break would had been better served with a longer training camp. Coaches still would be cramming, but they would get more done with a little more time to work with.
Besides teaching, a longer camp would had been more time for the players to get into game shape. It's inexcusable that the players didn't prepare as if a season was going to happen. If camp was longer, the coaches could had done a little more to get the players closer to playing shape.
Coaches with additional in-season days off would had put the time to good use as well. Whether they gave players well earned days off or more practice days, it would had been time well spent. Overall play across the NBA is down. Additional time to perfect the craft would make for a better product.
Quality of play in the All Star Game should be a concern for commissioner Stern. Grinding pell-mell though the schedule could leave the players feeling ragged and fatigue. With an equally intense second half of the season to go, it's more valuable to save their strength for real games instead of spending energy in an exhibition game.
Stern should pay attention to what NFL commissioner Roger Goodell went through. The Pro Bowl, the NFL's all-star game, was a disaster as the players didn't give full effort. It was so bad that fans booed the players for playing like they didn't care.
The Pro Bowl experience has Goodell exploring all options, including cancelling the Pro Bowl permanently.
Stern shouldn't make an equally rash decision. But suspending the event for one year while putting the off days to better use would had been best for the players and the league.
Why there is an All Star break comes down to money. The financial windfall from hosting All Star Weekend is money the Orlando Magic and city of Orlando doesn't want to pass up.
Asking the Magic to wait one year doesn't sound like an outrageous demand, but the Magic can't afford to wait. Orlando's future is uncertain with All Star center Dwight Howard unwilling to commit to the Magic beyond this season. All Star Weekend is a more attractive ticket with a local player participating.
Whether Howard leaves the Magic as a free agent or by a sign-and-trade, Orlando probably will be rebuilding without Howard. The chances of someone representing the Magic next year would be slim to none.
All Star Weekend will be good entertainment. A new Slam Dunk Champion will be crowned with four new faces participating in a revamped format. Lob City moves east as LA Clippers' Chris Paul and Blake Griffin will put on a show. Heck, the league even found a way to include New York Knicks sensation Jeremy Lin in the festivities.
What would be better is watching healthy, rested stars play meaningful games. It would have been a little disappointing not having an All Star Weekend, but think of it this way: the new CBA is for 10 years. The next nine All Star Weekends are guaranteed. Skipping one under extreme circumstances would had been the sensible decision.
Question? Comments? Send to talktome@randolphc.com.