NHL Trade Speculation: Jonathan Bernier, 5 Possible Trade Destinations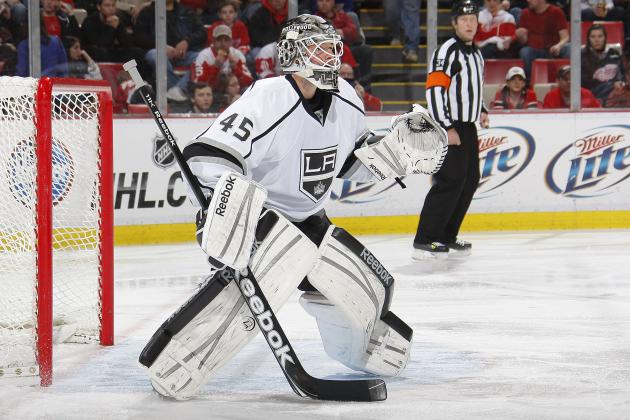 Dave Sandford/Getty Images

When the Los Angeles Kings used the 11th overall draft pick in 2006 to select goaltender Jonathan Bernier, they figured they had their franchise goaltender.
However, the emergence of Jonathan Quick as the team's starting goalie has made Bernier somewhat expendable to the Kings. Bernier could be a legitimate starting goalie on several teams in the league, and, at 23, he still has plenty of room to grow.
Needless to say, if Bernier became openly available, there would be a handful of general managers around the league contacting Kings general manager Dean Lombardi in regards to the Laval, Quebec, native. Bernier would fit nicely on any team trying to add to their goaltending depth, either in the short-term or the foreseeable future.
While most teams in the NHL already have their goaltending locked up for the meantime, a select few teams could be open to change between the pipes, either because of an aging starter or one that just isn't working out.
Because of his age and playing ability, the asking price for Jonathan Bernier would be high. The Kings could even decide to package him in an attempt to land an elite scoring winger, something highly coveted by the organization.
Keeping that in mind, here's a look at five NHL clubs whose cities Jonathan Bernier could wind up calling home sometime in the near future.
Begin Slideshow

»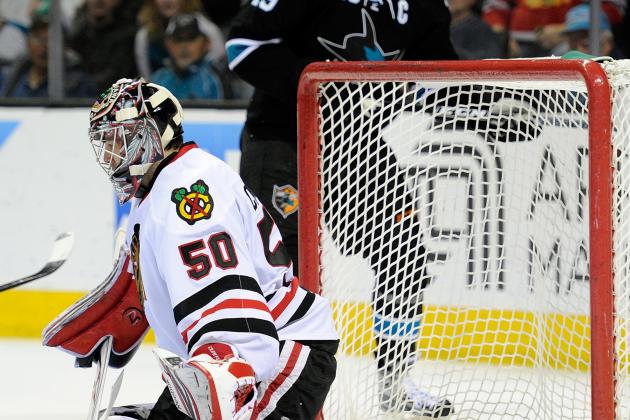 Thearon W. Henderson/Getty Images

In 2010-2011, Chicago Blackhawks goaltender Corey Crawford had a rookie season to remember. This season, Crawford is having a sophomore season to forget.
Crawford's numbers have dropped off dramatically. Last season, he has a save percentage of .917 as opposed to this year's .899, while his goals-against average has slipped from 2.30 to 2.97.
Crawford just isn't the same goaltender he was a year ago when he wrestled the starting role away from veteran Marty Turco.
Meanwhile, backup Ray Emery hasn't played the best in his own right. Emery has posted a .899 save percentage and a goals-against average of 2.82.
Given the Blackhawks recent slide in which he seen them go 1-8-1 in their last 10 games, now may be the time for Hawks GM Stan Bowman to address his team's goaltending woes.
If the team doesn't believe that Crawford is the No. 1 goaltender for the future, it makes sense for them to bring in Jonathan Bernier.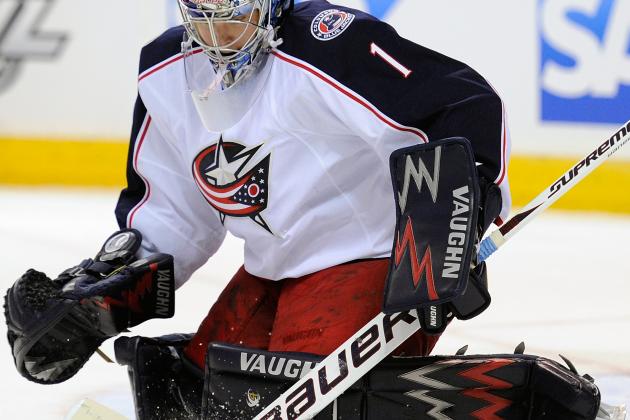 Thearon W. Henderson/Getty Images

During the 2008-2009 season, Columbus Blue Jackets rookie goaltender Steve Mason took the NHL by storm. Mason posted 10 shutouts for the Jackets to add to his .916 save percentage and 2.29 goals-against average. He would win the Calder Memorial Trophy as rookie of the year and was a finalist for the Vezina Trophy.
Unfortunately for Mason, he has since been unable to duplicate his rookie season.
Mason has recorded a mediocre .901 save percentage in each of the last two seasons, and that statistic has dipped to a dastardly .887 to go along with an equally ugly 3.40 goals-against average.
Given the Blue Jackets' struggles as a whole so far in the 2011-2012 campaign, general manager Scott Howson may be looking to shake this roster up entirely. If he does, goaltending is a huge red flag that needs to be addressed.
In Jonathan Bernier, the Blue Jackets could find the fresh start they so desperately need in goal. His high potential and relative youth would make him an invaluable asset to a rebuilding team such as Columbus.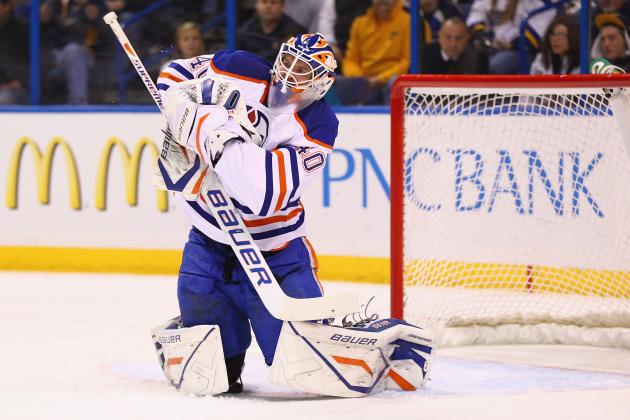 Dilip Vishwanat/Getty Images

The Edmonton Oilers are currently in the midst of one of the biggest rebuilding modes the NHL has seen since before the lockout. The Oilers team that went to the Stanley Cup Finals in 2006 is slowly being replaced with a younger core of players that includes Taylor Hall, Jordan Eberle and Ryan Nugent-Hopkins.
Despite the new-look Edmonton club, the organization still lacks a future elite goaltender. Nikolai Khabibulin is aging, and The Edmonton Journal is speculating that he could be dealt to a contending team. While Devan Dubnyk is still relatively young at 25, his numbers certainly wouldn't indicate that he is ready to handle the starting load for a contending team.
This is where a goalie such as Jonathan Bernier could come in handy for the Oilers. Bernier's age is perfect for Edmonton's youth movement. He could fit nicely in the young core of players who would grow into the centrepiece for the future of the Edmonton Oilers.
Additionally, the Vancouver Sun noted that the Los Angeles Kings are interested in Oilers winger Ales Hemsky, so Bernier could be part of a deal that could see Hemsky headed to L.A.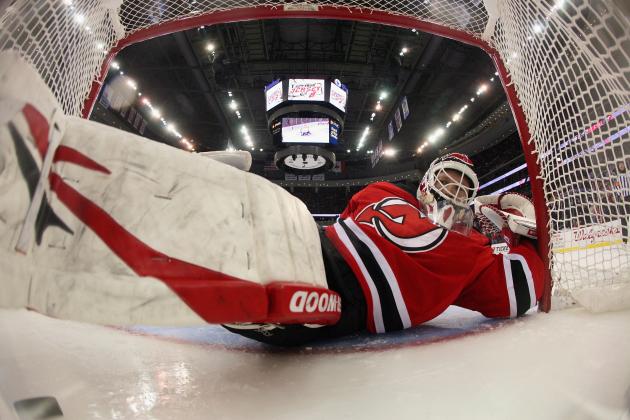 Bruce Bennett/Getty Images

For two decades, the goaltending duties of the New Jersey Devils have rested primarily upon the shoulders of Martin Brodeur, arguably the greatest goalie to ever strap on the pads. However, with Brodeur turning 40 in May, he may look to retire, leaving the Devils' starting goaltender job vacant.
The combination of Brodeur and backup Johan Hedberg has been average this season. They have combined to stop 90.5 percent of the shots the Devils have allowed this year. With Brodeur at 39 and Hedberg at 38 years of age, the team could see the departure of both their goalies through retirement this summer.
While there's certainly no guarantee that either goalie will hang up the skates, it's a possibility for which GM Lou Lamoriello must prepare. Bringing in a potential franchise goaltender such as Jonathan Bernier would certainly be a step in the right direction.
Plus, Bernier's long-term success could only benefit from some mentoring from a legendary goalie the likes of Martin Brodeur.
Al Messerschmidt/Getty Images

The Tampa Bay Lightning organization has been synonymous with goaltending struggles this season.
Mathieu Garon's 2.90 goals-against average and .901 save percentage are mediocre at best, but they appear Vezina-like when compared to the numbers of 42-year-old netminder Dwayne Roloson.
Robson has looked more like Swiss cheese than an NHL-quality goaltender this season. Roloson's 3.67 goals-against average and .883 save percentage are awful enough to drag him to the bottom of the NHL in both categories.
It appears as though the Tampa Bay Lightning are officially sellers leading up to the trade deadline. The trade of Dominic Moore to the San Jose Sharks and GM Steve Yzerman stating that he's asked Pavel Kubina to give a list of teams to which he would accept a trade, according to ESPN, stand as evidence.
Although the Bolts are not an incredibly deep team up front, or on the back end, their most pressing need is a goaltender who can give them a chance to win every night. They haven't seen such a goalie since Nikolai Khabibulin left after winning the Stanley Cup in 2004.
Jonathan Bernier could be just that goaltender.
He is young, and given the chance to carry the duties of a starting goaltender, Bernier could be considered among the NHL's elite in a number of years.