Peyton Manning Trade Rumors: Why Developing Cardinals Shouldn't Pursue Star QB
February 18, 2012

The Arizona Cardinals have been rumored as one of the teams in the Peyton Manning Sweepstakes.
It would be a shame if they signed him.
The Cardinals have a decision to make with starting quarterback Kevin Kolb. He played poorly in 2011 and is due a $7 million signing bonus on March 17.
Cardinals general manager Rod Graves said in an interview on KTAR-AM on Thursday, via NFL.com:
There's no reason to think at this particular point that we wouldn't proceed with...seeing the contract through, but things change as we go down the road.
"Things change is we go down the road." That right there shows me Graves isn't sold on Kolb as his starting quarterback and could make a run at Manning.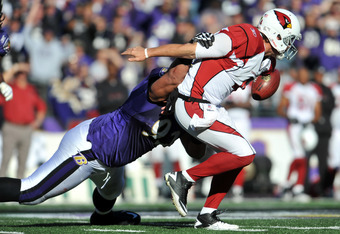 Larry French/Getty Images
Of course, Indianapolis Colts owner Jim Irsay would have to make a decision on Manning before March 17.
Either way, the Cardinals should not sign Manning.
First of all, it wasn't all Kolb's fault in 2011. The Cardinals' offensive line gave up 54 sacks, second-most in the NFL. The unit also allowed 86 quarterback hits, sixth-most in the league.
There's also the fact that the Cardinals are a young team that still has a ways to go collectively before being a title contender. Adding Manning isn't going to make them the favorites, or even NFC West champs, in 2012. The Cardinals improved defensively as last season wore on, but they still gave up 21.8 points per game, in the middle of the league.
Sure, Manning would drive up your ticket sales, but it's not going to position the Cardinals for a serious playoff push.
You add in the fact that Manning has reportedly had four neck surgeries in the past two years, and he's also an injury liability.
Manning makes no sense for the Cardinals at this stage of their development. It's better to see what they have with Kolb (possibly with a new offensive tackle via the draft) and go from there. 
If the Cardinals give up on Kolb this soon and try to make a run at the title with Manning, they actually risk hurting themselves down the road.