2012 NFL Mock Draft: Cleveland Browns Full 7-Round Mock Draft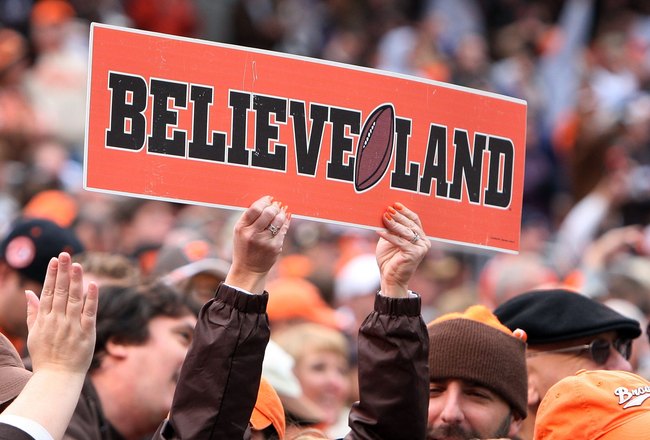 Jim McIsaac/Getty Images
The 2011 campaign was another season of disappointment along the shores of Lake Erie for the Cleveland Browns. The NFL's 29th ranked offense bumbled and stumbled its way through another year and the Browns finished squarely in the AFC North basement at 4-12.
However, with over $20 million in salary cap space and nine picks in this year's NFL draft, hope springs anew in Cleveland. Here's a look at how team president Mike Holmgren might begin to lead the Browns out of that basement and into the light.
Round 1, Pick 4 (4): Justin Blackmon, WR, Oklahoma State
This pick assumes that the Browns miss out on the Robert Griffin sweepstakes, which is a pretty safe assumption given that Cleveland never wins anything.
However, regardless of who lines up under center in Cleveland in 2012, be it Colt McCoy or a free agent, that player is going to need offensive playmakers to get the ball to. The two-time Biletnikoff Award winner as the top wide receiver in college football would be as good a place to start as any.
Round 1, Pick 22 (22): Zach Brown, OLB, North Carolina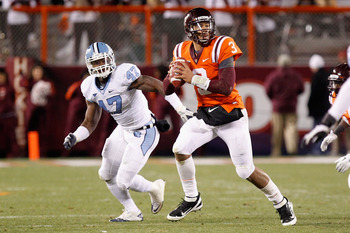 Geoff Burke/Getty Images
This pick would make me (as a Browns fan) both happy and a little nauseous.
North Carolina linebacker Zach Brown is a freakishly athletic player who shined at the Senior Bowl, but at 6'1", 236 pounds, the first team All-ACC standout is best suited to play weak side linebacker in a 4-3 defense, which may cause his draft day stock to slide a bit.
As I stated before, the Browns badly need to address the offense early and often in the 2012 NFL draft, but if Brown slides this far, his talent and upside may be too good to pass up.
Round 2, Pick 5 (37): Dwayne Allen, TE, Clemson
As with just about every skill position on the offensive side of the ball, the Cleveland Browns could use a boost at the tight end position. Fourth-year pro Evan Moore isn't going to be confused with Jimmy Graham any time soon.
The 6'4", 255-pound Allen was a first-team All-American after catching 49 passes for 592 yards and eight touchdowns in 2011, and the Clemson standout would almost assuredly provide the Browns with a significant upgrade at the position from day one.
Round 3, Pick 4 (68): Mitchell Schwartz, OT, California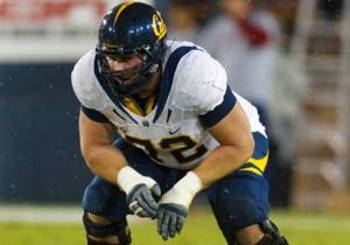 It's not just the skill slots on the Cleveland offense that could use a shot in the arm (or put out of its misery). The right side of the offensive line is in need of upgrading as well.
Mitchell Schwartz was a first-team All-Pac 12 performer in 2011 and four-year starter at Cal. With the 6'6", 318-pounder projected to play right tackle in the NFL, Schwartz would be a good value and solid fit coming off a strong showing in the Senior Bowl.
Round 4, Pick 5 (100): Trumaine Johnson, CB, Montana
At first glance this pick may look like a reach, and you may be wondering who Trumaine Johnson is. You won't after the cornerback from the University of Montana, who is rated as the fifth-best prospect at his position in the nation by ESPN, opens even more eyes at the NFL combine.
The 6'2", 205-pound Johnson possesses a tantalizing blend of size, speed and athleticism. With cornerback Sheldon Brown about to turn 33, Johnson and Joe Haden could form the foundation of the Cleveland secondary for many seasons to come.
Round 4, Pick 23 (118): Cyrus Gray, Running Back, Texas A&M
The Cleveland Browns could use some help at running back, especially if Peyton Hillis departs in free agency. That would leave only the brittle Montario Hardesty and the mediocre Chris Ogbannaya in the offensive backfield.
At 5'10" and 198 pounds, Texas A&M running back Cyrus Gray may not possess ideal size to be a feature back in the NFL. However, Gray topped 1,000 yards rushing for the Aggies last year, runs a sub-4.5 40-yard dash and can catch the ball out of the backfield.
Round 5, Pick 4 (131): Will Blackwell, OG, LSU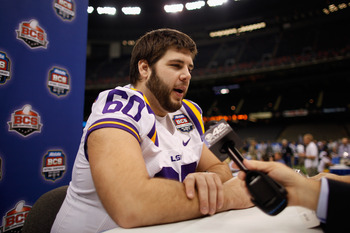 Chris Graythen/Getty Images
As I said earlier in this mock draft, the Browns need to improve the right side of the offensive line. Getting a player with Blackwell's potential at this point in the draft would be an outstanding value.
The 6'4", 314-pound first-team All-SEC performer has experience starting at right guard and could provide Cleveland with an infusion of youth and depth on the offensive front that the Browns could surely use.
Round 6, Pick 5: Derrick Shelby, DE, Utah
Defensive end Jabaal Sheard enjoyed an outstanding rookie season in the NFL, racking up 55 tackles, 8.5 sacks and five forced fumbles. However, the Browns could stand to find Sheard a playmate at defensive end in the draft.
Derrick Shelby was a first-team All Pac-12 selection for the Utes as a senior, tallying 52 tackles, four sacks and an interception. The 6'3", 271-pound Shelby would be a fine late-draft addition as a complementary two-way defensive end.
Round 7, Pick 4 (195): Dan Persa, QB, Northwestern
I feel like there's an elephant in the room that I haven't addressed, a topic or position I may have left out of the discussion...
Oh yeah, the quarterback.
I don't know that the Browns are either going to plunk down the king's ransom for the Griffin pick or throw a big contract at the likes of Matt Flynn, so it's likely at least one more season of Colt McCoy or a journeyman veteran.
That said, if the Brownies want to take a late draft flier at the position in the hopes of hitting a Hail Mary, ala Tom Brady, maybe Cleveland should look to the same conference that produced the New England signal-caller.
Dan Persa of Northwestern threw for over 5,000 yards in his collegiate career and is a smart, gritty player who just seems to come up with the big play when he needs to.
Call it a luxury pick, but I like the kid.
Keep Reading

Cleveland Browns: Like this team?