Vitali Klitschko vs. Dereck Chisora: Live Round-by-Round Results and Review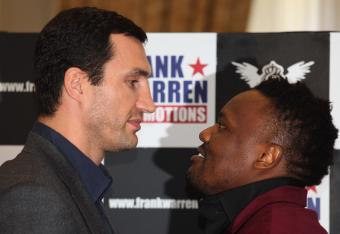 Vitali Klitschko (left) and Dereck Chisora (right)
Warren Little/Getty Images
Below are the results and round-by-round live blog:
Very good night of boxing, Chisora backed up his words. Though he didn't win, it's easy to imagine that Chisora has earned a hell of some respect by going 12 hard rounds with Klitschko.
He still has a very bright future in the heavyweight division. Enjoyable night, can't wait to see these guys fight again later this year.
Good fight, Chisora fought a very Joe-Frazier/Mike Tyson sort of style with the head-bobbing, but it wasn't enough to top the heavyweight force that is the Klitschko.
118-110, 118-110, and 119-111 are the official scores all to Vitali Klitschko who wins by unanimous decision.
Michael Buffer is about to give the official decision in just a second.
Round 12-There's a long staredown to begin the round as Chisora stalks and moves in to smother Klitschko. If Chisora would've threw more shots, he could've hurt Klitschko far more than he has so far.
Klitschko has taken Chisora's shots well enough, but he does seem tired from being forced to fight at such a breakneck pace. Chisora is being held like crazy by Klitschko. Tons of clenches.
Chisora catches Klitschko as he turns coming out of a clench. Klitschko's clenching gives away the round to me. Great fight! I hope Chisora gets a rematch.
Chisora 10-9
Klitschko 116-112.
Klitschko wins on my card by unanimous decision.
Round 11-Chisora moves with aggression, but falls victim to counters. Klitschko is clenching more, but is keeping Chisora back more in this round. Chisora is stalking slower this round too.
A few punches from Chisora have landed, but Klitschko overall took this round with some hard counters.
Klitschko 107-102.
Round 10- Chisora chases Klitschko and lands a left and right before eating some counter-leather.
Klitschko is clenching a hell of a lot, but Chisora just bangs to the body. Klitschko counters and Chisora continues to land his right.
Nice round for Chisora. Whenever these two trade frequently, Chisora appears to win these slugfest echanges.
Chisora 10-9
Klitschko 97-93
Round 9-Klitschko is slowing down considerably now. Chisora is able to get closer without eating nearly as much leather as he was taking earlier in the fight.
Is Klitschko tired?
To be fair, Chisora also isn't throwing as much as he's been throwing the last two rounds. I guess both fighters have slowed down, but Klitschko picked it up enough in the last minute to win the round.
Klitschko 88-83
Chisora could've won this fight with slightly more energy and more pressure.
Round 8-Chisora hammered Klitschko not only to the body, but with some nice follow-up counters. Klitschko was not as active or as accurate as Chisora this round while being back up.
Chisora thoroughly dominated this round.
Chisora 10-9
Klitschko78-74
Round 7- Round 7 is becoming a tradefest! Chisora is stepping up the output along with his aggressive pursuit of Klitschko. Klitschko has answered with more combinations and head snapping punches.
Chisora got to the body with some digging rights, but Klitschko adjusted well.
Klitschko 69-64.
Round 6-Klitschko backs up as usual, but Chisora finally lands a damaging right hand. Chisora's body blows are becoming more consistent.
Best round of the fight for Chisora. I'm tempted to just give it to Klitschko, but Chisora is the aggressor and landed some nice shots this round compared to a slightly sloppier round from Klitschko.
10-9, Chisora.
59-55, Klitschko.
Round Five-Chisora jabs to the body, again the aggressor. Klitschko continues to counter Chisora very well.
Klitschko is bouncing around the ring constantly putting leather in Chisora's face hoping his long arms keep Chisora at a distance.
Chisora's pressure is relentless, the smothering just won't stop. Maybe there's something to Chisora's gameplan, but this round is not his. Klitschko continues to land the more accurate missiles.
Klitschko 50-45
Round Four-Chisora tagged Klitschko to the body as the champ moves around the ring. Chisora's pressure is getting to Klitschko this round.
Klitschko tests Chisora's chin some more by the end of the round. Very close round, but I have to give it to Klitschko.
Klitschko 40-36
Round Three-Chisora is starting to leap in and touch Klitschko's chin. Chisora's chin is amazing so far. He's taking big shots and just steady coming like a classic horror movie character.
Chisora's going to the body a bit though. Chisora missed a lunging left to end the round.
Klitschko 30-27
Round Two-Chisora is steady charging forward and having some success with backing Klitschko up, but eating these right hands will make this a short fight.
Klitschko 20-18
Round One-Klitschko lands a strong left. Chisora is ducking and diving, but nothing great at this moment.
Klitschko 10-9
The opening bell has rung!
It's always a pleasure to hear Michael's Buffer's voice introducing a fight.
The crowd looks electric as both fighters pace the ring, entourages still with them.
But soon it shall be only the two everyone has came to see.
Klitschko has been introduced by Michael Buffer and is walking out to AC/DC's "Hell's Bells" with a specially made bell for him ringing in mid air.
Nice.
Finally as promised, Chisora is coming out to LL Cool J's "Mama Said Knock You Out."
Chisora's rap song he was going to come out to has been banned. Chisora is angry and threatening to not come out. Chisora's handwraps were also a problem as well.
It's unknown if they were illegal, but a lot of officials just came out of the dressing room. Hopefully this means the issues have been resolved.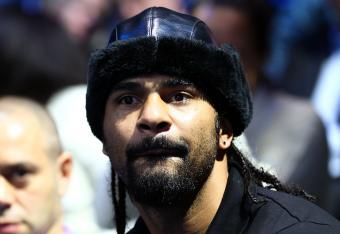 David Haye doesn't believe Chisora has a chance against Klitschko and also believes Klitschko will not fight him thanks to his political career.
Klitschko wants to become a mayor of Kiev, Ukraine. Haye feels that if Klitschko loses or even goes the distance in a tough fight with Haye, he'll lose the election.
Funny stuff from Haye! I wouldn't put too much stock into Haye's opinion of Chisora's chances, because Haye himself didn't really try hard to beat Vitali's brother Wladimir Klitschko. Chisora will likely do better.
Chisora promises to come out to LL Cool J's "Mama Said Knock You Out."
What an inspired choice.
Chisora has arrived at the arena with his crew in tow. His black robe looks pretty expensive, boxing's done him quite well apparently. If he beats Klitschko, he look forward to plenty more paydays.
This article is
What is the duplicate article?
Why is this article offensive?
Where is this article plagiarized from?
Why is this article poorly edited?