NFL Combine 2012: 15 Players Who Will Help Their Draft Stock the Most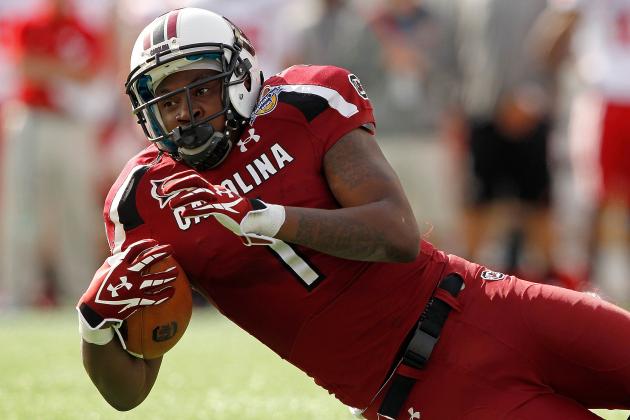 Mike Ehrmann/Getty Images

For many NFL fans, the end of each college football season marks the beginning of an exciting new year, as a new crop of prospects come to the NFL Scouting Combine trying to convince some professional team to give them a shot.
While the most elite of the Draft class have already solidified their positions in the first round, dozens of other players count on the Combine to showcase the kind of potential that can be the difference between hearing their name called or becoming an undrafted free agent.
For some prospects who have fallen out of the favor with the media and scouts, the Combine can be the start of a road to redemption. Out of shape, too slow, bad attitude, injury-prone, not strong enough—these labels can cost a prospect millions of dollars or even a shot at an NFL career.
This is a list of the 2012 prospects who can improve their Draft stock the most by having a strong 2012 NFL Scouting Combine.
Begin Slideshow

»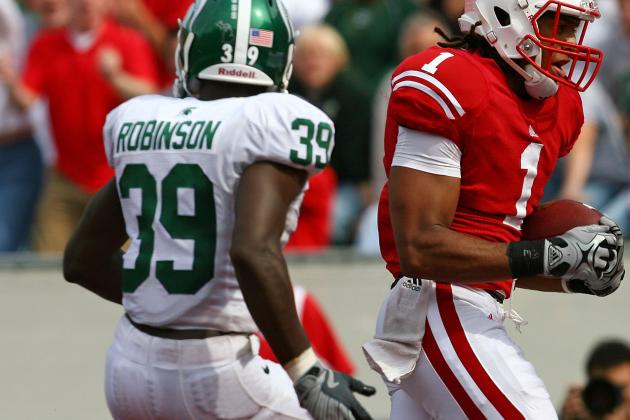 Jonathan Daniel/Getty Images

The overall depth and quality of this year's class of safeties isn't the greatest, so there are ample opportunities for players to move up on teams' NFL Draft boards. Trenton Robinson was a tenacious, physical free safety for the Spartans despite lacking the prototypical size at his position.
At 5'10", 195 pounds, scouts may be reluctant to grade him as a top safety in this year's NFL Draft, but on film, Robinson has shown that he is a hard-hitter with above-average coverage skills and a nose for the football. A three-year starter, Robinson doesn't need to prove that he understands the position, but he does need to show strength, speed and technique so teams will overlook the fact that he is undersized.
A strong Combine performance, and evidence he is capable of adding bulk to his frame, could quickly improve his standing in a Draft that is lacking in solid prospects at the position.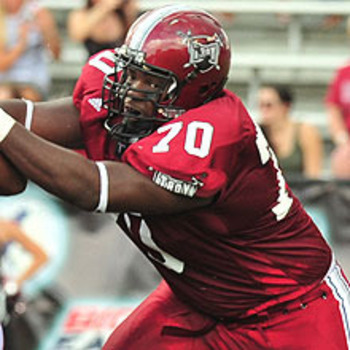 Brown lacks the prototypical size of an NFL offensive tackle, so it is critical that he shows technique, strength and tenacity that can overcome any perceived size disadvantage. He could also make the transition to guard—a possibility that is more feasible if he can show off the football acumen and versatility teams look for in an offensive line prospect.
His ability to "plug and play" could be the difference between falling into the later rounds or sneaking into the second. Frankly, analysts differ greatly in how he's graded.
If he exceeds expectations in speed, agility and one-on-one drills, Brown could be graded as a better prospect than some of the players from bigger-name schools that are currently ahead of him.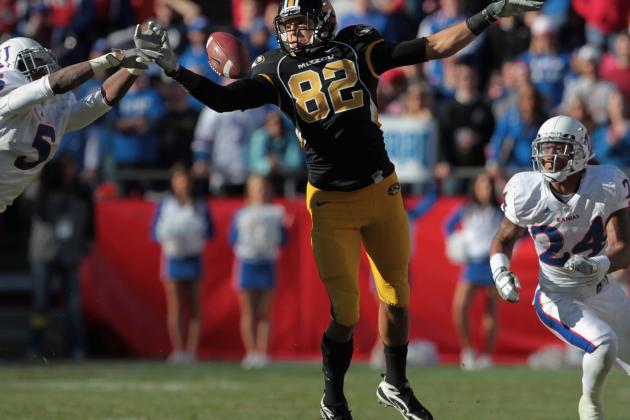 Jamie Squire/Getty Images

The Senior Bowl offers the best college football players an outstanding opportunity to solidify their NFL Draft stock, or exceed expectations by showcasing their abilities in practice. However, Senior Bowl week can also open the eyes of scouts for all the wrong reasons.
Michael Egnew, once considered a top tight end in this year's NFL Draft, has seen his stock plummet because of a poor showing at the Senior Bowl. The 6'6", 245-pounder is a thinly built receiving threat and isn't a prototypical blocking tight end.
Unfortunately, Egnew appeared to lack the range and explosiveness scouts expected. As a result he is now projected as a late-round prospect.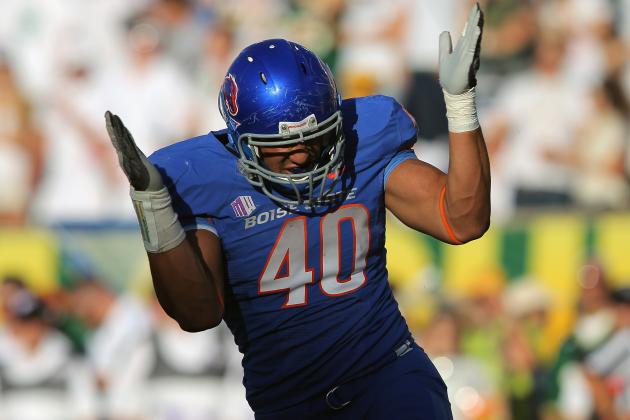 Doug Pensinger/Getty Images

Boise State's Tyrone Crawford was named to the first-team All-MWC after his first year as a starter in 2011. He finished the season with 44 tackles, 13.5 for a loss, as well as recording 6.5 sacks and three forced fumbles.
Crawford has a combination of size, quickness and athleticism that give him some flexibility to play for either a 4-3 or 3-4 defense. A junior college player who transferred to Boise State after the 2009 season, Crawford's Draft value is hindered by his relative inexperience as a starter and questions about his ability as a pass-rusher.
A big body who moves fluidly, Crawford has a great opportunity to show better burst and top-level speed than his film shows. A strong performance at the Combine, coupled with his ability to play defensive end in a 4-3, or 5-technique linebacker in a 3-4 should get him a closer look in the early side of the middle rounds.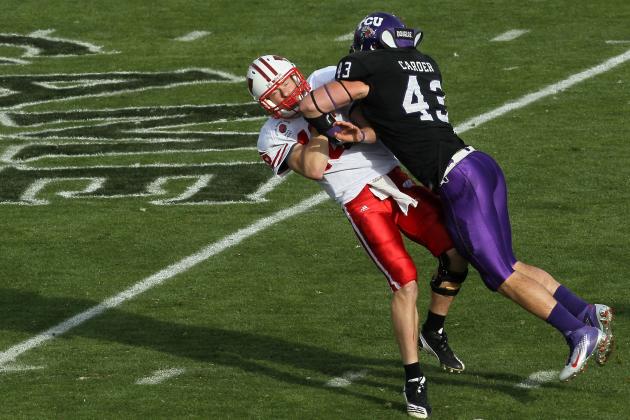 Stephen Dunn/Getty Images

The 2011 Rose Bowl MVP, Tank Carder, had a highly productive career at TCU, recording 228 tackles over four seasons, including 25 for a loss.
Carder is a fierce competitor and "high motor" player who has a chance to improve his standing in the Draft by showing that his football IQ and solid fundamentals are complemented by next-level strength and athleticism. Some teams question his long-term viability as a pro player, because of a broken back, diaphragm and punctured lung suffered in a grade school car accident.
If Carder shows potential to be a more effective pass-rusher and maintains the upper body strength to shed blocks at the next level, he could sneak into the mid-rounds and be a sleeper at the linebacker position in this Draft.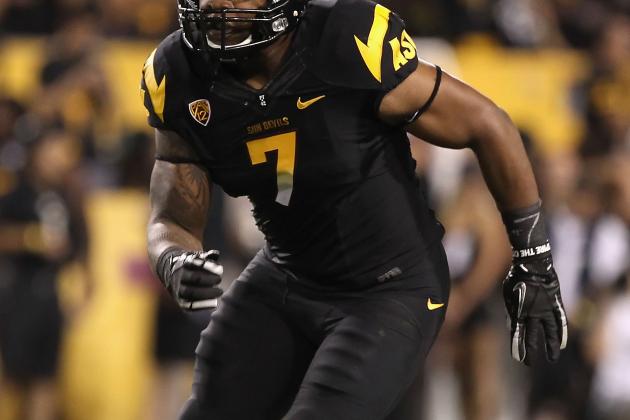 Christian Petersen/Getty Images

Arizona State's Vontaze Burfict has quickly developed the kind of reputation that costs a talented pro prospect a good chunk of change.
An undeniably talented player, Burfict has seen his stock plummet as whispers around the NFL have labeled the linebacker as a "fake tough guy" who is out of shape.
Burfict can either quiet his critics or give them more ammunition at the Combine. Without a doubt, he is one of those players on the margins whose performance can vault him into the first round or drop him well into the middle.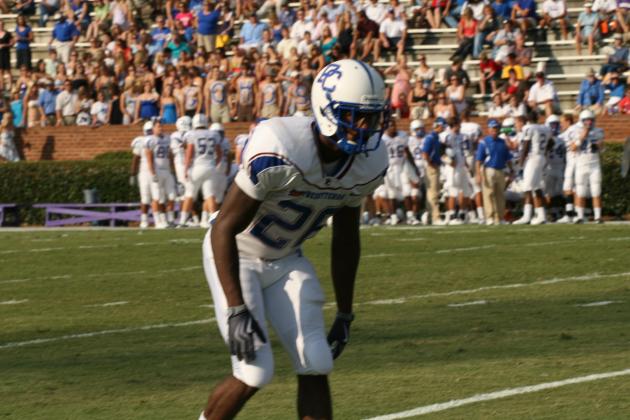 Every year there are a handful of under-the-radar prospects who make headlines by displaying eye-popping speed and athleticism at the NFL Combine. These "workout warriors" often come from smaller schools or simply didn't get playing time during their college careers but display the kind of physical tools that scouts can't resist. Case in point, Tennessee Titans running back Chris Johnson, who went to East Carolina University.
Justin Bethel, cornerback from Presbyterian—a Division I school from the Big South conference—could very well become one of the biggest risers in this year's NFL Draft. Bethel was impressive at the East-West Shrine Game, showing off good speed and the ability to play solid run support.
Currently, he's projected as a late-round pick, but if he runs a sub-4.5 in the 40-yard dash and displays this kind of athleticism, don't be surprised if he moves up more than a few teams' Draft boards.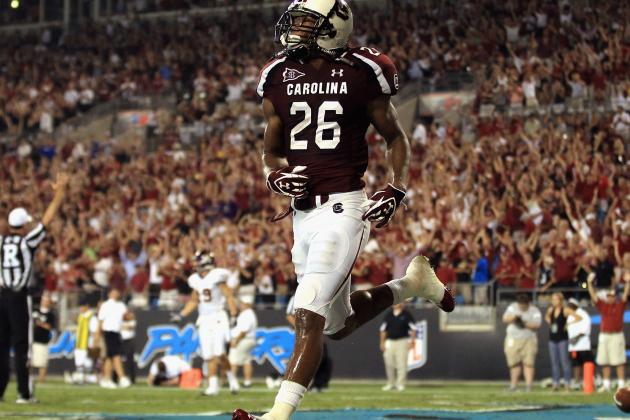 Streeter Lecka/Getty Images

In his senior season with the Gamecocks, Antonio Allen played a hybrid "spur" position in the defense. He filled the role as a third linebacker in South Carolina's unique 4-2-5 defense, essentially playing in coverage with the capability to jump up to the line for run support.
While Allen led the team in tackles, his experience in this hybrid position has raised questions about how his skill set will translate to the NFL. Allen is a smart player who has the build and athleticism to play strong safety in the NFL. However, a shaky Senior Bowl performance and questions about his speed and ability to play safety in the pro system have caused his stock to drop.
Allen has a chance to gain some of the ground he's lost by showing the kind of speed, agility and mechanics that will give his evaluators confidence that he can quickly adapt to playing defensive back at the next level.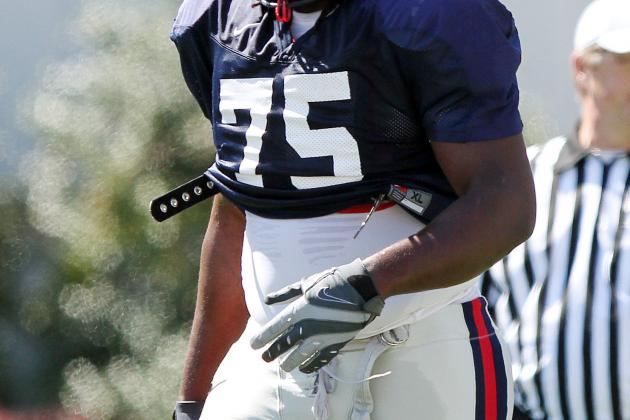 A late addition to the Senior Bowl roster as a center, Rishaw Johnson made the most of his opportunity, impressing scouts with his athleticism, technique and attitude.
This was a crucial development for Johnson, because not only does he have to show that his success at a Division II program wasn't just due to weaker competition, but that his dismissal from Ole Miss in 2010 is not indicative of a larger problem with off-the-field issues.
If the 6'4", 309-pound guard builds on his success at the Senior Bowl and continues to impress scouts with his performance at the Combine, teams will be more eager to overlook the ugly end to his Division I career.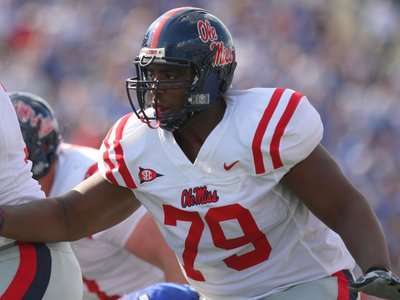 The 6'6", 325-pound Massie has the massive frame and long arms of a road-grading, SEC left tackle, but he started 29 games in the right tackle position and projects to be a second-round pick at the earliest.
A prospect with plenty of upside, he could solidify his standing as an early to mid-second-rounder if he shows off versatility and sound mechanics that demonstrate a potential to protect the quarterback's blind side.
Massie has the advantage of being a three-year starter in the SEC, and has the prototypical physical characteristics scouts look for in an offensive tackle. The Combine is a great opportunity for Massie to flash real potential for making the switch to the left side, or at least being capable of filling in at the position.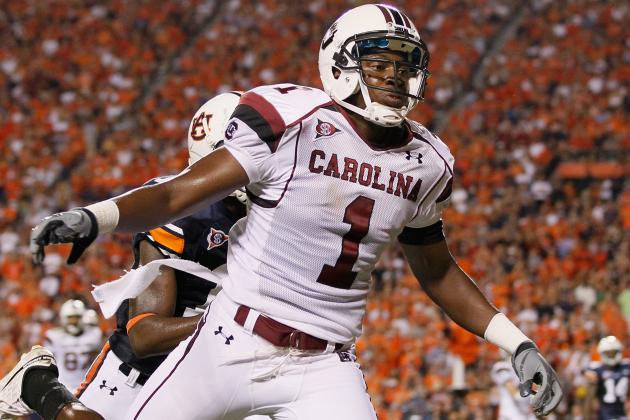 Kevin C. Cox/Getty Images

It's amazing how much difference one year can make. After an eye-popping freshman debut and impressive sophomore season, Alshon Jeffery was considered a possible top-10 pick in the 2012 Draft. A big, physical receiver with deceptive lateral speed, Jeffrey was a human highlight reel.
But in 2011, Jeffery saw a significant drop in production, catching 49 passes for 762 yards and eight touchdowns, versus 88 receptions for 1,517 yards and nine touchdowns the year before. Of course, Jeffrey had to deal with quarterbacks who got kicked off the team or struggled throwing the ball, but he also seemed frustrated and loafed on plays.
Jeffery still has all of the physical gifts that once made him a sure first-rounder, but a poor showing at the Combine could seal his fate. As crazy as it sounds, his 40 time could cost, or make him, millions of dollars. Few players at the Combine have more to prove.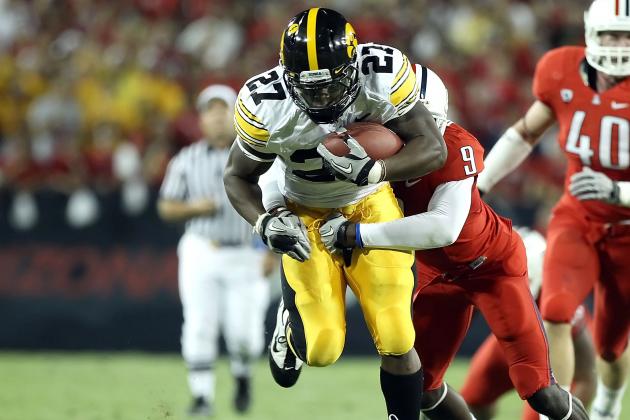 Christian Petersen/Getty Images

If nothing else, NFL scouts at the Combine should appreciate the sheer determination of Jewel Hampton in the face of so many career misfortunes. After a solid season as Shonn Greene's backup for the Iowa Hawkeyes, Hampton seemed poised for a breakout year in 2010 before tearing the ACL in his right knee.After a successful rehabilitation, he tore the ACL in his left knee.
After the spate of injuries, Hampton transferred to Southern Illinois, where he showed no signs of being slowed down by past knee injuries, rushing for 1,121 yards and 17 touchdowns in 2011.
The 5'8", 210-pound back is small but has drawn comparisons to Maurice Jones-Drew in terms of his strength, quick burst and agility. A strong showing in the speed, strength and agility drills will help prove that his injury history is a thing of the past, and possibly open the door for a late-round selection.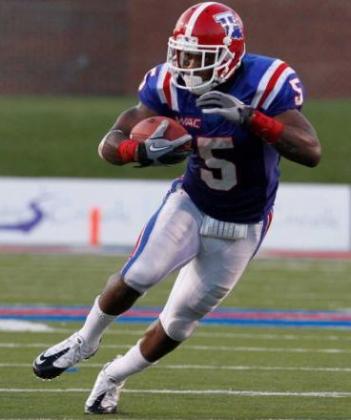 After being named MVP of the 2012 East-West Shrine Game, running back Lennon Creer has a great chance to continue improving his stock at the Combine. Creer was a highly sought after recruit who landed with the Tennessee Volunteers, but left the program after two seasons of splitting carries in a crowded backfield.
He ultimately moved on to Louisiana Tech, racking up 2,293 yards from scrimmage over two seasons. Averaging just over five yards a carry over his college career, the 6'0", 212-pound back has to answer questions about his speed, power and toughness.
Leaving a major college football program and sitting out for a year leaves little margin of error, but if he can display decent burst and the versatility that made him a prized high school recruit, Creer could hear his name called in one of the late rounds.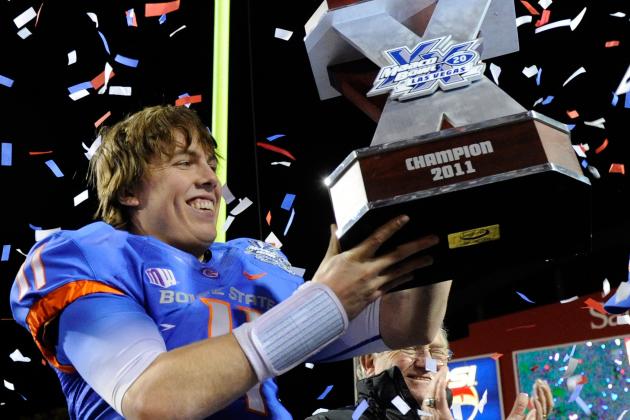 Ethan Miller/Getty Images

All Kellen Moore did was go 50-3 and throw for 14,667 yards and 142 touchdowns as Boise State's four-year starter. What did this earn him? Plenty of accolades as a college player, but little regard as an elite NFL quarterback prospect.
Unfortunately for Moore, wins don't make you taller or your arm stronger, and scouts do not believe he has the physical attributes of a starting NFL quarterback. At 6'0" with a thin build and questionable arm strength, Moore needs to prove that he can play at the next level.
His intelligence and accuracy aren't questioned, so if he can beat expectations about his arm strength and display the athleticism that helped make him a winner, Moore—like Andy Dalton—could convince a team that he worth a mid-round pick (or better).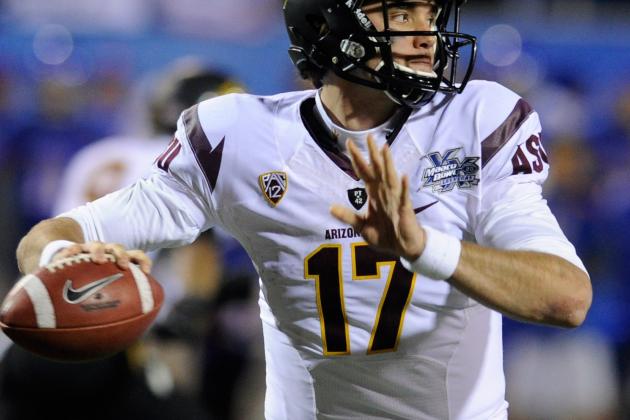 Ethan Miller/Getty Images

After Andrew Luck and Robert Griffin III, there is no consensus on who the next-best QB is. Ryan Tannehill of Texas A&M, Nick Foles of Arizona and Kirk Cousins of Michigan State are often mentioned as the next tier—all three have solid physical tools and resumes to make their case.
However, Brock Osweiler has the opportunity to open eyes at the NFL Combine and be this Draft's Joe Flacco—a player who has a thin resume (he only has one full season as a starter on a bad team) but features an intriguing skill set. Osweiler is a huge quarterback and unquestioned locker-room leader, and at 6'8", he won't have to worry about seeing the field or having his passes batted down. He's also deceptively mobile for his size.
If Osweiler can alleviate some of the concerns about his accuracy and ability play under center, he could work is way into the conversation about which QB is the best prospect after Luck and RGIII.