NBA Rumors: Cutting Renaldo Balkman over Mike Bibby Was Wrong Move
February 17, 2012

Jeff Gross/Getty Images
J.R. Smith announced via Twitter today that he'll be joining the New York Knicks. Smith was one of the few players who signed with the Chinese Basketball Association for fear of missing an entire year's pay because of the lockout, but is now free to return to the NBA.
He tweeted, "New York Knicks It Is!" and according to Marc Berman of the New York Post, should be on the court Sunday against the defending champion Dallas Mavericks.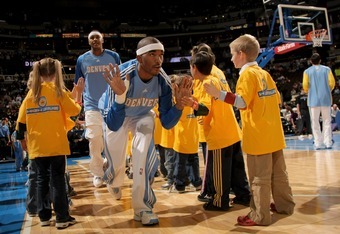 Doug Pensinger/Getty Images
Berman also reports that the Knicks are expected to cut bench-ridden forward Renaldo Balkman, a former Knicks first-round pick who came back to New York in the Carmelo Anthony trade. Berman wrote:
"The Knicks have to cut a player to make room for Smith and Renaldo Balkman, who has been out of the rotation since early January, is the expected candidate, according to a source."
UPDATE: Friday, Feb. 17 - 3:45 P.M. EST
The Knicks cut Balkman rather than Bibby. The now-former Knick tweeted:
New york was great love da big apple #imout
This was a mistake by coach Mike D'Antoni and the Knicks brass. Although D'Antoni is not a fan of Balkman and has used him in only 14 games this season for an average of 8.2 minutes per game, Bibby is utterly useless to this team.
Bibby's played in 21 games and averaged just about 14 minutes per game. He's just as useless Balkman and now, with Smith on the way in, the Knicks have a crowded backcourt that includes Jeremy Lin, Landry Fields, J.R. Smith, Iman Shumpert and, when healthy, Baron Davis.
Keeping Bibby around is nothing more than an insurance policy in case Davis doesn't get healthy.
While the difference is between one bench warmer and another, Balkman is at least a youthful player who will try and play defense if and when he hits the court. The same cannot be said of, what is a common joke, "Mike Bibby's corpse."
The Knicks may or may not have made a mistake by signing J.R. Smith (I'm of the belief that they did make a mistake) but cutting Balkman over Bibby makes it two mistakes in a row.
They're playing tremendous basketball right now, they cannot afford mistakes anymore.