2012 NFL Mock Draft: 2-Round Predictions Based on Best Athlete Available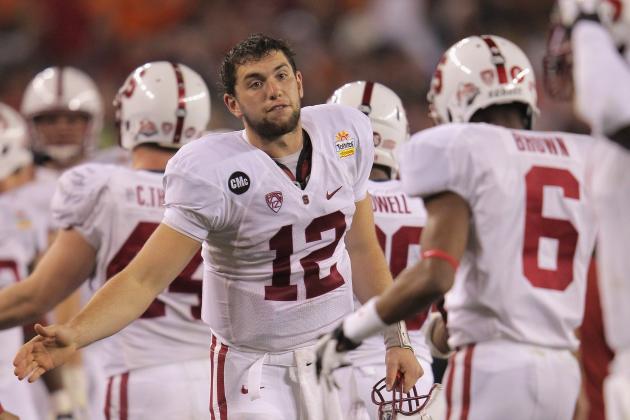 Doug Pensinger/Getty Images

Most NFL fans have already had the opportunity to review at least 10 mock drafts or more for the 2012 NFL Draft. Some of you extreme football fans might have checked out 50-100 mocks so far. You know who you are.
For today, I thought about doing something a little different. Suppose you had six scouts in a room and they were all asked to individually give their opinion of a specific player. If it is Andrew Luck, they are probably going to all be pretty close to each other in their opinion of him. The further down the draft board we go, the wilder the opinions get, which is really not all that different from mock drafts.
So instead of six scouts, we are instead going to plug in six mock drafts as our scouts. We will start with the first player they list (which would have the most points) and work our way down their list until we get to the 32nd overall pick (which would be assigned the fewest points).
Our six mock drafts come from Wes Bunting of Pro Football Post, Mel Kiper of ESPN, Scout Inc. from ESPN, Todd McShay from ESPN, Matt Miller from Bleacher Report and the latest computer simulated mock draft from Draft Tek.com.
We have enough players to work with to fill up two rounds for the draft. Please note that this has nothing to do with team needs, or whatever the popular choice has been up to now. It is going to solely be a draft conducted by taking the best athlete available when a team is on the clock.
How did we determine who the best athlete was? By adding up all the points awarded from the six drafts we compiled. It will be interesting to see if fans like this approach for what your team is awarded.
The lone exception is obviously the Raiders fans, who don't have a draft pick in either round.
Begin Slideshow

»
Christian Petersen/Getty Images

It probably shouldn't come as a major surprise that Andrew Luck is our overall No. 1 draft pick. He was after all the first player selected in all six mock drafts. The Colts have their quarterback of the future. Based on everything going on with the team, we wish you good luck.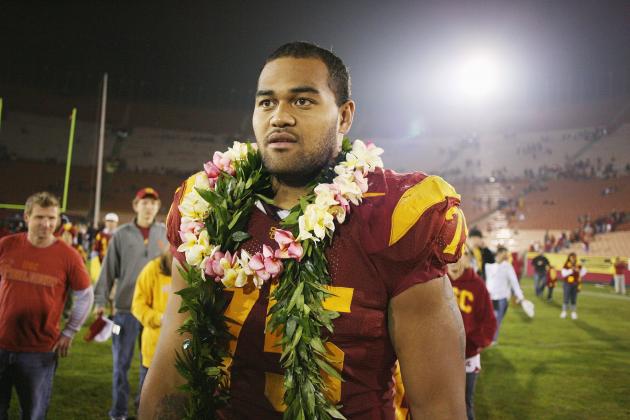 Jeff Golden/Getty Images

While there is a reasonable chance that the Rams might look to trade down from the No. 2 overall draft pick, we are not going to act on any potential trades or trade rumors. This is purely "BAA" (Best Athlete Available).
The Rams and Sam Bradford in particular will be glad that they drafted Matt Kalil. The Rams offensive line needs lots of work, and Kalil is a great building block.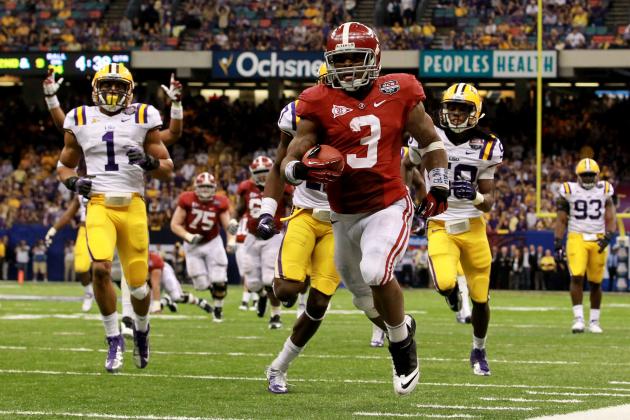 Ronald Martinez/Getty Images

On the surface, why would the Minnesota Vikings draft Trent Richardson? Well, they do have an injured star running back in Adrian Peterson, so at least Richardson would ensure them of having a true No. 1 back depending on healthy Peterson returns from his rehab over the offseason.
This is the first selection that doesn't seem to be very practical, but Richardson was the overall No. 3 best athlete in the draft as per our six mock drafters.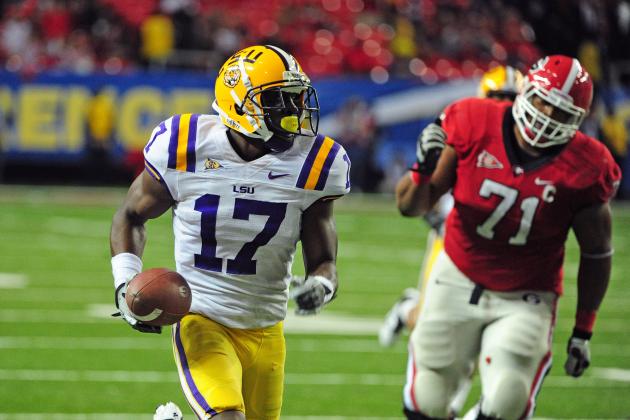 Scott Cunningham/Getty Images

Morris Claiborne is the top corner in the draft. He wound up finishing only one point behind Trent Richardson.
The Browns were thinking offense with their first pick, but Claiborne would help out in both defense and in special teams.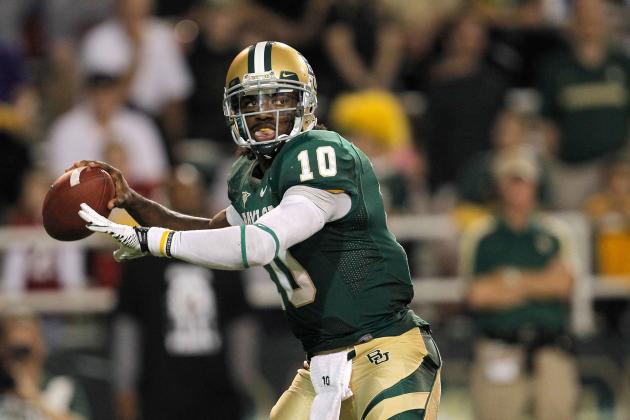 Sarah Glenn/Getty Images

Another outcome that looks to be very improbable on the surface. The Bucs need help in lots of areas, but I don't see them drafting a quarterback in the first round.
By the way, there was a total of 24 points that separated Griffin from Andrew Luck, for the top spot. Maybe that will change after the combines. Or not.
Geoff Burke/Getty Images

It would be interesting to see how this study would turn out in the final week leading up to the draft. NFL Network analyst Mike Mayock was not at all enamored with Coples' efforts in 2011. Said he was much better in 2010.
If more teams or scouts buy into that theory, Coples could start falling down draft boards.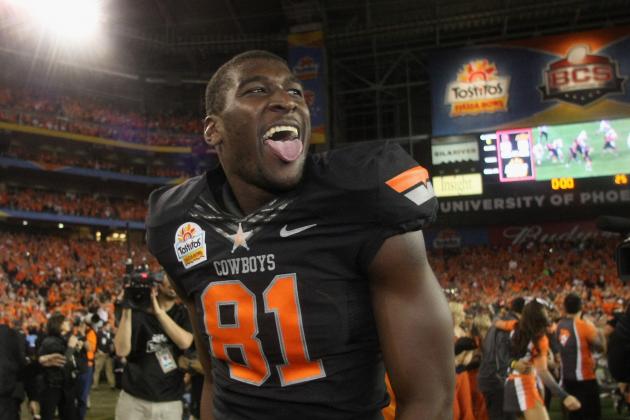 Donald Miralle/Getty Images

Our first wide receiver comes off the board at No. 7 to the Jacksonville Jaguars. Well, Blaine Gabbert could use some more weapons in Jacksonville. Blackmon needs to run a strong 40 at the combines to stay in the top 10.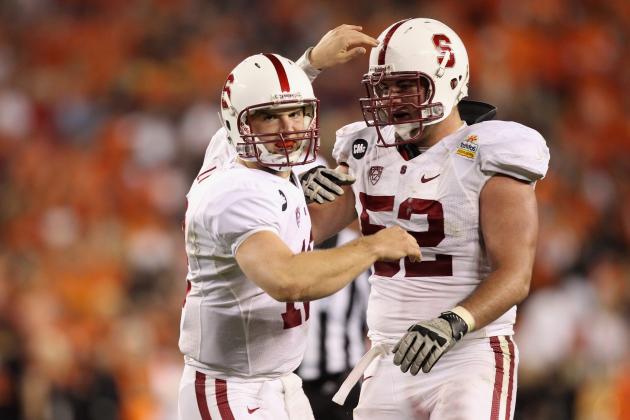 Christian Petersen/Getty Images

David DeCastro is the top guard in the draft, but I don't recall seeing anybody projecting him to go to Miami. If Peyton Manning lands there, you know he would be happy with the DeCastro pick.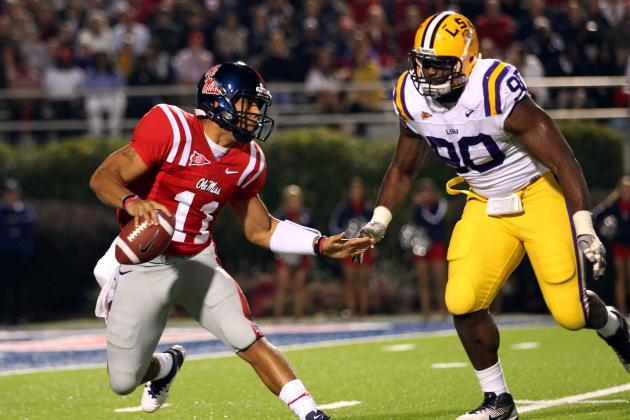 Joe Murphy/Getty Images

The Panthers do need help on defense, and Brockers is considered to be one of the best defensive tackles in the draft, so this is a selection that actually could make some sense.
Note, that the Panthers and Dolphins draft pick is still to be determined via coin toss.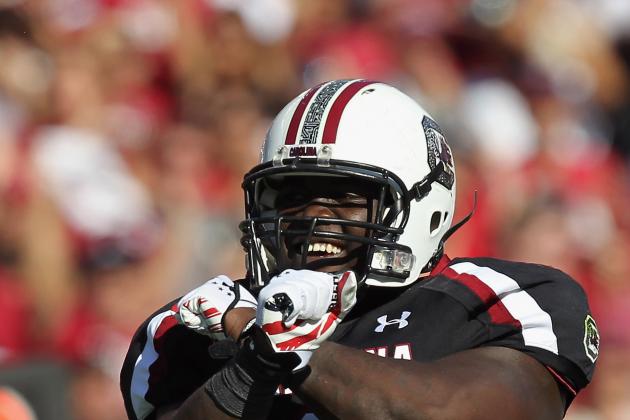 Streeter Lecka/Getty Images

The Buffalo Bills need help with their pass rush. It is interesting that the two names most commonly attached to the Bills with the No. 10 pick, Melvin Ingram and Courtney Upshaw, wound up being ranked at No. 10 and 11 in our BAA.
The Bills defense will be stronger drafting either player at this spot.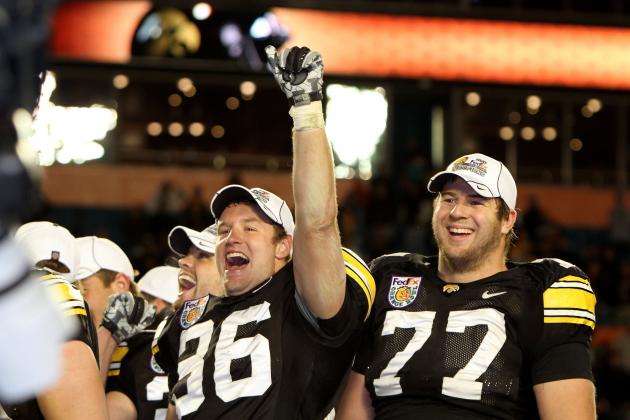 Doug Benc/Getty Images

The Seattle Seahawks have been investing their recent top picks in the draft to upgrade their offensive line, so it is doubtful that they would go in that direction again, even though Reiff would be the BAA.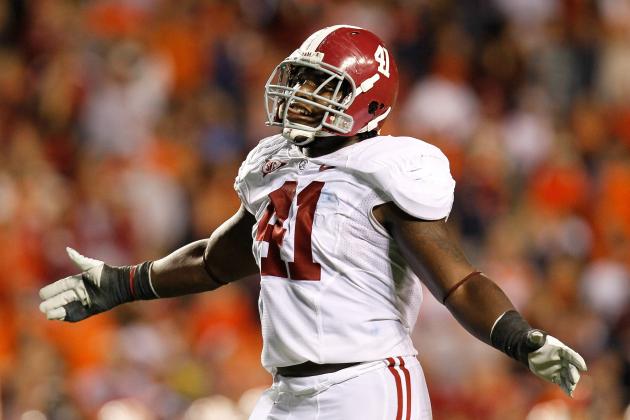 Kevin C. Cox/Getty Images

I don't think I have seen any mocks linking Courtney Upshaw to the Kansas City Chiefs, but I would think that new head coach Romeo Crennel would be delighted to have an athlete like Upshaw that he can plug in to different positions.
Note that the Chiefs and Seahawks will need to flip a coin to determine their draft order.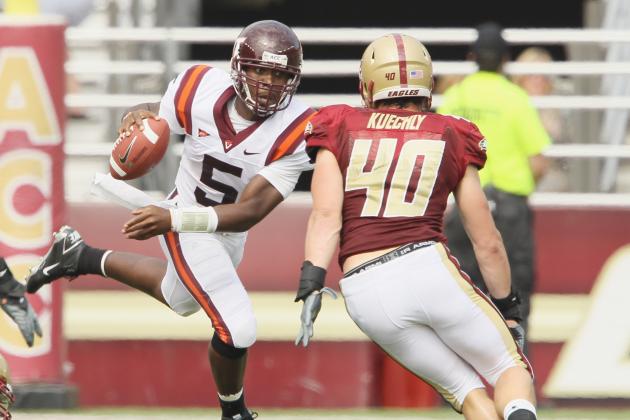 Elsa/Getty Images

Luke Kuechly is the highest-ranked inside linebacker as per our mock draft panel. Whether or not he is somebody that the Arizona Cardinals would be interested in, remains to be seen.
If they land Peyton Manning, they might have more interest in the next two players that follow Kuechly on the BAA list.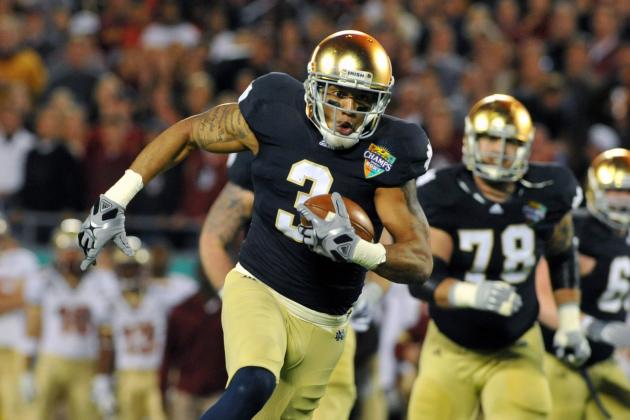 Al Messerschmidt/Getty Images

The Dallas Cowboys have some holes for 2012, but wide receiver is not thought to be one of them, unless they lose Laurent Robinson to free agency. If that happens, then maybe the Cowboys would look at Floyd here.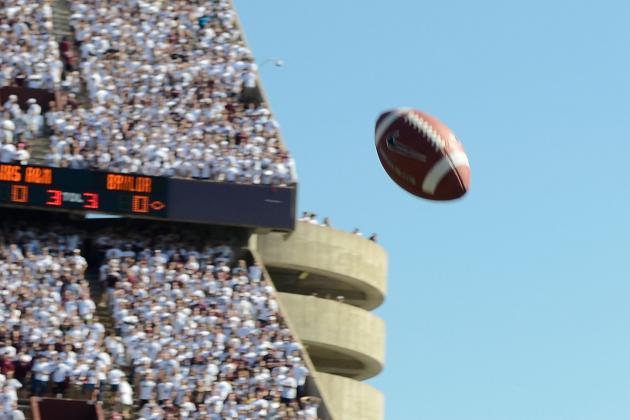 Sarah Glenn/Getty Images

Back-to-back wide receivers come off of the board in this draft. In fact, Michael Floyd and Kendall Wright were only separated by one point, so they are basically interchangeable for our purposes.
If contract talks with DeSean Jackson do not work out, could Wright replace Jackson as a new target for Michael Vick? It sure seems that Robert Griffin III liked to throw the football to him.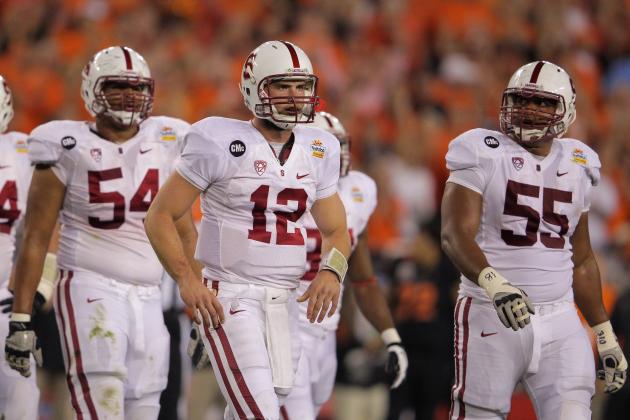 Doug Pensinger/Getty Images

The Jets are probably hoping that Michael Floyd or Kendall Wright will be available to them here, as they will need to replace Plaxico Burress. The Jets have a number of directions that they can go in, but the WR seems to be a greater need than picking up a solid tackle.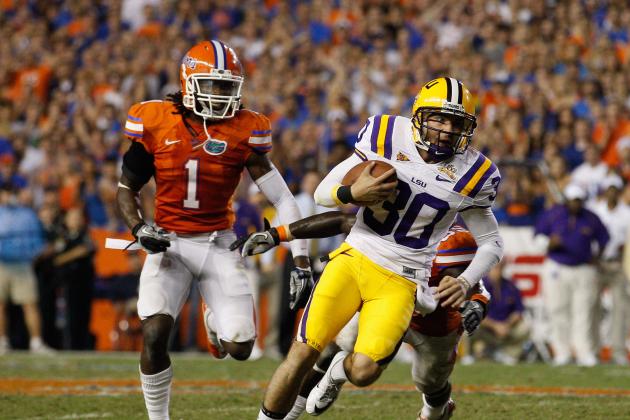 Sam Greenwood/Getty Images

The Cincinnati Bengals might want to replace Nate Clements with somebody that would cost less money.
Jenkins should be available for the Bengals here in the draft.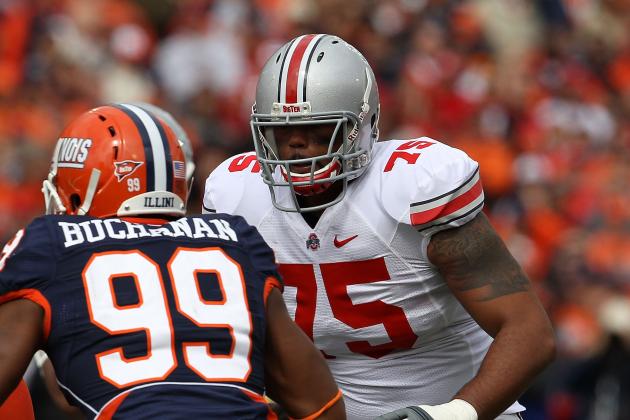 Jonathan Daniel/Getty Images

It looks like the San Diego Chargers are going to part ways with expensive tackle Marcus McNeill, so if they want to go younger and cheaper, they will be happy to know that Mike Adams is the BAA when they are on the clock.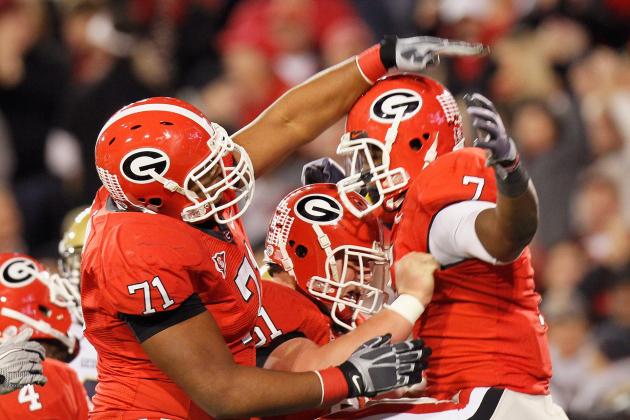 Kevin C. Cox/Getty Images

While the Chicago Bears are probably going to focus on a wide receiver selection early in the draft, quarterback Jay Cutler would appreciate selecting an offensive lineman that can help him stand erect on pass plays.
Glenn is the BAA, so it wouldn't be a reach here.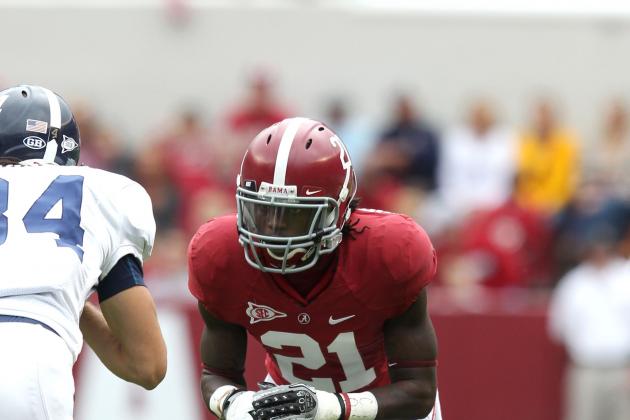 Mike Zarrilli/Getty Images

The Titans could very well lose Cortland Finnegan in free agency, so lo and behold, here is Dre Kirkpatrick, the BAA, ready and willing to step in to his position.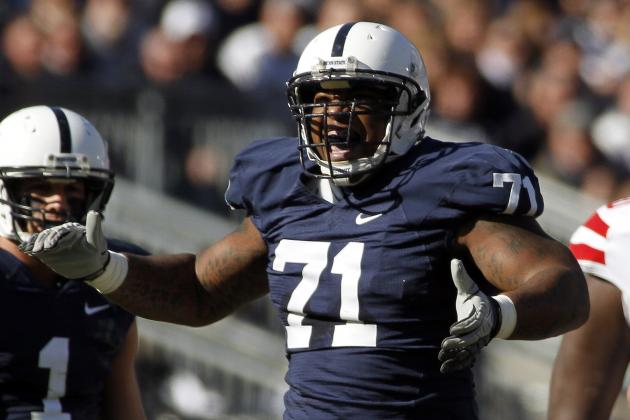 Justin K. Aller/Getty Images

The Bengals add their second player in the first-round with this pick of Devon Still, a strong defensive lineman to add to their mix. The young Bengals defense just keeps getting better.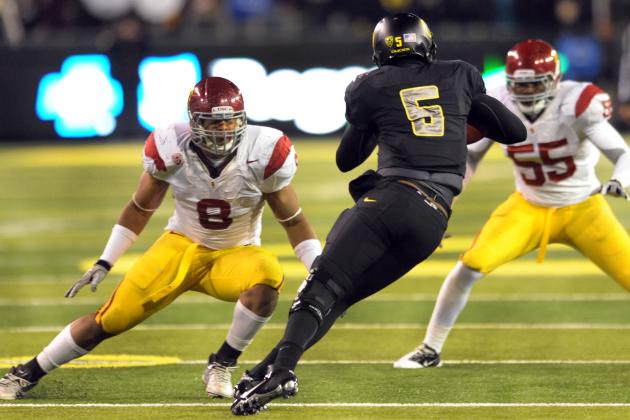 Steve Dykes/Getty Images

The Cleveland Browns wouldn't mind some help with their pass rush, so are happy to know that the BAA, Nick Perry from USC, is sitting here at No. 22.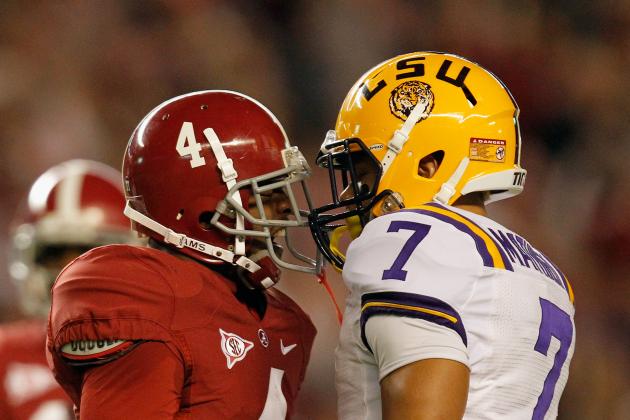 Streeter Lecka/Getty Images

The Detroit Lions are open to some upgrades in the secondary, so they will be pleased to know that the BAA is Mark Barron, who is thought to be one of the best safeties in the draft.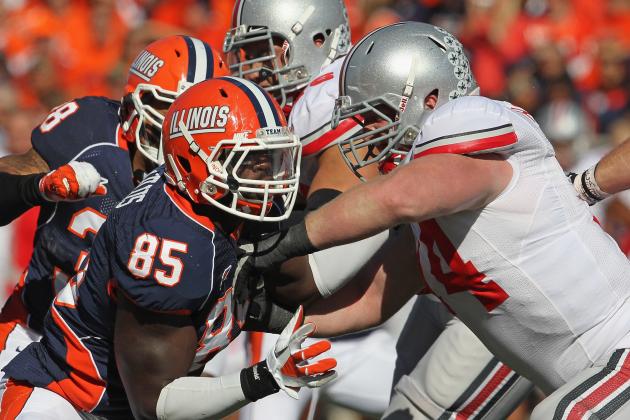 Jonathan Daniel/Getty Images

Whitney Mercilus had a big year at Illinois, so he would look to bring some life to the Pittsburgh Steelers front-seven.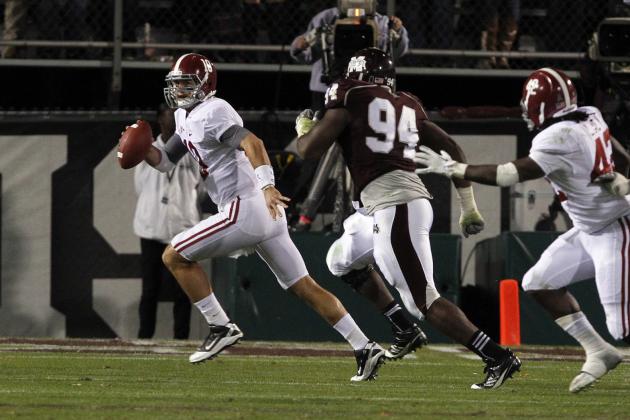 Butch Dill/Getty Images

Next up on the BAA list is Mississippi St. defensive end Fletcher Cox. He would be a nice addition to the young Broncos defense.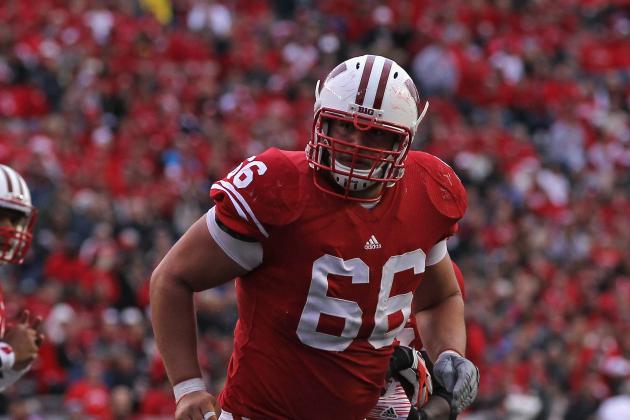 Jonathan Daniel/Getty Images

Wisconsin linemen are well trained, and their education there translates well to the NFL. Peter Konz is regarded as one of the best centers, if not the best center in the draft. He is the BAA for the Texans at No. 26.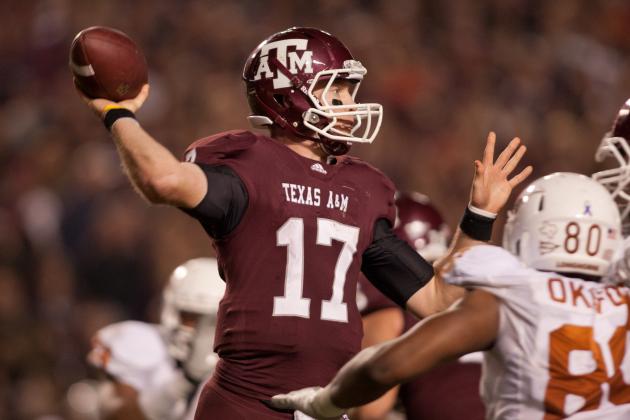 Darren Carroll/Getty Images

Another BAA that on the surface looks like it would never work, because the Patriots are loaded at QB. However, this is the Patriots we are talking about, so since Tannehill spent years as a wide receiver, he takes 10-15 snaps a game as a wide out, and then another 10 snaps as a defensive back.
Oh well, I tried.
Dontari Poe is a sleeper in the 2012 NFL Draft. He could be a steal, but people are looking forward to seeing what he does at the Combines. Poe is a defensive tackle from Memphis. The Packers defense needs to improve, so maybe they will consider Poe.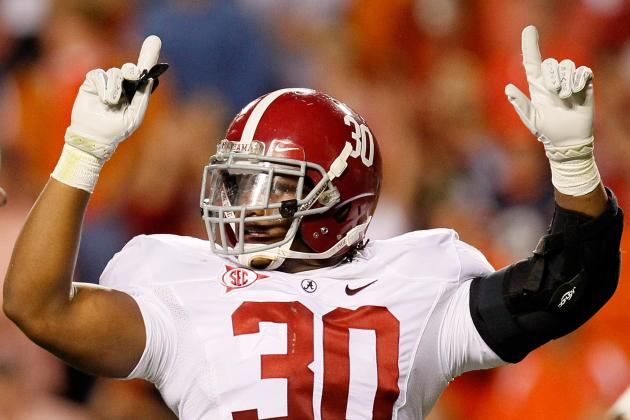 Kevin C. Cox/Getty Images

Wow, just what the Baltimore Ravens need, another dynamic defensive playmaker that will prove to be versatile, explosive and will keep their defense in the upper echelons.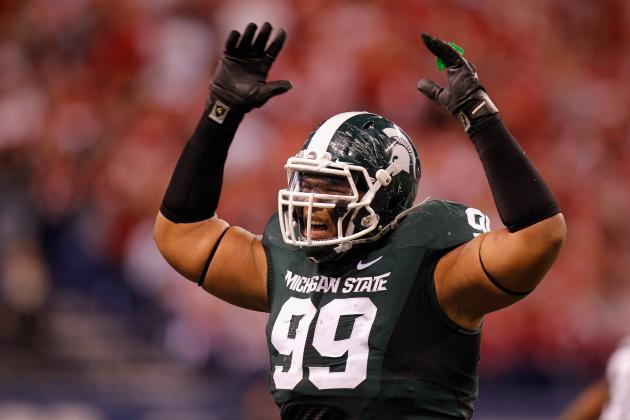 Gregory Shamus/Getty Images

As good as the San Francisco 49ers defense was in 2011, we doubt that they would be going after defensive help in the first round, unless they lost some key players they weren't expecting to lose in free agency.
The BAA is defensive tackle Jerel Worthy from Michigan State.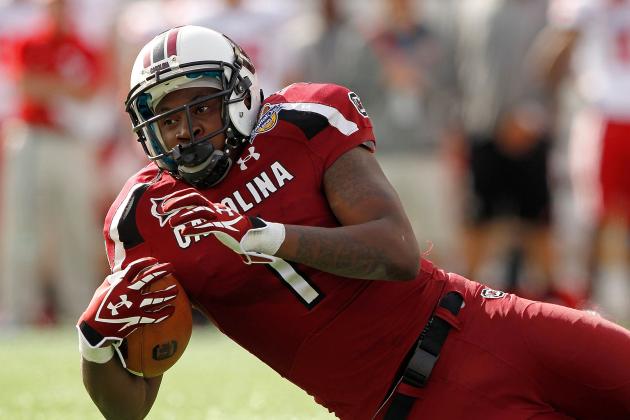 Mike Ehrmann/Getty Images

The New England Patriots are trying to sign Wes Welker to a new deal, but they are also looking to upgrade their other receivers opposite Welker. Enter Alshon Jeffery. He needs a good combine to stay in the first round, but he could work out well right here.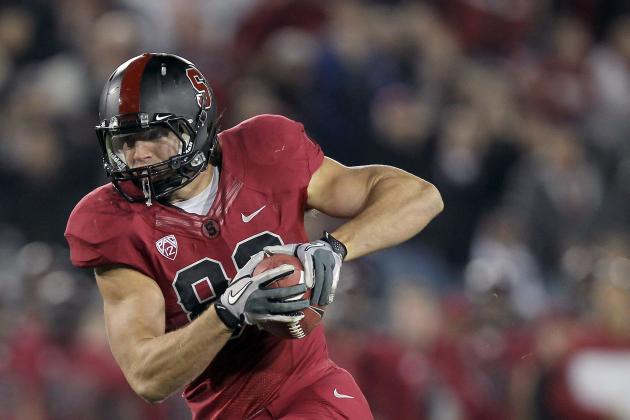 Ezra Shaw/Getty Images

The New York Giants just happened to lose two tight ends to serious injury at the Super Bowl. Isn't it interesting that the No. 32 BAA is Coby Fleener, a very solid tight end from Stanford.
If the Giants opt not to draft him, I wonder how much Andrew Luck would be working on Jim Irsay to draft his favorite tight end target.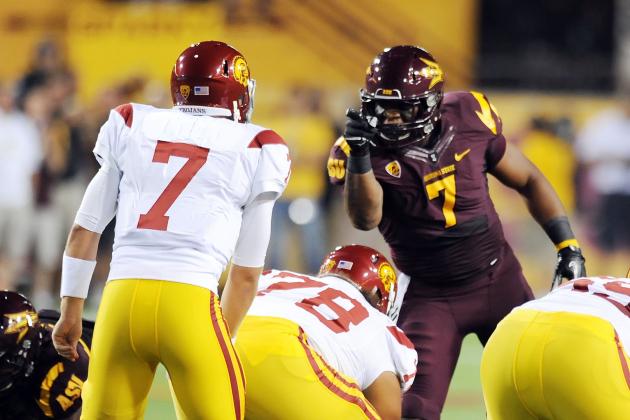 Norm Hall/Getty Images

Continuing with our BAA selections, this slide covers picks 33-40.
33) Vontaze Burfict, Arizona St. ILB to the St. Louis Rams
34) Orson Charles, Georgia TE to the Indianapolis Colts.
35) Chandler Jones, Syracuse DE to the Minnesota Vikings
36) Zach Brown, North Carolina LB to the Tampa Bay Bucs
37) Brock Osweiler, Arizona St. QB to the Cleveland Browns
38) Brandon Thompson, Clemson DT to the Jacksonville Jaguars.
39) Alameda Ta'amu, Washington DT to the Washington Redskins
40) Andre Branch, Clemson DE to the Carolina Panthers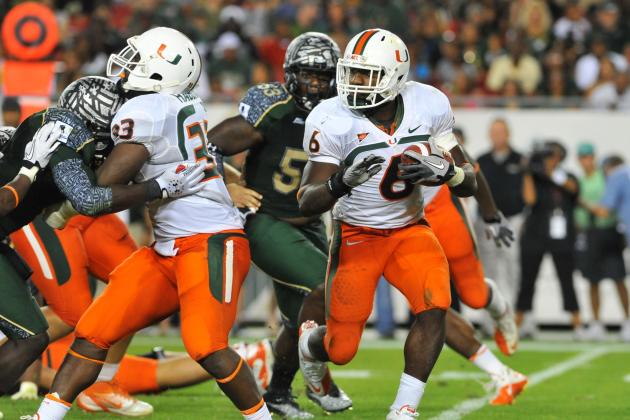 Al Messerschmidt/Getty Images

Continuing with our BAA selections, this slide covers picks 41-48.
41) Lamar Miller, Miami, Fla. RB to the Miami Dolphins
42) Mohamed Sanu, Rutgers WR to the Buffalo Bills.
43) Brandon Washington, Miami, Fla. G to the Kansas City Chiefs
44) Rueben Randle, LSU WR to the Seattle Seahawks
45) Kelechi Osemele, Iowa St. G to the Dallas Cowboys
46) Stephon Gilmore, So. Carolina DB to the Philadelphia Eagles.
47) Dwayne Allen, Clemson TE to the New York Jets
48) Chris Polk, Washington RB to the New England Patriots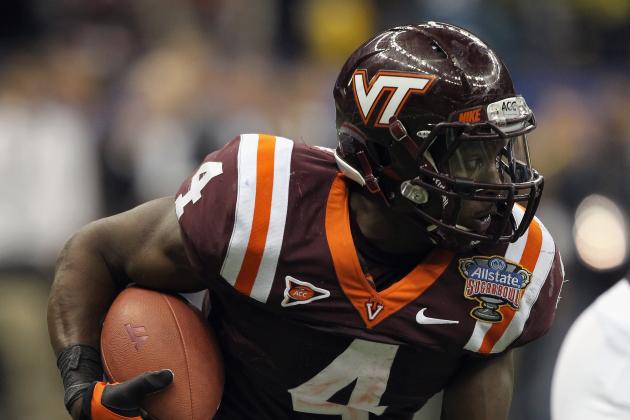 Matthew Stockman/Getty Images

Continuing with our BAA selections, this slide covers picks 49-56.
49) David Wilson, Virgina Tech RB to the San Diego Chargers
50) Jamell Fleming, Oklahoma CB to the Chicago Bears
51) Vinny Curry, Marshall DE to the Philadelphia Eagles
52) Harrison Smith, Notre Dame S to the Tennessee Titans
53) Juron Criner, Arizona WR to the Cincinnati Bengals
54) Kendall Reyes, U. of Connecticut DT to the Atlanta Falcons
55) Amini Silatolu, Midwestern St. OG to the Detroit Lions
56) Lavonte David, Nebraska OLB to the Pittsburgh Steelers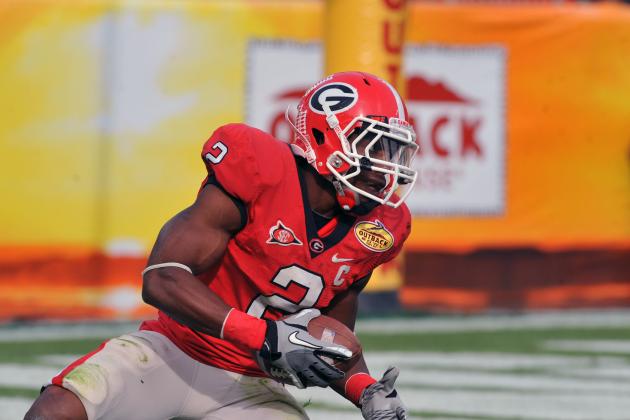 Al Messerschmidt/Getty Images

Continuing with our BAA selections, this slide covers picks 57-64
57) Brandon Boykin, Georgia CB, to the Denver Broncos
58) Stephen Hill, Georgia Tech WR, to the Houston Texans
59) Chase Minnifield, Virginia CB, to the New Orleans Saints
60) Bobbie Massie, Mississippi OT, to the Green Bay Packers
61) Jared Crick, Nebraska DE, to the Baltimore Ravens
62) Brandon Weeden, Oklahoma St. QB to the San Francisco 49ers
63) Levy Adcock, Oklahoma St. OT, to the New England Patriots
64) Alfonzo Dennard, Nebraska CB, to the New York Giants
Thanks for reading our presentation.