NBA Trade Rumors: Lakers Must Make Push for Ramon Sessions
February 17, 2012

Stephen Dunn/Getty Images
The Los Angeles Lakers have been at the center of trade rumors for the past few days, and at times, it appeared they were very close to making a move.
Unfortunately, the move they were close to making is the wrong one.
So very wrong.
The most recent rumor circulating the interwebs is a proposed Pau Gasol move to Minnesota.
Essentially, a proposal that makes no sense at all.
The move would reportedly bring struggling rookie Derrick Williams, draft picks and "other players" to Los Angeles.
The Lakers, at 17-12, are very much in contention this year. I understand wanting to make a trade to help improve a possible championship run, but this proposal makes them much worse in 2012. It would improve the future, sure, but yuck. 
ESPN's John Hollinger agrees:
It makes no sense to me on any level. Not the right player for Minny to target, and not the right move for a veteran L.A. team. Sounds to me like somebody floating a trial balloon rather than anything serious.
Hopefully, at least for Lakers fans, it's "on to the next one." 
That "next one" should be a trade for Cleveland Cavaliers point guard Ramon Sessions.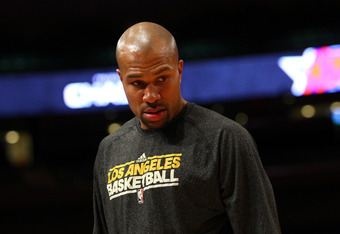 Chris Chambers/Getty Images
The Lakers have one of the best trios in the NBA in Kobe Bean Bryant, Andrew "Really Big Bean" Bynum and Gasol. That much will carry them a long way, but they aren't winning a championship with Derek Fisher. 
He may have the biggest biceps around, but 5.1 points, 3.7 assists and 26 percent from deep in 26 minutes per game just isn't getting it done. Steve Blake is a decent backup, but he should remain just that.
A point guard is what Los Angeles needs and Ramon Sessions is a good point guard. ESPN says Sessions is available. While I'm no mathematician, that's a pretty clear equation to me. 
In 25 minutes per game (similar to what Fish is getting), Sessions is averaging 10.2 points, 5.7 assists, 3.2 rebounds and is knocking down threes at a 41 percent clip.
Basically, he's twice as good as Fisher.
What's more, in 88 career starts, Sessions is averaging 14.8 points, 7.5 assists and 4.0 rebounds. He doesn't get a whole lot of notice in Milwaukee or Cleveland, but he could very easily turn into an All-Star in L.A.
This would be a win-win for both team and player, not that "player" gets any choice in the matter.
It's not very often that a player currently coming off the bench is the missing piece for a championship run, but Sessions would immediately make the Lake Show a favorite in the West again. 
I believe it's time to make a deal. The right deal, that is.