Drexel vs. Cleveland State: Dragons Put 14-Game Winning Streak on the Line
February 17, 2012

Who: (22-5, 14-2 CAA) Drexel Dragons @ (20-7, 10-5 Horizon) Cleveland State Vikings
What: Bracket Busters Game
When: Saturday, February 18 @ 11:00AM
Where: Wolstein Center, Cleveland, Ohio
Channel: ESPNU
Preamble:
Bracket Buster Saturday features numerous must-watch games, including Wichita State-Davidson, Saint Mary's-Murray State and Long Beach State-Creighton. However, this game should also be included on that list.
At 22-5, Drexel brings its 14-game winning streak into the Wolstein Center to take on the 20-5 Cleveland Vikings. Both teams have great overall records, conference records and very few bad losses.
What they lack is quality wins. Drexel and Cleveland State will fight for a big win on a national stage when the Dragons and Vikings play on Saturday morning in a Bracket Buster showdown.
On The Line:
You can throw away Drexel's 14-2 CAA record and Cleveland State's 10-5 Horizon League record. They don't matter. As both teams have reached 20 wins, all they care about is winning games against good teams. Cleveland State has that advantage, as they took down No.7 Vanderbilt in their season opener on November 13.
Drexel's best win comes in conference play, with home victories over perennial CAA powerhouses George Mason and Virginia Commonwealth.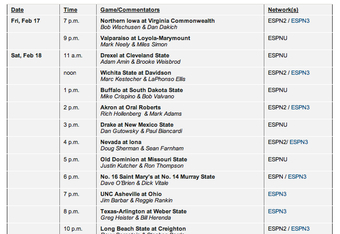 First things first, both teams need this win. The Dragons need it to help advance to the NCAA Tournament, and the Vikings need it to end their three-game losing streak.
However, Drexel needs the win more regarding non-conference victories. As I mentioned in my last article, Drexel has the country's 227th best Strength Of Schedule (SOS).
That's their Achilles heel. Cleveland State isn't even close to Top-25 caliber, but at least the Dragons can possibly beat a 20-win team. This is Drexel's biggest game in years, and a win today may ultimately push them into the NCAA Tournament.
Cleveland State has good wins against Vandy, Detroit and Robert Morris. All three teams are quality opponents, but they have many bad losses as well. Hofstra is 8-20, but found a way to give Cleveland State their first loss of the season. Include ugly Horizon League losses, and a lot is on the line today for the Vikings.
Unlike Drexel, the Vikings still have massive work to do in conference. While Drexel has already clinched a first-round bye in the CAA Tournament, the Vikings are among six teams in the Horizon League within one game of each other. Riding a three-game losing streak, it's make it or break it time for the Vikings.
Key Matchup:
Trevon Harmon (Cleveland State) vs. Frantz Massenat (Drexel)
Both guards are a reason why their teams are successful this season. For Harmon, this is one of his last games as a Viking. The 6'1 senior guard from Pasedena, Calif., averages 12 points per game for Cleveland State. He's their go-to-guy, averaging around 30 minutes per game and setting the tone.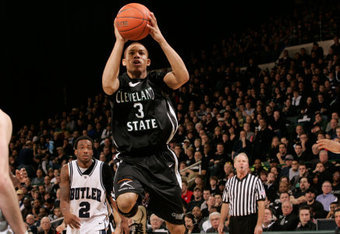 Harmon will be matched up with sophomore guard Frantz Massenat from Drexel. Head coach Bruiser Flint and the Dragons rely more on Massenat, as he plays around 36 of the 40 minutes per game. His defense is extraordinary, as Drexel is fifth in the country in points allowed per game.
Add in that Frantz hasn't had a single-digit scoring total since January 14, as the guard scored nine points in the romping over UNC-Wilmington.
The matchup will bring even more intensity on the court. I'll take Massenat as the winner, but Harmon is playing in his own gym with his own fans in one of his last games.
The Verdict:
Drexel Dragons 64, Cleveland State Vikings 57
Saying that Cleveland State will score 57 points is a stretch. Drexel gives up only 55 points per game, and Cleveland State averages 66. That being said, I like the Vikings to battle with Samme Givens and Dartaye Ruffin underneath.
Overall, the Dragons match up very well against Cleveland State, having almost every height advantage. The key to Saturday morning's showdown will be defense, as Cleveland State will have to make stops against Massenat, Chris Fouch, Damion Lee and Derrick Thomas.