New York Giants: Why They Should Make Brandon Jacobs a Giant for Life
February 17, 2012

Nick Laham/Getty Images
With NFL free agency looming, the New York Giants have a lot to sort out. One of the biggest decisions they will need to make besides whom to sign will be whom to cut ties with.
Most of the names up for discussion to be cut will be miniscule, however, in comparison to that of running back Brandon Jacobs.
The 6'4", 260-pound back is coming off the worst season of his seven-year Giants career and much of the 2011 season was riddled with rumors full of pessimism towards Jacobs' future in New York—at least with the Giants.
Now those rumors are on the brink of fruition. Jacobs, fearfully expecting the end with the date for his $500,000 roster bonus forthcoming, has stated he's willing to take another paycut to stay with the Giants.
With the cap issues the Giants find themselves with and so many roster spots to fill, they might just have to take Jacobs up on his offer. But that wouldn't be a negative thing.
There is no denying Jacobs' 2011 campaign for the Giants was less than impressive. His contributions in the running game, or lack thereof, left New York with the worst rushing attack in the NFL while splitting the load with Ahmad Bradshaw for most of the year.
Is Jacobs all to blame for his huge decline in production this past season? Absolutely not.
As a team, the Giants rushed for 89.2 yards per game and a lowly 3.5 yards per carry. They broke just four rushes for more than 20 yards and imposed little fear in opponents from week to week.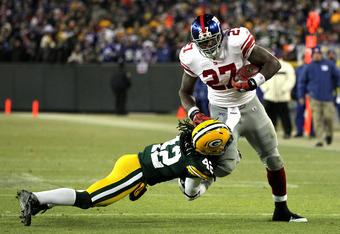 Jonathan Daniel/Getty Images
Jacobs, though not stellar, actually rushed for more than the Giants' yards-per-carry average with 3.8 yards per carry. He tallied seven of the Giants' sixth-best 17 rushing touchdowns in the NFL, once again solidifying himself as a talented red-zone weapon.
The Giants offensive line proved to be New York's greatest weakness over the course of the regular season, unable to pass protect and even more inept when it came to run blocking. Especially early in the season, holes were few and far between, giving an inside, bruiser-type runner like Jacobs little to work with.
A classic showdown with the undefeated Green Bay Packers ignited life in the running game and the offensive line that sparked production from Jacobs and a returning Bradshaw for the rest of the season.
In the Giants' final nine games including the postseason, Jacobs tallied 415 yards and four touchdowns on 86 carries. That is good enough for 4.8 yards per carry, a substantial improvement from Jacobs' early-season numbers behind an offensive line marred by injury, age and inexperience.
Whether Jacobs' success in the past was a product of the elite offensive line blocking in front of him is yet to be proved, but his struggles in 2011 were clearly influenced by the offensive line's poor performance.
For a team like the Giants without a vital red-zone threat in the passing game, Jacobs is a key piece to their success. Over the course of his career in New York, Jacobs has scored 56 rushing touchdowns—a Giants record—with five seasons of seven touchdowns or more.
He has averaged 4.5 yards per carry and is the Giants' fourth-leading rusher in franchise history.  He has already accomplished quite a bit as a member of Big Blue, and if he has his way he will finish atop the Giants record book in most rushing categories.
Jacobs' contributions to the New York Giants franchise go far beyond the statistics, though.
As one of the Giants' outspoken leaders, he's helped to guide the franchise to two underdog Super Bowl victories against the New England Patriots. He is a strong, veteran voice in the locker room and, while he and head coach Tom Coughlin have been known to butt heads, is a great role model of what it means to play for Coughlin and be a New York Giant.
Brandon Jacobs did not perform up to par in 2011, but his previous year as well as his entire Giants career are a promising look into the potential he brings heading into the 2012 season. With so much to deal with in the offseason and few players on the market able to bring what Jacobs can bring at a cheaper price, it's hard to see why the Giants wouldn't want to bring their big stud back.
With free agency coming fast and no contract discussions between Jacobs and the Giants as of yet, things do not look optimistic for the boisterous back's future in New York. The move to cut Jacobs, though, would be a foolish one for the Giants, who would be losing a heap of value from a running back willing to make less than the $4.4 million he is expected to make in 2012.