10 NFL Players We Most Enjoyed Watching in 2012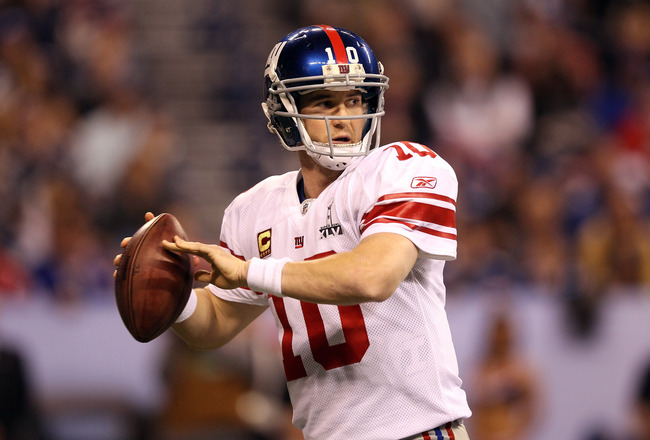 Ezra Shaw/Getty Images
Eli Manning, Tim Tebow and Vernon Davis all had their shining moments during the NFL's short period of football to start off 2012. They captured our attention, and a few others really made the playoffs enjoyable.
Of course, Manning and Tebow make the list, but who else really made it difficult to say goodbye to football for seven months?
The playoffs were chock full of great moments and incredible players. Some were newcomers and others were familiar faces, but they all put on a show for the fans.
New York Giants: Eli Manning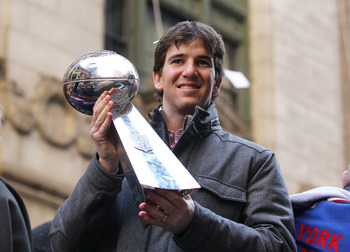 Al Bello/Getty Images
Eli Manning took the hard route again to winning his second Super Bowl. Two road games against the No. 1- and No. 2-seeded teams.
He threw the football at an incredible 65-percent completion rate during the playoffs, including completing 75 percent of his passes in the Super Bowl. Manning added to his completions by throwing nine touchdowns and just one interception during the New York Giants' playoff run.
Manning was exceptional on the road and during pressure packed moments. On the road in the monsoon out in San Francisco, Manning managed to throw 58 passes for 316 yards.
He saved his best for last, as he won his second Super Bowl MVP trophy and led the Giants down the field with his now customary game-winning drive. Manning proved to us during the regular season and the playoffs of 2012 that he's one of the game's best during crunch time.
New York Giants: Victor Cruz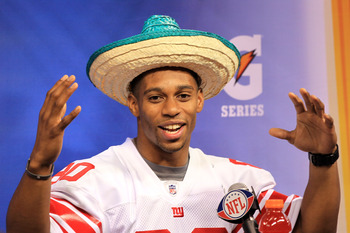 Scott Halleran/Getty Images
One of the best stories of the season has to be Victor Cruz. He went from being just another obscure player trying to make a 53-man roster to being one of the league's most dynamic wide receivers in no time.
Cruz brought in a total of 1,536 receiving yards during the regular season, yet he only started seven games. His youthful display of passion for the game was refreshing and provided some grade-A entertainment.
Then, of course, there are the salsa moves he has now made famous with his game. Cruz quickly grew in popularity because of his flashy play and smooth celebration moves.
New Orleans Saints: Drew Brees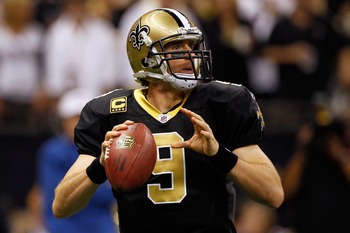 Chris Graythen/Getty Images
Drew Brees tore it up this season. He broke Dan Marino's record for most passing yards during the regular season and looked to roll through the playoffs on his hot streak.
Brees lit up the Detroit Lions in the Wild Card Round, throwing for 466 yards. He threw for 928 yards in two games during 2012, which doesn't even sound possible.
Unfortunately for New Orleans, his performance against the San Francisco 49ers was not enough to break their franchise's inability to win on the road during the playoffs.
Detroit Lions: Ndamukong Suh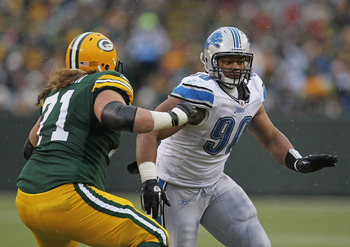 Jonathan Daniel/Getty Images
Outside of a certain quarterback in Denver, Ndamukong Suh was arguably the most debated player in the NFL this past season. Suh already had a reputation building as a dirty player, but further cemented that belief with a single stomp.
He became a polarizing figure due to his suspension, but also because of his rare size and talent. Suh's Detroit Lions traveled to N'awlins to face the high-octane New Orleans Saints.
Suh didn't have much of an impact on the game, but that seemed to be fine with most outside of Detroit.
Easily the most enjoyable part of Suh in 2012 was his cameo with the CBS crew. Can you say awkward?
Denver Broncos: Tim Tebow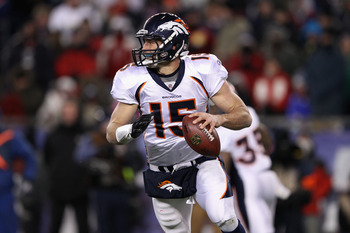 Elsa/Getty Images
Ah, this guy seems to never go away. Tim Tebow was the story of the year in the NFL, despite several records being broken that haven't been touched in decades.
Tebow captured the nation's attention and refused to let it go. Easily the most polarizing player in sports today, Tebow turned up the mania volume with his winning throw in overtime against the vaunted Pittsburgh Steelers.
Tebow supporters got their wish in the Wild Card Found against the Steelers, and his detractors thoroughly enjoyed watching his Denver Broncos come back down to earth against New England.
Baltimore Ravens: Ed Reed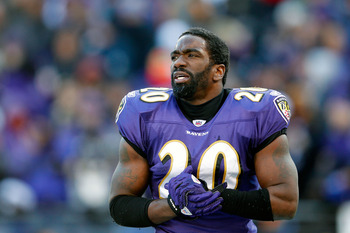 Rob Carr/Getty Images
Ed Reed showed why he is one of the best—if not the best—safeties of all time. All you have to do is look at how his presence on the field impacted the New England Patriots and their game plan for the AFC championship.
Reed's ability to read the quarterback and discern where the ball is going makes him a joy to watch. Unfortunately, those gray hairs on his head are real, and that means he's in the latter half of his career.
His interception sealed the game against the Houston Texans, and his play in New England should have given Baltimore a Super Bowl birth. He's a once-in-a-generation type of player, so savor his play while it lasts.
San Francisco 49ers: Vernon Davis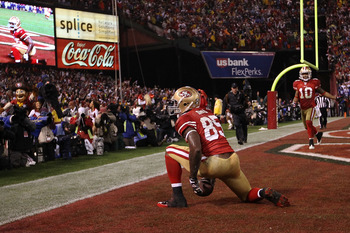 Ezra Shaw/Getty Images
They call it the "Catch No. 3" in the Bay area. Vernon Davis' incredible game-winning reception while being crunched between two players gave the San Francisco 49ers a chance to host the NFC championship.
Davis reemerged during the playoffs and in 2012. He reminded the entire country that he was one of the original new-breed tight ends.
He recorded two touchdowns in both playoff games and combined for 292 receiving yards. Davis definitely was fun to watch and will look to build on his performances going into the 2012 regular season.
New England Patriots: Rob Gronkowski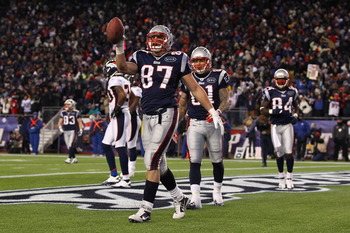 Al Bello/Getty Images
This guy was "Gronktacular." The big tight end for the New England Patriots transcended the game and redefined what a tight end can do in the NFL this past season.
He helped light up the Denver Broncos and remained a crucial part of beating the Baltimore Ravens in the AFC championship.
Rob Gronkowski was without a doubt one of the most-watched players throughout January and into February. Unfortunately for the Patriots, he suffered a difficult ankle injury that limited his effectiveness in the Super Bowl.
New England Patriots: Tom Brady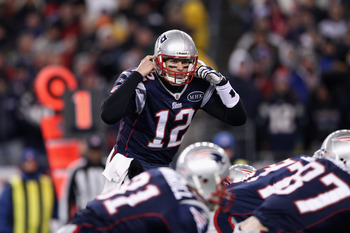 Elsa/Getty Images
They call him "Tom Terrific" in the New England area. Tom Brady proved why when he dropped six touchdowns on the Denver Broncos and even punted a ball just for laughs.
However, the non-Brady fans got their fair share of enjoyment as well. He "sucked pretty bad" against the Baltimore Ravens in the AFC championship.
He threw for zero touchdowns and tossed two interceptions against the Ravens. Brady redeemed himself a bit in the Super Bowl, completing 16 straight at one point and tossing two touchdowns.
But, when it came to crunch time, Brady threw behind a wide-open Wes Welker, which would have likely sealed the deal for his fourth Super Bowl.
Houston Texans: Arian Foster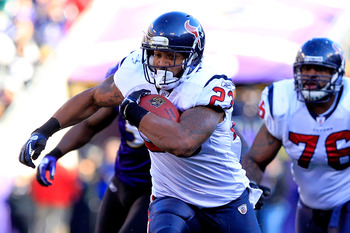 Chris Trotman/Getty Images
Arian Foster loves his poetry. He showed us against the Baltimore Ravens that he can write some beautiful stuff on the football field as well.
Foster was a monster at running back this postseason. Running for 132 yards against the Ravens and 153 the week before against the Cincinnati Bengals, Foster was easily the best running back of the playoffs.
His team unfortunately couldn't get the job done, but the former Tennessee Volunteer did more than his fair share in trying to help the Houston Texans make a run through the playoffs.
He's definitely one of the league's elite rushers, and his performances this past January legitimized that notion.
Keep Reading