The 25 Least Inspiring Helmet Designs in College Football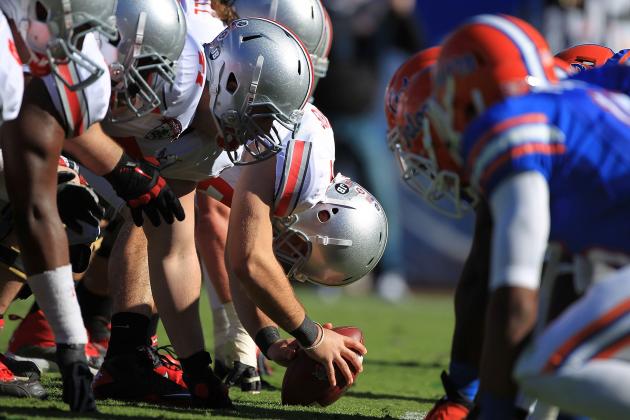 Scott Halleran/Getty Images

College football helmets are more than a modern safety device for players. The helmets have become synonymous with the programs themselves as instantly-recognizable identifiers both on the field and in the hearts of football fans across the nation.
From the famous winged helmet of Michigan to the 24-carat gold paint of Notre Dame and from the Seminole spear of Florida State to the classic, block numbers of Alabama, college football helmets have become as much a part of the game as anything else.
But unlike helmets like the ones just mentioned, some designs miss the mark—badly.
Far from instilling pride and the warm tingling of excitement in fans, we've selected 25 designs that are amongst the most ho-hum in college football.
Here are the least inspiring helmet designs in the nation.
Begin Slideshow

»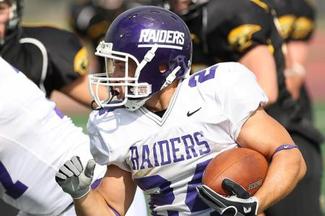 We're going to get started with a nod to the "rest" of college football.
There are well over 650 NCAA football teams that play on Saturdays in the fall, not just the 124 we'll see in the FBS in 2012.
Our first uninspiring college football helmet comes from Division III's Mt. Union Purple Raiders.
We know that D3 programs aren't awash in money, but this helmet is a combination of unfortunate coloring and a simple word "Raiders."
Lacking any style, the word is simply underlined and italicized. The only thing this inspires is yawns.
It doesn't seem to have hurt the production on the field, though. Mt. Union has appeared in 15 Division III Championship Games dating back to 1993 and has won 10 National Championships.
Mt. Union also won its 20th consecutive Ohio Athletic Conference championship in 2011. The Raiders are 317-24-3 under current head coach Larry Kehres, and the Raiders have lost just two conference games in the past two decades.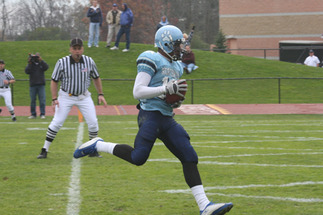 There are a couple of problems with the helmet from Northwood University, a small, private business college in Michigan.
The Division II Timberwolves sport a baby blue helmet, which is bad enough. But when you add a cute little paw print on the side, it's hard for anyone to take you seriously.
That might be why Northwood is just 21-31 over the previous five seasons and hasn't been a playoff team since 2004 (losing in the first round).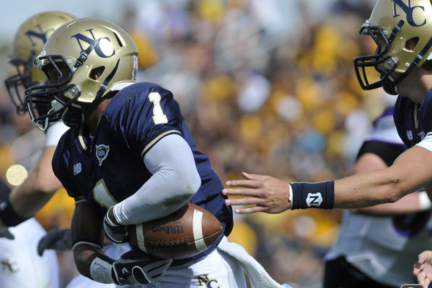 Some college programs do well with simple letter logos on the side of the helmet.
Northern Colorado isn't one of them.
First off, when people see "NC," it's a safe bet that "Northern Colorado" isn't the first thing that comes to mind.
Secondly, the attached letters look as if they might have been a PR project for a junior high economics class.
In the end, there's nothing inspiring about this helmet from the FCS team.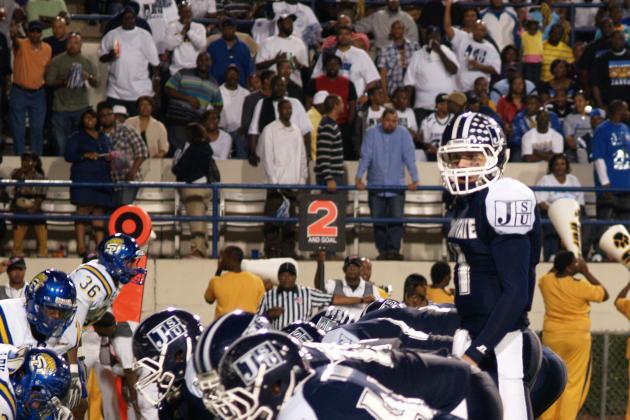 We're also going to give a shout-out to the great historically black colleges and universities (HBCU).
Unfortunately for Jackson State, that shout-out involves their lackluster helmet.
It's clear that JSU was trying to do something different with the design, but the large "J" in a box next to "S" and "U" in two smaller boxes just looks a little awkward.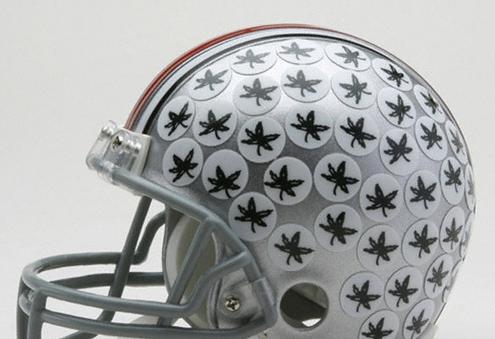 Let the hate mail begin!
Before everyone from Ohio blows a gasket, we'll try to calm everyone down by saying that we're just talking about the helmet here—not the plethora of Buckeye leaf stickers every player plasters on the helmet by season's end.
While the helmet isn't particular ugly, it's not particularly great, either. It's pretty plain and boring.
Perhaps that's why Ohio State decided to hand out pride stickers like candy at Halloween.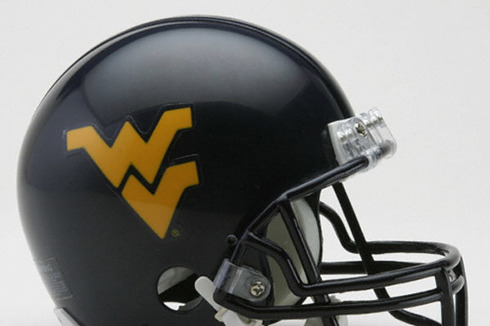 While West Virginia has proven itself to be one of the better programs from the Big East, the Mountaineers are stepping up in class for 2012 with a move to the Big 12.
This might be a good time to try to update a decidedly dated logo.
The interlocking WV looks like it's straight out of a 1980s ad campaign. Giving the logo a little modern zest might help the Mountaineers find ways to beat lowly teams like, say, Syracuse.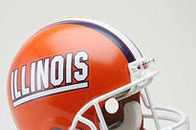 The bland Illinois helmet reminds us of the first helmet on our list (from D3 Mt. Union).
It's overly simplistic design has been matched only by the Fighting Illini's overly bland football play under Ron Zook.
Maybe Illinois should take the opportunity to update the helmet now that Zook has been chased out of town.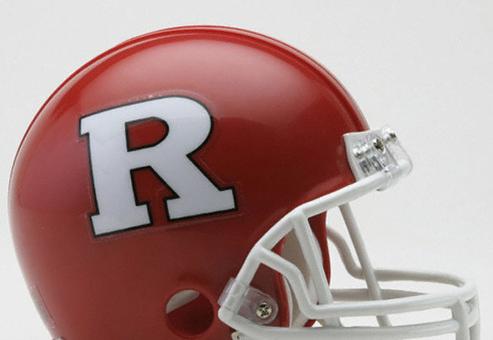 Here's one of several helmets on our list that isn't inherently awful, it's just not inspiring.
A red helmet with a white "R" is certainly identifiable as belonging to Rutgers, and the Scarlet Knights have been able to overcome their boring helmet with some decent play in the Big East as of late.
The Knights were 9-4 for the third time in four seasons in 2011, concluding the year with a Pinstripe Bowl victory over Iowa State.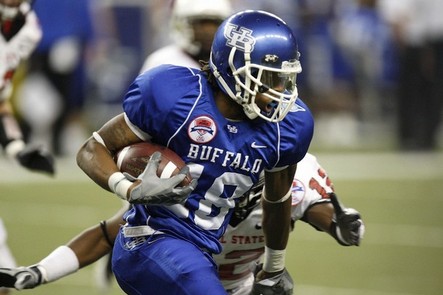 The University at Buffalo is relatively new to the FBS scene, but that doesn't mean it came up with anything new when it came to designing a football helmet.
Buffalo missed an opportunity to come up with a great helmet design and instead opted for the old, stand-by interlocking letters.
Other than the very old, traditional examples, this motif doesn't exactly work these days. It's been done...In fact, it's been overdone.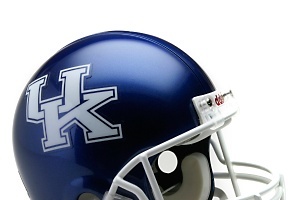 There are many things at which the University of Kentucky excels. Basketball, for instance.
Football is not among the list of specialties of the Wildcats, and neither is designing an inspiring football helmet.
The University of Kentucky shares an almost identical design with the University at Buffalo. The only difference here is that UK is—or at least should be—a much larger program.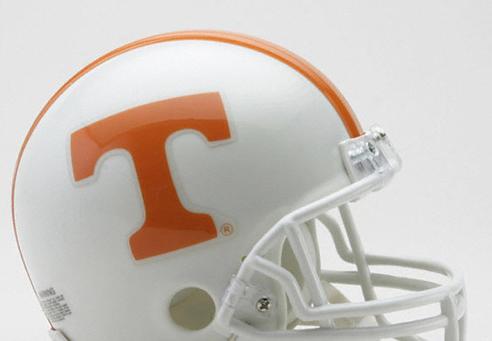 There are many reasons why the Tennessee helmet misses the mark when it comes to inspiration.
The first thing we'll look at is the giant, rounded yet somehow still jagged "T" on the side.
The second is the color. Seriously, was a creamsickle the inspiration behind this particular brand of orange?
Tennessee sports the closest thing to a pastel color you'll find in any FBS uniform, and for that, the Volunteers lose major inspiration points.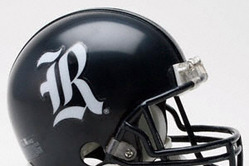 What could possibly be less inspiring than a Old English letter that looks completely out of place on a football field?
Come to think of it, the Rice football team usually looks out of place on the football field, too. The Owls are just 23-38 over the past five seasons, and that includes a 10-3 mark in 2008.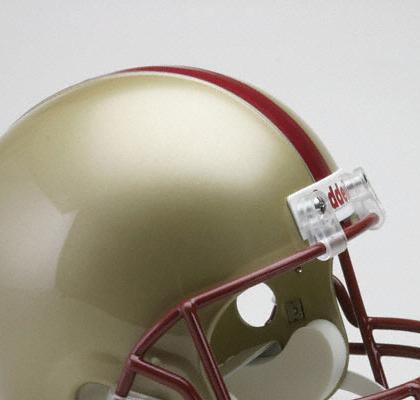 Boston College has never had a helmet that easily pops into your mind, and that's probably because it's bland enough to be unmemorable but marked enough (with stripes) to be considered a little more than minimalist.
That was especially true this past season when BC decided to add a little, subtle change the to center white stripe in the helmet.
The central stripe on the helmet now has a barely visible pattern resembling stained glass.
The helmet was bland before, but this half-hearted attempt to liven things up actually detracts from the helmet's limited history—which dates only to 1991 in its current form.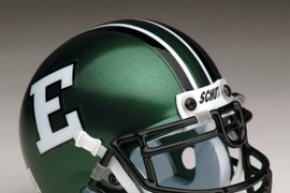 Finishing a season with a .500 mark doesn't exactly "do it" for most football programs. But the last time Eastern Michigan posted a .500-or-better record, George Bush was president. George H.W. Bush, that is.
EMU still didn't receive a bowl invitation, again something that hasn't happened since even before than "magical" 7-3-1 season in 1989 (EMU's last bowl invite was to the 1987 California Bowl).
While it's hard to blame this long stretch of futility on the helmets, it's probably safe to say that the incredibly bland EMU helmets serve as a representation of the football team.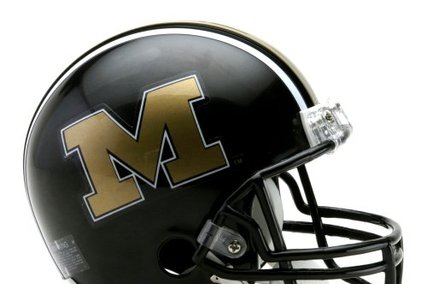 Missouri's helmet is yet another helmet that's not bad, per se, but isn't really inspiring.
First off, the big block "M" is used quite a bit around the nation, and honestly, when you see a block "M," Mizzou isn't the first school to pop into your mind.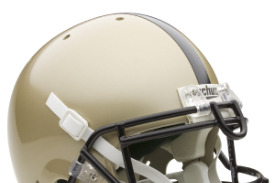 Army has one of the great, traditional programs with a ton of history and lore.
It's just too bad that the current helmet for Army isn't part of that great tradition.
Army's helmet design has undergone a number of changes over the years, from gold to black and back to gold again, including a logo, not including a logo, including a number, not including a number. And it goes on and on.
At this point, the best thing Army could do is stick with those really cool camouflage helmets for every game.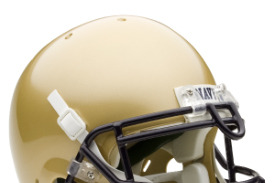 Since we gave Army a hard time, it's only fair that we throw Navy into the group, too.
Navy's typical helmet has gone pretty much unchanged since the mid-1980's. But Navy has also sported some variations since then, including a blue helmet with a script "Navy" on the side, as well as a white helmet with a fouled anchor.
If Navy had just left things alone, it might be considered one of the programs with a traditional minimalist helmet. But since the Midshipmen see fit to change their minds often enough, Navy's current bland helmet design can be counted amongst the ranks of the unremarkable.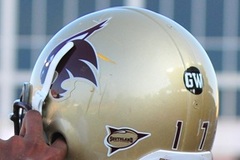 Shame on us for picking on poor Texas State, a team which has yet to play a single game as an FBS program.
But one look at the Texas State helmet gives us reason to speak up.
First off, the logo design is eerily similar to another FBS program, and it won't take long for the fans up in Pullman to start with the jokes.
Secondly, the size and positioning of the logo on the helmets is unfortunate. For most players, the chin strap attachments will sit right over the center part of the logo.
As if having a logo easily mistaken for another program's isn't bad enough, it's partially covered up.
It seems like Texas State can't win. Speaking of which, good luck next season, Bobcats. You'll need it.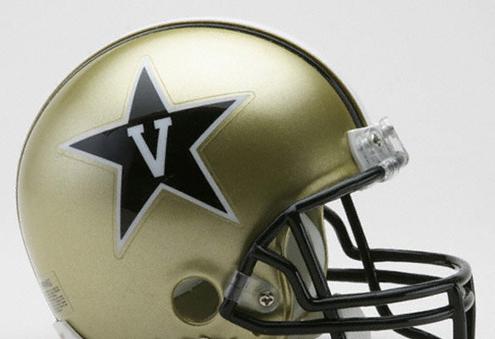 The Commodores have been fighting the good fight for what seems like forever.
Vanderbilt has been a member of the SEC longer than most people have been alive and similarly haven't won more than seven games in a single season since 1948.
Vandy's helmet is similarly underwhelming.
A simple black star with a white "V" in the middle isn't exactly the stuff of which legends are made.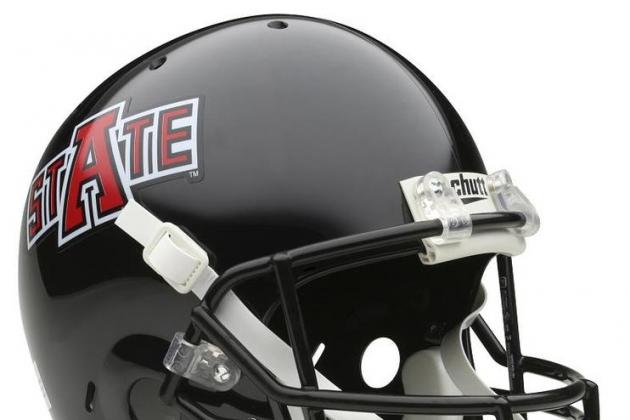 It's probably not sporting to pick on any Sun Belt team for anything football related. The poor teams try hard, don't they?
One of the surprising bright spots from the 2011 season was the Arkansas State Red Wolves, who finished with a 10-3 record overall, which unfortunately included a GoDaddy.com Bowl loss to Northern Illinois.
While we'll give Arkansas State credit for putting together a great Sun Belt season, it's hard to give much credit when it comes to the helmet design.
The simple spelling of the word "state" with an enlarged "A" is the rather unimaginative design for the Red Wolves' helmet.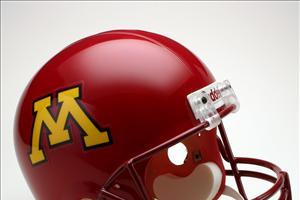 It's probably safe to say that amongst all of the well-known block letter logos in college sports, Minnesota's is probably the ugliest.
There are two ways to describe Minnesota's "M" logo. The first (and most common) is an upside-down "W."
The other way is to compare the letter to one that had an unfortunate run-in with the backside of a sumo wrestler.
Whether it's upside-down or squashed, the Minnesota "M" just looks horrible.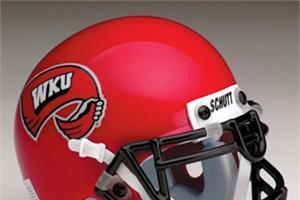 Do we really want to pick on a team that has won only nine games against FBS opponents all-time?
Sure we do!
Yes, WKU has only been part of the FBS since 2008, and yes, the Hilltoppers finished with a 7-5 record in 2011 (which included a five-game win streak—the program's only streak longer than one game since beginning FBS play). Still, the Toppers were left out of the bowl picture at the end of the season, mainly because WKU failed to win a single non-conference game and once again ranked near the bottom of the nation in terms of home game attendance.
Plus, those goofy helmets combined with that goofy mascot with no sizable fan base made the decision to leave WKU at home this bowl season pretty easy.
WKU's athletic logo, which appears on the side of the helmets, is a hand waving a red towel.
Yes, it's really as lame as it sounds.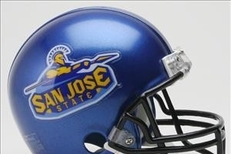 San Jose State won five games in 2011, which beats its previous two seasons combined by two games.
San Jose State also has some of the least recognizable helmet designs in the nation.
Despite SJSU updating the design a couple of times (the Spartans now have three different designs), none of the available helmets seems to inspire much in anyone, other than an impending sense of futility.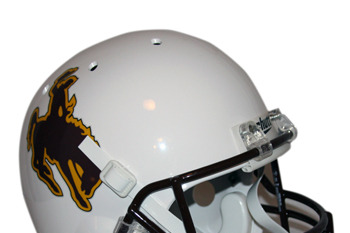 Wyoming's helmet failure is pretty simple. The logo of a cowboy riding a bucking horse is not only dated, it looks like it belongs in a black-and-white western film.
While there's something to be said about the old Hollywood classic films, there's not much left to be said about this lackluster helmet design.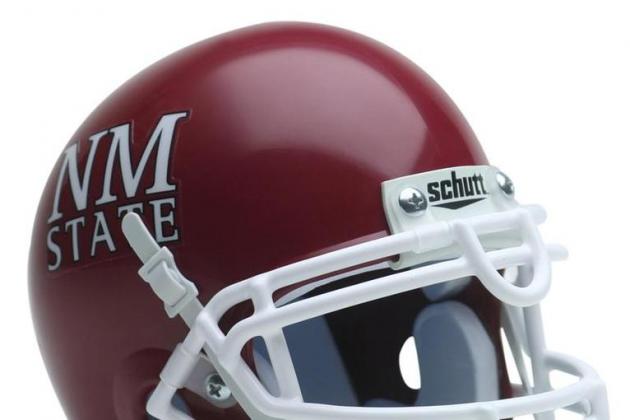 New Mexico State may take the cake when it comes to the quintessential uninspiring helmet.
Whoever designed the helmet must have been at the end of a very long, difficult day, because it doesn't appear as if any time went into the design process at all.
There are some helmets, like Penn State's, that use the minimalist theory of helmet design to great effect. NMSU's helmet is not even close.