6 Candidates to Replace David Moyes as Everton Manager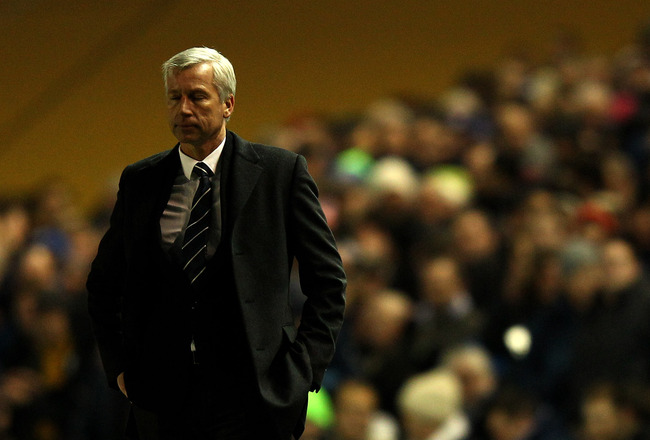 Richard Heathcote/Getty Images
The Premiership coaching carousel has started up again, and Everton's own David Moyes could be on the move.
With England's national team in need of a new head man, most pick Tottenham's Harry Redknapp as the manager to fill the vacancy. Who fills his former job at White Hart Lane is anyone's guess, and some have figured Moyes for the opening, according to Sports Mole.

The departure of Moyes from Merseyside would break many Evertonian hearts, mine included.
In almost 10 years at Goodison Park, Moyes has single-handedly steered the Toffees to unheard of finishes for clubs with their lack of funds. Moyes has worked miracles during the transfer windows few others have been able to replicate, and he always seems to get the best out of his often-outmatched squads.
Losing Moyes would be a devastating blow to the club, but such eventualities must be prepared for, however distasteful they seem. Naturally, the team should shoot for a big name to replace Moyes' big presence, but currently they might not have the funds to do so.
When assessing the viability of these names, assume that by this time Everton will have found a buyer with enough money to acquire a big name.
That said, here are six potential targets to replace Moyes at Everton.
Rafael Benitez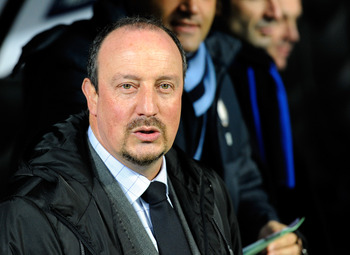 Claudio Villa/Getty Images
After a failed stint at Inter, Rafa Benitez has yet to take another managerial postion and could be a prime choice for Everton should David Moyes leave.
Benitez, no stranger to Merseyside, helmed Liverpool for six years starting in 2004. During his tenure, the Reds experienced incredible early success in Europe, highlighted by a classic Champions League Final comeback over AC Milan.
The 51-year-old Spaniard certainly knew how to man-manage, convincing Steven Gerrard to stay at Liverpool as well as bringing out the best of Jamie Carragher. Benitez certainly knew how to work the transfer market as well, bringing in talent like Fernando Torres and Lucas Leiva.
Unfortunately, he could never make peace with the clubs new American owners or the board, and eventually left the club.
He might be given a longer leash at Everton, but Benetiz's notorious penchant for spending heavily during transfer time might clash with the Toffees' lack of funds. Still, we're assuming that a new owner will be in place, so perhaps this isn't such a large obstacle.
Benitez has always been fond of the Premiership, and is keen to return after the Italian job went sour (via BBC). Everton could do much worse.
Guus Hiddink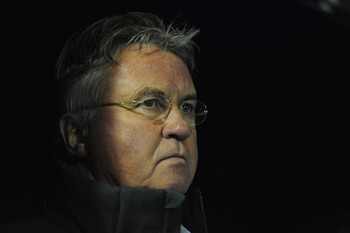 Jamie McDonald/Getty Images
Currently out of a managerial position after Turkey failed to make Euro 2012 (EDIT: Just kidding, he was hired at Anzhi Makhachkala hours after this article was published) Guus Hiddink should make the Everton shortlist to replace David Moyes.
A head man with experience all over Europe at the club and national level, Hiddink's name has been dropped surrounding the England national team vacancy. Most believe that Harry Redknapp is the frontrunner, giving the 65-year-old Dutchman the freedom to move Everton's way.
The challenge of managing a Premiership club might attract Hiddink to Goodison Park.
Despite leading top clubs in Holland, Turkey and Spain, as well as five different national teams, Hiddink has never spent a full season in the Premiership. He took over at Chelsea after Luiz Felipe Scolari was sacked in 2009, but it was only a care-taking position.
If Hiddink wants one more feather in his already decorated cap, Everton might be the place for one last go. He might have to take a pay cut even with a new owner, but an offer should still be made.
Roy Hodgson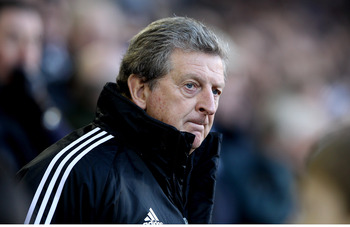 Scott Heavey/Getty Images
A man who has coached clubs since the mid-70s, Roy Hodgson could be targeted for the not-yet-available Everton job.
It will be a short transition for him, as Hodgson currently manages 14th place West Bromwich Albion. His move would come as little surprise to the footballing public; Hodgson has not kept a job for more than three years since Malmo FF in the late 80s.
However, he might not be keen to move back to Liverpool as his last stint in the northwest did not go well.
Operating with the shadow of preferred King Kenny Dalglish hanging over his tenure, the Reds never established the kind of excellence the fanbase demanded. The pressure eventually became too much, and he was replaced midseason by Dalglish.
Still, redemption could be in the cards for Hodgson.
He might come at a bargain—something not every candidate can say. While not the front-runner, Hodgson should make the shortlist.
Jimmy Lumsden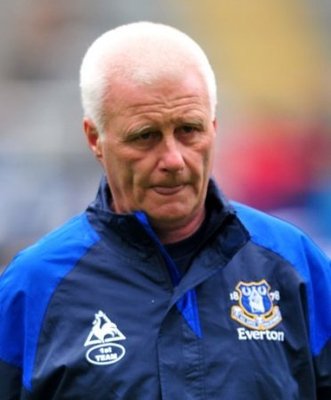 If consistency is of primary concern for Everton, then perhaps Jimmy Lumsden, David Moyes' right hand man, could step up and take the reigns.
Admittedly, this would be a bold choice, with Lumsden lacking managerial experience outside a few years at Bristol City in the early 90s. Since then, he's been attached to Moyes, following his fellow countryman from Preston to Everton in 2002.
If the Toffees wanted to promote from within, it would seem that Lumsden would be first in line. He even might be a short-term solution if it takes the club longer to find a real replacement than expected. He would most likely keep Moyes' system in place, and would bring stability to Everton in a time of upheaval.
Though he might follow Moyes to his next job, if Everton were to dangle the prospect of a managing position, Lumsden might stay. Still, this option is a bit of a long-shot, and should only be used as a last resort.
The front office can do better, but if no new buyer is forthcoming, choices will be limited. If that's the case, Lumsden could make the list.
Alan Pardew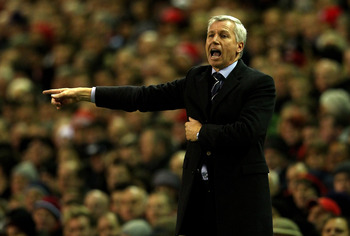 Clive Brunskill/Getty Images
Perhaps the Goldilocks target of all these names, Newcastle manager Alan Pardew best fits the profile of who Everton might get should David Moyes move elsewhere.
Pardew has worked wonders with a Newcastle side that was poised for a down year after the departures of Joey Barton and Andy Carroll, among others. Currently sixth in the league and within spitting distance of a Champions League spot, the Magpies are playing with a collectivity and belief that Evertonians would find familiar.
The 50-year-old Englishman has coaxed star performances out of overlooked players, a very Moyes-like ability.
He's shown a dab hand in the transfer window, instituting (primarily French) replacements for lost talent to great effect.
His success far north has not gone unnoticed by the greater public—his name should certainly be near the top of the FA's shortlist to replace Don Fabio for England. However, Redknapp seems to be the unquestioned front-runner, leaving Pardew available for Everton.
If Newcastle do indeed qualify for Europe, Pardew would see little incentive to leave for a club likely to finish around mid-table.
Still, if we're talking ideal candidates, Pardew is one Everton cannot afford to miss.
Andre Villas-Boas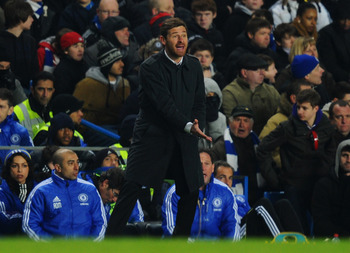 Mike Hewitt/Getty Images
With Chelsea's public decline this season all but ensuring that heads will roll at Stamford Bridge, young manager Andre Villas-Boas might soon be out of a job. If he does indeed get the sack, a quick redemption at Everton might be exactly the right salve.
For Villas-Boas, this season has been close to a nightmare, but it honestly isn't all his fault.
He is not responsible for Fernando Torres' mental breakdowns in front of goal, nor the John Terry racism scandal that has hung over the team, nor the suspect defending. His players bear a large portion of the responsibility, and should be called into account.
However, Villas-Boas isn't blameless, and Roman Abromovich is not a patient man.
Chelsea has gone through incredible manager turnover this past decade, and Villas-Boas has yet to prove his system is working.
If Chelsea miss out on a Champions League spot, someone will pay, and most believe it will be Villas-Boas. Based on his success at Porto, Everton should give him a call. Perhaps he'll have learned something from his first failed Premiership job and want a smaller club he can mold with time under less scrutiny.
Everton could be that destination.
Should the contract be right, Villas-Boas is a viable option for the job.
Keep Reading

Everton: Like this team?